Are you a serious sports fan looking to get live scores right from your Apple Watch? With Apple Watch, you can easily get sports news, highlights and scores about your favorite leagues from your wrist. You may see a bunch of sports apps on the Apple Watch app store, and we have picked the best Sports Score App for Apple Watch.
Take a look at our favorite live sports score Apple Watch apps and take your pick for your favorite sports and team.
ESPN: Live Sports & Scores
With ESPN: Live Sports & Scores app, you can check the latest scores, stream live games or watch highlights from ESPN, the best sports brand. Also, your feed will automatically change based on the information you need. From news about your favorite team to information about your favorite sport playing current. And, with its Family Sharing feature, up to 6 members of a family can use the app.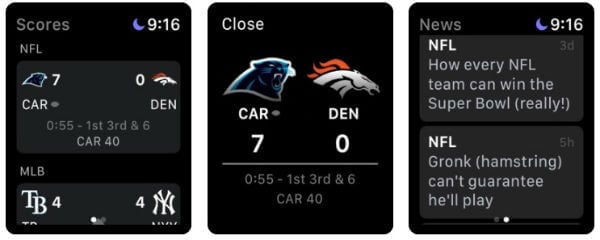 The ESPN app curates the top games of the day. So, you can keep pace with what is going on in the sports world. Stay on track with the MLB's latest rivalries to the NBA playoffs. Also, if you want more scores from a particular league or team, you can add it as a favorite to see on Apple Watch. This Sports Score App for Apple Watch is for free and you can access thousands of events by subscribing to ESPN+.
Key Features: Live Streaming through TV provider – ESPN, SEC Network, Longhorn Network and more | Popular ESPN Podcasts like the Lowe Post and live ESPN Radio | Download from Apple Store: ESPN: Live Sports & Scores
Bleacher Report: Sports News
Get news and scores from your favorite teams right on your wristwatch with Bleacher Report. You can enjoy personalized streams alerts as soon as hot stories break. Always, be the first to get to know about the team you support. On your Apple Watch, you can open a stream for stories, scores, pictures, and videos.

With Apple Watch Sports app, you can break the latest sports news to your sports-loving friends through Twitter, Facebook, email, groups or text messages. Besides, get your team's news first before your friends do and indulge in a little bit of boasting.
Key Features: Awesome streaming | Fast and to-the-minute sports news | All the current great news immediately in the notification center | Download from Apple Store:
Bleacher Report: Sports News
Onefootball – Soccer Scores
This is the only soccer app you will ever need to follow hundreds of leagues and thousands of teams worldwide during the European soccer season, 2019-20. The Soccer app is packed with the latest videos, news, scores, fixtures, key dates and stats of your favorite teams, throughout the season. You can get complete information about your favorite international and US soccer teams in the 'team' section.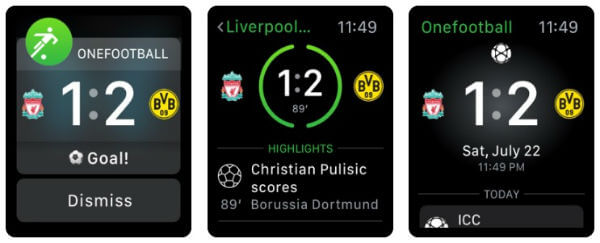 Are you a big fan of Messi, Wayne Rooney or Zlatan, or mad about Atlanta United or Real Madrid? You can select your favorite national teams, leagues, clubs, and players under the 'Following' tab. In addition to this, you can have the latest soccer news every day, compiled by soccer journalists from around the world. You can follow competitions from Fútbol Liga MX, Copa MX, Champions League, Premier League, and MLS.
Key Features: Augmented Reality filter in iPhone 6s or newer | Instant Push Notifications and live commentary | Latest scoop on Mbappé, Neymar or CR7 | Download from Apple Store: Onefootball – Soccer Scores
Related: 10 Best Podcast Apps for Apple Watch
MLB At Bat
MLB At Bat, the official app of Major League Baseball is your number one live baseball score app for Apple Watch. The MLB App covers live MLB games right from the Opening Day to the World Series. Significantly, MLB.TV All Teams subscribers can receive the Premium features of the app for free.

You can watch highlights and live scores in the middle of the game without blackout restrictions and subscriptions. This app brings the player stats, interactive rosters, schedules and breaking news of your favorite teams on your Apple Watch Screen.
Key Features: Cut4's offbeat short-form content notifications | Closed captioning feature for live video | MLB Club-branded app icons to customize your iPad and iPhone screens | Download from Apple Store: MLB At Bat
Soccer Scores – FotMob
Soccer Scores gives you all the stats, live scores, and storylines of the soccer world. This app is sure to keep you up to speed with the exciting field of soccer. With personalized notifications and news, you can easily follow your favorite players and teams. You can always update with the live scores on your Apple Watch screen with the app's lightning-fast live match updates.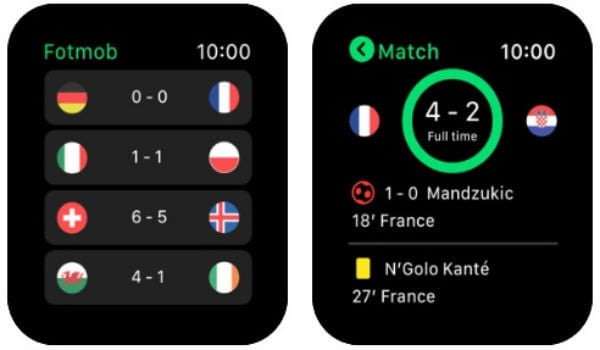 You can get extensive coverage for over 200 competitions including La Liga, Scottish Premier League, EFL, UEFA Nations League, FA Cup, Eredivisie and more. The developers have made some fine polishing to the matches screen to make sure that the leagues are more distinguishable. And, by default, this Apple Watch Soccer Score app will follow the system theme.
Key Features: Audio commentary | Alerts for favorite players and clubs | TV schedules | News feeds | Highlight videos | Commentary as live text | Live match stats and scores | Download from Apple Store: Soccer Scores – FotMob
NHL
NHL is your one-stop destination for hockey fans. You can follow every game in this season from puck drop to the final horn. Also, read news updates from around the league and from your favorite team. Besides, you can set up team push notifications for game start and end, news, goals and more. Also, feature your favorite team by customizing the NHL app icon.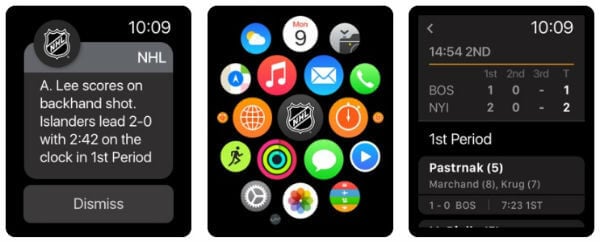 Subscribe to NHL.TV to stream your favorite team's live matches in beautiful HD video.  Moreover, you can stream 2-minutes of every period of any game (blackout-free). NHL.TV™ subscribers will get NHL Premium free. This NHL Watch app is also suitable for iPad, iPhone, iPod touch and Apple TV too.
Key Features: Apple CarPlay to take radio broadcast on the road | Free radio broadcast for any game | Pivotal moments and key plays with post-game and in-game highlights | Download from Apple Store: NHL 
NBA: Official App
This app is the official app of the NBA. With NBA Watch app, you can follow NBA Summer and get breaking news alerts. Get to track every stat, highlight and score easily. Also, you can test your NBA knowledge by playing NBA Pick'Em games. NBA has compatibility with iPad, iPhone, iPod touch and Apple TV.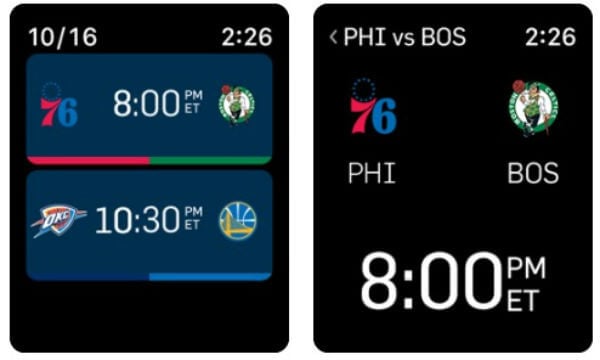 Key Features: All passes, cards, tickets, and more in one place with Wallet | Family Sharing for up to 6 family members | Download from Apple Store: NBA: Official App
Related: 20 Best Football Streaming Sites for 2020
Forza Football
Get Apple Watch push notifications and live scores, video highlights and opinion polls for above 560 football leagues and cups. Forza Football is not only an internationally loved and well-known live score app. But, it is simultaneously impacting the football world by sharing and liberating the collective opinion of fans.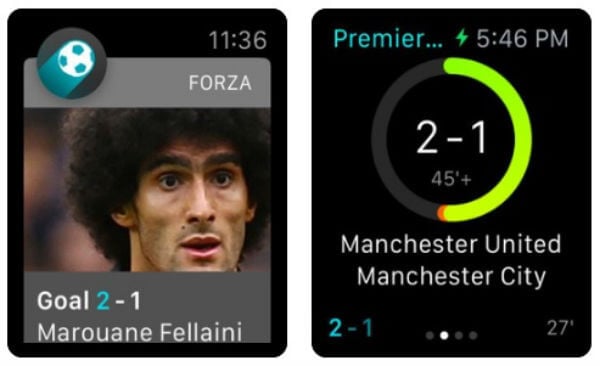 When compared to other football apps, this Apple Watch Football app gives you incredibly accurate and quick updates. Also, share your thoughts with your team and see how they match with other fans. Furthermore, answer poll questions about the chairman, the manager and the squad.
Key Features: Alerts for favorite teams | Pinning interesting matches | Customized and detailed push notifications per match or team – for cards and goals | Pre-match line-ups with player photos and formations | Download from Apple Store: Forza Football
Sometimes, you might want to check out a live game or otherwise, you might just want to secure a ticket to see your favorite team. Either way, getting the live scores or buying tickets to the match is crucial for you as a sports fan. These best Live Sports Score Apple Watch apps will help you get the scores on your watch screen. You will get the push alerts on your Apple Watch.