Podcasts are a great way to listen to your favorite authors and catch up on the latest news while being virtually engaged in anything. But when your Apple Watch can play the podcasts for you, it's even better! They are, in fact, the new form of radio. There are a plethora of useful and informative podcasts available. Most of these podcast apps for Apple Watch support standalone player, Apple Car Play, Smart speaker integration, etc.
Here we've gathered the best podcast apps for the Apple Watch that we're sure you'll love. You can pick the best podcast player for Apple Watch from this list.
Overcast
Overcast by Overcast Radio is an awesome podcast player with many useful features in a simple interface. Downloading podcasts for playing offline, custom playlists, and push notifications for when new episodes of your favorite show air are the redeeming qualities of Overcast.
Overcast Apple Watch App can adjust playback speed according to your preference and can strip away long silences. The podcast app offers a sleek and minimalistic design. The feature called voice boost which stabilizes the playback volume over the entire app. The interface seems interestingly similar on both Overcast and Pocket Casts.

You can create Custom Playlists with Per-podcast Priorities and Smart Filters. Get to adjust playback speed whenever you want. Use Smart Speed to shorten silences and boost speed without affecting the conversation.
The Premium feature offers an ads-free experience. You can turn off payment Auto-renewal for the succeeding period from iTunes Store settings. The current price for the Premium feature is $9.99 (US dollar) per annum, and this may differ for each country.
Key Features: Support for CarPlay | Extensive notifications | 3D Touch | Standalone Playback | Twitter Recommendations | Sleep timer | Download from App Store: Overcast
CastBox
CastBox is downright simple to use and super intuitive. The Podcast app mainly controls podcasts you play on your phone. You can download episodes and create playlists on your phone. After that, jump in and play them with your watch.
The app uses four segments: Now Playing, Downloads, Playlists, and History. The new Zen mode feature reduces stress and anxiety and gives you a better sleep. The best podcasts like Game of Thrones The Podcast (TV Series), CNN 10 (News), Sincerely, etc.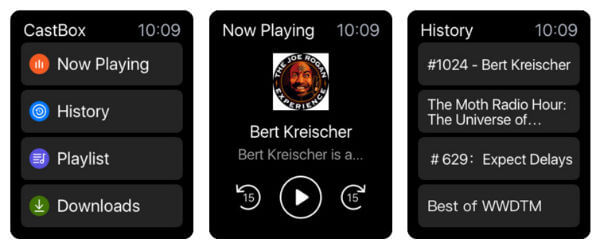 Browse for your favorite podcasts easily with the app's powerful search engine. With CastBox, you can stream and download a wide range of podcasts. Fall asleep comfortably with the Sleep Timer feature. Adjust the speed of your playback, boost volume, and get support for CarPlay with this app. Besides, enjoy extensive help and support from the community.
Key Features: Customized recommendations | Connection to Smart Speakers like Amazon Alexa and Apple HomePod | Cross-device sync for Apple Watch/iPhone | Daily list of top podcasts | Silence Trimmer | Download from App Store: CastBox
Related: Best Podcast Apps for Android
TuneIn Radio
Delightfully listen to podcasts from your Apple Watch. You can also access live music, sports, radio, podcasts, and news. Get your favorite podcasts in the live format as well as on-demand. Immerse yourself in your favorite podcasts, from classic shows to top hits. Classic episodes like RadioLab and greatest hits like The Economist are available. Also, you can receive everyday notifications about the best podcasts.

Upgrade to Premium and listen to ad-free news and music. Also, get access to NHL, NBA, MLB, and NFL in the Premium feature. You can turn off payment Auto-renewal anytime from your iTunes settings.
Key Features: Never-ending music | Available for free across 200 connected devices and platforms like Google Home/CarPlay/Alexa/Amazon Echo | 24-hour live global/national/local news | On-demand and live sports | 5.7 million and more podcasts | Contribution to Nielsen's TV Ratings | Download from App Store: TuneIn Radio
Castro Podcast Player
This is a full-featured and amazing podcast player for your Apple Watch. Easily track plenty of podcasts at the same time. Also, enjoy the Drag-and-drop feature for adding podcasts to the queue, thoughtfully planned Sleep Timer, and more.
There is a NEW tab in which new episodes are featured. Add those you like to your unique queue and remove the rest. Also, queued episodes get automatically downloaded. Re-order the QUEUE, browse the library for the back catalog, and view podcast history easily.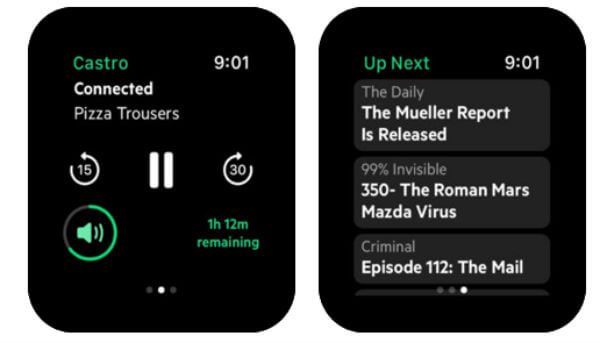 Castro Plus is a paid feature that comes at $18.99/year price, and this may vary according to the country. Custom settings for podcasts, Mono-mix, Voice Enhancer, Silence Trimmer, and sideloading for audio import are a few of them. There are highlighted features like Skipping, Artwork, and Pre-selection support for Chapter to for better podcasting experience.
Key Features: Subscription-free | Notifications for episodes with summary | CarPlay feature | Elegant dark theme | Download from App Store: Castro Podcast Player
Downcast
Downcast podcast player has an ergonomic interface, well, as ergonomic as you can probably be in the tiny display of the apple watch. Downcast app separated into three parts, the playlists, the player, and podcasts. Podcasts allow you to discover more and more interesting podcasts while the Playlists section is where you can create and save your playlists.
The Apple Watch app has the time elapsed and remaining time of the currently playing podcast. The app also has CarPlay, Bluetooth feature, and iCloud Sync with Macs and other iOS devices. You can automatically download podcasts also, refresh podcast feeds automatically.

You can import video and audio files and view podcast details without any hassle. AirPlay Support and Dock/Lightning Connector are other features. This app also comes with Headphone Remote Control, Gesture Support, and Sleep Timer.
Key Features: Google Cast | Password-protected episodes | Images embedded in episodes | Export and import podcast feeds through OPML | Download from App Store: Downcast
Pocket Casts
You don't need to download episodes before viewing them here. You will have to subscribe to your favorite podcasts. Once you do, you are all set to go. Begin watching your chosen episode and look out for the 'Up Next' notification. Also, store your podcasts conveniently with the storage option.

Pocket Casts describes itself as an app by listeners, for listeners. Just like overcast, Pocket Casts can control the playback speed, trim out silences, and can also give a little boost to the audio output if the highest volume isn't high enough. The main screen contains the information about the current track with a pause button flanked by two seeking arrows.
Key Features: OPML file import | Sharing feature for podcasts | Custom filters | AirPlay, CarPlay, Sonos and Chromecast support | 0.5 to 3x variable playback speed | Extra Dark app theme | Download from App Store: Pocket Casts
RSSRadio
RSSRadio is an advanced podcast player for Apple Watch. This is the app that pioneered many standard features that are in use today. Easily categorize podcasts to listen to. The Silence Remover feature saves you many hours per week without distorting sound quality. Push Notifications and Server Side Refresh option give you a hassle-free experience.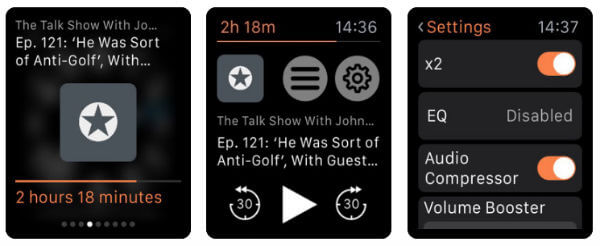 Sync multiple devices with iCloud and play only the audio if you want. You can remove ads with a one-time in-app purchase. Listen to clear audio with limiter/compressor and equalizer. You can also boost volume with DSP effects on downloads, streaming, and video.
Key Features: Sleep timer | Dark/light themes | Streaming or downloading over 3G or WiFi | Categorized listening | Password-protected episodes | Search by category/URL/keyword | Download from App Store: RSSRadio
Pod2Watch
Playing app audio on your Apple Watch is fussy. You can follow these steps for successful usage: Connect Bluetooth headphones first before opening the Pod2Watch app on your Apple Watch. You can turn off the Bluetooth feature on your mobile to avoid unpairing of headphones.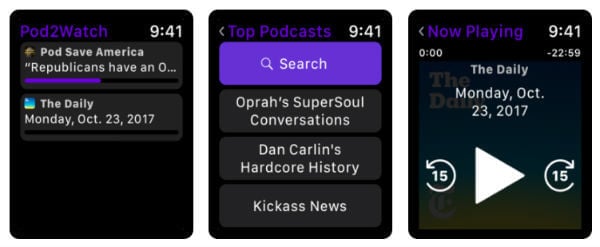 Also, don't remove AirPods during playback. Audio auto-restart can cause a problem. If you face this problem (hearing multiple podcasts at the same time), press pause in the 'Now Playing' category and then press play in the app to resolve it. Transferring podcasts to Apple Watch is quite slow. So, use Auto-sync to avoid waiting for transfers for long.
Key Features: Improved User Interface | Usage for up to six members of a family | Download from App Store: Pod2Watch
iHeartRadio
You get to view a wide variety of podcasts through the iHeart Radio Podcast app. Browse your favorite podcasts as well as recently watched podcasts. Also, discover new and interesting podcasts easily with iHeart Radio.
The interface is simple and helps you control the app easily. Stream famous podcasts from Gimlet, ESPN and more and listen to personalities like Anna Faris, Ben Shapiro, and more. You can discover top sports stations like ESPN Radio and more and top FM and AM radio stations. Also, listen to music, comedy, news, and talk shows from across the globe.

Control listening experience using iHeartRadio All AccessTM and iHeartRadio PlusTM with Premium. Also, go Premium to remove ads, enjoy limitless skips, save and replay songs from the radio, and create unlimited playlists.
Key Features: Streamlined listening from Library | 0.5 to 2x playback speed | Personalized My Favorites Radio Station | Thousands of curated playlists | Your Weekly Mixtape – Weekly Curated Playlist | Download from App Store: iHeartRadio
Deezer
This is a revitalized and revamped app. The new version for Apple Watch helps you control your podcast list easily. You can discover new music styles with the Flow feature, listen to playlists, or create your playlists. Organize new music by genre or artist and share favorite tracks and personal playlists with others.

With the Premium feature, listen to music offline and enjoy superior sound quality (320 kbps). Use the Skip feature endlessly and discover favorites by sharing your tastes (Deezer Flow – Premium). Genres, moods, and more categories are available in the Search tab for easy search. Also, get six Deezer premium profiles for you and your family with Deezer Family.
Enjoy an ad-free experience with Deezer Premium. All the Premium benefits can be enjoyed at half the price with Deezer Student. Deezer Hi-Fi is excellent for music streaming in high-resolution sound systems. Best of all, play songs by clicking the Play button on any slide.
Key Features: SongCatcher for song identification for iOS users | Connection with Google Home, Apple Watch, Sonos and Amazon Alexa | 53 million podcasts, playlists, and tracks | Personalized recommendations | Adding tracks you love to Favorites with one tap | Shuffle Mode to search for new tracks | Download from App Store: Deezer
Outcast for Watch
Outcast is a standalone podcast player for the Apple Watch in which you can search for the podcasts in-app. The app also lets you download podcasts directly onto the Apple Watch. The forward seek button skips forward 45 seconds while the rewind lets you go back 15 seconds.
As Outcast works as a standalone app, keep in mind that downloading and streaming podcasts directly to the Apple Watch will have a larger toll on battery life. It's always recommended to pair it with the phone and use the watch only to control playback.
That being said, the standalone feature may become particularly useful during workouts or when you're out for a run as you won't have to carry the phone with you. Just be sure to always have the charger handy. Outcast costs around a dollar in the App Store and has a rating of 4.2 with over 600 recorded ratings. If you're looking for a standalone podcast app to go solo, we definitely recommend outcast!
Download from App Store: Outcast for Watch
These are some best Apple Watch podcast apps. In this post, you got to know about the convenience of playing podcasts right from your Apple Watch. Does your Apple Watch belong to Series 3 or a later version? Sync Apple Podcasts to your Apple Watch easily.
Episodes are automatically deleted from your Apple Watch after you finish listening to them. Saves time, doesn't it? You can then refresh to get new episodes. So, enjoy the best Apple Watch podcast apps. Get immersed in your favorite podcasts from the comfort of your wrist.