Audials One 2019 is the modern version of home-made VCR tapes. It lets you record music from various online sources including Spotify, the largest music streaming service in the world. Music is just the start though. You can also record movies, TV shows, audiobooks, etc. The best part is that is is all legal and you aren't promoting or taking part in piracy.
At first, the interface can seem a little confusing, particularly the home screen. This is, in fact, quite simplified compared to the previous versions. There's just so much on offer here that it can create confusion. The home screen presents an assortment of radio stations, artists and streaming services at once.
There are fewer options on the left-hand column and that's actually a good thing. All of those various music options have instead been merged into a single tab, making things easier to find and access.
Audials One 2019 Features
Record at maximum speed without quality loss
Batch-process multiple YouTube links in one go
Record directly from your graphics card
All the latest device profiles for current-gen smartphones, notebooks, gaming consoles, and many others
Always perfect music quality from any streaming source
7 new video services and the top 50 music TV stations
Record TV at the click of a button
Easier to use and with significant performance gains
Recording/Downloading Music with Audials One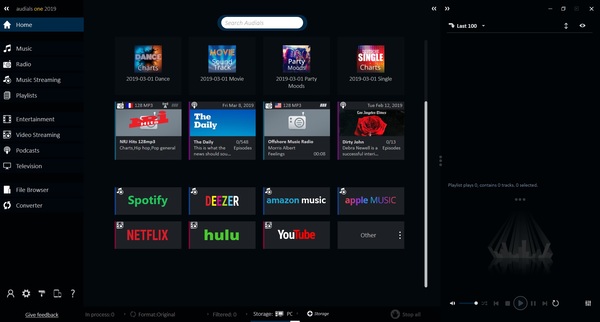 While improved, the interface is still quite cluttered, and yet, getting started isn't all that difficult. As you can see in the screenshot above, some of the popular streaming services are already listed on the home screen. For instance, let's say, we need to record a song from Spotify.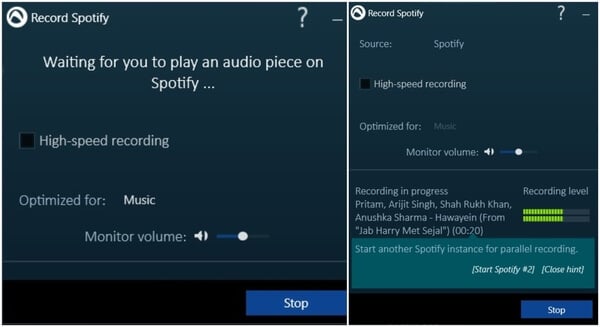 Just click on Spotify and Audials will start listening for audio being played on your computer. After that, launch Spotify, play anything and Audials will start recording it. "Downloading" songs this way kind of requires you to let the song play out and that's not really ideal.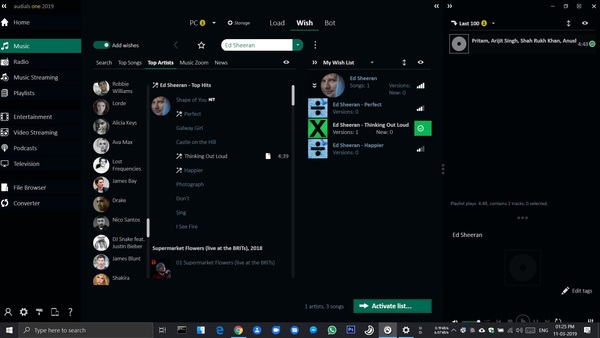 Audials also allows you to do a High-speed recording. Even at 10x their original speed, tracks are precisely cut at their start and end points with virtually no loss of quality even at high bit rates.
Spotify Search with Audials One
A better way to download songs though is to add them to your wish list. Audials One 2019 not only supports recording Spotify streams but it also lets you search for music from Spotify. Once you have a wishlist, just click the Activate list… button.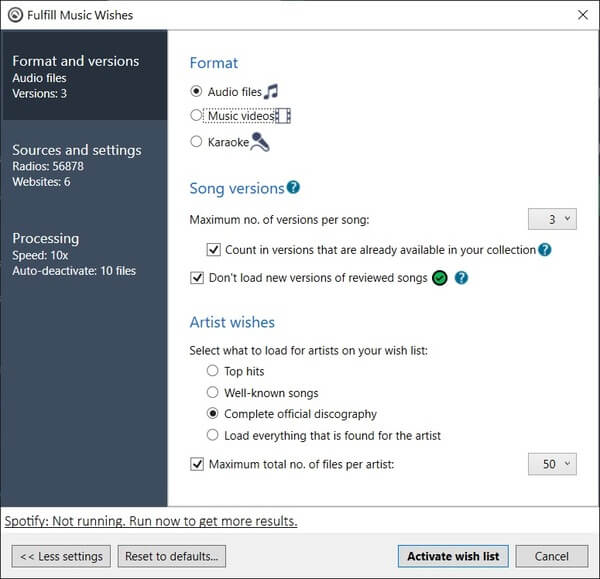 You can change a few things before you actually get your songs downloaded. There are options to download different versions of a song such as videos or karaoke versions. It's not perfect and can sometimes download duplicates or even songs that you didn't want to download. But the downloaded songs are of great quality and you can always delete the ones you didn't want. That adds an extra step but it is what it is.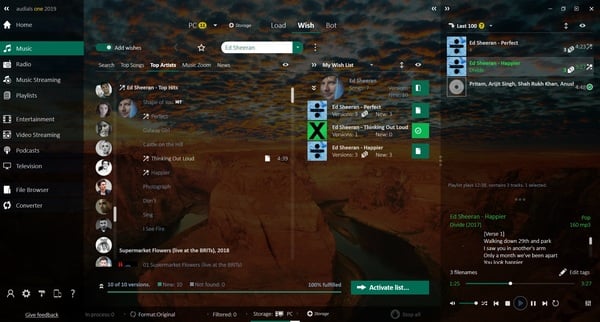 The inbuilt player allows playback of downloaded music and it offers the basic music controls. There are also options to directly download music videos from YouTube as videos in different resolutions or as an mp3 file. It's not as easy as searching google for an MP3 file but at least it is still free while also being legal. Besides, you get the correct metatags for all your downloaded music which really helps in organizing it.
The default download location is C:\Users\username\Music\Audials\Audials Music
Editing and Converting Songs with Audial One
Downloaded songs appear on the panel on the right from where you can play them to make sure they sound as expected. These can also be edited, to trim out the silent part in the beginning or towards the end, for instance, if there are any. Trimming is of course not limited to that and you can even create ringtones out of your favorite music. One can also normalize the song audio which can be really helpful if you download using various sources.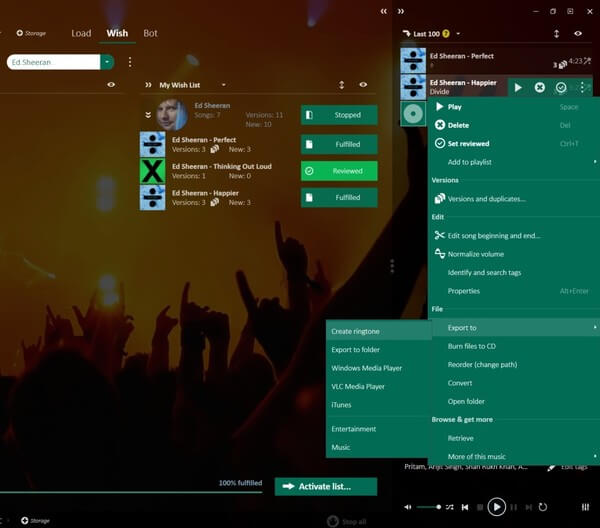 The software does a great job finding metadata for a song including the album art. It is still a piece of software though and there will be times when it can't find a thing or two, especially album art. This will be more frequent for those who download regional songs. It's a good thing then that it allows you to manually add missing metadata by going to Properties.
You can even add or edit the currently attached lyrics to a song. In the properties, you can also see the source from which the said song was downloaded from.
Music Isn't Where It Ends
Downloading music is just one aspect of Audias One 2019. It also lets users download videos, TV shows, music, etc. from popular sources like Netflix, YouTube, Amazon Prime Video, etc. Neither of the services is officially affiliated with Audials, however. To record video streams, you'll need the Audials browser extension available for Firefox, Microsoft Edge, Internet Explorer, and Chrome. Naturally, it also works with all browsers based on Chromium.
Internet TV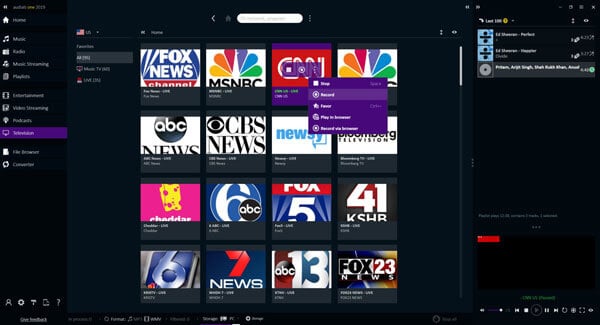 For specific countries such as the US, Spain, France, etc. you can even play and record live TV channels. Although the list of available channels is not very extensive it is still something and includes over 130 live channels from across the world. You can stream any of the available TV channels live or record it for viewing later.
Related: How to Download Music with Windows 10 for Offline Access
Audials One – Complete Media Entertainment
Audials One 2019 also lets you play music and video files that you already have stored on your computer, not specifically downloaded using Audials. So Audials is also kind of the one a media center for your PC which brings all of your content into one place. An in-built screen recorder also lets you record literally anything that is playing on your screen. Of course, you can also use it to record anything like a tutorial, a gameplay video, etc. The in-built file converter lets you convert media files and supports almost every video and audio format you'll ever need to convert to or from.
Audials One 2019 Verdict
This is a great piece of software especially for people who like to own content rather than be dependent on an internet connection or a subscription service. Audials have been a leading name in this space for over the last 13 years. So when we say Audials One 2019 is great, it is also a nod to the 13 years of hard work that has gone into creating this.
By no means is it perfect though and there is still plenty of room for improvements, most notably in the interface design. Credit where it's due though, the interface does make it much easier for a new user to navigate through the software and find what they're looking for. The 2019 version of Audials One improves upon many of the quirks from the previous versions. This includes stream recording, wish lists, music overview, search, YouTube downloading, and the ease of use.
There are plenty of improvements all around and if you need all the details you can check out the official What's New page on Audials. Till date, there is no other software on Windows that lets you record your favorite songs and save them permanently to your hard disk, legally. This is why Audials has over 11 million users and it boasts of over 12 million tracks from 120 genres. It can also record your favorite songs from over 100,000 radio stations half of which are monitored by Audials. This allows the software to quickly find and record your favorite songs.
Audials offers an Android App and an iPhone App. Interested users can download a trial version of Audial from the official website. The full version costs $49.90 right now instead of the usual $59.90.