There are beautiful weather stations readily available to buy from the market. We depend on these weather conditions every day as unexpected weather changes may spoil your entire day plan. It is nice to have a good weather station for your family hanging on the wall. Well, before you buy a dedicated weather station check for old Android tablets on your shelves. With some free Android weather station apps and old Android tablets, you can make an excellent weather station to hang on your wall.
We recommend the list of the best Android weather station apps from Google Play Store. Android tablets with weather station app can also bring you up few other features like background music, alarm clock.
The Weather Channel
The Weather Channel app offers the best radar maps, local forecasts and weather news on your Android tablet. It can display forecast on hourly, 36-hours, and 10-days intervals. Fast, accurate, and localized radar maps offer the past and future radar information as well as severe weather alerts for incoming storm tracking and tornado activity.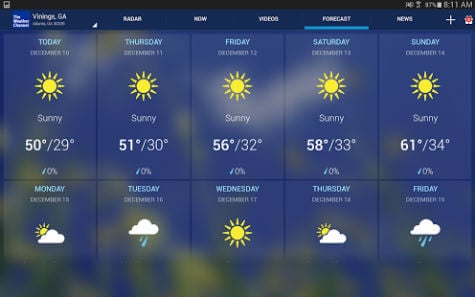 Current weather conditions give you the "feels like" temperature, sunrise time, sunset time, wind speed, humidity, UV index, visibility, dew point, and pressure. You can get alerts for severe weather and high pollen counts for any of your favorite location(s). This Android tablet weather station app provides a beautiful and easy-to-use interface with fantastic background photos match your area and current weather conditions.
Download from PlayStore: The Weather Channel
Related: How to Convert Your Android Tablet into A Dash Cam.
WeatherPro
WeatherPro app offers high-quality, detailed weather information, which includes 3-hourly forecasts for the week ahead including temperature, wind direction and speed, air pressure, precipitation amount and probability and relative humidity. You can view forecast as a graph and get Worldwide alerts and warning levels for extreme weather.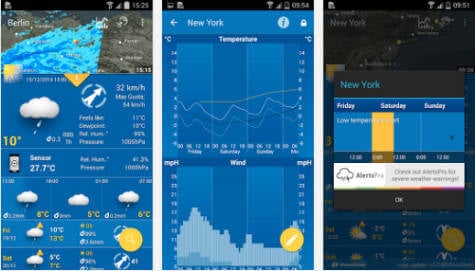 This weather station app for Android can connect to your to your weather stations like Netatmo, and the additional features include weather photo, weather news, weather reports for over 2 million locations worldwide and Hourly forecasts for two weeks ahead. High-resolution weather maps with multiple layers of advanced weather information including precipitation type radar in Europe, radar forecasts, heat maps, lightning strikes and cloud cover forecasts.
Download from PlayStore: WeatherPRO
Related: Convert Your Old Android Tablet to High-End Digital Photo Frame.
Weather XL Pro
Weather XL is the best Android weather station app with gorgeous and realistic animations of weather conditions. This compatible Android tablet weather app is updating continuously with accurate hourly forecasts for the next ten days. The detailed forecasts include rain, ice, snow, fog, wind, storm, dew point, UV index, humidity, pressure, etc.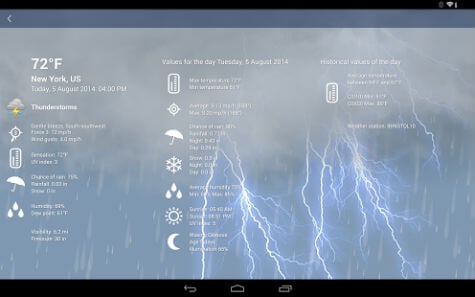 The additional features include the display of highest and lowest historical values, satellite and radar map animations, live wallpaper, etc.
Download from PlayStore: Weather XL Pro
NOAA Weather Radar & Alerts
All of us get weather information but NOAA Weather Radar & Alerts is there for furnishing more details. The powerful yet efficient weather station displays real-time animated weather changes on a map that is interactive and informative. See the changes in real time with detailed meteor information giving you current and Feels like temperature.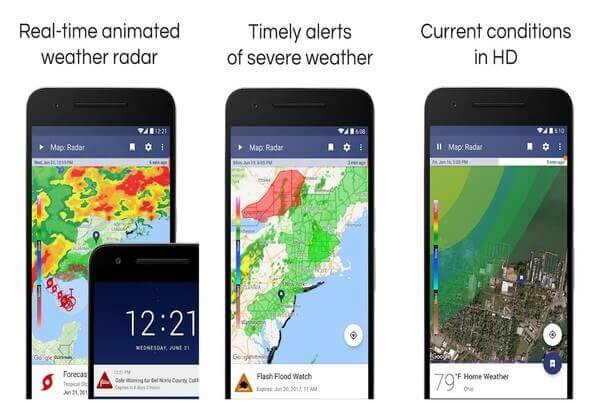 Know the chance of precipitation and info regarding humidity as well as wind speed and direction with the weather station app easily. Customize the weather report as per your requirement to choose the information that you like to receive and know. You can easily set the short-term (24-hours) as well as long-term (7-day) weather information.
Download from PlayStore
Awesome Weather YoWindow
Turn your weather-related information gathering process more scenic and beautiful with Awesome Weather YoWindow. It offers great photo-landscapes of many major cities while reflecting actual weather conditions in the forecast. Get the day and night temperature on your status bar to know about the weather in a minimal manner.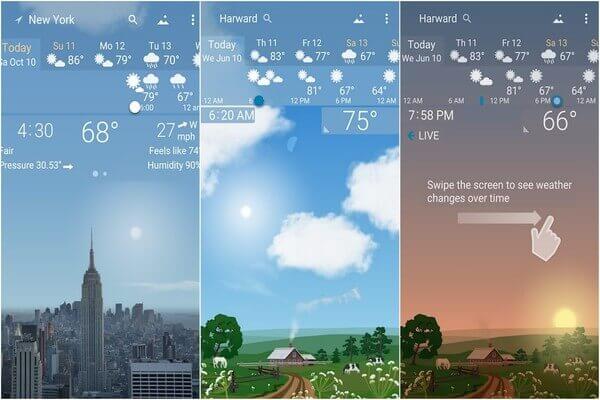 Use the weather widgets of the app to get water temperature, 'Feels like' temperature, UV index as well as the chance of rain. See the setting of the sun on the app in real time and scroll the time through the day viewing the weather change accordingly. You can easily set the photo to see the weather change animation on your selected photo.
Download from PlayStore
Weather by WeatherBug
WeatherBug is an easy to use weather station app and gives out the accurate current as well as future weather reports. Powered by the world's largest network of professional weather stations, it provides the fastest alerts through the app. Get real-time hourly forecasts as well as 10-day forecasts and comes with 18 weather maps that provide much more features to give you all-round data. Receive dangerous thunderstorms alerts in a quick manner to prepare yourself for severe weather conditions.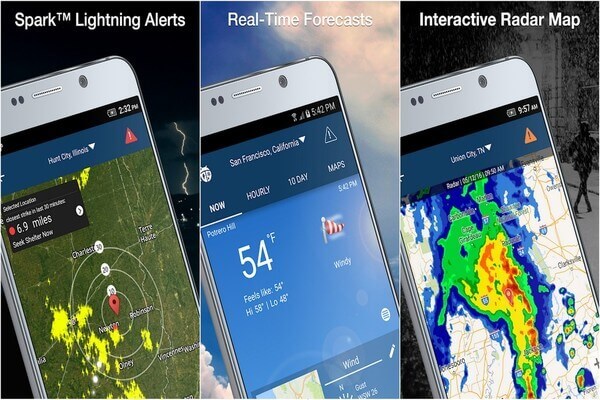 You can easily get weather information about 2.6 million locations across the globe and get multiple options on the weather conditions. Customize the animated maps of the app to see the detailed information in the manner you want it.
Download from PlayStore
Weather forecast
Detecting the weather forecast in your current location automatically, the Weather forecast app gives out accurate weather information. Helpful for almost every individual, it comes with much more data than just regular weather updates to aid you in planning the day. Get the updates of Today, tomorrow, 3 to 7 days later and any specific date's weather over the app without any issue.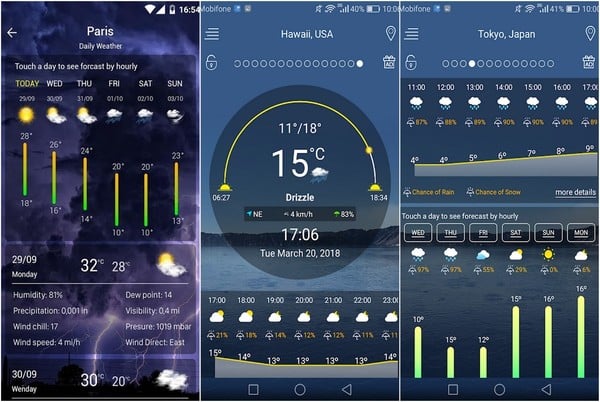 The weather station app also gives out weather notifications and notifications can be turned off if any trouble. The forecast is accurate and reliable over the app serving as a great means to know about the weather.
Download from PlayStore
Weather forecast pro
Ascertain weather forecast for global cities and countries in a matter of minutes with Weather Forecast Pro. See the real-time temperature with rain, snow and other contributing factors coming in the weather application. It displays all information of weather from every global location and detects the location by GPS and mobile network.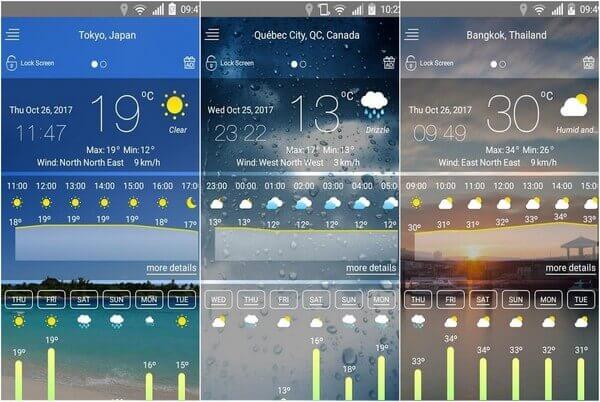 Search as well as manage multiple locations and comes with supported notification to give instant updates to you. Change the unit settings of Temperature, Time format, Precipitation and wind speed as well as pressure over the app. The weather station application is quite helpful and brings a good interface accessible by all.
Download from PlayStore
Mobile Weather Station
WeatherSignal uses native device sensors to measure local atmospheric conditions, which are then displayed on our live-updating weather map. This tablet weather app features widgets for temperature, magnetic, light, humidity and pressure sensors, manual reports, and you can turn your device into a thermometer, barometer, light meter, and hygrometer depending on the sensors on your device.The WeatherSignal app can measure pressure (specific devices only), temperature, light Intensity, humidity (Galaxy S4 only), Magnetic Flux and acceleration.
Download from PlayStore: Mobile Weather Station
Netatmo Weather Station
Netatmois the personal weather station for Android phones and its app. The Android app required a Netatmo Weather Station to work as a weather station. You can access Netatmo Station measurements including temperature, humidity, barometer. The app features algorithms telling you the felt-like temperature, CO2, and air quality directly from your Android device.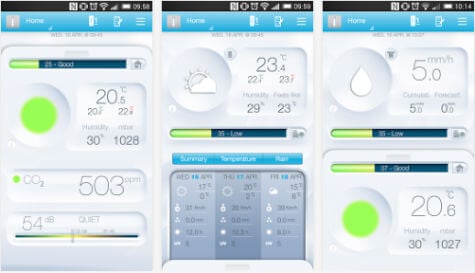 The best Android weather app can provide notifications for peak and variation events like CO2 concentration, extreme temperatures, low and high pressure, etc. Furthermore, the Netatmo Weather Station app can automatically log events in your timeline and can provide seven days of forecast.
Download from PlayStore: Netatmo Weather Station
Weather Station
Weather Station app supports both large screen HD tablets, and Phone displays and records data displays history graphs. It can show pressure, current conditions widget, forecast weather widget, rainfall, humidity, solar Radiation, Wind Speed, and direction, etc.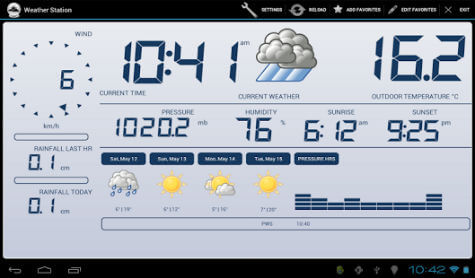 This Android weather app can automatically update location by wifi or GPS. The Weather Station app adds a Talking Clock and Weather announcement feature to your personal space. The weather services work with service providers like Weather Underground (PWS), BBC Backstage, Yahoo Weather, Weather Online, Open Weather Map and NOAA. Etc.
Download from PlayStore: Weather Station
Android Weather Station Apps
This idea can bring a new life for old Android Tablets that is still resting on your shelf. At the same time, you can enjoy a lot of features and excellent themes for these weather station apps that you can't get from conventional weather station device. Well, there are thousands of weather and weather station apps available from Google Play Store. Enjoy your family weather station with your Android tablets. Now you and family members are worry-free from unexpected weather hits so you can plan and enjoy your weekends with Weather Station.