Huami's Amazfit series of smartwatches are getting everywhere with their reasonable price tag and innovative tech integrations. The latest addition to the lineup is the all-new Amazfit GTR, a smartwatch with loads of sensors and features at a very reasonable price.
We have been putting this smart wearable under our review testing for the past one week. Here is our take on the Amazfit GTR Smartwatch by Huami (Xiaomi).
Content
Design
The Amazfit GTR smartwatch comes in two different dial sizes. The 42mm and 47mm sized ones. We are focusing the review more on the bigger 47mm model of the smartwatch. The larger dial with its iconic frame makes the device more look like a classic analog dial watch with manual controls.
The side buttons resemble the standard crowns on any normal watch and give you a stylish aesthetic on any occasion. The AMOLED display on the Amazfit GTR helps in giving away a more realistic look with the watch faces on.
This is one of the most classier looking smartwatches ever manufactured by the company so far. The overall design of the smartwatch might remind of the Samsung Galaxy Gear S3 or the discontinued Moto 360 series of smartwatches. In comparison with a premium analog watch, we found nothing much difference in terms of build quality.
Huami uses titanium-made watch body to make the entire device lightweight and more durable. You can still own other shiny variants made on stainless steel as well as the aluminum alloy if you are looking for color change or a different finish.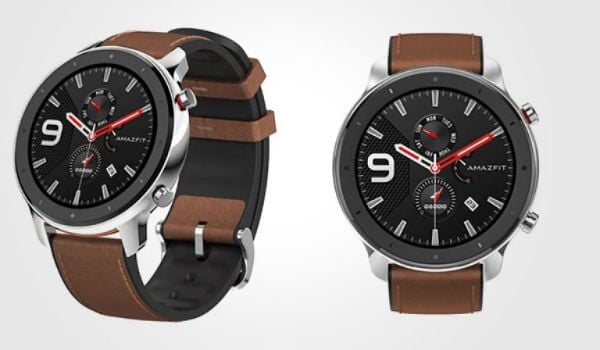 Talking of the stock straps, you can get both the leather one as well as the more durable fluro rubber strap. Huami ships both the aluminum and stainless steel variants with a premium leather strap on, in order to provide a more classy feel.
On the other hand, the titanium-made one, which we got on our hands, comes with a more durable rubber strap, but with good aesthetics. Like most other smart wearables, you can detach and replace the straps with some simple gestures. You do not need to use your old-school tricks to get over the traditional clasp.
There is nothing much to talk on the rear side of the watch body, since it does have a couple of typical sensors equipped, along with a magnetic 2-Pin Lego connector slot for boosting up the battery.
Related: A Guide to Choose the Right Amazfit Smartwatch Model
Features
With a week of intense usage, here is what we have to conclude about the features of the Amazfit GTR. The device is not a fully-equipped smartwatch as you expect from other market-leading smartwatches. It does not even have a fully-functional smartphone-like Operating System. There is no Android Wear on the board to power the device. Instead, Huami used its own micro-ecosystem with plenty of essential features included.
Although the company does not mention the IP rating, the Amazfit GTR can resist up to 5atm of water pressure. However, it is not recommended to use scuba diving or other intense water sports activities. Every model, from base variant, comes with an inbuilt GPS positioning as well as plenty of other sensors to make your everyday adventure more interesting. But, there is no loudspeaker for alerts and music.

Interestingly, there are 12 different sports mode you can switch between, based on the activity. It includes outdoor running, treadmill, walking, outdoor cycling, indoor cycling, open water swimming, swimming pool swimming, elliptical trainer, climbing, trail running, skiing, and regular workout exercise modes.
The smartwatch is designed to detect and keep track of all of these activities, along with other cardio-related sensors. The inbuilt NFC can be used for contactless payments, using AliPay and many other services.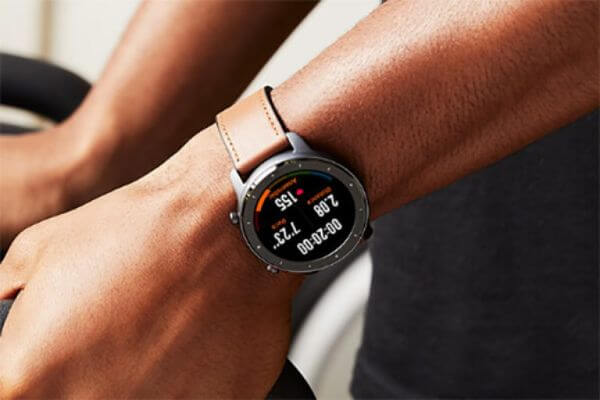 There is a 24 hours heart rate monitoring system. Huami claims to use an improved algorithm to early-detect the rhythm change in your heart rate. The full-time heart monitoring feature is very helpful, as you can measure your heart rate at any time of the day without even waiting for minutes.
Other features include music playback, notification mirroring, weather forecast, call attending, messages, compass and other basic functionalities for daily gear. Though the device runs a proprietary, limited OS, we have not faced many limitations on day-to-day usage. This watch has almost everything you want.
Related: Amazfit GTS Review: Affordable Smartwatch for Apple Watch Lovers
Display
On the paper, Amazfit GTR 47mm has a 1.39-inch AMOLED display. This is just as same as any other standard smartwatch dials on the market. The AMOLED display is one of the key factors that help in reducing overall battery usage. Moreover, there are plenty of other factors that manufacturers use AMOLED panel for this circular display.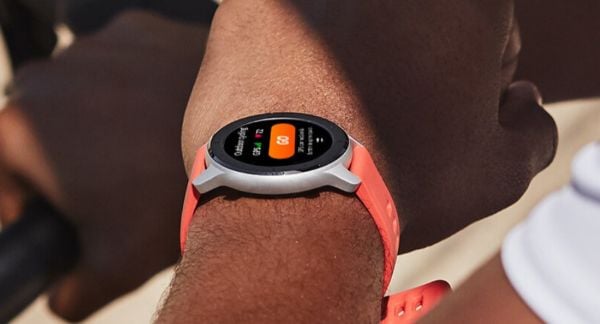 At a glance, there is nothing to blame about the display panel. Blacks are darker, colors are brighter, just like any other AMOLED screens. You are also getting extra protection to the screen with a Corning Gorilla Glass 3 and an anti-fingerprint coating.
The display on Amazfit GTR is pretty amazing in the indoor conditions. Moreover, it does seem to be bright enough under sunlight too, with a good viewing angle. So, you might need to give some shade if you want to see what is on the screen under sunlight. Capacitiveness on the touch screen is also very well working.
Related: How to Upload Watch Faces on Amazfit GTR with iPhone
Operating System
Well, this is not an Android Wear running smartwatch, if you are looking for a competent against mainstream Android Watches. Huami anyways managed to build their own Operating System based on Android, but with limited features. The interface has many effective features and functionality.
There are plenty of watch faces available to use within the smartwatch. None of the faces are customizable, nor allows extra addition. Instead, Huami allows you to download and use a few more watch faces using the Amazfit app on your smartphone. You cannot use or add any complications to the Watch face in this device.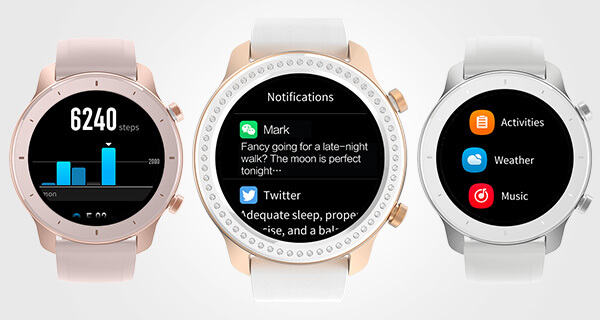 Amazfit GTR does not allow running third-party apps or any extended apps from connected devices. So, you will have to live with whatever they have provided within the watch. The second crown button on the side is customizable with plenty of functions. You can use it to control certain functionalities in the smartwatch.
With plenty of other features and UX elements, the Operating System seems to justify the price tag.
Related: 10 Best Android Apps for Amazfit Watches
Performance
While using the GTR all over the days, it feels more than a fitness tracker, but lesser of a smartwatch. In terms of performance, there is nothing to worry about since it does not need to load heavy apps or processes on the top. So, the overall experience was pretty smoother than we expected.
While most of the smartwatch users prefer to get notifications mirrors, keep track of their activities and time sync with the smartphone, this does a good job in terms of all these. You can have a decent experience using the smartwatch without much commitment. The only thing we are required to do was to change the user mode. You can switch between activity modes for a better accurate activity recording.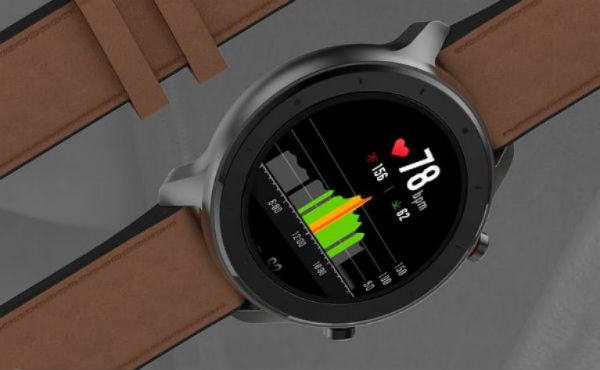 The Heart Rate Sensor is almost realtime. We have tested the accuracy of the built-in heart rate feature and found slightly off from what Apple Watch showing at the same time.
GPS needs to improve a lot. Sometimes, the GTR is losing the GPS signal and the availability of GPS is pretty bad. You can't depend on GPS feature if you are planning to use this watch for outdoor activities. Let's wait for improvements in GPS performance in future firmware updates.
The Step Counter works perfect and we got the same number that Fitbit and Apple Watch shows. In comparison with the preceding Amazfit devices, this one has a better response capability. In our experience, Amazfit GTR is an amazing smart wearable with an impressive performance.
#Amazfit brings "Always on display" feature for #AmazfitGTR with latest update. Turn-on from Watch>Settings. pic.twitter.com/fzslAcxDHe

— MashTips (@mashtips) September 6, 2019
The always-on display (AOD) introduced with the latest Amazfit App update. It is not recommended if you are looking for more battery life.
GTR Battery
The battery is one of the major concerns for a typical smartwatch buyer these days. Most people like to use the wearables as a normal watch, and do not like plugging them to the wall every other day. Well, the Amazfit solves the issue to an extent.
The smartwatch comes with just a 410mAh battery pack, which can surprisingly stay for at least 24 days on normal usage conditions. This covers 24 hours of heart rate monitoring, sleep monitoring, push notifications, 30 mins exercise with GPS thrice a week, and more.
If you turn off heart rate monitor, sleep tracker, and other sensors, you can extend one single charge up to 74 days. The standby time for the watch can be much greater than this.

This is one of the main differences between 42mm and 47mm GTR models. The 42mm watch has a small 195mAh battery compared to the 47mm model. The base watch model can get 34 days of battery life for the 42mm model. Also, you can expect 12 days of normal battery life for the 42mm model.
We have already tested and gets around similar results or even better on most occasions. So, you do not have to worry about battery life anymore with Amazfit GTR. The retail box comes with a magnetic circular charger with a 2Pin Lego connector to boost the battery up.
Check More Reviews:
Pros & Cons
Of course, this is not a perfect smartwatch you can buy at the moment. However, there are certain reasons for you to go for you to decline this piece of tech. Here are the pros of Amazfit GTR.
Pros:
AMOLED display.
12 Multisport modes.
24-hours heart rate monitoring.
Battery Saver Mode
Cons:
No Always-on display
No Call & Message Reply.
Can't run third-party apps.
Can't customize the watch face.
Updated on Sep 2019: Amazfit GTR added the Always-On feature with a recent firmware update. Based on our test, we noticed that the battery life reduced to around 14-20 days. 
With Amazfit GTR, you can check out notifications, calls, and track your fitness at a time. This is more than a fitness band but slightly lesser than an actual smartwatch. You can buy the device 42mm model or 47mm model from Amazon.
When you use GTR, you don't need to search for the charger occasionally, maybe you can do once in a month or so. Amazfit GTR is going to be one of the best smartwatches you can rely on daily uses with plenty of battery life.