You can get the latest news alerts right from your wrist. With Apple Watch News App, you can always keep updating yourself with custom alerts of breaking news from around the world. Browse the latest and trending news with your Apple Watch on your wrist. Whether an news or emergency alert, you can get those on your Wrist screen at first. This is better than taking out your iPhone from your pocket to read the news.
We have made a list of the top news apps for Apple Watch. Select one of them to stay up-to-date with the latest happenings in the world.
CNN: Breaking US & World News
You can watch HLN, CNNi or CNN television anytime and from anywhere with this News app on Apple Watch. The app alerts bring you the latest news instantly on your wristwatch. Easily access breaking news through news clips, photo galleries, and in-depth stories. And, enjoy watching famous CNN news programs like "Anderson Cooper 360" and CNN's original series like "Anthony Bourdain: Parts Unknown". Watch award-winning CNN films too, through this app.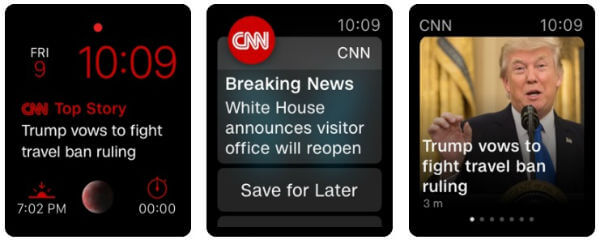 If you are a US consumer, you can watch Live TV and Video on Demand. Log in with your cable provider or satellite for unlimited viewing. And, this app requires iOS 11.0 or later and is compatible with iPad, iPhone, Apple TV, and iPod touch.
Key Features: More relevant alert topics through the new notification experience | Daily ten-minute preview | Download from Apple Store: CNN: Breaking US & World News
Related: 10 Best Apple Watch Weather Apps for Local Alerts
USA TODAY – News: Personalized
You need not sift through the clutter of news stories anymore. USA TODAY app will do the job for you. Get instant notifications about the breaking news on your Apple Watch. Make sure you turn on breaking news alerts to get the latest news.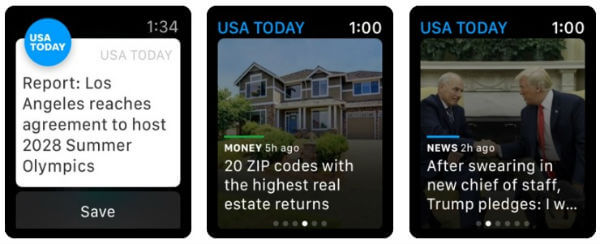 With this news app, you can take a relaxing break by playing the daily sudoku and crossword (iPad only). Furthermore, enjoy listening to your favorite USA TODAY NETWORK podcasts on demand. Opinion articles in this Apple Watch News app come with clearer labels now.
Key Features: Quiet time to unplug | Personalization of news | Local weather updates | Download from Apple Store: USA TODAY – News: Personalized
AP News
Get breaking global, national and local headlines directly. This news app by The Associated Press features the most personalized experience. Your feed automatically displays developing stories from the topics you follow. And, AP News is available on the iPad, iPhone, and Apple Watch.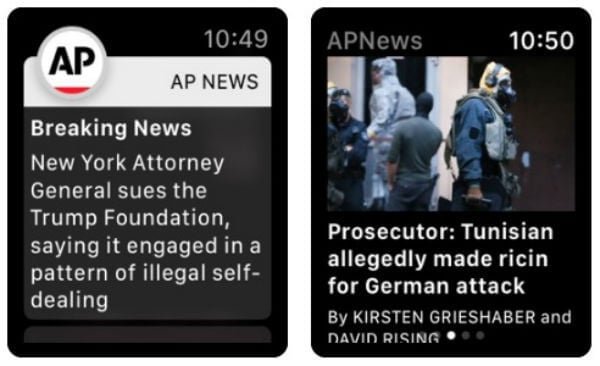 News alerts are customized according to your interests. Its curated content hubs give you deeper insights into news events and major storylines. And, the app requires iOS 10.0 or later.
Key Features: Award-winning articles, videos, and photos from across the globe | Stories of local interest from broadcasters and newspapers | Download from Apple Store:
AP News
Related: How to Identify Song on Apple Watch Using Siri
Fox News: Live Breaking News
With Fox News Watch app, you can easily customize your programming reminders, live event notifications, and breaking news alerts. With Apple Watch, you can instantly, access the Fox News Channel moments and developing stories. Editors have handpicked the most important videos and Fox News stories for you.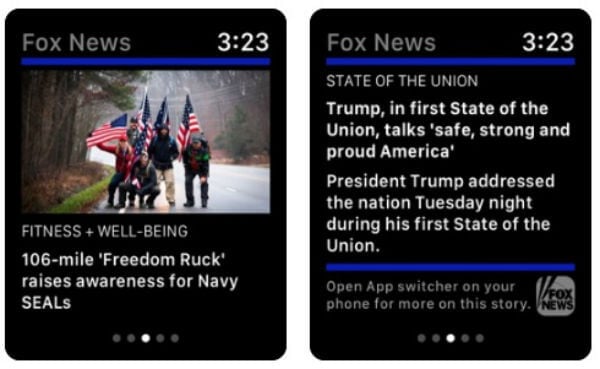 Sit back and watch on-demand and live videos of your favorite Fox News Channel personalities from the 'Watch' screen. Moreover, watch full Fox News Channel show episodes or free highlights. Want to move on to another story after reading one? Just swipe to the side. You need an authorized TV Provider login and pay TV subscription to watch live FOX Business Network and FOX News Channel. And, the app has compatibility with Apple TV, iPod touch, iPad and iPhone.
Key Features: 'Listen' tab to stream Fox News Radio and podcasts of popular personalities | iPad multitasking support | Useful notification banners | Download from Apple Store:
Fox News: Live Breaking News
Flipboard – Latest Stories
Discover top news and latest stories across all interests and passions. And, access personalized news, sports, gaming, tech, cooking and more. This Flipboard app's content will make you feel confident that you have spent your time productively. Also, the app delivers must-read stories, hidden gems, and latest developments. Pick your passions and Flipboard will create a Smart Magazine for every topic.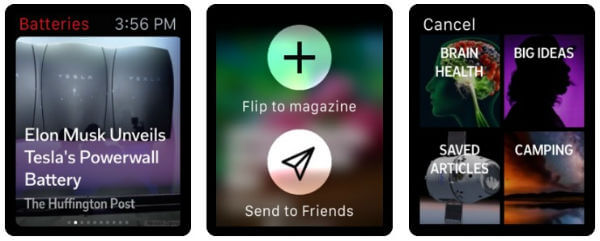 The Flipboard handpicks articles, podcasts, and videos of expert personalities. The Flipboard app collect stories based on specific themes and add them to your personal magazines. You can share your perspectives on the latest news with the app community. And, add up to 9 favorite Smart Magazines to your home screen and personalize it. Furthermore, the app's daily edition helps you keep up with the latest news. Flipboard requires iOS 9.3 or later and it has compatibility with iPad, iPhone, and iPod touch.
Key Features: News from CNN, Politico, Wired, TechCrunch, Hollywood Reporter, Travel + Leisure, SB Nation, Vogue and more | Download from Apple Store: Flipboard – Latest Stories
Also read: How to Change Apple Watch Screen Orientation
Washington Post Select
Get award-winning international and national news through this Apple Watch news app. Also, enjoy lively stories with informative graphics and striking photography. The app has a streamlined design and offers intuitive browsing.

Washington Post Select is free to download. You can subscribe to the app and get unlimited access. Also, experience an engaging and uncluttered reading experience in the app. This app is compatible with Apple TV, iPad, iPhone, and iPod touch.
Key Features: News alerts in expanded notification view | Easy viewing | Frequent updates | 3D touch support | Download from Apple Store: Washington Post Select
The New York Times
Access award-winning reporting, storytelling and journalism through this app. Get notifications about major developing stories. Moreover, you can get personalized news alerts according to your topics of interest. Start and finish your day with the daily digests created by Times journalists. Subscribers can get full access to about 25 sections and unlimited access to NYTimes.com.

With New York Times Watch app, you can enjoy famous audio podcast series including 'Modern Love' and 'The Daily'. The 'Today's Paper' feature gives you all the stories as they are in the print edition. You can experience stories in innovative formats such as Augmented Reality. Also, save articles on any of your devices to read them later. Read the day's headlines even while you are using other apps. This Apple Watch news app is free to download.
Key Features: Today's headlines for Apple Watch | Mini Crossword for iPad and iPhone | Download from Apple Store: The New York Times
ABC News
This ABC News app brings you live streaming video and breaking news coverage from ABC News Live. And, get clips from your favorite shows like Nightline, World News, Good Morning America and more.

Also, you can read breaking world and US news or catch up with the latest stories on health, weather, technology and more. This app requires iOS 12.0 or later and is compatible with iPad, Apple TV, iPhone, and iPod touch.
Key Features: Local news by geography | Unbiased 2020 US election coverage | Download from Apple Store: ABC News
Here is the list of the best news apps for Apple Watch. There are a lot of other news apps for Apple Watch. However, we covered the top ones here. Choose one in the collection and stay on top of the news world. You can also customize your Apple Watch news app to better match your needs. With the app's custom alerts, always stay updated about your favorite topics. Be the center of attention of any conversation by constantly updating your knowledge of the world.