Apple Watch leads the smartwatch market with its unique features and te specularities on the WatchOS Operating System. You can get many apps mirrored from your iPhone on to Apple Watch. And, it can integrate many features on to it. Previously with older versions of WatchOS on Apple Watch, people were able to identify songs using the Shazam app on Apple Watch. Well, the song identifier on Apple Watch is now on Siri and you do not need extra apps to do it.
Here is how to identify songs using Siri on Apple Watch.
Identify Songs Using Siri on Apple Watch
Have you just updated your Apple Watch to the latest WatchOS 6 update? You could be able to find all the differences, updates and additions from the previous version. The Siri Song Identifier on Apple Watch is an inbuilt feature for Siri. You do not have to open any extra app or service to get it. Here is how to identify a song playing around using the song identifier on Apple Watch's Siri.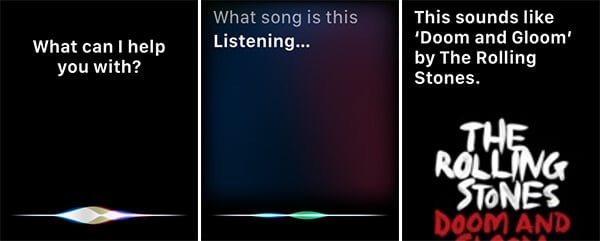 Unlock your Apple Watch.
Say "Hey, Siri" to trigger Siri on your Apple Watch.
Or, tap the Digital Crown on the side on to open Siri on Apple Watch.
Command as follows, "identify this song" or "What song is this."
Play the song which you want to identify.
Wait for Siri to identify the song automatically.

Once it identifies the song using the song identifier on Apple Watch, you can add or listen it on Apple Music. If the song you played is not found from the repository of Shazam's match list, Apple Watch won't recognize the music.
Related: 24 Top Solutions to Fix Apple Watch Battery Draining Issue
Shazam Integration on Apple Watch
With the WatchOS 6 release, Apple integrated the Shazam music identifier service along with the Siri for Apple Watch. Even though the Siri on iOS has the same feature since 2014, the Siri for Apple Watch was a simpler, lighter one. Unlike Google's music identifier on Google Assistant, the Shazam integration on Siri makes it much faster and handy to use. From iOS14 onwards, iPhone has a control center shortcut to identify song with Shazam.
In order to get the Shazam integrated Siri on your Apple Watch, you need to update the Watch to the latest WatchOS 6. You do not need to connect your Apple Watch with the iPhone to use the music identifier feature always. If you are using a Cellular Apple Watch, then it can alone identify the songs playing around you on the go. On the other hand, with Wi-Fi only Apple Watch, you have to connect it to an iPhone or Wi-Fi connection to identify songs.
In case you want to know if your Apple Watch is compatible with the WatchOS 6, check out the list of WatchOS 6 supported Apple Watch models.
With the new Shazam integration with Siri on Apple Watch, you do not have to install Shazam on your iPhone and use the Watch version to identify the songs always. Share among the Apple Watch users and let them know about this new feature on WatchOS 6.