Being able to make a voice call to Google Home was a long waiting feature. Now it is possible to make audio calls to Google Home's Smart Hub Display from your iPhone or Android. Finally, you can integrate Google Duo with your Google Assistant and make Duo calls to Google Home's Smart Hub Display. Both the new Smart Hub Display and Lenovo's Smart Display have a video camera and you can make video calls from your phone.
Let's follow the steps below to set up your Google Home's Speaker for voice calls.
How to Voice Call to Google Home
Before you proceed, you first need to install the Google Duo App and login with Google account on iPhone or Android with your Gmail account. (Download for Android | iPhone). You can install and setup the Google Home app for iPhone and Android if you don't have already. If you don't have the smart display, you can get The Google Nest Hub ($129), Google Nest Hub Max ($229) or Lenovo Smart Displays ($139) online.
Open Google Home App
Tap on the Profile icon on the bottom right.
Now tap on More settings under Google Assistant.
Now switch to the Services tab from the Profile screen.
Tap on Voice & video calls
Now tap on Video & voice Apps from "Voice and Video calls" screen.
You can see Google Duo under the Account.
Tap on the Link icon next to Google Duo.
Tap on Continue on Google Duo configuration screen.
Follow the instructions to configure Google Duo.
You will land back to Video and Voice Apps screen.
You can see the Google Voice number if you already set up with the Google Duo.
Now turn on the Google Assistant Display you want to set up for Voice call.
Go back to Google Home App Home screen.
Now you see additional icon Call Home on the home screen.
Tap on the Call Home to start the audio call.
Quit the Google Home App and load again if you don't see the Call Home icon. Now you can tap on the Call Home button to start calling your Google Home smart display.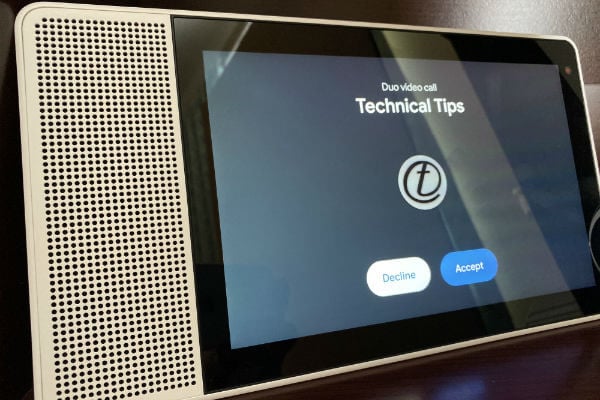 The Google Smart Display will show you your name if you already set up the Google Voice number and added as a contact in your Google account.
Related: 15 Coolest Google Assistant Tricks for Android Users
Setup Google Home for Voice Call
The solution will work with iPhone and Android regardless of your smartphone's OS. However, you need the Google Assistant's Smart Display. We have tested this with Lenovo's Smart Display. However, this will work with Google Home's Smart Display, too.
This feature only works in the US, although let's hope this will roll over to other countries soon. The regular Google Home and Google Home Mini are not supported for Google Voice Call. We can wait for future updates to expand this feature to Google Home and Home Mini's Smart Speakers.