The built-in email app for iPhone is one of the best iOS email apps that you can rely on for Gmail, Yahoo, Hotmail, etc. However, the third-party email Apps for iPhone are offering more features than the iOS email App. The iPhone email apps like Airmail, Spark, etc are bringing more features with every release like swipe control, email scheduling, etc. In addition to this, the Inbox app from Google is now dead and it's best features have either been ported to Gmail or will be.
As Inbox shuts down, here are the best email apps for iPhone and iPad that are offering more features and stability, and great Google Inbox alternatives.
Apple Mail
A list of the best email apps for iPhone and iPad shouldn't really skip on the default option. Apple Mail is pre-installed on all iOS and macOS devices and for many, it is just good enough. It's a very simple app that deals with just the basics but also packs in a few unique features.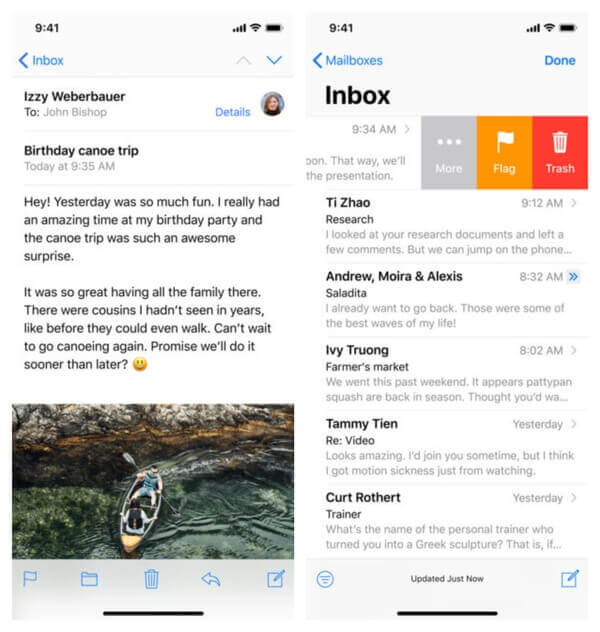 With the built-in markup tools, you can add annotations to images and sign documents right from your inbox. Thanks to an integration with other Apple services like iCloud, you can also use Apple's Mail Drop feature to send very large files in an email without it eating up your allotted email storage. Other than that though it's very basic and probably not the best option for professionals or people who're struggling to keep a clean inbox.
Pros
Preinstalled on all iOS devices
Deep iOS integration
Cons
Gmail push notification support is still not there
Clunky UI
Very basic
Download from App Store: Mail
Related: 12 Best Email Client for Mac Alternative to Mail App
Gmail for iPhone
Gmail App for iPhone has recently received two big updates that bring it on par with the Gmail web app. These updates have introduced a cleaner (still room for improvement), whiter (a little too white) interface along with some of the better features from Inbox. It lets you snooze emails now, for instance. It has smart filtering options, smart replies, an automatically flagged priority inbox, etc.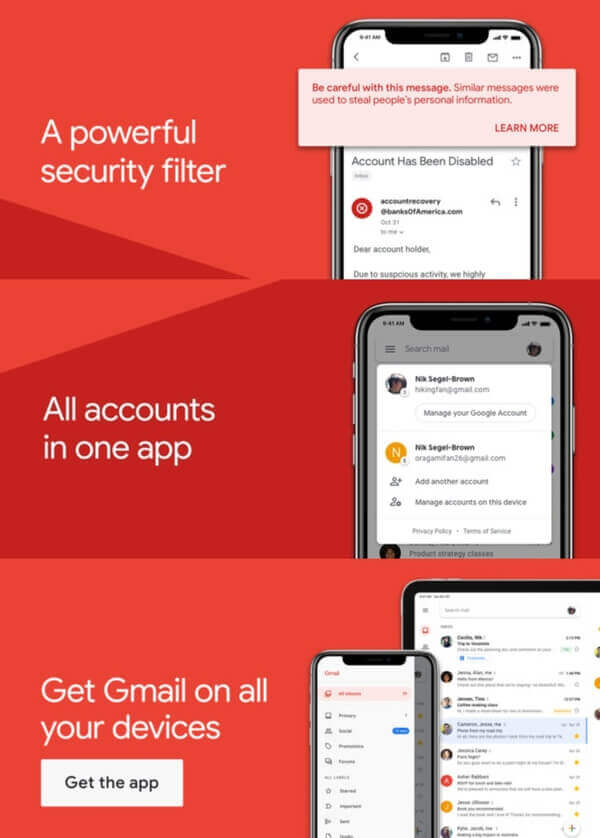 Many apps have replicated or at least try to replicate some of these features but they're merely replicating what Google did. Even Google is actually replicating what they did because these are all Inbox features. Besides, none of the other apps will allow you to send confidential emails which is an exclusive Gmail feature.
If your primary email is a Gmail address the official Gmail client is probably best for you unless you want really powerful features the likes of which are offered by apps like Newton. Don't let the Gmail branding fool you though because Gmail also supports Outlook, Yahoo, Exchange, and manually configured IMAP accounts, too.
Pros
Advanced features like Snooze, smart replies, priority inbox.
Tight integration with Gmail and other Google services
Cons
Download from App Store: Gmail
Outlook for iOS
At a time when email apps arrive and vanish from the scene without anyone even noticing, Outlook is one constant. Apps like Newton, Astro, even Google's own Inbox were barely here before they were shut down or will be.
Outlook though is a name synonymous with 'email apps' and you don't have to tell anyone what Outlook is. Well, as long as they have used emails in the past at least if not at present. So the best feature you get with Outlook is perhaps the fact that it will always be around.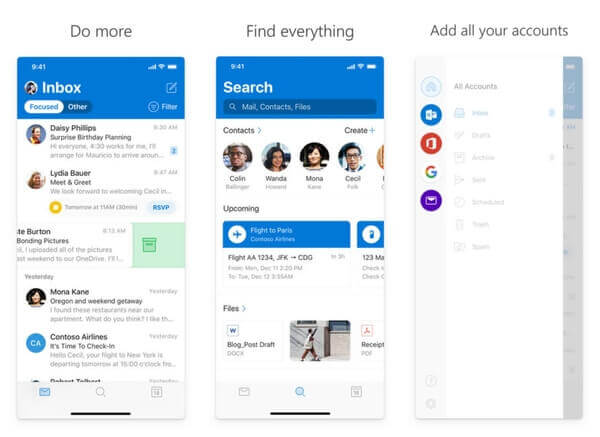 Not only is it well known but Microsoft's Outlook is arguably the best free email app for iPhone and iPad, ironic as it may seem. It strikes the perfect balance between a simple, clean aesthetic while also packing in advanced features that you'd expect from a modern email app.
This includes swiping gestures to let you easily archive, delete, or snooze emails out of your inbox. It also has a Gmail-like "Focused" inbox which automatically tries to sort the important emails you actually want to read, filtering it out of the endless spam that likely shows up.
Outlook's Focused inbox is almost as good as Gmail's Priority inbox if not better and it makes sense given Microsoft also has enough resources to pull it off. The app also supports iOS's notification actions allowing you to reply, mark as read, delete, or archive emails without opening the app. Like Gmail, Outlook also works with any services including iCloud, Yahoo, Gmail, Exchange, IMAP, and of course, Outlook.
Pros
Simple, clean interface design
Modern features such as filtered inbox, swipe gestures, snooze, etc.
Cons
The search is really slow.
Some advanced options like muting a thread are missing.
Download from App Store: Outlook
Also read: How to Send Attachments in Mail on iPhone and iPad
Edison Mail
Edison Mail is another popular choice and it distinguishes itself with a very unique feature. The iOS email app has taken it upon itself to reduce the amount of "email noise" you have to put up with. It is arguably the best app for unsubscribing from annoying emails and I can testify for it. My inbox used to be full of unwanted emails from all kinds of sources I didn't even remember signing up for.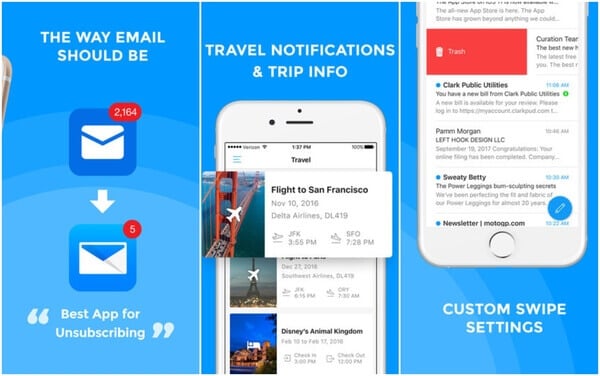 Clicking the Unsubscribe link at the bottom of each email and going to a web page to actually unsubscribe can be a real time-consuming task in such a case. And it doesn't somehow work because I tried.
A month using Edison Mail by Inbox is less like the streets of India and more like Greenland. Edison Mail's block feature works just like blocking calls and messages, but for emails. This is a separate feature from Mark as Spam and it works much better. You stop seeing emails from blocked contacts.
Add to that selective notifications for specific senders, and the support for Touch ID and 3D Touch, and you have an almost complete package on your hands. Speaking of packages, it also offers package tracking alerts.
Pros
Block emails from specific senders
Package tracking
Support for Touch ID and 3D Touch
Cons
Thread system is just not good
Some privacy concerns
Download from App Store: Edison Mail
Related: How to Quickly Delete All Emails on iPhone or iPad?
Newton Mail
Newton is another feature-packed email app for iPhone which has enjoyed some popularity. The app's creators briefly stopped updating the app since the service was planned to shut down since the creator's failed to find a sustainable business model. Then Essential, the company behind the Essential Phone, bought the app and slashed its yearly subscription price in half from $100 to $50.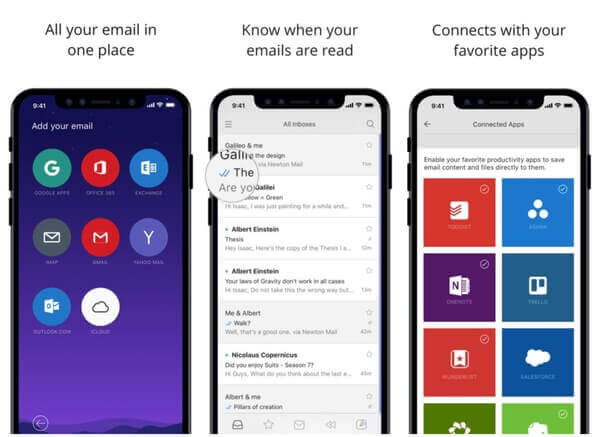 That's still a lot for an email app especially with all the quality, free email apps out there. I don't know how many features can justify that pricey subscription but the app does pack in a lot of them. You can snooze emails, create category tabs for all your email accounts including Gmail, Outlook, etc. One of the most unique features of Newton is connected apps. You can integrate apps like Evernote, OneNote, Pocket, in Newton. This lets you quickly save an email to Evernote, or to Pocket for reading later.
This iOS email app is also available for watchOS and Wear OS so it's kind of everywhere on all the devices you own.
Pros
Packed with features
Integrates well with other services
Cons
Pricey subscription model
Could be shut down or sold again
Download from App Store: Newton Mail
Spark
Spark is a popular email app on iOS and it just launched for Android devices as well right in-line with the demise of Inbox. Of all the apps mentioned here, Spark is the most Inbox like in many ways, even more than Gmail. Using Spark feels like using Inbox on steroids. The Smart inbox feature works a lot like the now defunct Google Inbox. It sorts emails by category and trying to highlight which ones are the most important. Read emails automatically slide down to the bottom of the list. Smart inbox is also easily toggleable from an omnipresent switch at the top.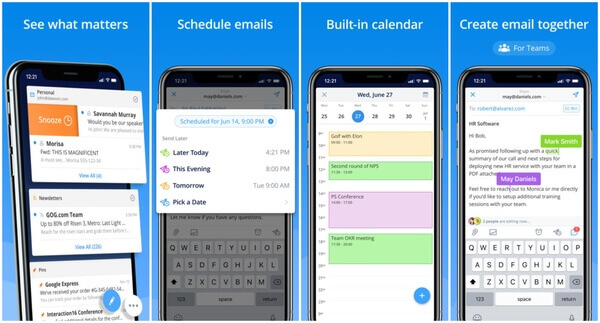 The interface is rather unique if not the most beautiful on the iPad. On the iPhone, it could have done a better job. But if you can get past the boring and not so intuitive interface, The app itself is fast, fluid, and loads emails almost instantaneously. One of the best features it offers is the swipe gestures which are better than Inbox, Gmail or any other app and also configurable. The app for iPhone email allows up to four gesture actions depending on the direction of the swipe and the length of it. These can be easily configured in the Personalization section of the app settings along with many other aspects of the app.
Another really great feature of the app is how it delivers notifications. You can choose to be bothered by notifications anytime you get an email. However, Spark only notifies you about an email when it's from someone you know. This iPhone email app figures that out by accessing your contacts list. For someone who receives so many unwanted emails, and has many devices lying around, this feature is a breeze. I don't have to listen to all my devices make noises anymore just because Amazon thinks I need a new pen.
Pros
Smart Inbox
Smart notifications
Gestures
Highly configurable
Cons
Unintuitive interface design
Download from App Store: Spark – Email App by Readdle
Spike
Spike is a very unique email app in that it tries to be a chat app while being an email app. This email app for iPhone is a free conversation-based email app and it used to previously be called Hop. The app's aim is to turn your emails into chat threads as you have them on Facebook Messenger, WhatsApp, etc.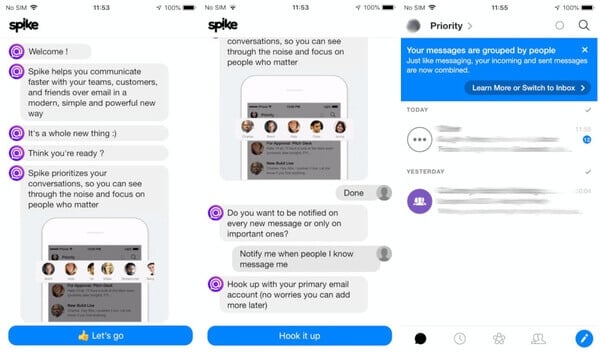 It does this by removing email headers and signatures so that the emails feel more like chat messages and it also groups together emails from the same sender into a single thread. In that effort, it prioritizes emails sent by people over other emails. Things like newsletters and other automatic emails are sent to other folders. Spike can be the email app for those of you who live in messaging apps and find emails to be a jarring mess.
Keeping in line with other chat apps, Spike also lets you know when an email you sent has been read.
Pros
Read receipts
Simpler interface
Cons
Not for professionals
The new take on emails can be a learning curve
Download from App Store: Spike
Airmail
If you're looking for the most advanced email app you can find on iOS, or on any mobile platform really, it's Airmail. Airmail is one of the best email apps for the iPhone.  This app is not available on Android but it does have a brilliantly feature-packed desktop version as well. Together these apps provide a unified experience on mobile and desktop. The app's main focus is on minimalism which actually helps a lot considering just how much it packs in.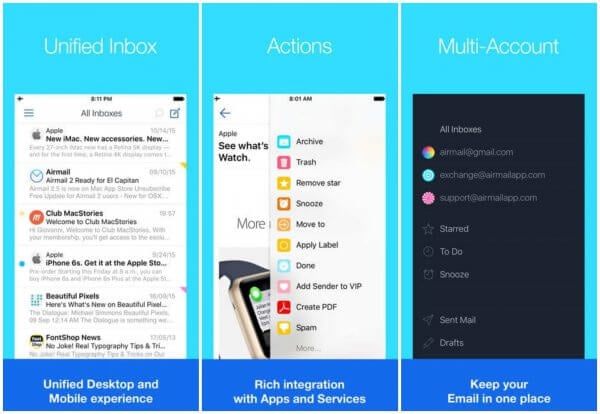 Airmail keeps it simple when viewing an email with options to reply, delete, and archive. When composing an email though there is an expanded set of features including tracking, send later options, reminders, and templates. You'll be able to turn your emails into to-do items or add them directly to your calendar. There is support for folders and labels to help you organize everything, and a block function to get rid of unwanted messages. It supports adding cloud files from a number of different cloud services.
It has more integrations with other services than anything on this list of any other email app list. Despite all of that, it can be yours for a one-time payment of $4.99. It's still quite steep pricing for an email app but at least it's not $50 and you won't be paying that every year.
Pros
Very customizable
Integrations with other services
Many granular options
Works in sync with Airmail on the desktop
Cons
The $5 price tag is a little unjustifiable in a world with such great free email apps.
Download from App Store: Airmail
myMail
myMail allows you to manage your Inbox emails from Gmail, Hotmail, Live, Outlook, Yahoo, MSN, iCloud and AOL email accounts all at once. The app itself is quick and responsive and has some unique features. For instance, it lets you quickly attach a bunch of photos on your phone to an email directly from your gallery. This works more like sending photos on Messenger, WhatsApp, etc. than sending photos on Gmail.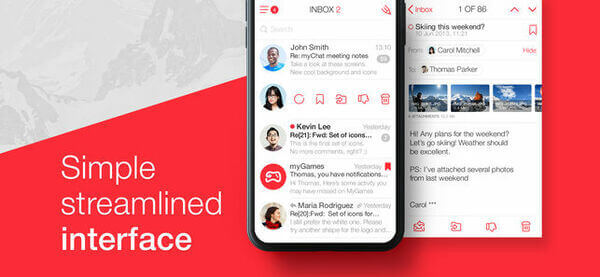 The app has support for Touch ID so you can keep your emails private from people around you. We're not very sure if you can keep it private from the email app you're using though.
Pros
Good notification filter
Fast, and responsive UI
Cons
Cluttered UI
Security concerns
Download from App Store: myMail
10. Polymail
Polymail is also free and it is more of a traditional email app. The interface is clean and sleek with useful features like quick tags and read later. There are also read receipts which let you know when someone has received and/or read your email. It can also provide you a follow-up on emails that have been read but haven't been responded to which is great for those in email marketing.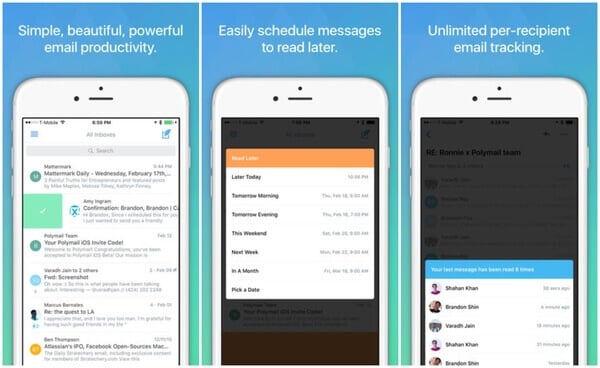 Other Polymail features are also mainly targeted at the same audience like the ability to track clicks and attachments to better track who is viewing your emails. Other unique features include one-click unsubscribe, scheduled emails and a calendar invite option in the compose window.
Pros
Unique features such as click and attachment tracking
Great for email marketers
Sleek interface
Cons
Better options available for the non-email marketing audience.
Download from App Store: Polymail
Best Email Apps for iPhone and iPad
Emails are a very important part of anyone's lives if they so much as use the internet for more than Facebook and WhatsApp. People sign up to different websites, offers, newsletters, competitions, using their emails. For professionals, emails are even more important and an integral part of their workflow.
But then we use our emails for so many things and one wrong choice means your inbox is unmanageable. It gets hard to distinguish the important emails from the spam and soon you give up and create another email account. An easy choice for many but not so much when it's your work email or one that you use everywhere from online services like Netflix, Spotify, etc. This is a problem that Inbox solved using AI. But now that the feature is already available on Gmail everywhere too, Inbox has no reason to exist.
So we hope that you find at least one of the email apps for iPhone and iPad mentioned above useful and worthy. We also have a list of the best email apps for Android that you can check out.