Most people think that Google is in the business of search and advertising but if you believe it to be true, you could not be more wrong. Google Assistant was unveiled to the world in 2016 and DeepMind was acquired in 2014. It is amazing the speed at which Google is integrating its various offerings into Google Assistant.
Let's take a look at some of the coolest Google Assistant tricks and tips, and all the things that you can do with it.
1. Identify, Play Songs
I stopped using Shazam because Google is pretty good at identifying songs. Not only that, because I am using YouTube Music now, I can directly add the identified song to a YT playlist.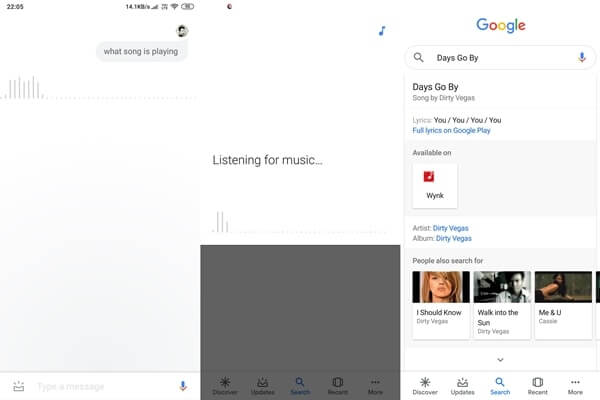 Just launch Google Assistant when the song is playing and you will see an option to identify the song. There is a handy widget available too which you can place on the home screen. I can also play songs or videos from YouTube or YouTube Music from Assistant.
Also Read: How to Identify Music With Google Assistant?
2. Convert Units, Currencies
Google Assistant is capable of converting units or even currencies. This is very handy for travelers or say people working in construction and so on.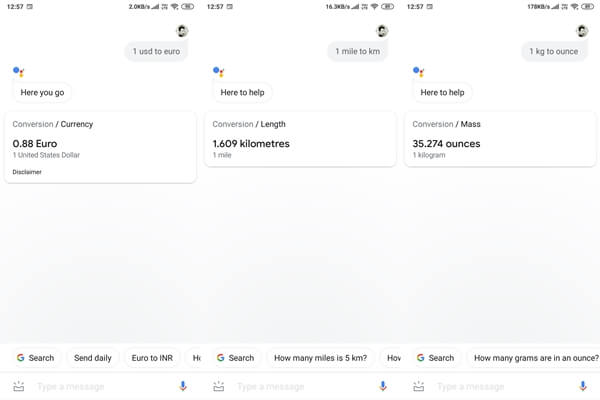 Just type $1 = Euro or 1 mile = KM and you will have your answer within seconds. There are so many combinations this works with.
3. Navigation
Don't know your way around? Just ask Google Assistant and it will pull data from Maps, one of the largest location databases in the world.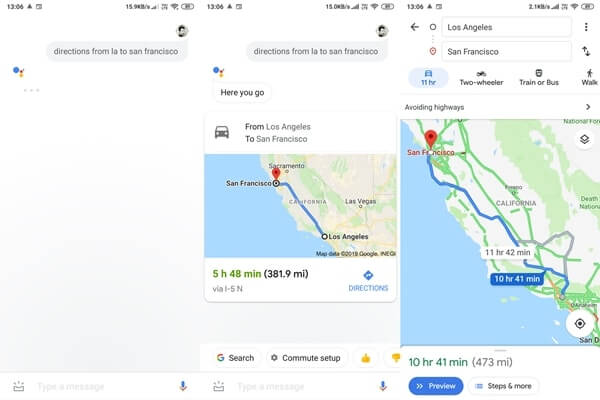 You can find nearby restaurants, ATMs, gas stations, way back to your home (set home's location in Settings), and pretty much anything, anywhere in the world. It opens in Maps so do install that app.
3. Lists, Reminders, Notes
Google Assistant integrates with Google Calendar and Google Keep so you can make notes lists, and set reminders right inside Assistant.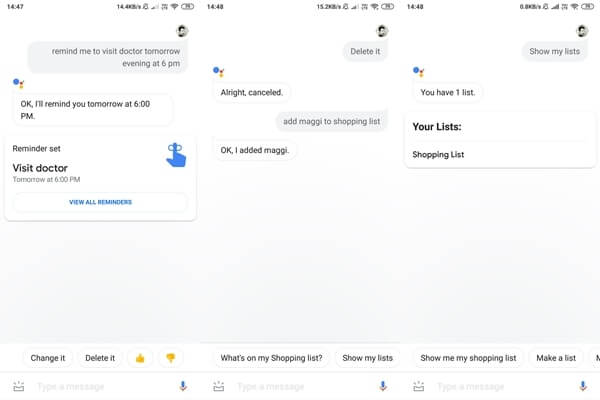 You can do all this using natural language so you don't have to remember commands or phrases. Just speak away. Here is a pro tip. You can also set location-based reminders. Example: remind me to turn on the water motor when I reach home. By the way, do you like taking voice notes? Go on, try it.
4. News, Scores, Weather
Google likes to solve problems. Google News was launched after the 9/11 attacks when people were searching for the World Trade Center and Google failed to provide relevant results. It is now a part of Google Assistant.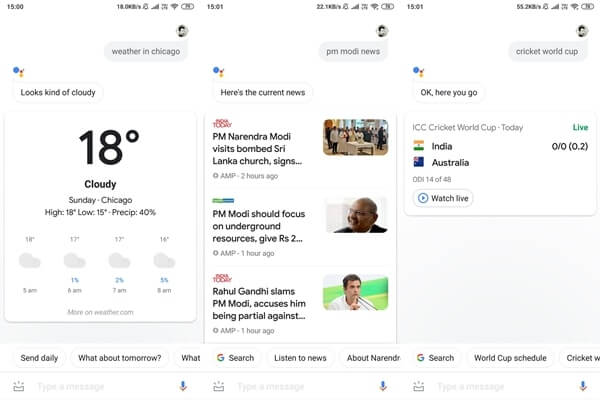 You can check scores of your favorite teams and their schedule, search for news stories from over 50,000 sources, and check Weather by just asking the Assistant.
Also Read: How to Control Music While Using Google Maps and Waze
5. Control Smart Devices, Apps
I spend a lot of time on Netflix and Assistant makes it easy for me. I just say the show's name and Netflix are launched from right where I left last time. It also works with YouTube and some other apps.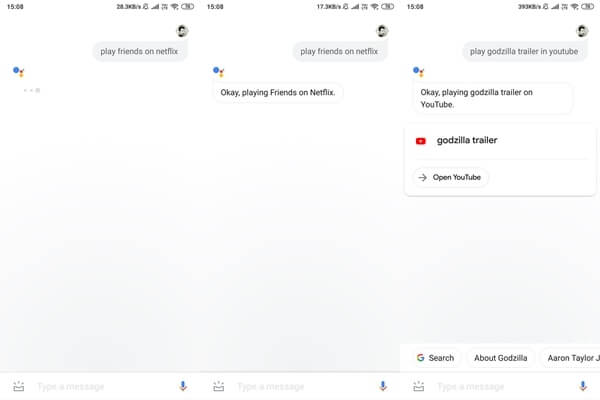 You can also control a slew of smart home devices like speakers, lights, and so on.
6. Learn, Translate Languages
I believe Assistant is your best friend if you want to learn a new language at your own pace. You can also use it to communicate with others if they do not speak the common tongue.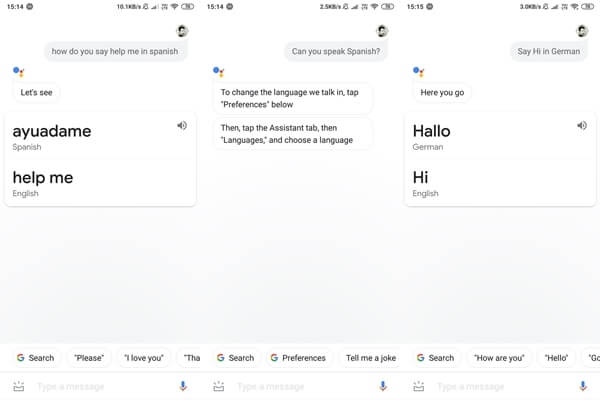 Just use natural language and say something like- how do you say help me in Spanish? It's simple, quick, and a blessing really.
7. Uplift Mood
Too much negativity around you? Think the media is focusing more on depressing and negative news lately? Ask the Assistant to tell you a joke or maybe a story. Wait.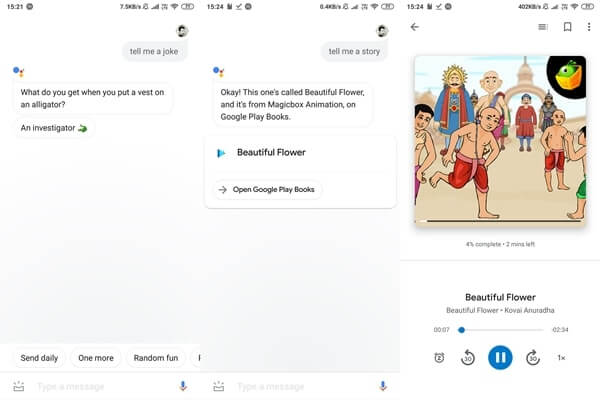 Better still, ask Assistant to 'tell you something good'. Google will share only positive and uplifting news stories with people who are trying to solve problems or doing good in general.
Related: How to Use Google Recorder App on any Android Phone
8. Change Voice
AI voices can be pretty boring and mechanical in nature. After all, there are not humans. If you don't like the voice Assistant uses while talking back to you, you can change it.
There are a number of options, in both male and female, to choose from and each voice is given a color and a name. Play each one and choose the one that resonates with you. You will find the option in Settings.
Also Read: How to Retrain Google Home to Recognize your Voice again?
9. Alarms, Timers
Do you love and use the Pomodoro technique? Want to set a quick timer for baking that chocolate cake? Maybe, you want to wake up early the next morning and need an alarm?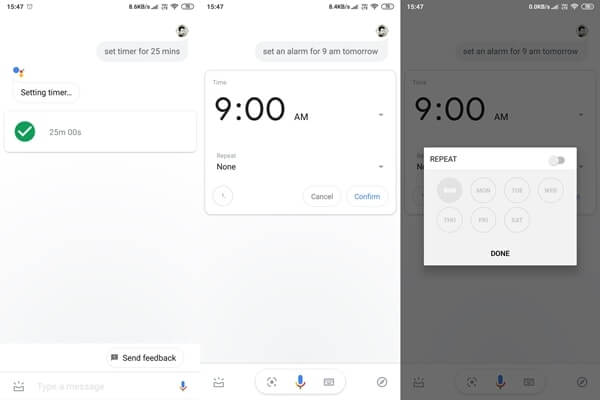 Google Assistant can help you in no time. You can set timers and even alarms using voice or text commands easily. Alarms can be repeating if you are looking to build a habit of waking up early!
10. Make Calls, Send Messages
Yeah, there is more! You can use Google Assistant to make calls or even send text messages to anyone from your contact list. You need to say or type the name by which it is saved on your phone.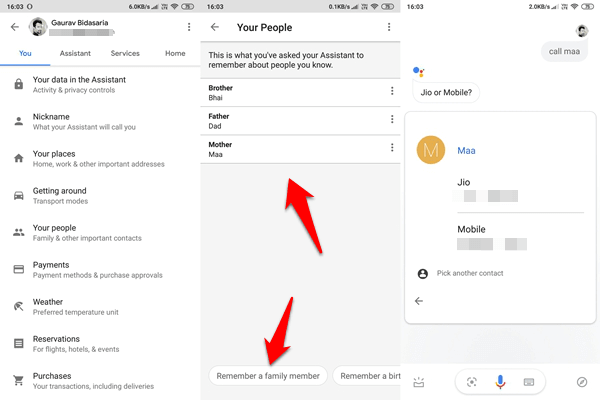 Wait a minute. I don't call my mom or dad by their names. So how do I call them using natural language? See, Assistant allows you to assign nicknames to your favorites contacts. So when you say, call Mom, it knows you mean which name and number to dial.
In case of messages, Assistant will not only show you messages but will also read them out to you so you can continue doing what you were doing!
11. Flight Status
Do you travel a lot? Even if you don't, Assistant is a really good and reliable tool for checking flight timings, status, and rates prices within seconds.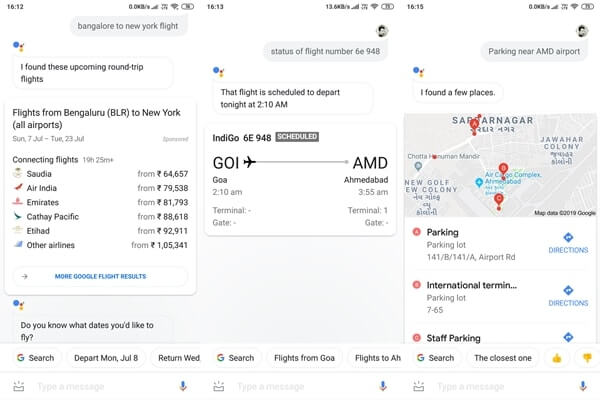 It once notified me about a delayed flight after scanning the flight details from my Gmail account email. Saved me quite a few hours and frustration. You can check flight status, find parking spaces, check the price, and more.
Related: Save money with Google Flight Search and Google Hotel Finder
12. Toss a Coin
Unable to make a call on what to do? You have got two options and want someone else to do it for you? Instead of flipping a coin with your friends, why not ask Assistant do it for you? After all, we are living in a digital age and digital coins are all the rage these days.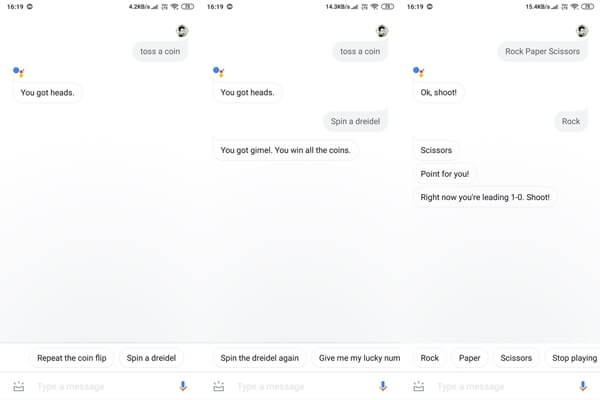 It's easy, fun, non-partial, and fast. You can also play other similar games like Rock Papers Scissors and Gimel with friends and colleagues.
13. AI Makes a Call
It is amazing how powerful and smart AI has become during the last decade. Last year, Google launched a new service called Duplex which uses AI to make calls instead of you. For example, Duplex, which works with Assistant, will make a call to a hair salon and book an appointment using a very human-like voice.
What's even more impressive is that Duplex was able to understand the nuances of having a real conversation with a human. It is important because it's difficult to predict what the other party is going to say or how it will respond. This is probably the most powerful Google Assistant trick that I know of.
14. Routines
We all have a morning routine of some sort where we do certain activities and tasks on a daily basis. Whether it is checking the news and weather or listening to your favorite podcasts or entering the route and checking traffic before leaving for work. Assistant can do all of this and more with routines designed for the morning, evening, and night.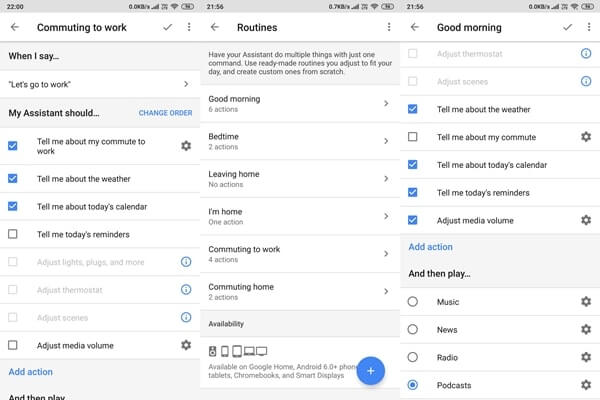 For example, in the morning, when I say 'Hey Google, good morning', Assistant will take my phone off silent mode, tell me today's weather, my reminders and calendar events, change media volume to my desired level, and play my favorite podcast. All this with a single command. There is so much more you can do with routines and you can create even more routines and name them accordingly. It's really clever and a real time saver.
15. Be Harry Potter
If you are a Harry Potter fan, you are going to love this. What happens when Harry, Ron or Hermione says Lumos? Their wands lit up. So what happens when you say 'Hey Google, Lumos'! Your flashlight will toggle on. Coolest Google Assistant trick, ever!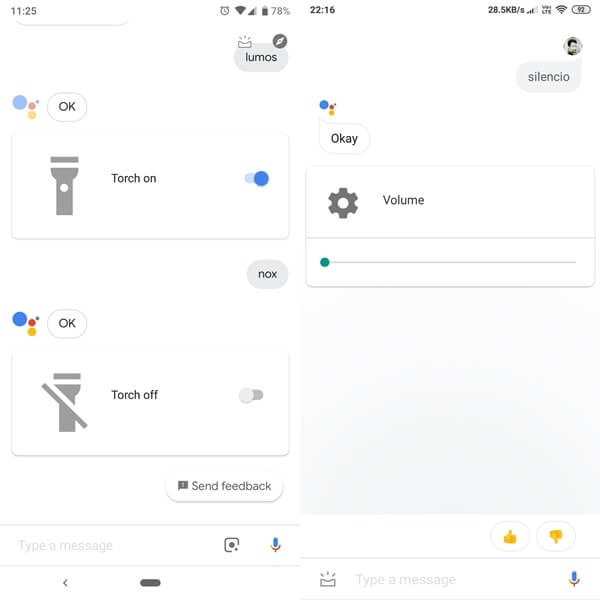 To turn it off, you will obviously say Nox. Last but not least is Silencio which will put your phone to silent mode. Go on, try it.
Here is a pro tip most people don't know about. There are so many spells in the Harry Potter universe and if you want to use something custom which is not available in Assistant by default, you can use the Routine feature I shared above to create custom commands.
For example, play Harry Potter theme music when I say Accio Music! Not a very good example, I know, but you get the gist. Maybe you are more imaginative than I am. Do share in the comments below if you set up something cool.
Also Read: 10 Best Smart Speakers with Google Assistant
These are just some of the amazing things that you can do with Google Assistant and there is much more. You can play so many games, retrieve so much information, and achieve so much more by regularly using Google Assistant. In fact, the more you learn to use it, the more it will learn to help you. It's a process. A friend. You need to spend time with each other to know and understand each other. That's when the magic happens.