Winter is coming up and you should be prepared. It can be really frustrating to go out and get caught in bad weather. This is why you should keep an eye on the weather conditions when you plan your day. Instead of looking on your iPhone everytime you need to see what the weather is you can look at your watch instead. Apple watch weather apps helps you forsee what the weather is in advanced so you can plan out out your daily trips.
There are some best Apple Watch weather apps to give you hyper-localized atmospheric alerts. Can't wait to explore them all? Let's get going.
Carrot Weather 12+
This powerful full-featured Carrot Weather Apple Watch app offer the forecasts in current, daily as well as hourly. This Carrot Weather pple Watch app can change the app's scenery, characters and dialogue change according to the weather. Carrot weather app support dark mode with additional supported screens. This beautifully minimalist weather app contains satellite maps and radar. Astronomy notifications are also present in the app (where available).

Premium Club members will get all kinds of extra notifications. They include those for weather alerts, precipitation, daily forecast summaries and lightning strikes. With Carrot's weather app, you can get quick notifications if there is a storm threat in your local area. The Carrot Weather hurricane watch premium club members can customize every single detail that the app displays to get the data you want. Furthermore, you get colorful complications for your Apple watch face. Note that you need Premium Club subscription to unlock complication customization features, background data updates and notifications.
Key Features: iCloud Sync and Restore | Air Quality Notifications | Weather Notifications | Download from Apple Store: CARROT Weather 12+
The Weather Network
The Weather Network is one of the best free Weather apps of 2017. In addition to the  weather forecast, you can get notifications and stay well ahead of storms. You can keep track of the weather system with the app's weather radar maps and satellite. There are custom weather notifications for individual North American locations including the current location.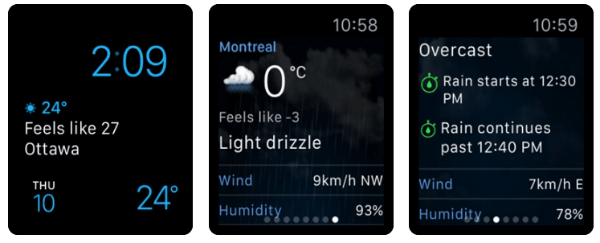 There are detailed weather forecasts including current temperatures and observations, long term (14 days), short term (36 hours) and hourly forecasts. These forecasts get updated every 15 minutes to ensure reliability and accuracy. Also, you get air quality monitoring and UV reports. Alerts include rainfall, snow, lightning, temperature swing, etc. Best of all, The Weather Network app is for free. Moreover, there are precipitation start and stop times within a 10-minute timeframe. The weather network premium feature gives you access to the humidity, actual temperature, wind information and feels like temperature for the previous 24 hours.
Key Features: Access to news, current radar map, weather forecasts | Personalized notifications and videos | Details includes sunrise & sunset times, humidity, yesterday's high & low temperature and wind speed & direction | Download from Apple Store: The Weather Network
My Hurricane Tracker Pro
This is the most comprehensive tool to track tornados, tropical storms, weather warnings and cyclones in your Apple Watch. There will not be too many cluttered screens like you might find in other apps. The Apple Watch Hurricane Tarker app app gives you wind direction, warning windows period, etc in a simple screen.  With this wetaher app, you can also search for previous storms in history (from 1851 or 1949 for Pacific).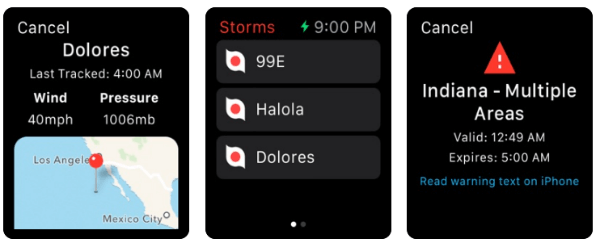 Moreover, get weather warnings from the National Weather Service. The app also updates satellite, radar and sea temperature images automatically. Also, you can see an outlook for the succeeding 5 days from the NOAA. There are interactive tracking maps which you can get for every hurricane. Also, there are storm satellite imagery and NOAA forecast map where available. This NOAA Apple watch app is similar to apps like Storm by Weather Underground, Hurricane Pro and Hurricane Tracker.
Key Features: Tracking specific hurricanes | Receiving notifications | Family Sharing for up to six family members | Download from Apple Store: My Hurricane Tracker Pro
Related: 8 Best Music Apps for Apple Watch
Dark Sky Weather
Dark Sky Weather is your most accurate destination for hyperlocal weather information. The same technology powering Dark Sky's predictions is the one behind the world's first perfect and smooth radar animation. With Dark Sky's radar animation, you can see the actual storm path, movement and the future predicted path. Also, Dark Sky Apple Watch app has advanced notification options. You can get down-to-the-minute alerts before the rains begin in your exact location.

Moreover, get notifications for severe weather alerts (for floods, thunderstorms, hurricanes, etc) with this iWatch weather app. You can create personalized notifications for the next 24 hours (for precipitation, wind, temperature and more). The Dark Sky Notification Center Widget gives you a glance at what's going to happen the next hour and the next week. You don't have to unlock your phone to check the weather quickly before going out.
Key Features: Time machine feature to explore the weather in the future or past | Down-to-the-minute and hour-by-hour forecasts for the succeeding day and week | Family Sharing for up to 6 members of the family | Download from Apple Store: Dark Sky Weather
MyWeather – 10-Day Forecast
This beautiful weather app gives you real-time temperature, 10-day forecast, accurate time-trend and AQl. You get powerful weather forecast spanning over 200000+ cities all over the world. This weather app comes for free. You get instant weather forecast notifications for the current day and the next day. Also, you get disaster warning at the right time with this free weather app for Apple Watch.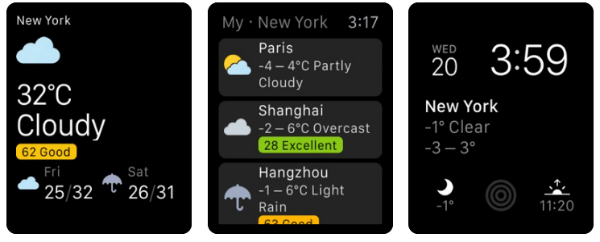 The app comes with well-designed themes like dark, classic, pixels, tradition or vivid. With forecast lists, you can display your friends' cities on your screen. The Appel watch free weather app has a concise structure and is well suited for the wrist. There are multiple sharing options and you can also share your current mood.
Key Features: Family Sharing for up to 6 family members | Supports Watch OS5 Siri watch face | Siri shortcuts supporting dozens of detailed data | 'Update Push City in Background' feature to update current location every 6 hours | Download from Apple Store: MyWeather – 10-Day Forecast
Forecast Bar
Forecast Bar gives you hyper-local and hyper-accurate live weather and forecasts right where you are. This app is also customizable to meet your needs and the most powerful weather app you can ever come across. Furthermore, you can check and share the weather from Messages through the iMessage app which is a part of this app.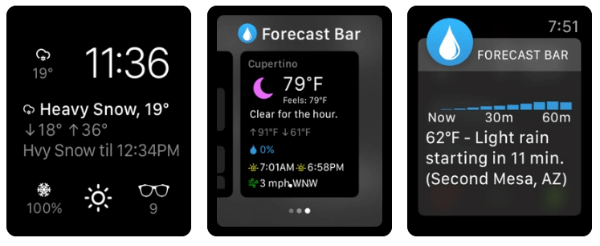 This highly useful app comes free of charge. You can create a customizable weather summary which you can use in the widget and app. Get to select either a light or a dark theme or Forecast Bar will choose it for you. And, the app does this based on sunset/sunrise times or ambient light. You can personalize for both the expanded and compact versions individually. With this free weather app, you can check the current forecast or weather conditions for 14 days at a glance. In addition to this, you get the hour-by-hour breakdown, details like UV index, visibility, pressure and dew point. You can check the weather for about 8 locations at a glance.
Key Features: Family Sharing for up to 6 family members | Personalized Siri Shortcut |  3D touch on home screen icon | Download from Apple Store: Forecast Bar
MyRadar NOAA Weather Radar
MyRadar NOAA Weather Radar is an app that displays animated weather radars from around your current location. The app process the data from the NWS / National Weather Service's raw NOAA to offer the sharpest, clearest and most up-to-date and accurate precipitation information.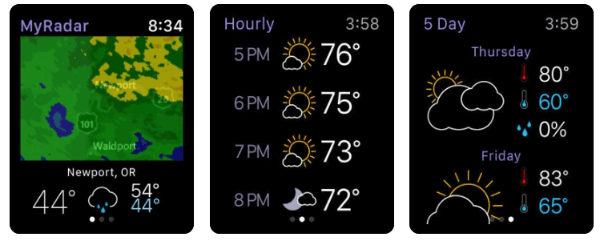 You can see weather details from the closest perspective with the app's high-res animated radar. With NOAA weather app, you can easily zoom and scroll around the app to quickly access weather data in all parts of the US, including Puerto Rico and Hawaii. Up to six members of your family can use this app due to its Family Sharing feature. Above all, this best weather app for Apple watch is for free. Get a quick glance at temperatures around the US and overlay the real-time satellite image of cloud cover. There is a layer providing SIGMETs and AIRMETs for aviation experts.
Key Features: Optional hurricane tracker with excellent details and storm projections | Push notifications for weather warnings | Sharing weather photos from your location | Viewing photos shared by other users | Download from Apple Store: MyRadar NOAA Weather Radar
Related: 8 Best Health Apps for Apple Watch to Track Your Health
Yahoo Weather
Yahoo Weather is another best Apple watch weather app. This app is the only one combining accurate forecasts with stunning photos. Yahoo Weather's immersive experience makes checking and sharing the weather entertaining and inspiring. There are beautiful photos that match the current weather condition, time of day and location.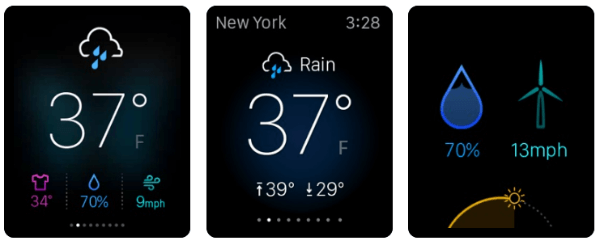 With Yahoo weather app, you can experience weather conditions like snow, fog, extreme heat and rain with animated weather effects. The Yahoo Weather Watch app can display sunrise/sunset times, wind and heat maps, satellite and interactive radar. This data comes with full-screen photos from your location, got from Flickr's photo-sharing service.
Key Features: Detailed forecasts and weather information | Nice background image from  Flickr | Download from Apple Store: Yahoo Weather
Pixel Weather – Forecast
This cute and simple weather forecast application is in pixel style. Pixel Weather displays your current location's weather, including pressure, UV index, wind speed & direction, precipitation, probability of precipitation, relative humidity and temperature. The Apple Watch Weather app displays 10-day and 24-hour and 12-hour weather forecast of the future.

Then, it informs you about the location pollutant, including CO, Ozone, SO2, NO2, PM10, PM2.5 or AQI (Air Quality Index). The app supports POI weather and global cities' weather. With this weather app, you will be able to add world time in the city list for every location. Furthermore, you can add a customized app icon in your settings.
Key Features: Advanced social media sharing | Family sharing for up to 6 members of a family | Adding 6 days forecast information in the widget | Download from Apple Store: Pixel Weather – Forecast
Hello Weather
There are about a million weather apps that are not user-friendly and that are overloaded with ads. This Hello Weather app is extremely simple, gorgeous. The information-rich design gives you the information you need in one simple screen. You will get the future forecast as well as the current conditions in an instant. And, this wonderful weather app comes for free. Intelligently, this app adapts to the changes in diffrent weather conditions.

Hello Weather is powered by the best data sources such as AerisWeather, The Weather Company, AccuWeather and Dark Sky. And, you can select the best provider from the various providers in your area (upgrading is required). You will love its beautiful color schemes and automatic night mode. Hello Weather Apple App tab shows you what weather you can look forward to.
Key Features: Ad-free and free of unwanted information | Easy-to-read and simple forecasts | Night mode and automatic color themes (hot, warm and cold) | Family Sharing feature for up to 6 family members | Download from Apple Store: Hello Weather
RadarScope
Radarscope app can disaply Super-Resolution radar and NEXRAD Level 3 data on your Apple Watch screen. You can also view Special Marine, Flash Flood, Severe Thunderstorm and Tornado Warnings and storm track predictions by the U.S. National Weather Service. And, this Watch weather app displays the latest dual-polarization, velocity and reflectivity.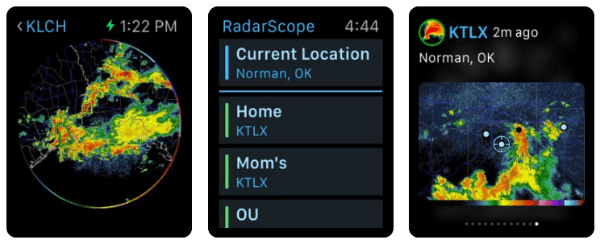 This best weather app for Apple watch get the power of viewing true radial weather radar data. You can browse a list of active warnings, select a particular warning and view the details and also zoom to the particular selected warning on the map. RadarScope will intelligently and automatically retrieve data and update it (once in 2 to 10 minutes based on the radar scan strategy).
Key Features: Family Sharing for up to 6 family members | Data based on CASBE and CASET radars | Download from Apple Store: RadarScope
Planning your day is never a hassle with such super-efficient weather apps. Also, get immediate alerts for severe weather such as storm, hurricane and more. The Weather Apps are a must-have for most Apple Watch users to get the most accurate forecasts in real-time. These Apple Watch weather apps also give you immediate alerts for severe conditions like lightning, thunderstorm and more.