You can make your music time livelier right from your Apple watch. Take a peek at some of the best music apps for Apple watch. Your music experience is addictive with Apple always on your wrist. It is not necessary to carry your phone around to listen to music. Enjoy music from wherever you are with your Apple Watch.
Here is a collection of the best Apple Watch music apps;
Spotify
Play and control tunes from your wrist through Spotify. You will need Apple Watch on watchOS 4.0 and above to get the app. Pause, skip and back up music from your Apple Watch itself. You can scroll and swap playlists or albums from the RECENTLY PLAYED music section on the left. You can set the mode to Shuffle by using the toggle on top of the screen.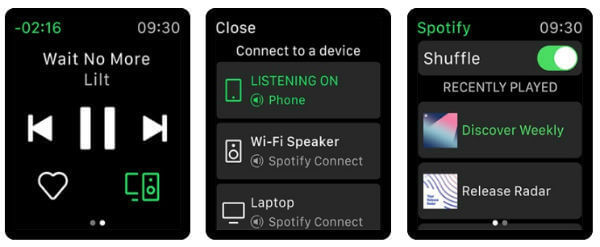 Control the volume and get information about the track that is playing. You can also save your favorites for future use. Add the currently playing track to the library by clicking the heart button below the playback functions. You can then access the track through the Spotify app on your phone.
With Spotify Premium, you can enjoy a better sound quality and ad-free music. You can also listen to offline music with the Premium feature. Contribute to market research like Nielsen's Audio Measurement through supportive software.
Key Features: Ready-made playlists | Personalized recommendations | Thousands of podcasts and exclusive originals not found anywhere else | Spotify Connect – a shortcut to ping music to compatible devices like smartphone, Sonos speaker or Amazon Echo | Download from App Store: Spotify
Apple Music
Apple Music is a stock app that comes with an Apple Watch OS. There is no need to install the app on your Apple Watch. The Apple Music app is the best choice for music apps, since this is well integrated with Watch OS and iOS devices.
The music app is designed to play music from your subscription, the local music stored in your Apple Watch, etc. Apple Watch 5 also supports playing the podcast on music app. The Siri integration works well with Apple Music app and you can use AirPods with Siri commands to control the Apple Music app.
Key Features: Apple Music Subscription Play | Local Music Play Support | Integrated with Siri | Podcast Support | iOS devices support | More details: Apple Music
Related: How to View Full Song Lyrics on Apple Music
Deezer: Music & Podcast Player
A personalized music companion is what you need and Deezer is one of the best. Play your favorite songs and discover new music, audio channels, radio stations and podcasts. Sit back and change tracks with the Shuffle mode.

Use the advantage of offline mode and ad-free music with Premium. Also, skip tracks endlessly and listen to superior sound quality (320 kbps). The music player is compatible with Amazon Alexa, Google Home and Sonos sound systems.
Deezer Flow, a paramount feature, creates the perfect music mix according to your tastes. With Deezer Family, get six Premium profiles for your family. Get all the Premium benefits for just half the price with Deezer Student. Stream music on high-res sound systems without losing quality through Deezer Hi-Fi. Also, identify songs and play them by clicking PLAY on any slide through SongCatcher.
Key Features: 53 million songs including global hits | Adding music to your collection with Favorites with a single tap | Sharing tracks and playlists | Classifying new music by genre or artist | Download from App Store: Deezer
Shazam
This is a highly popular app used by more than a hundred million people every month. You can discover music and get lyrics to your favorite songs through this app. View the Shazams of top artists like Justin Bieber, Drake, Ed Sheeran, and more. Moreover, discoveries from artists you've Shazamed earlier get displayed automatically.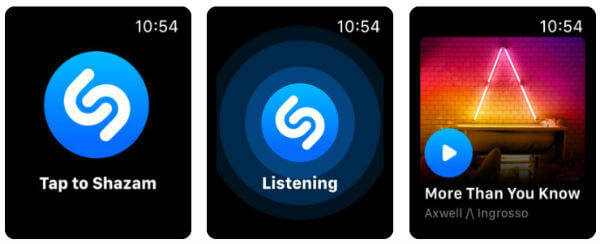 Follow new artists easily with just the tap of a single button. Get up-to-date information about new albums, singles, and videos from the artists you follow. Try beating Shazam by playing along with the app when you watch a show. And, share your discoveries and see those of your friends through social media. From iOS14 onwards, you have control center shortcuts to identify music.
Got the name of a song stuck in your throat? Name that song right away in seconds, through this app. If you own Watch Series 3 LTE, you can shazam without your phone! If you don't own one, you can still listen to music from your watch. You'll get a slight tap on your wrist when the app gets a result after you reconnect your phone.
Key Features: Viewing past Shazams by simply swiping up | 'Handoff' to buy songs on iTunes and to watch videos | Visual recognition feature – using camera icon on iPhone wherever Shazam camera logo is seen | YouTube videos | Previewing songs and adding them to Spotify playlists or Apple Music | Using Pandora radio based on various artists | Track Recommendations | Download from App Store: Shazam
SoundHound – Music Discovery
Identifying that song playing around you is easier with SoundHound. Tap the big orange SoundHound button to allow your phone to listen to the song for some seconds. The app will immediately tell you what's playing. Make sure you have installed the latest SoundHound version v8.5 from the App Store.

Interact with the app with its powerful listening panel by starting to say "OK Hound". For example, say "OK Hound…what's playing?" to view the name of the song that is playing. Get soaked in a richer playback experience by accessing Spotify playlists. You can discover everything about a song including album, artist, title and lyrics. If you want an ad-free experience, upgrade to SoundHound∞.
Key Features: Built-in and free YouTube player to listen to music and view lyrics | Seeing all discoveries in personal history | Identifying music quickly and singing along with LiveLyrics | Music discovery with SoundHound button or via 3D touch on app icon | Syncing all music discoveries across multiple devices | Sharing discoveries to social media, email or messaging services | Download from App Store: SoundHound
Pandora: Music & Podcasts
You can leave your phone at home and take your music with you for a jog. Make sure your Apple Watch is updated to WatchOS 5 to try this app. Download Pandora with the Watch app on your iPhone. If you have a Pandora subscription, you can check your recent downloads too.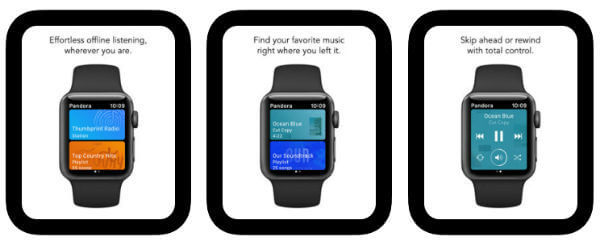 Your listening experience is personalized and changes according to your tastes. Create stations from your favorites or search for recommended stations based on your mood or activity. Get rid of ads and also replay or skip music an unlimited number of times with Premium.
You will have to pay $4.99 per month to subscribe to Pandora Plus. Pandora may use a huge amount of data and carrier data charges may be applicable. It is good to connect your device to a trusted Wi-Fi network whenever it is available.
Key Features: Offline Playback | Controlling playback and giving thumbs up to songs from the Watch | Download from App Store: Pandora
Related: How to Use Spotify, YouTube Music, Apple Music, Pandora as Alarm
TuneIn Pro – Radio & Sports
Access your favorite radio stations with your TuneIn app for free. Follow shows and stations, and change stations easily. Also, discover related stations and play, pause and skip through content easily. You can find more than one lakh radio stations including sports, music, talk shows and news.

There are no ads to disturb you and you can record what you listen to. You get access to more features with TuneIn Premium. Get live coverage of NBA, NHL, NFL and MLB games for all seasons. You can also listen to a wide range of podcasts from the app.
With Nielsen's audience measurement software, you can contribute to market research like Nielsen's Audio Measurement. If you choose not to participate, you can opt-out in the app settings.
Key Features: Streaming worldwide radio stations live | Favorite podcasts and talk shows on demand and live | Live coverage of concerts, sporting events and more | Enjoying TuneIn from anywhere with Apple Watch | TuneIn feature for CarPlay | TuneIn feature for the home with Google Chromecast | Download from App Store: TuneIn Pro
iHeartRadio – Radio & Podcasts
iHeartRadio is one of the best and easy-to-use apps and it comes for free. Stream unlimited music and listen to thousands of playlists, podcasts and radio stations. Listen to the most popular podcasts like How Stuff Works, 30 for 30, NPR and more. Also, listen to the most famous personalities like Bobby Bones, Anna Faris, Ron Burgundy and more.

Download episodes to your phone and listen to them offline without WiFi. The app has thousands of hand-curated playlists organized by decade, activity, mood and genre. Also, get to create personalized music stations from your favorites. My Favorites Radio is the ultimate personalized station with all the songs you love.
For You, a recommended Custom Station and the thumbs up and down buttons are also available. Apple Watch's speech technology helps you play music simply by saying an artist/station's name. Browse stations from the My Stations menu and discover new music with Apple Watch's Force Touch menu.
In the Premium feature, control your listening experience with iHeartRadio All Access™ and iHeartRadio Plus™. Enjoy millions of songs on demand and unlimited playlists with Premium. Save and replay songs and get unlimited skips, also with Premium.
Key Features: Recently Played section in Library for seamless listening experience | Sports stations like Fox Sports, ESPN Radio and more | Top music, sports, comedy, talk, news and radio stations | Thousands of local and live FM and AM radio stations nearby and from all over the world | Favorite Podcasts at 0.5x, 1x, 1.25x, 1.5x, and 2x speeds | 'Your Weekly Mixtape' – for easy music discovery | Download from App Store: iHeartRadio
Musixmatch
Musixmatch app has the largest database of lyrics in the world. The app gives you synchronized lyrics with multilingual translation. Connect your Apple Music or Spotify account to get synced lyrics while streaming tracks and playlists. Also, get lyrics for Spotify or Apple Music straight from your Lock screen.

Do you want to learn new languages? Easily learn them through line by line lyrics translation along with the music. Identify any song playing around you and get its lyrics with a single tap.
Are you an aspiring singer or do you sing just for fun? Either way, sing along with any song through word by word syncing with Party mode on, a Premium feature. Other Premium features include ad-free and commitment-free experience and offline lyrics. The Premium feature is available in the US for $35.99 per year or $2.99 per month and varies according to each country.
Key Features: Getting lyrics on the Apple Watch without needing the phone | Instant notification about new lyrics | Easily and quickly finding favorite songs on profile | Collecting identified songs in Spotify playlist | Submitting lyrics and translating them in the community | 'LyricsCard' feature to share song lyrics in amazing backgrounds | Download from App Store: Musixmatch
These are our picks from the best music apps for Apple Watch. If you are a subscriber of Apple music, your Apple Watch Series 3 and later will automatically access your music library. You can use Siri to play any song from the Apple Music catalog too. Music follows you wherever you go, thanks to these excellent Apple Watch music apps.