Do you know that you can get all the call details of your land line from BSNL online? The online methods are replaced the legacy application and follow up cases and instantaneous too. A new self-care portal available to make the process of "check BSNL Landline Call Details Online" easy and simple.
If you have an internet connected PC, then you can grab all call information within minutes. This article is good for all BSNL landline owners in all over India.
Related: How to Check Usage Report Online of BSNL Landline & Broadband
The call details you have made from a BSNL land line is directly accessible to you after registering in the "Selfcare" portal and the registration is instant if you are having proper details.
Register on Selfcare
We need to register with self-care portal and add landline account to the registered user id before attempting to get call details.
Related: How to Get Gas Subsidy Amount Deposited Directly to Consumers Bank Account
Once you have registered you can login to the self-care site for different purposes. If you are  having your latest telephone Bill with you and still not registered, you can go "Register with BSNL new self-care portal" for completing the registration process.
Open BSNL Services Window
After registration, you will be having the user ID and password chosen by you. Now you can go to the site and login with that user ID and password. http://selfcare.sdc.bsnl.co.in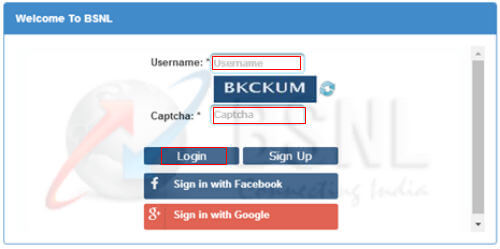 Enter your correct user ID and Password, then you will reach the home page. Now click on "Billing Account Number" as shown in the picture.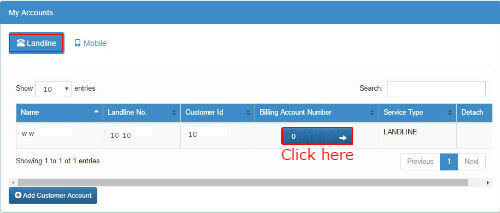 A number of services will be open for you in the next window.
Check My Call Details
In the Menu, go for "My Usage" then "Landline Usage" and "Billed Call Details". Click on that.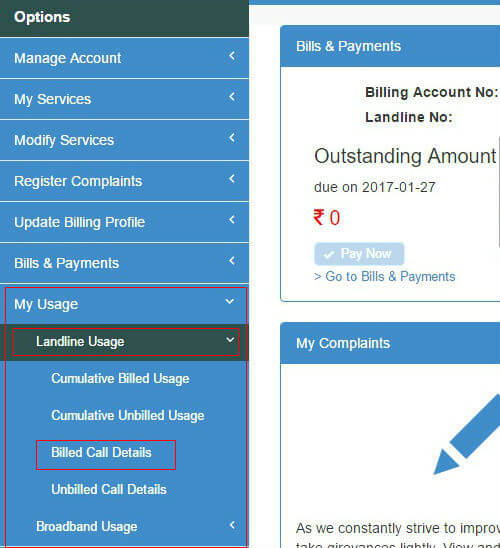 You will be asked to enter a few details to get your call details.
Select BSNL Service Period & Go
The portal now provides simple drop-down choices for selection of call type and invoice number. This option now provides only last 3 bills for checking the call details. If you need to take the previous call details, you should approach nearest BSNL customer service center.
In the current call details options, we need to enter usage month and the month of starting date and ending date. If accidentally you ended up in the "No records found" or Error screen, you can come back by again repeating the menu selection in the left pane.

While selecting dates, just click on the icon. It will pop up a calendar. Select the required date on calendar and click on save button. In case you filled a wrong date there, select the default position in the Landline dropdown menu. Now you can again select the dates afresh.
After filling all the required details, click on "Go" button.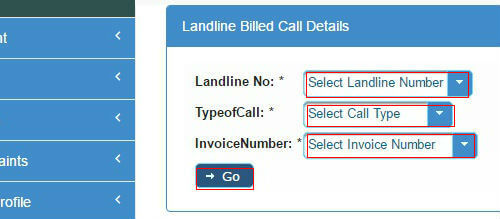 Now you can find the dialed call details viz. number, duration of the call, charge of the call, time etc. The discount field shows that whether you have crossed the free call limit or not. If there is no discount, then you have crossed the free call limit.
The screen will normally display 10 call details in the screen mostly starting from the "From Date" you have given. You can find out that the top right corner of the screen shows the pages when there are more entries. You can click on page numbers there to navigate to further dates in the display of call records. Also you can download the entire details as Microsoft Excel or PDF format by clicking the respective icons.

The call details of the last month will be available from 7th of next month onwards. The current month call details also can be seen from 7th of the current month onwards.
Similarly, you can check the broadband usage also in this portal. To know more about checking the broadband usage, please go through here Do you Think You Overcharged For BSNL Data Usage! Check Here.
Recommended list of best Wi-Fi routers from Amazon
           
There are few more tips available that will help you to get more data regarding your telephone connection. Please visit the following links
To download your landline bills. Download BSNL land line bills
To know about the online payment of BSNL, please check here. pay BSNL bills.
To check your present month usage. How to check BSNL usage online
Good Luck, Save Time, Keep Update.