Sometimes, there is a need to mirror Android to TV bigger screen. Let's say that you would like to watch the photos, videos or presentations stored on your Android on a big screen TV. There is no option to connect your Android directly to Amazon Fire TV. However, you use some third-party apps to mirror your Android to Fire Stick TV. As the Amazon Firestick is based on the Android OS, it is possible to install a mirroring app on the Firestick and your Android.
You can stream local photos/videos stored on your Android to Amazon Fire TV Stick with the apps. Let's see how to mirror the Android on your TV screen using Firestick.
How to Mirror/Cast Andriod to Firestick
If you think that Android users can easily mirror their phone to Firestick without using any apps, then it's an illusion. In the past, it was possible to connect your Android device to the TV using Miracast protocol which was introduced on Android 4.2. Later, Google had disabled that feature to promote Chromecast devices. If your phone is running an old version of the Android, then you can try connecting that to the Firestick directly without installing any apps. Otherwise, you need to rely on third-party apps to cast your Android device to Firestick.
There are a lot of mirroring apps available on the Google Play Store. Even though the above-mentioned Video & TV cast is also available for Android, it doesn't support the casting of personal media. Let's try another mirroring app for Android named Allcast.
Step 1: Install Cast App on Firestick and Android
Launch Firestick on your TV.
Tap Search icon.
Enter the keyword "allcast".
Locate the app named AllCast.
Tap Download to install it on your Firestick.
On launching the app, you will see a message that prompts you to install the same app on your Android phone.
Now, get your Android phone, download and install AllCast app from Google Play Store. with the Link.
Step 2: Cast Android Videos and Photos to Amazon Fire TV Stick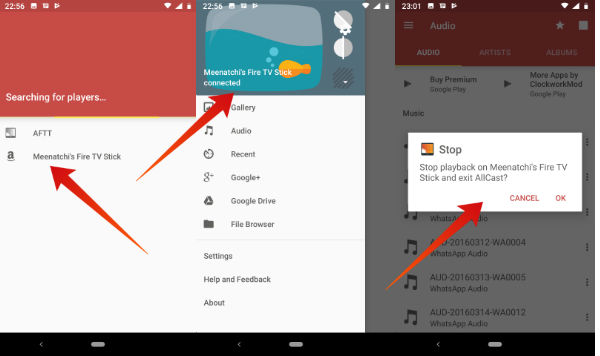 Launch the cast app on Android.

You may see the message "Searching for players".

Tap on Firestick image on Android

It may take a few seconds to display Firestick on the screen

See the text "connected" below the text MT's Fire TV Stick

MT is the name on the Amazon account.
Below that, you will see the list of options like Gallery, Audio, Recent, Google+, Google Drive and File Browser.

Tap the option to mirror the photos, video or audio on your TV screen.

For example, you can tap Gallery to view all the images stored on your phone on the big screen.

Tap Stop (square icon) located on the top right of the screen to stop casting.
Tap OK on the confirmation to stop mirroring your Android device.
The free version of AllCast offers only 5-minute to cast the photos/videos on your TV. And, the Premium version provides unlimited mirroring costs $4.99.
Also read: Best Android Screen Sharing Apps to Control Android from PC
Best Apps to Mirror Android To Firestick
AllCast is the most popular option to mirror your Android device to Firestick. Still, if you would like to try out other apps, then you can check out the below ones:
AllConnect
AllConnect allows casting your personal media like photos, videos from your Android device to your TV screen. In addition to that, it also allows to stream videos, movies or TV shows directly from your mobile browser. Also, it allows to stream content on multiple devices simultaneously. As the in-app purchases are removed, AllConnect is now available as a free app on the Google Play Store.
Download AllConnect: PlayStore | Amazon (AllConnect Receiver)
AirScreen
AirScreen is projected as one of the most advanced mirroring apps that supports multiple protocols (including Google cast) and devices. Using the app, it is possible to cast not only from your Android device but also from Mac, Windows or an iOS device to your TV screen. It offers better privacy by encrypting the transmission of your personal media over the network. It is available as a free app, with some limitations. For the paid version, in-app purchase costs between $1.49 to $19.99 based on the feature.
Download AirScreen: PlayStore | Amazon (AirScreen Receiver)
If you own a smart TV or a streaming device like Amazon Firestick, then you can watch your favorite movies or TV shows from NetFlix, Hulu or Prime directly. However, these apps won't help you to watch the local content stored on your Android. Most of us will not be having any HDMI cables to connect the phone to the TV. The reliable solution here to depend on the apps that can cast media files from Android to Fire Stick TV.
We hope you should have gained a good knowledge of how to mirror or cast your Android to your TV using Firestick. If you decide to go for a paid solution, then it is highly recommended to test the free app version before spending money.