BSNL offers a lot of online facilities for the new generation customers in addition to the legacy systems. You can check your BSNL mobile or Landline bills by online. If you don't know yet about it, then please check here to download BSNL landline bills.
Now we will see how to pay your BSNL bills online without going to the BSNL counters. You can also pay for other services like BSNL mobile, EVDO, FTTH, WiMax and BSNL Mobile recharges by online from the same portal.
To Pay your BSNL bills online, open the site http://portal.bsnl.in/Portal/aspxfiles/login.aspx. Alternatively you can go to the BSNL India Website and click on "Pay Landline / Boradband bill" to get the same.
Update: Now this payment option can be invoked from new self-care portal and My BSNL App too. Check this "New Selfcare portal registration"
Here you will be reaching the "Quick pay" page and you can pay your bills entering all the bill details like Telephone Number, Account Number and Payees Mobile number/E-mail address. This method will not store any information in the site and again in next time you have to enter these inputs. However, this method is useful if you want to pay your neighbor's or friends bill through online.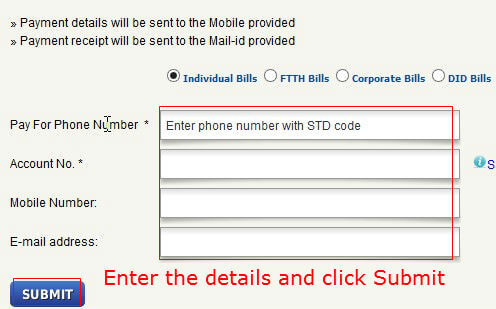 If you are taken the first link option, it is beneficial to you that you don't have to keep your bills with you to pay the amount or no need to remember the account number always. First we have to register in the portal to add your account to it. If you are first time user, then click on "Sign up", else you can login with the registered user id and password.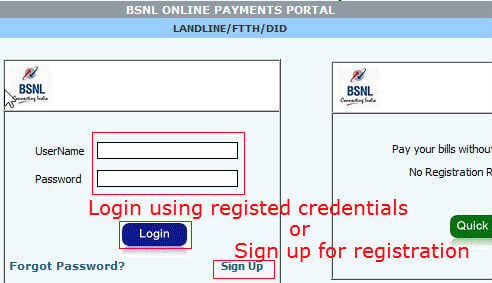 In the opened sign up page, carefully enter all the parameters like your name, contact number, mobile number, email address, address etc. where all the fields are mandatory only. After filling the details Click on Submit to create your account in BSNL portal.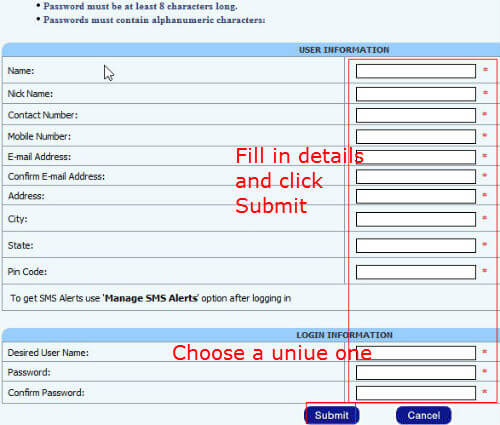 Once your account is created in the portal, Click on "Continue" and login with the created user id and password. Now you have to add your telephone numbers before moving for payment option. The main advantage of this method is that your telephone bills will automatically add up here on the bill date itself, once they are due for payment. Also you can pay for multiple phone numbers once you added that numbers here. To add a telephone number to your account, Click on "Manage Phone Accounts".
Your Phone accounts will be displayed in this page. To add up new number, first select the Circle from dropdown menu and Click on " Add".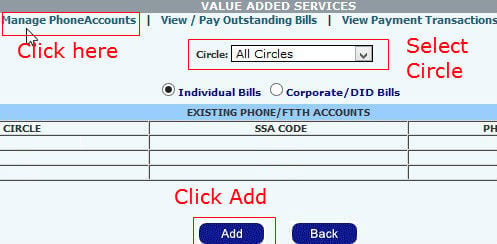 In the opened page, carefully enter your details like SSA, Phone Number(without any code), Account number from any of old bills and Click on "Submit". Your phone number will be added now and now you will receive your bills due for payment from next month onwards regularly. After some days, you can verify that by logging into the account.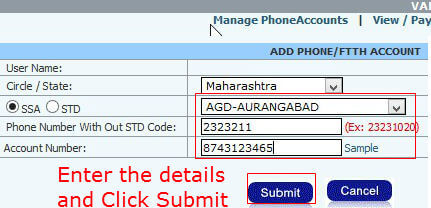 If you are added your Phone accounts earlier, then Click on "View/Pay Bills" option to start the payment process. Select "All circles" from the drop down menu. Your bills, pending for payment, will be shown here as "Pending". Now Click on "Pay Now" button against the bill.

You will be prompted to select the mode of payment. Select your mode of payment (credit card/debit card/internet banking and so). Then it will show the available bank options to select. Most of the banks are available for the payment option. Once you selected the mode and bank, then it will direct to your bank page to complete the transaction. Never go back during the process or refresh the page. If you are stuck in between, wait for few hours and re-login to your account to check the status of your payment. If it is showing as failed then repeat the process.
Once the payment process successfully completed, then you will get a transaction details page. You can note down the number for future references or it will be available under your transaction history.

Now you can pay the bills by online according to the above procedure. For Landline payments done in the portal you may also get a discount of 1% of your telephone bill as per promotional offer. So avoid the last minute rush to the BSNL counters and queues. Pay your bills from your comfortable place without any worries.