Securing your browsing experience has become essential. With Safari on iPhone, you hold the key to a realm of private exploration, where your online activities remain your secret. Discover the empowering technique of locking down private browsing on Safari. Join us as we unveil the steps to enhance your privacy and keep your online adventures confidential.
With the latest release of iOS 17, you can take additional steps to safeguard your private tabs by using Face ID. This feature ensures that only you can access the tabs you have opened. In this article, let's see how to lock the private tabs on Safari with Face ID.
How to Enable Protection for Private Tabs on Safari
Google has already added the option to lock private tabs with Face ID on Chrome. With iOS 17, Apple also has introduced the option to secure your private browsing sessions. Let's see how to do that.
On your iPhone/iPad, go to Settings->Safari.
Under the section PRIVACY & SECURITY, toggle the field Require Face ID to Unlock Private Browsing to on or green.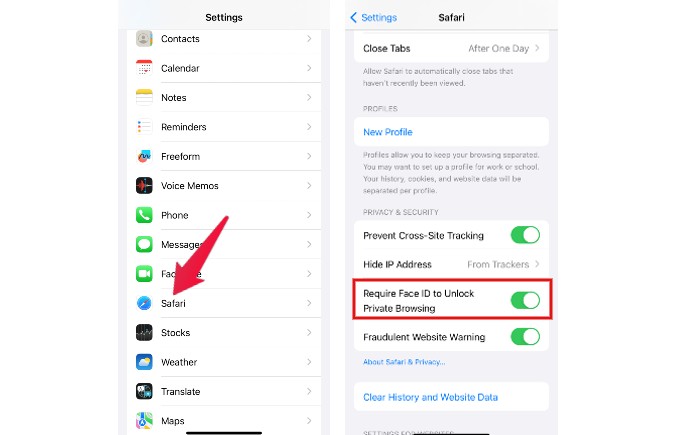 If your device doesn't have a Face ID, you will see an option that allows you to lock the private tabs with a passcode or Touch ID. For example, I can see the below screen on my iPad with Touch ID.

How to Unlock Private Tabs on Safari
To ensure privacy on Safari, you can activate the lock feature for private tabs. Once enabled, the tabs can only be accessed through Face ID, passcode or Touch ID, depending on what is available on your device. Here's how to enable it.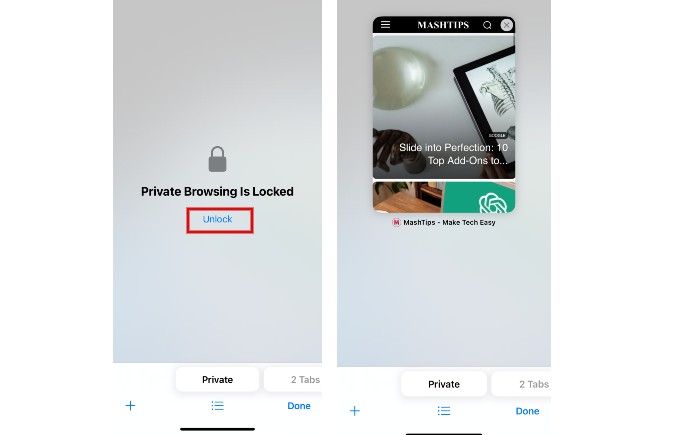 Launch Safari on your iPhone/iPad and tap Private.
Here, you will see a screen that displays the message "Private Browsing is Locked".
Tap Unlock and authenticate with your Face ID, passcode or Touch ID to unlock the private browsing session.
Please keep in mind that you can only access private tabs on your device until it locks and the display turns off. Once this happens, iOS will automatically lock the private browsing feature and you will need to provide authentication to unlock it again.
Locking private tabs on Safari can be extremely useful for individuals who share their devices with children or other family members to hide their browsing history.
Taking control of your online privacy is a responsibility we all share. With the ability to lock private browsing on Safari for iPhone, you've gained a powerful tool to protect your journey through the virtual realm. By implementing these steps, you're safeguarding your data and asserting your right to explore the digital world on your terms. Remember, your online adventures are yours alone – keep them private and secure. Embrace the power of privacy, and continue navigating the internet with confidence. Stay safe, and stay empowered!