Unlocking your iPhone with the Face ID is definitely faster than entering a passcode. But, sometimes, your iPhone may not recognize your face and you will be forced to enter the passcode to quickly unlock the device. Or you might get an error message like "A problem was detected with the TrueDepth camera. Face ID has been disabled". In such scenarios, you can try out one or more of the below-mentioned steps to resolve Face ID not working on your iPhone.
Let's get started.
Check if Your Face is Blocked
In order for the Face ID to work properly, all your face parts like eyes, nose, and mouth should be fully visible to the camera. If you have covered your face with a facemask and had not set up your Face ID with a mask, then the Face ID won't work. Either you have to remove your mask or configure your Face ID with a mask on your iPhone.
Generally, Face ID will work perfectly with different types of sunglasses. If you are wearing glasses and your device fails to recognize your Face, then try removing your glasses. Do remember that Face ID with a mask won't work with sunglasses.
Related: How to Unlock iPhone with Apple Watch While You Are Wearing a Mask
Clean the TrueDepth Camera
The TrueDepth Camera on the front of your iPhone might not work properly if it is covered with dirt like you cannot view the object clearly with foggy glasses. To resolve the issue, you need to clean the area covering the camera and sensors.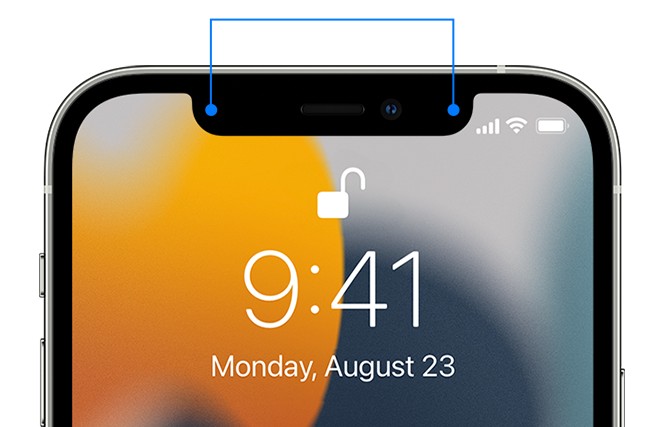 Take a slightly damp and lint-free cloth and gently wipe the area around the front camera. Don't use any kind of solution as it might affect the hardware. If you found any stain that is hard to remove, then use warm soapy water to clean that area.
In case there is no dirt, make sure the camera is not covered by the screen protector or your iPhone case. After cleaning, try and see if the Face ID is working properly.
Related: 7 Best Ways to Clean iPhone Speaker and Remove Dust or Water
Adjust Your iPhone Position
On any iPhone, Face ID works only in Portrait mode. For example, if your iPhone is lying on a sofa or couch in landscape mode, then your iPhone won't unlock with Face ID. Make sure your iPhone is in Portrait orientation and you are facing the TrueDepth camera.
Also, your iPhone should be closer or maximum at an arm's length from your face. Otherwise, the Face ID will not work properly.
Check Face ID Settings on Your iPhone
Are you certain that you have enabled Face ID for all the features? If not, you can go to the Face ID settings on your iPhone and make sure it is configured correctly.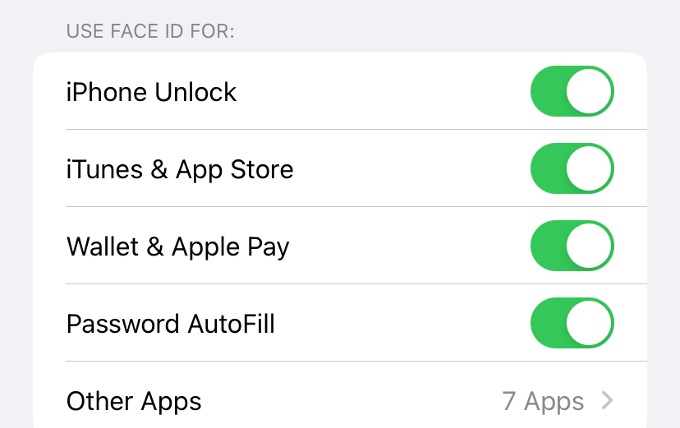 On your iPhone, go to Settings > Face ID & Passcode. Next, enter your passcode to provide authentication. In the new screen, Face ID & Passcode, check if Face ID is enabled (Green) for all the features or apps you use Face ID.
Related: How to Lock Notes on iPhone with Passcode and Face ID
Restart Your iPhone
Have you tried all the above steps and still Face ID is not working? Sometimes, your iPhone might have got stuck for a reason, and not be able to unlock your device with Face ID. To overcome that, restart your iPhone.
To restart your iPhone with Face ID, press and hold the Side button and one of the volume buttons, till the slider appears on your screen. Next, drag the slider to turn off your device. Wait for a minute or so and then press and hold the Side button till you see the Apple logo. Once the device is turned on, check if the Face ID is working properly.
Check for Software Updates
With any software, bugs are common and iOS is not an exception to that. That's why it is very important to keep your iPhone updated with the latest software as bug fixes and improvisations happen in every iOS release.
If the Face ID not working issue is caused by some software glitch on your iPhone, updating your phone's software to the latest version could fix the problem. On your iPhone, go to Settings > General. Then, tap Software Update and make sure your device is running the latest version.
Reset Face ID on iPhone
Even after trying all the above and still, the Face ID is not working, then it's worth trying and resetting the Face ID. Once you reset your Face ID data, it will ask you to set up Face ID from the beginning.
To reset Face ID on your iPhone, go to Settings > Face ID & Passcode. After entering the passcode for authentication, tap on Reset Face ID.
Now, Face ID will be turned off completely and you need to set it up again. Tap Set up Face ID and follow the on-screen instructions to scan your Face. Once it is completed, try to unlock your device with Face ID. Hopefully, it should work.
Related: How to Secure Google Drive with Face ID or Touch ID on iPhone and iPad
Set Up an Alternate Appearance
In general, Face ID will learn continuously as it sees changes in your face. However, if you change your appearances regularly (Ex: Acting in movies/TV Shows) and your iPhone is not able to recognize your face, then you can set up an alternate appearance.

For that, navigate to Settings > Face ID & Passcode screen and tap Set Up an Alternate Appearance. Then, follow the instructions shown on the screen to set up your alternate appearance.
Have you tried all the above steps and couldn't resolve the issue? Then, most likely there is some issue with the Face ID hardware and you have to take your device to the nearby Apple service center. If your device is still under warranty, you need not spend money on the repair.