There are many automatic reply Android apps that let you send custom replies to messages. These apps let you automatically reply from Android notifications. This will help to avoid the whole process of opening the app for giving a reply to that particular message. With Android auto reply apps, you don't need to focus on sending replies immediately to unimportant messages.
Here is the list of handpicked best automatic reply apps for Android that can reply for your messages automatically.
Auto-Reply for whats
Empower yourself for replying to WhatsApp messages without needing to type replies. Set a custom reply message to your incoming messages. You can also choose to give programmed answers and allow the app to give the correct replies.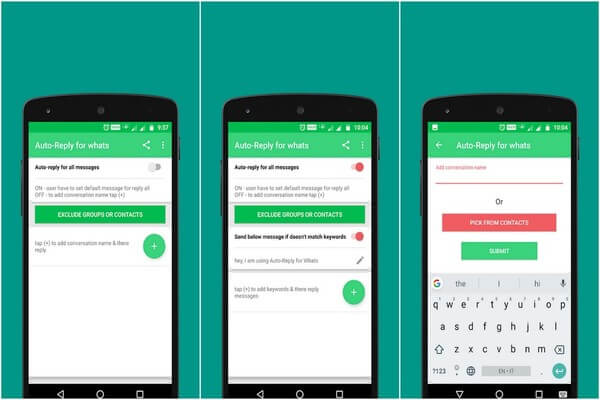 Set responses for replies to continuous messages. You can also finish off with a few words if you find the constant messaging overwhelming. It is up to you to reply back to all contacts or a few selective ones. You can also assign Reactions for each message so that the reply does not look programmed.
Download from Play Store
Editor's Note: These auto reply apps cover messaging platforms and SMS. You can also set auto-replies for emails in email apps. Set out of office message in Gmail or out of office outlook message through their mail apps. These features come built-in and you can find them in settings.
SMS Auto Reply Text Message/Calls, Autoresponder
Setup many profiles for auto-replies to your missed calls and incoming SMS. This comes in handy when you are away or on a business meeting. Each profile has its own settings. Thus you can set your customized messages, whether it is a long one or a short one. Choose the option to set time and days of the week for sending replies. You can also set it such that this gets repeated every week.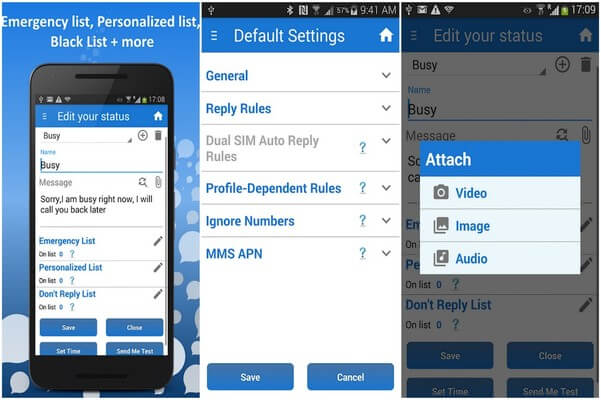 This automatic reply app allows you to receive calls from selected persons any time of day. This feature is handy in receiving urgent calls from near and dear ones. At the same time, you can also set a list of contacts for blocking any automatic response to them. Thus avoid people you don't want to converse with.
Download from Play Store
AutoResponder (SMS Auto Reply) + SMS Scheduler
AutoResponder is a great app for Android auto-reply. It allows you to respond whenever you are in a meeting, driving or sleeping. The app lets you set up various SMS responses for auto-replying incoming messages. Create an emergency and personalized list for yourself to reply to important contacts.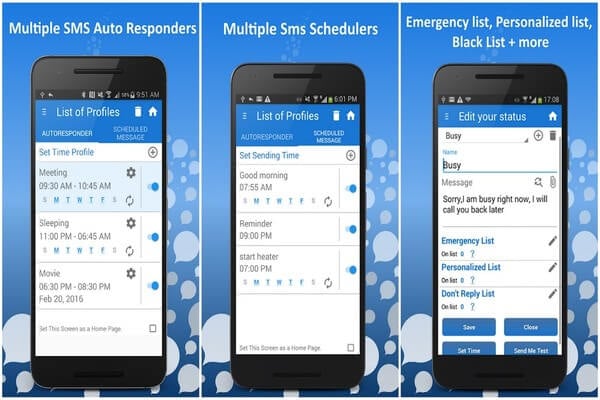 Activate the autoresponders on specific days and time to schedule responses as you need. It comes with a widget having a quick text auto-reply response overview for the user.
Download from Play Store
TextAssured
Stop the incoming chain of the message with the TextAssured automatic reply app. Continue your driving, eating and working regardless of incoming messages. Enjoy uninterrupted working with one of the best automatic reply apps for Android. Create profiles that will activate at a given moment of the day. These profiles will start or stop the incoming flow of messages. You can also activate profiles based on location. Change profiles so that when you reach the office, you enable auto-replies to messages.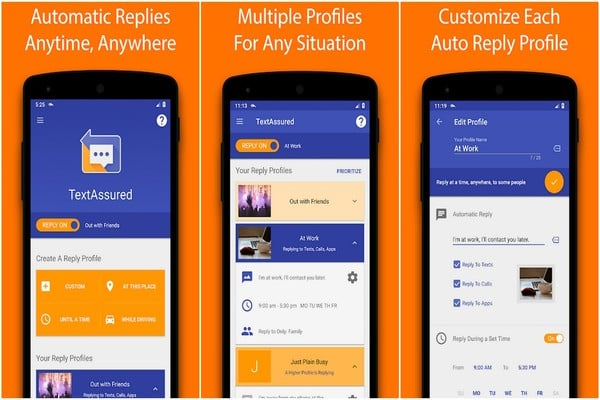 This auto-reply app comes with text and image messages as well. Create contact groups and list contacts for whom you want to set the replies. See the reply history for knowing about the text or image sent to the person.
Download from Play Store
Autoresponder for WA
Annoyed by the messages pouring into your business and personal WhatsApp accounts? Then AutoResponder for WA is the best tool available for your Android device. Give a reply to every message even when you are busy. Set welcome messages for the new chats and send message specific replies. Send many replies in one rule.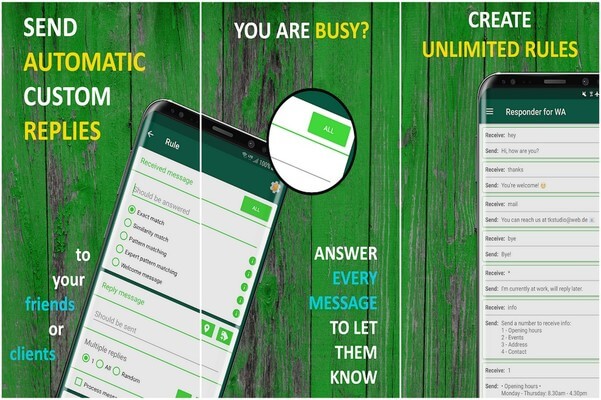 Automatic scheduler with delay is also present in the automatic reply app. It allows you to schedule replies to the messages. Set the app to reply based on the time or your location. Backup rules are also present in the app for recovery of sent replies to incoming messages.
Download from Play Store
IM Auto Reply
IM Auto Reply is an auto-reply app that lets you set responses in the majority of instant messaging services. These services include WhatsApp, Facebook, Telegram, and Messenger etc. Set responses to specific contacts or avoid responding to messages from certain people.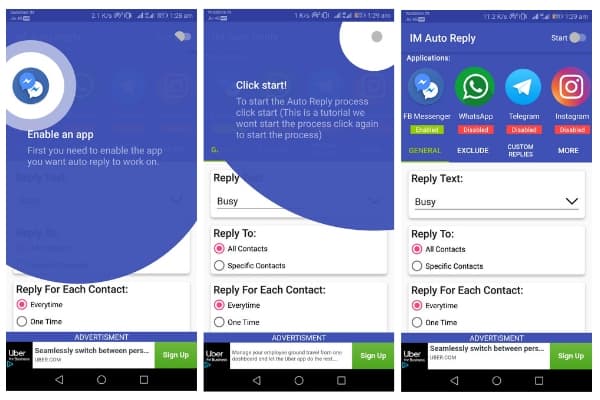 IM Auto Reply also lets you send different replies to different contacts or groups. One message for your friend's circle and another for your co-workers. Also, there's a trigger option. Based on certain trigger words you set, the app will send personalized responses. These enable you to set up personalized responses based on what the other person has sent.
Download from Play Store
Best Automatic Reply Apps for Android
Custom auto-reply texts will do that job for you through your Android device. With the right auto reply apps, put a stop to the stream of incoming messages. Continue your meeting or work without any distractions.
In today's world, everyone is in touch with each other through their smartphone. But, continuous notification and messages serve as a distraction. Especially when we are working on something important. Most of the incoming messages only need a single reply to end the chain. With a simple automatic reply app, you can avoid the entire typing process. Use the app to send automated replies and overcome the diversion from work.