We can always rescue a frozen iPhone by force restarting the device or by entering the recovery mode. What if your iPhone gets stuck in recovery mode and cannot turn your iPhone back on? Before you think of other expensive ways to fix your iPhone stuck in recovery mode, try out a few troubleshooting methods.
Let's see some ways to get your iPhone out of recovery mode.
Force Restart Your iPhone
Whenever your iPhone is in recovery mode, it will automatically exit the mode if restoration is successful. For some reason, if your iPhone is stuck in recovery mode, you need to exit the mode manually by restarting the device.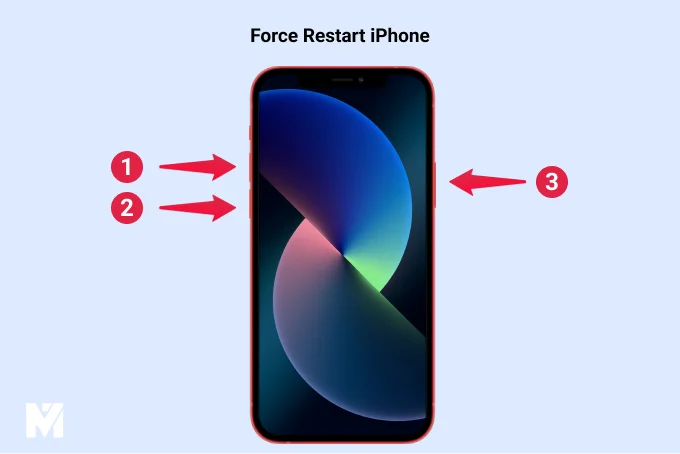 First, remove the USB cable connected between your device and computer. Then, press and quickly release the Volume Up button. Next, press and quickly release the Volume Down button. Then, press and hold the Side button until you see the Apple logo.
Put Your iPhone in DFU Mode
If the normal recovery mode doesn't fix your device, you can use the advanced recovery mode called DFU. DFU (Device Firmware Update) mode is similar to entering the BIOS mode in a Windows-based computer. This mode is especially not only to fix the software issues but also firmware-related problems as well.
However, if your device is put in DFU mode, it will completely erase all your data including your photos and videos. Therefore, if possible, you need to back your iPhone data before the process. Let's begin.
First, you need to connect it to the computer using a USB cable. Next, open iTunes on your Windows PC. Make sure you are using the latest version of iTunes.
Now, you need to do a series of actions by pressing the buttons on your iPhone depending on your model.
First, press and release the Volume Up button. Then, do the same with the Volume Down button.
Next, press and hold the Side button for about 10 seconds until the screen goes black. Without releasing the Side button, press the Volume Down button for about 5 seconds.
Then, release only the Side button. Hold the Volume Down button till your iTunes has detected the iPhone in recovery mode and you can see that message on your computer.
Finally, click on Restore iPhone to install the new OS on your iPhone.
In Step 2, instead of a black screen, if you see a screen with Connect to iTunes prompt, then you need to start the process again. Do remember that the screen has to be blank and black to put the device in DFU mode.
Related: Best Methods to Fix iTunes Error 4010 While Trying to Restore iPhone
Use Third-party Recovery Software
If you don't have a backup of your iPhone and you don't wish to use DFU mode as it will erase the data, then you can use third-party software to fix your device without losing your data. Such third-party iPhone recovery tools can help you restore your device to its original state without losing any of your personal data.
Take Your iPhone to Apple Service
Are you neither willing to use third-party software nor have the patience to spend time fixing things on your own? Then the best option is to take your iPhone to the nearest Apple service center. If your device is under warranty or you have subscribed to the AppleCare protection plan, then you might not be required to spend much to fix your iPhone.
Related: How to Fix iPhone Is Disabled Connect to iTunes Error
FAQ: Fix iPhone Stuck in Recovery Mode
Does DFU mode delete everything on iPhone?
Yes. DFU mode will completely erase the entire content on your iPhone like photos, videos, messages, etc. It should be used as the last resort to fix the malfunctioning of your device.
What is the difference between DFU and Recovery mode?
Recovery mode uses the bootloader to upgrade or restore your iPhone whereas DFU bypasses the bootloader by allowing firmware downgrades. i.e You can use DFU mode to downgrade to previous versions of iOS which is not possible in recovery mode.