Speech to Text Android Apps is coming handy when you are texting a lot or want to take some notes. You can quickly write a piece of text or even take someone's interview without worrying about getting the notes. Whatever you speak, will be reproduced in the best available text formats.
In this article, we list out the best Speech to text apps for Android that can use to take notes, record a speech or even to send a text message quickly.
GBoard
As far as artificial intelligence and machine learning is concerned, Google hits a prime spot in featuring excellent tools. GBoard is the keyboard offered by Google which comes pre-installed on almost all Android devices. It is smart in recognizing the words and displays the result in real-time.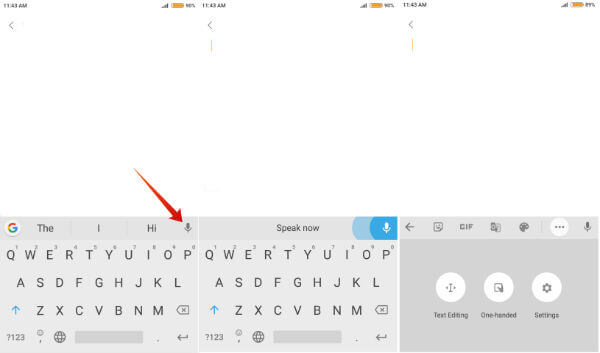 Furthermore, you can change the accent from Gboard settings and choose the appropriate tongue, and it will understand what you speak more accurately.  It covers all the major languages and dialects for you to set up quickly. There are options to edit and format the text using voice commands. For example, if you wish to change the first three statements of a paragraph to italics, then you command as "Make the first three statements of the current paragraph italics."
Download GBoard: PlayStore
Also Read: Best Digital Voice Recorders to Record Lecture and Class Notes
Voice Notes
Voice Notes uses Google's speech to text engine for producing the content. Please note that it is important to have Google Voice Search (Google App) installed for this app to stay functional. It has a supportive relationship with Android Calendar which you can use to assign and create tasks with ease.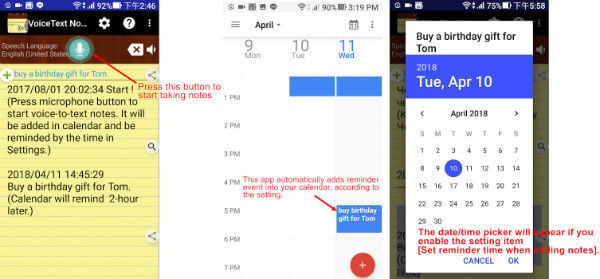 Moreover, you can control the start and end of voice input by the headset buttons, and it comes with the ability to operate even when the screen is locked or turned off. You can also set automatic backup of notes to the cloud which can help you sync your notes between different devices.
Download Voice Notes: PlayStore
Speech Notes
Speech to text Android app is a boon if you curate content like me. In Speech Notes, you can do multiple things which comes quite handy. You can dictate the punctuation, and it also offers a separate keyboard to make sure everything is correct and in context with grammar.
Speech Notes also provides you with a premium feature named custom keys, where you store the frequently used phrases and signatures like greetings, closing regards and almost anything which you want to save for quick use. It also supports Bluetooth headsets for a comfortable experience. Please note that this app uses Google's Text to Speech Engine which means you need to have Google App installed for this app to work.
Download Speech Notes: PlayStore
Also Read: Best Note Taking Apps for Android Phone and Tablet
List Note
List Note app for Android works just fine for Speech to text conversion. It also allows you to save notes with password protection and even offers a search option allowing users to look for your notes hasslefree. Furthermore, you can organize your notes based on categories which again helps with quick searching. You can even distinguish the notes by giving it specific colors.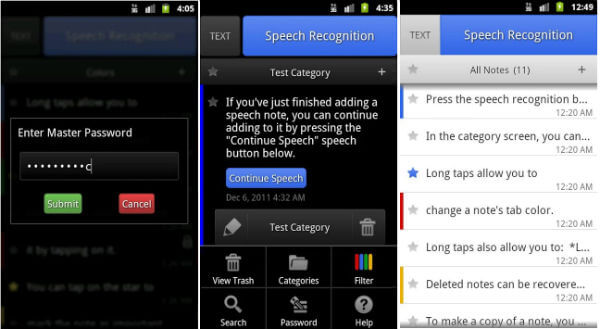 There is one more option to provide "Star" marking to any of the critical notes to filter them accordingly. Google App is required for speech to text conversions for this app. This app is customized for notes taking, and if you're someone who loves to categorize daily schedules and make notes of different things, then you must try this out.
Download List Note: PlayStore
Speech Texter
Google Voice to text engine powers this app. You can do a lot of things like creating notes, SMS, emails, and tweets with the voice input.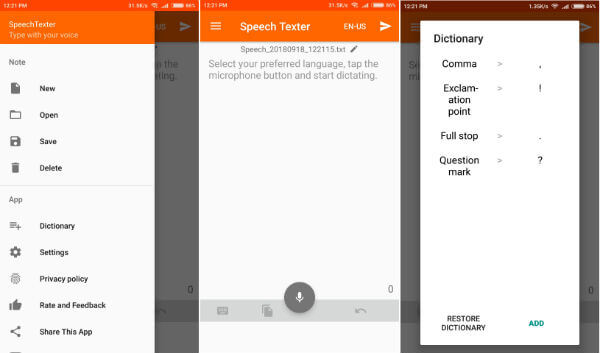 There are options to customize the punctuations with whatever phrase you want, suppose you want to go to the next line then you can customize it to a "new line" instead of the standard "Enter" keyword. Such a feature makes it even more powerful and an easy to get along app for speech to text conversions. Overall this is a lightweight app and designed for the users with less space on their device.
Download Speech Texter: PlayStore
Voice text
It is an app which lets you send messages via voice. There are multiple handy features which you can enable for a good messaging experience. You can even listen to the messages and respond to them, and it also lets you call someone with voice commands.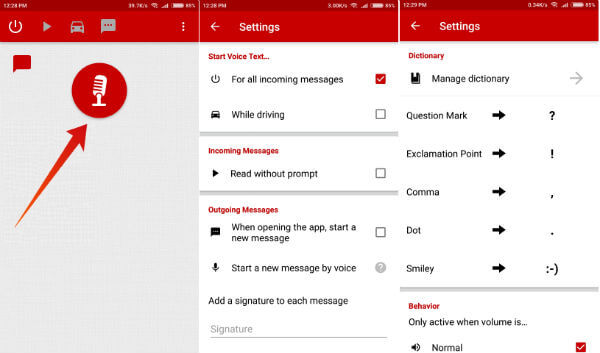 Furthermore, you can customize any phrase to a small keyword which can be used during voice inputs. It also offers a widget which you can set on the home screen for quick access. There is a Driving Detection feature that reads out your messages loud when you're driving. This app needs an active internet connection for proper functioning. You can get rid of the adverts by upgrading it to the premium version.
Download Voice Text: PlayStore
Dragon Mobile Assistant
It is the most advanced speech to text app on our list. It is an assistant like Google Now, but with more features. Apart from usual stuff like taking notes, or writing down a piece of text via voice commands, it can do a lot more like messaging, posting updates on Twitter or Facebook, Set reminders and it also lets you surf on the internet.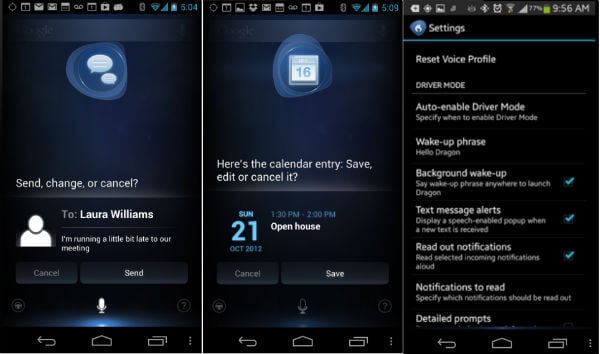 You can also customize the wakeup phrase, and there is an option to make it even more secure by using voiceprint feature. Overall this app is for power users who want to automate daily activities via voice.
Download Dragon Mobile Assistant: PlayStore
Voice Notebook
This is another lightweight app for getting text output via voice. It comes with continuous speech recognition that removes the limited functionality of pressing the speak button to get your notes after a long pause. You get all the basic functionalities such as Letter Capitalization, and ability to share the documents or import them from Google Drive.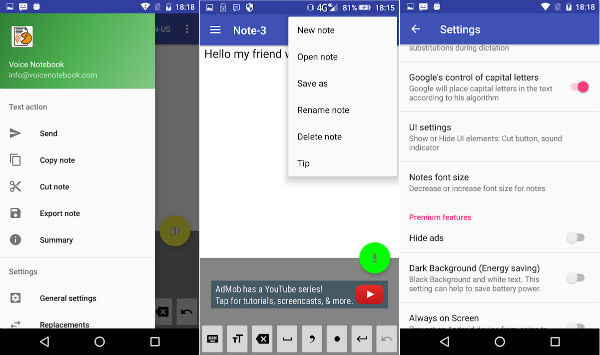 Voice Notebook also comes with a character counter at the bottom to let you know about the number of words which have been written down. Furthermore, this app is optimized by Google Voice engine for speech to text conversion.
Download Voice Notebook: PlayStore
Additional Tip: Activate Offline Speech Recognition in Android
Do you know you can achieve voice search on Android? Before jumping into the speech to text apps, let us see how to activate voice search on Android. You don't need any third party apps to enable speech to text search feature on Android.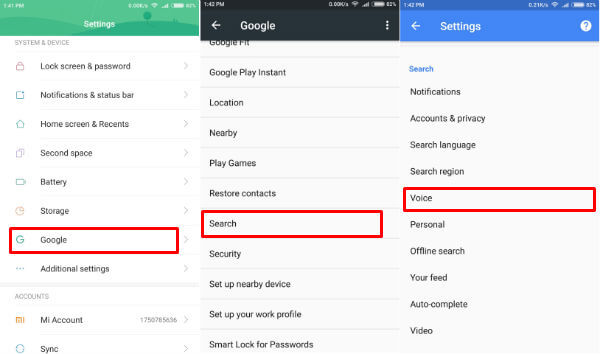 You can easily activate the offline speech recognition by following these simple steps. First Goto 'Settings', search for 'Google' and select it. Scroll down to find the 'Search' option and tap on it. Now select 'Voice' from the following menu.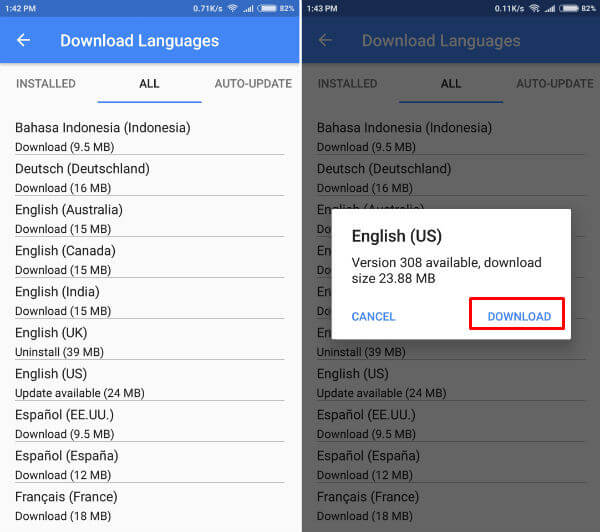 Select 'Offline Speech Recognition' from the voice menu. Now tap on 'ALL' to see all the available languages. Select any of the languages which you want for offline speech to text conversion and download it.
Speech to Text Apps for Android
Since we have entered the age of automation in the 21st century, it is quintessential to grab the support of assistive technology. One such thing which every android user must have is Speech to Text Android Apps. Penning down the ideas you have in your mind can be a lot easier with Speech to Text Android Apps. It saves a lot of time to say the words instead of typing them merely. Plus doing your primary task with voice inputs sounds a fun thing to do.