There are many reasons for choosing PDF compressor tool to reduce PDF size to a small size. There is a limit for maximum file size when you send by email. There are chat apps like WhatsApp support to share PDF file but support only small PDF file size. In these scenarios, you can depend online services to compress PDF online. The large size of the PDF makes it not easy to share as well as upload on the sites. However, there are online tools that compress PDF file into small sizes. The compression keeps the original content and format in its true form but may compromise in quality.
However, we do not recommend to use these online tools for sensitive data. Be cautious and use PDF Compressor Application, if you want to reduce PDF files that contain sensitive information.
Here are some of the best PDF Compressor Online tools to reduce PDF size before you share PDF via email or chat apps.
iLovePDF
iLovePDF is the first Online PDF compressor tool on the list. It is easy to use web application for compressing PDF files, there is no need to install any dedicated software on the computer and these tools will be available in multiple languages. The compressed file is there for download by a link that is removed after a particular period. The site's servers are always under strict observation to assure the users about the security of compressed PDFs.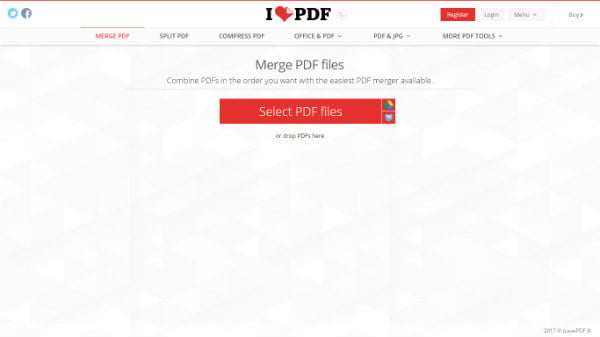 You can easily manage and arrange the pages of the PDF on the site. Arrange them according to a number or alphabetically. You can process more than one file at a time. Besides, the documents can be stored in the cloud as well as on the device.
Website Link: iLovePDF (Free)
Related: Best 6 Online PDF Merge and PDF Split Tools to Manage PDF.
Smallpdf
It is a free online PDF tool that allows you to merge, compress and split the PDF files with ease. The PDF compressor can also convert a pdf to jpg, excel, word, rotate and unlock as well as protect it. Smallpdf inherits a smooth, friendly and intuitive navigation making the person perform the function.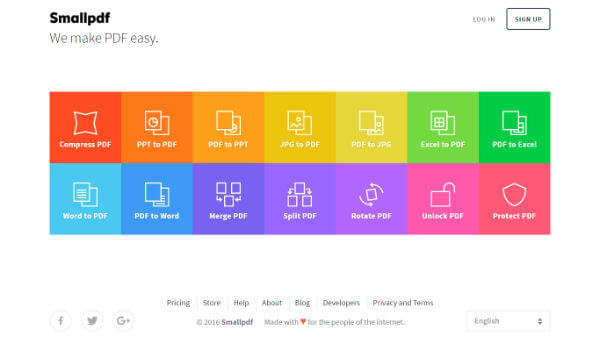 This PDF Compressor tool is available in more than 15 languages and helps a large number of individuals to use it. The website depends upon the donations of the public and is accessible to all. There is no sort of damage the quality of the PDF after conversion.
Website Link: Smallpdf ($6.00/month)
Related: How to Save a Clean PDF Version of a Webpage By Removing Ads
Online2PDF
Online2PDF is an excellent free PDF compressor tool that allows the people to compress 20 PDF files in a moment. The file size limit on the website is 50MB. Besides, you can also lower the quality to smaller the size of the file. The site allows the compressing of pdf file by reducing the image resolution present in the pdf file.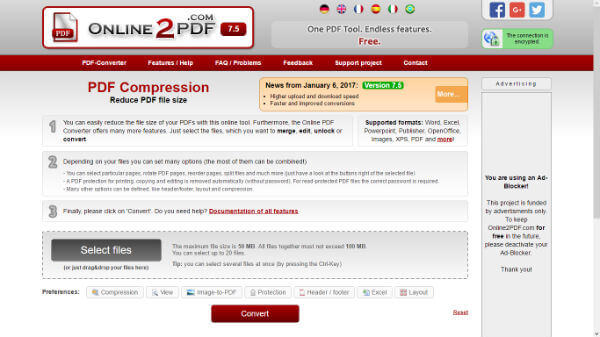 Unlike all other compress files online sites, Online2PDF gives you a chance the color images to black/white. With this, you can get the extra help in reducing the size of PDF. Not many online services offer such characteristics for file compression.
Website Link: Online2PDF (Free)
Sejda
Looking for a PDF compressor that can take up a file of 100MB and reduce the file size, then choose Sejda. You can upload about 200 pages of PDF at the site. To the limit, the service is free to use. The files uploaded and compressed are kept private. The files are sent to the trash after 5 hours of compression.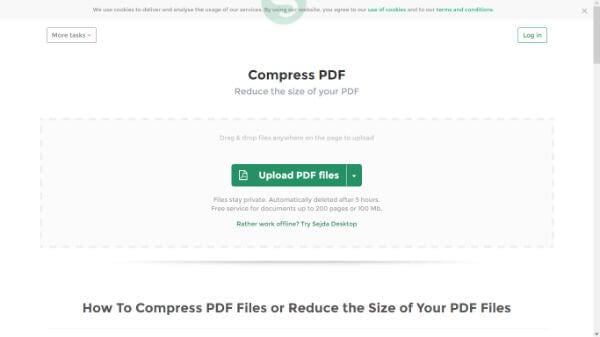 Upload the file and select JPEG image quality, as you want. The site also allows you to choose the image DPI to get better results. By default, the image quality is at 65%. The default quality is considered best for many scenarios. It is also present in an offline desktop application available for people.
Website Link: Sejda ($7.50/month)
Also read: Best Short URL Tools to Replace Google URL Shortener
docuPub
docuPub offers more compression presets than any other freemium PDF compression tools. Coming with an upload limit of 10MB per file, you can easily compress your PDFs. The tool gives you full control over the process of PDF compression. With the tool, you can pre-set the compression and image quality. Select the compatible compression as well as image settings to get more low sized PDF.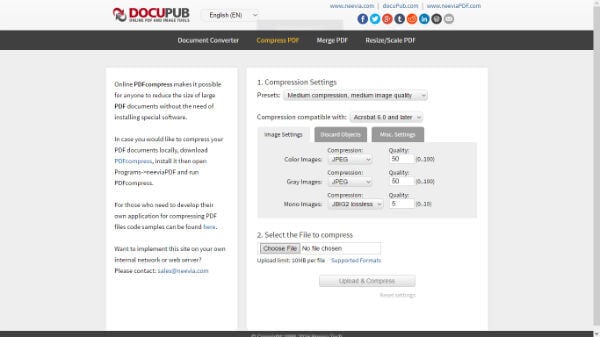 You can also discard objects like forms, bookmarks, threads, named destinations, etc. to get the result as you want. It gives you fast compression with ease when need it most.
Website Link: docuPub (Free)
PDFCompress
The compression rate of PDF Compress is relatively high from other PDF compression tools. This online PDF compressor allows you to upload the document from your desktop as well as from Dropbox and Google Drive. Other than that, you can drag and drop the files on the bar to start compression.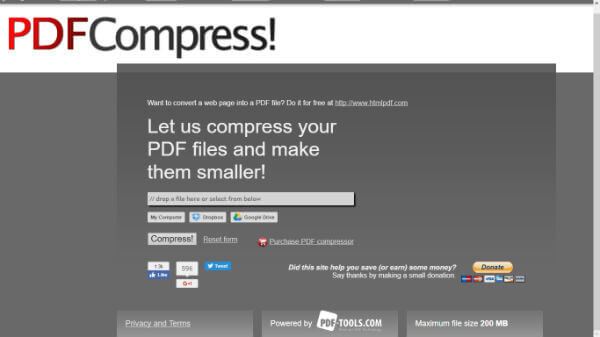 A person can upload 200MB on the site for compression. Not any other service provides such a big upload size. The interface is fast and simple to use giving you one of best compression speed. There are no extra settings, just upload and start compressing.
Website Link: PDFCompress (Free)
There are more Online PDF compressor tools that you can try to reduce the PDF size that includes Soda PDF (link to sodaPDF) and PDF2Go (Link to pdf2go).
Compress PDF Online Tools
Due to the high volume of graphics and data present in the PDF, the size of PDF can get relatively bigger. A small PDF file can grow into MBs with additional pictures and graphs. A big PDF is terrible when it comes to sending an email. This document file extension offers the storage of different forms of data, graphics, charts, and forms. People can save high-quality images, charts and large graphics with ease in a PDF. The files can be a password if there is any sensitive information in it.
This list of online PDF compressor tools can help you when you are encountering trouble with big sized PDF and want to compress PDF size. The internet comes with online-based PDF compress tools. When you have large PDF files can sometimes; you can reduce these tools to reduce their size.