There are tons of gaming mice come in all shapes and sizes. Some even have craziest of the features. However, most of them, at a point, tend to hinder your gaming experience with some crazy reasons. One is the "sweaty hand" vexation, and this can take away the pleasure of your gaming sessions. You know how hard it is to play games with a sweaty hand on the gaming mouse. Zephyr Gaming Mouse is a Kickstarter project that now comes to solve the sweaty palm issue for all the gamers out there.
Here is a quick review of the Zephyr Sweatproof gaming mouse with a cooling fan and RGB light.
Zephyr Gaming Mouse Overview
The Zephyr gaming mouse is an ultra-lightweight and ergonomic mouse for hardcore gamers. It comes with an inbuilt RGB lit cooling fan with three modes to adjust speed. This can help reduce sweat on your palm and can give a more relaxed and smoother gaming experience. You can change the fan speed to 4000, 7000, and 10,000 RPM when things get tough.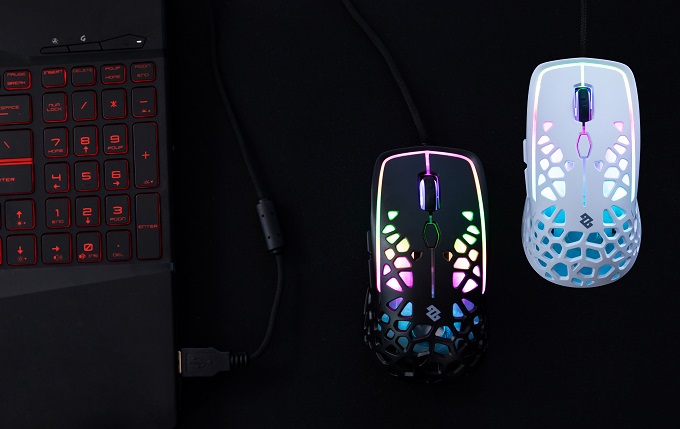 To help control the airflow, the mouse is designed with a geometric shell design and has many tiny air vents. Zephyr features a PMW3389 optical sensor and the largest value of up to 16000 DPI. It is enough to get the best refresh rates and give you the best in class accuracy when it comes to hardcore gaming. There is also the RGB technology that illuminates the whole mouse console. You can customize ut with different lighting effects and can also be turned off.
Design and Build Quality
The Zephyr gaming mouse is sweatproof and features an open structure design. It comes with the curves and ergonomics a great gaming mouse should have. It is quite ergonomic with buttons and tips arranged elegantly. The geometric shell design is suitable for your palm and doesn't cause wrist fatigue. The top and the bottom sides have a matte texture that is both calming to your palm and fingerprint-proof.
The cooling fan is located behind the base where you place your palm. The air vents are geometrically beautiful. Therefore, it would not look like a vent at sight. The fan is designed to dry your entire palm with its larger area of air blow. You can adjust the speed of the fan using the button located at the bottom of the Zephyr Gaming Mouse.
This ergonomic gaming mouse is made of PTFE material and has a 1.8m umbrella cord for connectivity. The ergonomic design has made the arrangement of buttons and scroll wheel look so classy. The buttons are premium and have an extra one to adjust the DPI.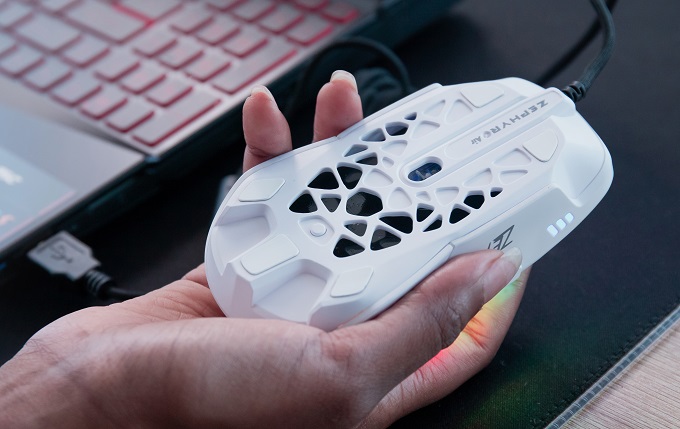 There are two customizable buttons that gamers really need. It is primarily a right-handed mouse. The buttons are wrapped smoothly in its honeycomb chassis. This is simply the air vents that we talked about earlier. The mouse weighs only 68 grams so that if you are looking for a lightweight gaming mouse, Zephyr is pretty good enough to consider.
Also Read: 10 Best Mini Wireless Keyboard
Key Features
The start attraction is the inbuilt fan with adjustable speeds. It keeps your palms dry and sweat-free during intense gaming sessions. It is super quiet and is positioned at a 45° angle to the hand. The air vents provide excellent airflow and keep your palms cool. You can adjust the fan speed or can turn it off if it is hindering your game.
Unlike the standard premium gaming mouse, it has no wireless connection. However, the high-grade, flexible paracord cable can surely give you a wireless sensation. This is one of the unique cables that feels like a very flexible thread. The fabric-coated wire can move along like a feather when you move the gaming mouse.
Besides the fan, RGB LEDs are surrounding the whole unit. It gives a premium illumination and comes with 15 RGB presets. There are LEDs are everywhere, and so there is no assurance that everyone's going to love it.

The Zephyr gaming mouse comes with the Pixart 3389 sensor. It is capable of over 400 IPS. You can change the gaming mouse sensitivity by changing the DPI between 400 and 16,000. The premium Omron switches are rated to be sweatproof and is tested okay for more than 50 million clicks.
Pricing and Availability
The Zephyr gaming mouse comes at a price of US $79. As of now, it isn't available on Amazon, but it surely will during the coming days. At present, you can get this gaming mouse on Kickstarter. This is a pre-booking period, so the shipment will only start during October. And yes, it is available in 3 color options – Black, White, and Pink.
Key features: Pixart 3389 sensor | Inbuilt fan | RGB LED illumination | 15 RGB presets | max DPI of 16,000 | 1.8m umbrella cord | Sweatproof and durable | Ergonomic design | Multiple Air vents for airflow 
Conclusion
Zephyr's Kickstart campaign is a budding project. On the papers, it is quite innovative. The inbuilt fan to keep your palms cool is a revolutionary idea. Plus, the RGB lighting and the unique cable design make it worth a shot. If you love gaming and innovative gadgets, Zephyr is for you. You can back their Kickstarter project and own one now.