The future of the banking industry is shaping around the increasing use of mobile wallets apps. Payment wallet is a virtual place to store money that can perform most banking functions. These digital payment apps in India witnessed a surge of adoption. With the advent of technology and increasing, use of smartphones and tablet devices made these payment apps so popular. Also, the development of Unified Payment Interface (UPI) made them performing transactions easier.
Here, we have listed a few wallets apps to transfer money for India that helps you to perform secure online payments right from the device.
Govt. & Native Mobile Payment Apps
These native mobile wallets apps have trusted background. Most of these are introduced by either Government or the Mobile Platform OS developers like Google or Apple. They are analogous to Apple Pay or Google Pay in the US.
These payment apps offer a simple user interface. It works across all UPI enabled banks in India. These are directly linked to the bank account. This makes it further secure and reliable payment system. There are few more India Govt App and Android App available in addition to Google Pay and Apple Pay.
Download Google Pay: PlayStore | iTunes
Related: Gmail Money Transfer: A Complete Guide to Transfer Money with Email
BHIM
Bharat Interface for Money (BHIM) is a government-backed digital payment app for India. BHIM is based on Unified Payment Interface (UPI). After installing this Android pay app, you can register and set a UPI PIN for the bank account. The payment app uses a UPI PIN for all transactions.
This digital payment India app allows accessing multiple bank accounts in one app to make payment easier. You can pay to any user by using either mobile number, bank account, IFSC code, QR code, and Aadhaar number. The Aadhaar integration of BHIM app makes it a secure and hassle-free method of transaction.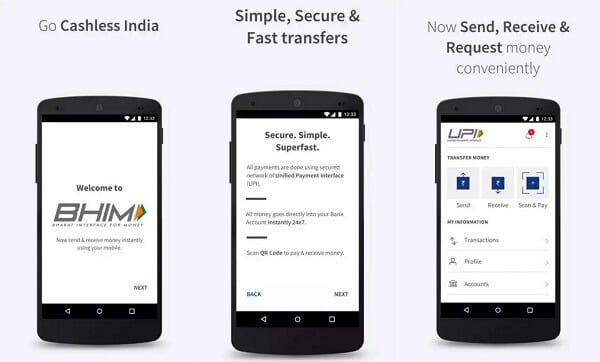 Moreover, the Aadhaar based payment on the BHIM app will not require any pre-registration with the bank or UPI. The only requirement to enable this feature is that the user should link their Aadhaar number with a bank account. The upper limit of a transaction is Rs. 40,000 per day per bank account. BHIM supports 13 Indian languages and compatible with Android 4.2.2 and above.
Download BHIM: PlayStore | iTunes
Related: 3 Best Money Management Apps for Android and iPhone
Google Pay (Tez) – digital payments app for India
Google Pay is a Google-owned digital payment app for India launched in September 2017 and renamed from Tez to Google Pay. This payment app is similar to BHIM. Google Pay works across all banks in India that support UPI. After successfully adding existing bank account using UPI PIN, you can pay and receive money. You can do the transcations by providing either bank account, IFSC code, mobile number, audio QR code, and Tez UPI ID.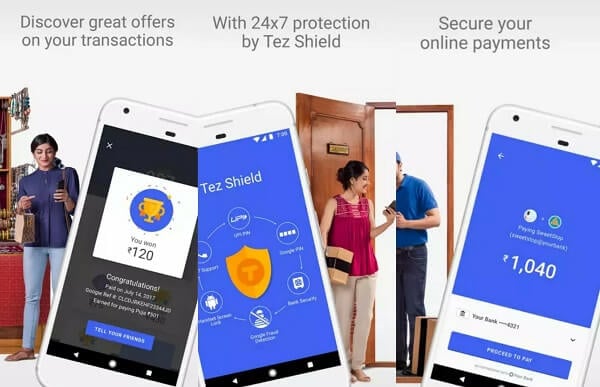 Like BHIM, Tez Wallet App in India is not providing Aadhaar based transfer feature. However, Google Wallet app's cash mode payment option allows to securely transfer money to anyone nearby without sharing users private details. Google's security tool, Tez Shield, preserves each field of bank details to counter hacking and identity theft.
Also Read: Google Pay: How to Set up and Pay using Google Pay (Tez)
The Google PIN or fingerprint secures the app while UPI PIN secures each transaction. Apart from the convenient payment of bills and cash mode payment, Tex Google Payment App offers cash-backs and rewards for every transaction. The daily transaction limit is more than Rs. 1,00,000 per day 20 times across all UPI apps.
Download Tez: PlayStore | iTunes
Bank Owned Mobile Wallet Apps
Since they are developed directly by the banks, these mobile wallets apps automatically connect to the respective bank account. All are incredibly convenient to access and will provide additional functions than just banking. These Bank-owned digital wallet apps keep money and personal details safe and also connect with other accounts easily.
Pockets-UPI, Wallet, Bharat QR
This e-wallet app by ICICI bank allows users to pay to anyone and shop anywhere and available for any bank's customer. The free virtual Visa card within the Pocket's wallet permits users to shop online on websites such as Amazon. Users can also request a physical card if needed.
This e-wallet app serves most of the bank functions such as savings account application within the app. In addition, you can also create fixed and recurring deposits with iWish Deposit and may get a debit card to withdraw cash from ATMs.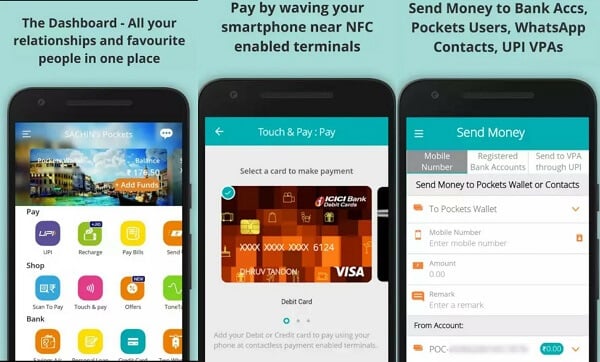 With Pockets Phone pay wallet app, you can transfer funds directly to bank accounts and contacts via UPI, mobile number, email, Whatsapp, and Google+. Moreover, you can recharge prepaid mobile, DTH connection, pay utility bills, and postpaid bills.
By using mVISA and Bharat QR code, this wallet app enables users to pay by just waving Smartphone through Near Field Communication (NFC) authorized merchant terminals. Additionally, Bharat QR code supports Visa, MasterCard and Rupay cards.
Download Pockets UPI: PlayStore | iTunes
Chillr
A multi-bank mobile payment app launched by HDFC Bank gives you the authority to access money digitally without transferring it to a third party wallet or app. All information is end-to-end HTTPS encrypted which makes it secure and reliable.
Chillr works with IMPS or UPI enabled banks. It supports 52 banks altogether. All transactions are accessing through an MPIN issued by HDFC Bank. The wallets app for India is available for Android as well as iPhone.
HDFC bank users or non-users can register just by creating a UPI ID on Chillr. The UPI registration is currently available only for Android devices. There is no virtual wallet present here as it lets you make transactions directly from the bank account.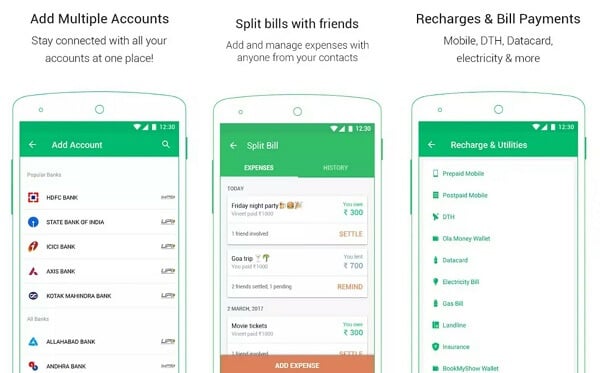 For IMPS the maximum amount per transaction is Rs. 10000. The maximum amount per day and per month is Rs. 50000 and 1 Lakh respectively. For UPI, the limit ranges to 1 Lakh per day. The maximum transactions per day for IMPS is 25 and for UPI it is 20.
Download Chillr: PlayStore | iTunes
SBI Buddy
This one is straight from the State Bank of India. This payment app is a semi-closed prepaid wallet app. SBI Buddy digital wallet app offers to transfer money and add money through net banking, debit card or via business correspondents of SBI.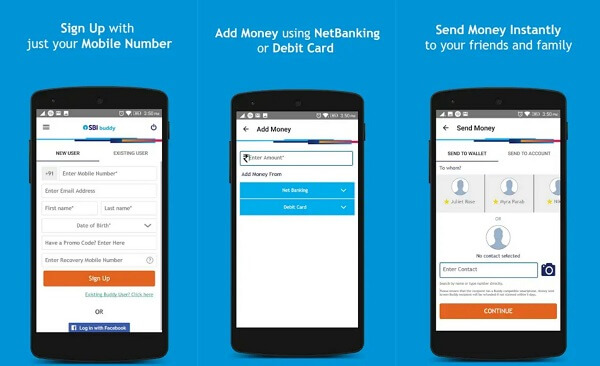 The free e-wallet app enables you to recharge mobile or DTH accounts and settle utility bills using the Wallet. Though the key features are similar to ICICI pockets. SBI Buddy comes with an additional feature to enhance transaction limit.
The customers can expand Buddy Mobile Wallet transaction limits up to INR. 100,000.  However, this facility is only available for SBI customers. Furthermore, the customer can transfer funds from the mobile wallet back to the bank account. This service not free and there is an additional charge of 1% plus service tax is applicable. SBI Buddy supports 13 Indian languages.
Download SBI Buddy: PlayStore | iTunes
Axis Mobile
Axis Bank, the third largest private-sector bank in India launched its mobile wallet app across multiple device platforms. The app is supporting UPI based transactions along with regular transactions. You can view account related information, transfer funds, social media posting, personalize features, and lot more.
Recipients are adding either using account number or mobile number for Axis Bank accounts. Furthermore, for other bank accounts, this wallet app is using NEFT, IMPS P2A, and IMPS P2P and P2M for merchants. Moreover, this e-wallet app is offering to convert credit card transactions into EMI for the value of Rs 2,500 or more. You can temporarily switch debit card active and block using this app.
This phone pay app allows to schedule bills to more than 200 billers. The "near me" service will help you to locate Axis Bank Branches, ATMs and dining delight along the map feature functionality. Additionally, you will be able to save 10 frequent transactions for immediate access.
Download Axis Mobile: PlayStore | iTunes
Mobile Operator Payment Apps
These wallet apps are owned by leading telecom operators that comes with a unique directory feature. They are not related to bank accounts directly and the money needs to be added from bank accounts as and when needed. It securely saves all credit or debit cards and bank accounts for online payments across a variety of merchants.
JioMoney
JioMoney is a semi-closed prepaid digital wallet app by Reliance JIO mobile network operator. This Pay App aims to provide cash-free transactions anytime and anywhere. This mobile wallet app offers basic and advanced accounts to the user. In the basic account, the transaction limit is INR 20,000 per month and doesn't require any documentation. And in the advanced account, premium users can keep up to INR 100,000 filed in their JioMoney account for any month.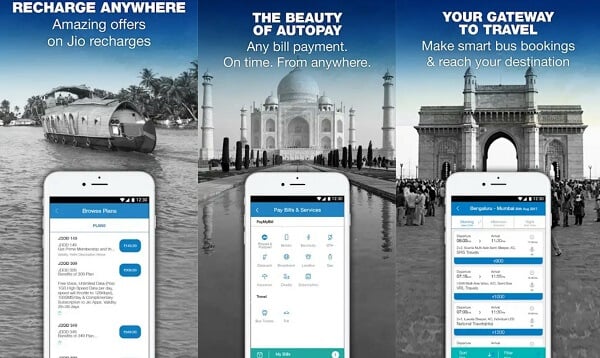 You can use JioMoney to pay utility bills like post-paid mobile connections, electricity, gas, landline, and insurance premiums. Apart from prepaid and shopping payments, you can also pay for the entire Reliance services. This includes charity for National Association of Blind, Siddivinayak Trust, and CRY, etc.
Download Jio Money: PlayStore | iTunes
My Airtel
My Airtel app, the payment wallet owned by Bharti Airtel Limited manages Airtel Payments Bank Savings and Wallet account. This phone pay app lets you create a UPI handle & pay securely at your favorite online and offline merchants.
The wallet app uses a 4-digit password called mPIN to keep your account safe. After creating an Airtel money account, you can add money to your wallet and begin utilizing it instantly. Furthermore, the web cash mode feature allows loading cash into the Airtel money wallet. You can load cash through net banking, debit card, and credit card. Cash load by debit card and net banking is completely free.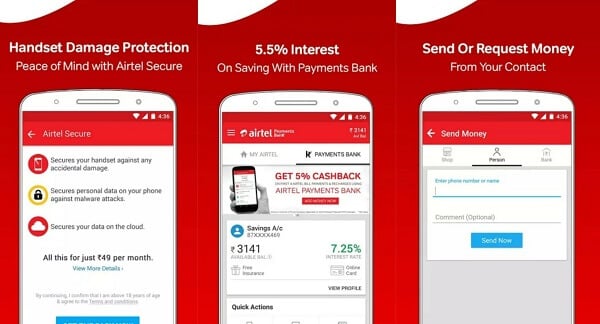 However, for credit cards a nominal convenience fee is applicable. The additional features of the app allow earning the highest interest of 7.25% on every rupee deposited. The deposited money grants you equivalent talk time. This offer is only applicable to the first cash deposit. Example: For a deposit of Rs 500, you will get a credit of 500 minutes. The phone pay wallet comes with personal accident insurance cover of Rs 1 lac.
Download My Airtel: PlayStore | iTunes
General Wallet Apps
The general wallet apps are offered from different developers. These Wallet Apps are not related to any authorized institutions. This means you will not find any brick and mortar structure there instead, everything is web-based. These open payment apps offer general transactions that are smooth and easy to set up. These wallet apps carry the same functions as others but tend to be easier in terms of usage.
PayTm
Paytm is the e-payment brand of India's leading mobile internet company One97 Communications. The payment app uses VeriSign certified 128-bit encryption technology for secure payments.
The most noteworthy feature of this mobile wallet app is it comes with an option of opening a savings account with Paytm Payments Bank. After opening saving accounts PayTm will offer all the services like no minimum balance requirement, free digital transaction, and free virtual debit card.
Moreover, you can keep up to Rs. 1 lakh of deposits and earn 4% interest every month on it. The payment app also offering a feature to buy or sell digital gold. To receive physical gold against Paytm digital gold, you just need to pay the making charges and request for delivery anytime after 24 hours.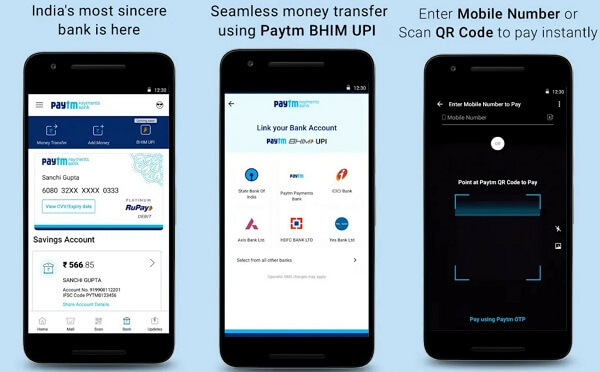 Shopping on Paytm is effortless. You can find items on Paytm by either searching or window-shopping on Paytm Marketplace. Additionally, Paytm provides an option to bargain for each item. Like most of all apps here, you can add money to Paytm wallet. A Non-KYC customer can add up to Rs.20000 per month to the Paytm wallet, while a KYC customer can add up to Rs.1,00,000.
Download PayTM: PlayStore | iTunes
PhonePe
PhonePe is one of the wallet apps India supported by YES Bank which uses a mobile number or a unique payment identity for payments. Currently, it is working across 40 UPI enabled banks.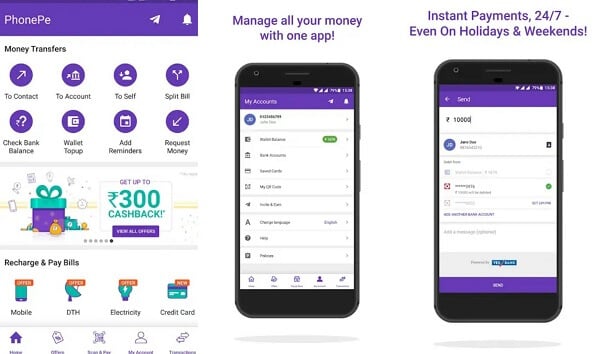 The PhonePe app consists of multiple payment options and each possessing its own different limits. A customer can transact up to Rs.1 lakh per transaction. The phone pay wallet app offers facility such as refunds and cash back to your bank account.
PhonePe payment app helps a user to redeem cash back for mobile recharges, bill payments, and merchant payments. However, cashback is not transferable to other users. Android phones with Android 4.0 or above and iPhone with iOS 8.0 or above are compatible with the app.
Download Phone Pe: PlayStore | iTunes
MobiKwik
MobiKwik is a secure prepaid wallet app. With MobiKwik, you can enjoy over more than 2,50,000 shopping options and earn huge discounts in the process. This Payment app can be used to recharge prepaid mobile, DTH, and utility bills.
MobiKwik can be used to pay for electricity, gas, water, Municipal Corporation, loan, and EMI. To pay for the fuel, nearby petrol pumps, you can scan the QR code in the app.
The facility is available at more than 1 Million neighborhood stores across the country. To avoid late payment, you can set up auto-recharge for mobile or DTH and get bill reminders before the due date. MobiKwik requires Android 4.0.3 and up and iOS 9.0 or later.
Download MobiKwik: PlayStore | iTunes
ItzCash
ItzCash mobile wallet app plays a crucial role to pay your bills, transfer funds to friends or family and track monthly expenses. All you need to acquire an ItzCash e-Wallet account by Mobile Number and Email verification.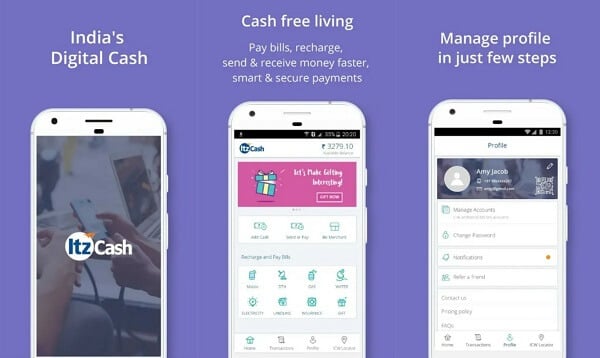 Recharge pre-paid mobile numbers of Airtel, Vodafone, Reliance, Idea, BSNL, Tata Docomo, Aircel, MTNL, and others using this app. Different accounts are offering different monthly reload limits. You can upgrade the ItzCash account to a higher limit by submitting the KYC documents. Additionally, the Power to pay Tag integration allows the customer to use the Tag securely at retail outlets. To make the transaction completely easy, the user can touch the Tag on the Point-of-sale terminal.
Download ItzCach: PlayStore
Demonetization has urged the customer to understand the advantage of digital payments for simplifying the daily transactions. All it requires is to download these digital wallet apps from the app store or play store.
These are the major payment apps usually used in India. All apps are similar, yet they are different from one another in terms of features and security. The most trustworthy mobile wallet apps are coming from Mobile OS providers like Android, Apple. The Govt. owned apps also considered are secure.
However,  bank developed apps may provide more features. These apps are dedicated to the bank customers and easy to set up with respective banks. Choose the right digital wallet app which meets your requirement to its best based on the security, features, and convenience.