Most Apple users consider iCloud as their primary repository to backup and restore files and media, to avoid data loss from their iPhone, iPad, and Mac. Although, if the data gets removed even from the iCloud drive, it would be even difficult to restore your lost data from your iPhone or Mac. There are some workarounds if you have accidentally deleted files, photos or documents from your iCloud Drive.
Take a walk through our guide on how to restore deleted photos, videos, and files from iCloud.
How do I Restore Pictures from iCloud?
The iCloud Photos is enabled for every iPhone user by default and helps you instantly take a backup of all the photos and videos from the iPhone. Your camera roll and other albums get saved to the cloud storage.
You could even access all the photos directly from any computer browser by logging into your iCloud Account. So, the iCloud Drive acts as a backup repository for your photos. However, if you have enabled the "iCloud Photos" on your iPhone, then there is a chance that it might get deleted from your iCloud Drive as well.
Luckily, Apple has this "Recently Deleted" folder for both iCloud and iPhone Storage. Therefore, all your deleted photos won't get deleted permanently. If you cannot find the deleted photos from the "Recently Deleted" album on or iPhone, you should definitely have a check with the iCloud Photos as well. Here is how to restore deleted photos from iCloud.
Open iCloud.com from your computer browser.
Log in using your Apple ID.
Click on "Photos."

Choose "Recently Deleted" from the sidebar on the left.
Select the photos you want to restore and click "Restore."
Once you restore the deleted file from the "Recently Deleted" album the photos will appear on all your synced Apple devices and on iCloud Drive.
Related: How to Download Files & Documents to iPhone or iPad
How do I Recover Permanently Deleted Photos from iCloud?
Deleting photos from your albums or the camera roll never remove them permanently. However, if you have left the deleted for over 30 days, or removed permanently from the "Recently Deleted" folder, there is nowhere you could look for it. The permanently deleted photos from the iCloud Drive is gone forever, and Apple does not give you an option to get them back.
From the iCloud aspect, you could get them back if you have, luckily, saved the photos you want to the "files". Otherwise, just forget about the removed photos. The other way around is to rely on the backup platforms other than iCloud for the deleted photos. For example, you can use Google Photos to get the unlimited photo backup storage facility. It will take a timely backup of all the photos from your iPhone and stores in your Google account.
Even if you delete the photos permanently from the iCloud Drive, they could be found instantly with the Google Photos app. Trust me. This works and I have been using the same for months. You can also go for other alternate platforms if you want to.
Related: iCloud Storage Full: Transfer Photos from iCloud to Google Photos
Recover Deleted Documents from iCloud
Apple provides excellent tools including Pages and Numbers to create documents on the go. You can even save a normal doc file or spreadsheet file using any of these tools and backup on the iCloud Drive.
The Numbers –  a Spreadsheet alternative, Pages – a Word Alternative, Keynote – a PowerPoint alternative, are free to use for any Apple users and you can create documents instantly using any of your Apple devices. In case you deleted a document from Pages, Numbers or Keynote on iCloud, here is how you can recover them.

Open iCloud.com on your computer's web browser and sign in using your Apple login.
Click on the app you want to recover deleted file from (Pages, Numbers, or KeyNote).
Go to "Recently Deleted" from the left side panel.

Choose the files you want to recover.
Click "Recover."
Related: How to Stop Pop Up Ads on iPhone
Restore Deleted Files on iCloud
The iCloud storage allows you to recover files from the "Recently Deleted" tab on supported apps. However, the data you deleted from the Files app or files in other unsupported formats will not be visible directly using iCloud.
In fact, Apple provides an option for you to look up for all the deleted files from your iCloud drive and restore it if necessary. You could even find all the unsupported files, contacts, and even web bookmarks here to restore to your iCloud. Follow the steps to learn how to restore all removed data on iCloud.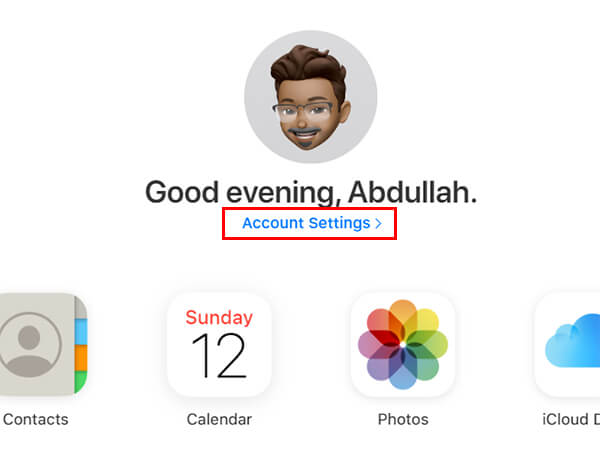 Open the web browser on your computer PC and go to iCloud.com.
After signing in to your account, click on the "Account Settings" link from the home page.

Click on the "Restore Files" link under the Advanced tab on the bottom left corner of the window.

Choose the files you want to restore to the old position.
Click "Restore."
It will restore the chosen files back to their old positions from the "trash can." You can also restore contacts and bookmarks in a similar way, and read further to know more.
Restore Contacts on iCloud
As we know, the contacts on your iPhone are always synced with iCloud. Therefore, you can restore contacts on iCloud that you removed from your iPhone. Find out how.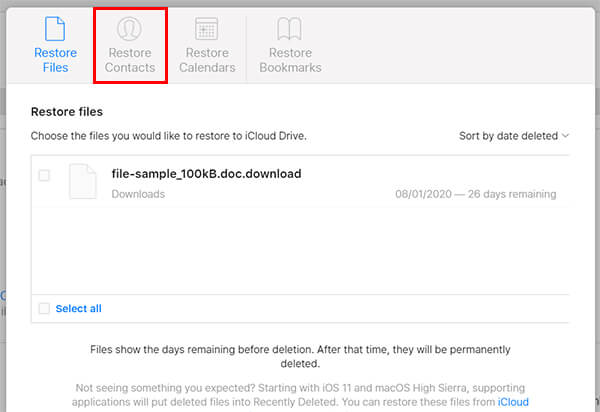 Open iCloud.com and go to Account Settings.
Click on Restore Contacts from the bottom left corner.
Click "Recover" against the contact archive you want to recover.
When you restore a contact archive, the current contact list will be archived and saved to the iCloud and gets replaced by the older contacts list.
Related: 6 Best iOS 13 Control Center Features to Access Settings Quickly
Calendars and Bookmarks
Not only the contacts, but Apple also lets you recover the calendar events and even Safari bookmarks that you deleted. By accidentally or not, if you deleted any of these from your iPhone or iPad, it is easy to get them back as well. However, the 30 days limit is there for such small data too. The deleted bookmarks and calendars will be deleted permanently if you leave them untouched for 30 days.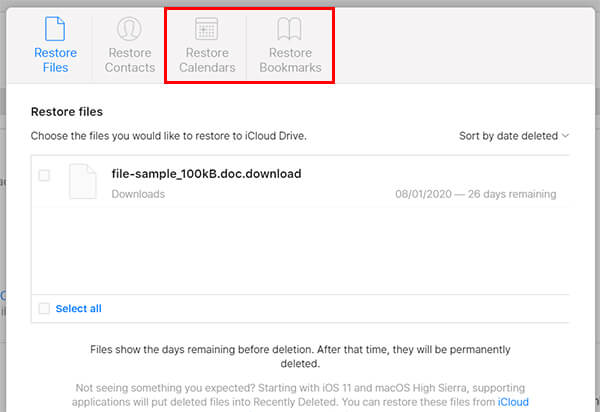 When you enter the "Restore Contacts" window from the iCloud Settings, you could also find the "Restore Calendars" and "Restore Bookmarks" tabs on the top. You can explore the relevant tab and seek out the recently deleted data from iCloud and recover easily.
Bonus Tip: Take iTunes backup to your PC or Mac of your iPhone periodically. Thus, you could restore from a recent point to find out the missing data from your iCloud Drive.