Modern homes are switching to Wi-Fi-based smart homes where all smart devices are connected to the same home Wi-Fi network. Smart TVs, Phones, Home Gadgets, has become more important to have an internet connection that connects all devices, Wi-Fi routers are becoming a crucial part of a modern home. To get the best out of your Wi-Fi connection, you need to choose the best Wi-Fi router.
From this guide, you will get to know about some Wi-Fi facts and also get a peek at the Smart Wi-Fi routers. Meanwhile, if you already have a WiFi router and you doubt that somebody is stealing your Wi-Fi, you can find out using your Android. For iPhone users, there are tools to find out if someone is stealing your WiFi with your iPhone.
What to Look for In a Router Before Buying?
Buying a Wi-Fi router is a complex ordeal as there are a lot of technical details to look at but, first most you need to know the exact internet coverage area, the number of clients, and the devices you will require connecting. Yes, not all require high featured routers especially when half of the features you might never use. Now if you are ready to buy a router, you need to know what to look out for but, do remember more features mean you pay more. Better look for features that are worth the pay. Here are some features that can be really helpful and worth every penny.
Wireless Protocol
Wireless network work on 802.11 protocols to operate. The older versions that use 802.11b or 802.11g have a limited data transfer rate of 11Mbps to 54 Mbps and they work on 2.4 GHz band. Nowadays the most preferred protocol is 802.11ac and 802.11n that offers 600 Mbps and it operates on both bands, made possible by Multiple Input Multiple Output (MIMO) technology.
Related: How to Change WiFi Router Channel to Improve Signal Quality?
Compatibility with Devices
Even if you buy the latest device with 802.11 protocol, you must make sure that it is backward compatible with 802.11a/b/g/n networks, so you can easily upgrade or connect all old protocol devices in your home without any trouble.
Wi-Fi Range
Routers antenna, protocol, and the band are the range determining the factor for a Wi-Fi router. Usually, the range mentioned in the router specification is the maximum range you can get without any obstructions. The obstructions like brick walls, metal frames or furniture can cut down your Wi-Fi router range by almost 25%. The 802.11g protocol can offer better performance than 802.11b in terms of range. The latest Wireless N (802.11n) offers the best Wi-Fi range because these routers are technologically improved with two to three radios to improve Wi-Fi range. The radios with the protocols like 802.11b and 802.11g WAPs support a range of up to 150 feet (46 m) indoors and 300 feet (92 m) outdoors.
Wi-Fi Standard
There are some specifications that make the base of 802.11 family for the Wi-Fi and it also depends the speed and Wi-Fi range. See the table below for the various standards,
Wi-Fi Protocols, Frequency & Signal
| | | | | | | |
| --- | --- | --- | --- | --- | --- | --- |
| Protocol | Legacy 802.11 | 802.11a | 802.11b | 802.11g | 802.11n | 802.11ac |
| Frequency | 2.4GHz | 5GHz | 2.4Ghz | 2.4GHz | 2.4 or 5GHz | 5GHz |
| Signal | FHSS/DSSS | OFDM | HR-DSSS | OFDM | OFDM | 256-QAM |
| Max. Bandwidth | 2 Mbps | 54 Mbps | 11 Mbps | 54 Mbps | 600 Mbps | 1.3 Gbps |
| Year | 1997 | 1999 | 1999 | 2003 | 2009 | 2014 |
Max Transfer Speed/Rate
Wi-Fi network, speed is the most vital factor as more the speed betters the performance. You must be familiar with kbps and mbps when you use data packs. Net speed is measured by kilobits or megabits per second. Wi-Fi network follows 802.11 standards and each standard has its own speed, details below.
| | | | | | | |
| --- | --- | --- | --- | --- | --- | --- |
| Protocol | Legacy 802.11 | 802.11a | 802.11b | 802.11g | 802.11n | 802.11ac |
| Bandwidth (Network Speed) | 2 Mbps | 54 Mbps | 11 Mbps | 54 Mbps | 600 Mbps | 1.3 Gbps |
802.11n- 600 Mbps (in both 2.4 GHz and 5 GHz) with 150 Mbps typical network adaption available with 300 Mbps, 450 Mbps, and 600 Mbps spend on some bonded channels with almost all routers. 802.11ac- 1300+Mbps (5HGz) is the latest standard version that not only has wider channels but, spatial streams and QAM giving quality throughput. Related: 7 Best Portable WiFi Routers for Travelers.
Frequency Band
Routers come in Single and Dual-Band. The single band operates on a 2.4GHz frequency band making them the least expensive Wi-Fi router. They are ideal for web surfing and to use social media like Twitter and Facebook. If you have more than one device that is streaming Netflix, or you have some online gamers' at home who love using X-box than you better opt for a dual-band router.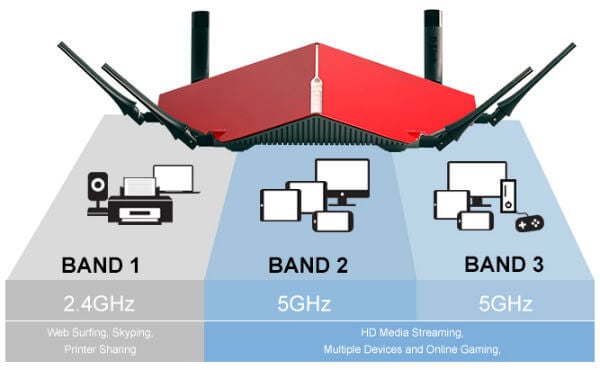 image credit: Amazon D-Link A dual-band has two radios; one on 2.4 GHz and one on 5.4 GHz. The 5.4 GHz is ideal for video and gaming as it is less crowded. They also can be assigned to clients or applications; thus reducing the load on both sides. Apart from the two, modern routers are coming with tri-band. These have one 2.4 GHz and two 5.4 GHz radios, making them ideal for heavy traffic like loading files and torrent videos. Some dual-band routers are installed with only one radio that has the ability to work on both 2.4 and 5.4 GHz band at alternate times.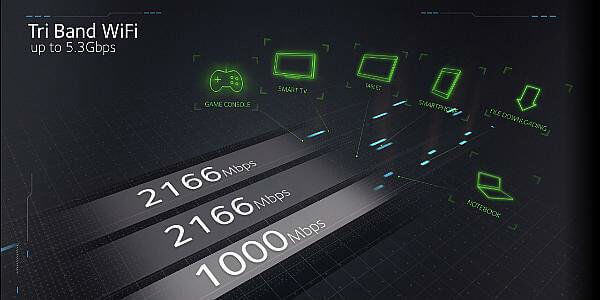 A Tri-band has two 2.0 GHz bands installed. Tri-band is ideal for those who have multiple devices running on the same network. A small business can opt for these routers but, for a house, it's just extra pay. 2.4GHz frequency band offers more range and ideal if you have a large house where 5MHz offer high speed but you have to compromise on range. When you have routers with High frequency means you get less range and you have to keep this in mind while you select the frequency band.
Ethernet & USB Ports
In addition to standard four to six Ethernet ports (10/100/100 [gigabit]), Wi-Fi routers come with a one or two USB2.0 or USB3.0 port.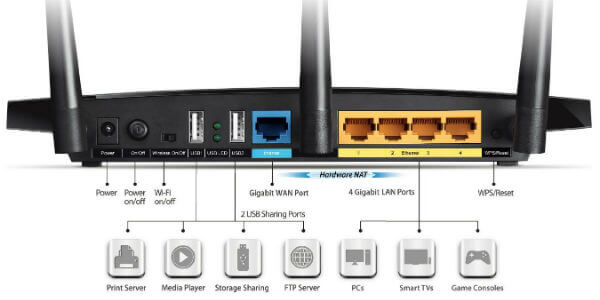 If you have the intention of using external devices to your home network USB port will be beneficial for attaching a USB based printer or pen drives. These USB ports are nice additional features that help you to connect your external hard disk to your home network that can access any device connected to your network.
Guest Mode
Guests are always welcome but, not into your personal network. To use Wi-Fi, you have to set a password or a pin code that allows you to access your network. If anyone comes and requires or wants to share your network, obvious you have to give your password hence; making your personal data vulnerable. If your Wi-Fi router has a guest mode, you do not have to give your personal password. Instead, you can give a temporary password created especially for the guest user. This feature allows you to keep your data and network private along with allowing your guest to use your Wi-Fi.
Number of Antennas
The number of Antennas depends on the radio(s) those antennas are connected to. The antenna is what gives the different bands and coverage patterns. You can not judge the performance just by counting the number of antennas on the router.
Quality of Service
QoS setting allows you to decide on which application or client is more priority than the other. Say you are watching a video and at the same time printing a document, here you can choose which task to give priority too.
Parental Control
Nowadays kids as young as six are using the internet and teenagers spend most of their time chatting on social media sites. Wi-Fi routers as they come with parental control feature can limit the sites allowed to kids with few settings changes on the router. Now, as a parent, you can decide what your children are seeing and see their activity as well.
IPV6 Compatibility
Internet world almost hit the available IP Address limit with current IPV4 standard, and now the giant companies are switching to IPV6. Most of the routers are coming with IPV6 compatibility and make sure your router is also compatible for the future.
Built-in Firewall
A firewall is coming as built with your router, that can protect your network from spam sites and intruder attacks. This feature is like the Great Wall of China for a router as it controls all the incoming and outgoing traffic that crosses your network.
Encryption Support
When you send any information over the network, your main concern is the information does not go into any wrong hands. The process that protects your data is called encryption or encoding your text so any unauthorized party does not get to read it.
Security
Hackers can easily intrude to your network if your router is less secure. Security can easily be compromised if you set your Wi-Fi network set open, that means anybody can join your network and alter your router setting, get data from your connected devices, etc. There is a different level of security offers in the routers to make sure your network is secured from outside hackers. There is a detailed guide to Configure Advanced Wireless Security Setup For BSNL Modem that can help you to secure your router. Wired Equivalent Privacy (WEP): WEP is the first and original encryption protocol that is specially designed to provide the exact level of security as any wired network. Yes, it comes with cons like; complicated configuration flaws in security and has easy infiltration. Wi-Fi Protected Access (WPA): Overtaking the WEP is WPA. The recent implementations use PSK (preshared key) known as WPA Personal, and the TKIP (Temporal Key Integrity Protocol) is used for encryption. Wi-Fi Protected Access version 2 (WPA2): The wireless security standard for 802.11i was finalized back in 2004. The most important fact that differs in WPA2 is the AES (Advanced Encryption Standard) standard used. Please make sure you selected the modern router with good range and that support all your gadget including your smartphones and home gadgets.