In addition to these gadgets, there are smart devices introduced in the market that intends to convert your living place into a smart automated home. Most of these smart devices are communicating with you through a smartphone or tablet and built to work with the Android and iOS platforms.
These smart devices can do beautiful things in your life like find your missing keys, instruct you in the human voice in case of smoke in your home, automatically track your cats' health and feeding habits, irrigate your yard based on weather reports, etc. Here is the list of best Smart Home Gadgets to Convert Your Home into Smart.
Best Gifts
SkyBell Wi-Fi Video Doorbell
SkyBell is the smart video doorbell that lets you answer the door from your smartphone. SkyBell features a video camera, exclusive motion sensor, microphone and a speaker that allows you to see, hear and speak to your visitor from an iOS or Android mobile device from anywhere in the world.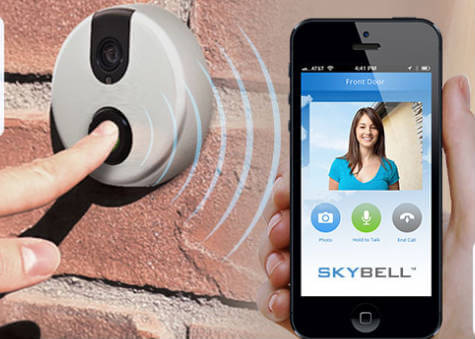 SkyBell using an inbuilt motion sensor and sends alert even if the visitor doesn't press the button. You can use this device to set multiple users and smartphones can receive alerts. You can set silent mode by turning off home doorbell chime from an app. SkyBell supporting night vision that helps to see a visitor at night without them noticing.
Buy from Amazon
More Info: You can rely on Smartphone-based IP Security Cameras for an up to date and cheapest security solutions. Please consider these things to consider before buying an IP Security Camera.
RainMachine Touch HD-12
Rain Machine can forecast up to 7 days and dynamically adjusts your watering schedule. Using real-time temperature, the wind and rainfall data the RainMachine precisely calculates water schedules and avoid wasting water.
RainMachine connects via WIFI and downloads weather data every 6 hours. RainMachine uses exact street address location, downloading precise weather data within less than 1.5 miles (2.5 km) grid. If your WiFi connection is down the Rainmachine runs on previously downloaded forecasts for up to 7 days.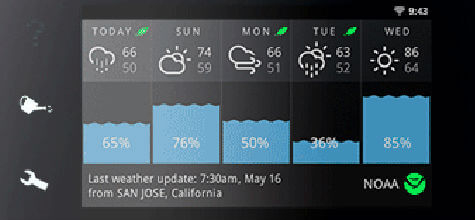 This device store the last 365 daily forecasts to show how your sprinkler controller would have worked for the last 12 months. The RainMachine is capable of protecting your garden against unexpected hot or freezing conditions.
Additionally, you can suspend all programs for some days or months, according to your local climate. You can connect RainMachine from iPhone or Android smartphone or tablet and remotely control everything. When you're away from home, it is possible to configure your WIFI router to give you access to your RainMachine.
Buy from Amazon
7 Best Smart Sprinkler Controllers with iPhone and Android Apps
Rachio Smart Sprinkler Controller
Rachio Smart Sprinkler Controller can maintain your watering schedule for you when you simply don't have the time. It will automatically adjust for changes in weather and seasonality, using as little water as possible while keeping your landscape looking its best.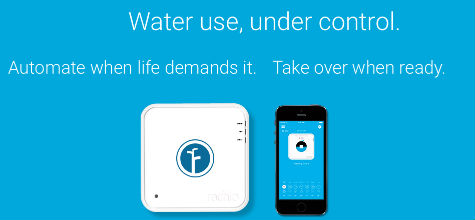 Rachio saves most users over 30% on outdoor water usage when compared to standard controllers. Saving you money. You can set it and forget it or control it from anywhere in the world using your smart device or laptop. The system will let you know what's going on with your system and you can adjust it from there as you see fit.
Buy from Amazon
Portable Induction Cooktop
Induction Cooktop is a wise choice for your modern kitchen to make it efficient and unique. Compare to Gas or Electric cooktops; this technology is based on magnetic induction. The outcome is a clean, energy-efficient and cool gadget for your modern kitchen.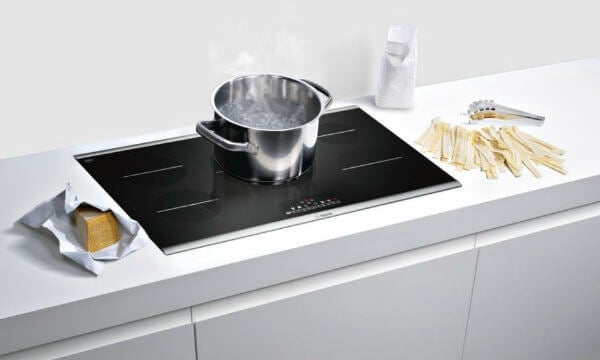 The rising star of modern kitchens, induction heating is basically, the transfer of magnetic energy from a coil of wire into the pot made of the material that has the potential of being magnetically conductive and ferromagnetic. Please refer to the Induction Cooker Buying Guide before you select the Induction Cooker.
Buy from Amazon
Kwikset Kevo Smart Lock
With Kevo Smart Lock, you can use your Smartphone as your key. You can keep your phone in your pocket or purse and just touch the lock with your fingers to open the door. You can also use key fobs to open the lock if you are not carrying any smartphone.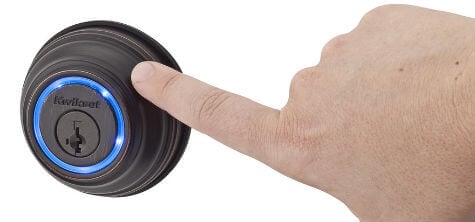 With Kevo smart lock, you can share eKeys via your smartphone and receive notifications and manage lock and eKeys through Kevo Mobile App. The Kevo app is available for iPhone 4s, 5, 5C, 5S, 6 & 6 plus, and 5th generation iPod touch and, 3rd generation or higher iPad/iPad mini. There are other Smart Locks are available and refer our Smart Lock Buying Guide.
Buy from Amazon
Nest Learning Thermostat
The Nest Learning Thermostat programs itself and automatically helps save energy to lower your heating and cooling bills up to 20%. Nest Learning Thermostat learns your schedule, programs itself and can be controlled from your phone when you are away. Once it's on your wall, it automatically activates the best features for your system and starts learning about you and your home.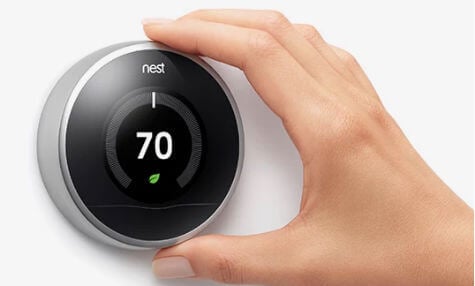 Nest Thermostat automatically turns to an energy-efficient away temperature when you're gone with Auto-Away. You can use your smartphone with the Nest app to connect to your and to change your home temperature miles away before you reach home.
Buy from Amazon
Best Smart Home Devices for Google Home that work with Google Assistant
Nest Protect Smoke & Carbon Monoxide Alarm
The Nest Protect warns in case of smoke and carbon monoxide in your home. It alarms you and speaks up to tell you what the problem. It can even send an alert to your phone if an alarm goes off or the batteries are getting low.
Nest Protect not only does sound an alarm, it also speaks to you with a human voice. It tells you if there's smoke or carbon monoxide, which room it's in, and if you're in immediate danger. So you can quickly figure out the best way to exit your home and avoid running into the fire on the way out.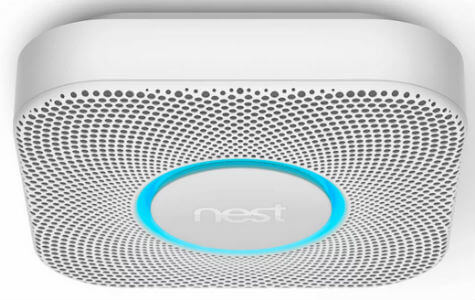 Nest Protect will send a message to your phone or tablet if there's a problem. But if you want, you can check on things at any time. Just open the Nest app to see the status of your Nest Protects.
Buy from Amazon
WallyHome Water Leak Detection System
A revolutionary home sensing solution, Wally detects and alerts you of water leaks as well as important changes in humidity and temperature. You simply place wireless sensors around your house, connect them to the network using the Wally app, and just like that, your home is protected. Wally's network of sensors, hub, the cloud is in constant communication with each other, ensuring that your home is monitored.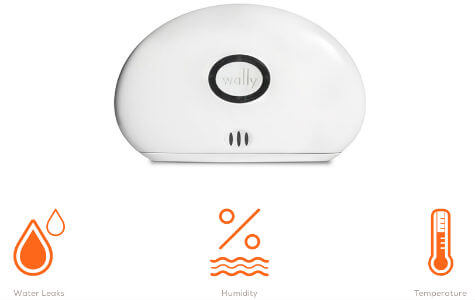 Wherever you are in the world, the Wally app and website let you, and the people on your alert list, know what's happening in your home. You can receive instant SMS, push, and email notifications that can save you the expense and hassle of water damage or mold remediation.
WallyHome provides an accurate snapshot of a home's temperature, making it easier to find an ideal whole-home setting. The more Wally Sensors used throughout the home; the better Nest becomes at delivering comfort and savings.
Buy from Amazon
Tile – Phone Finder, Key Finder
Tile is a small Bluetooth device helps you to find your missing items with your smartphone. You can locate any stuff if you already attached a Tile device on it using the Tile app. When you attach Tile to an item (like your keys), you're tethering them both to your phone. So when your stuff gets lost, you can trace it with the Tile phone app.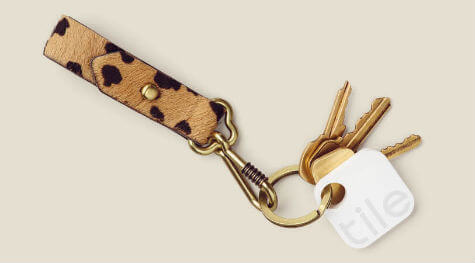 Tile casts a Bluetooth signal up to 100 feet, and the app supports up to 8 Tiles. Since every phone with Tile helps find your stuff, your search range is potentially limitless. When you begin searching for a lost item, your phone tracks the Bluetooth signal strength of your Tile. As you get closer, the app's tracking circle fills in, gives you a clear indication of your progress.
Buy from Amazon
Philips Hue LED Starter K
Philips hue combines brilliant LED light with intuitive technology. The wireless LED light bulbs bring hue to life. They deliver clear and crisp light. All shades of white and every color in the spectrum.
The heart of the hue system is a bridge between your app and the bulbs. Linked to Wi-Fi via your router, it can connect up to 50 bulbs at a time. Together, the bulbs, the bridge, and the app will change the way you use light. Forever. Experiment with shades of white, from invigorating blue/white to cozy yellow/white. These bulbs can dim, flash or pulse.

The bridge also connects your system to the wider world. With it, you can control your lights remotely or link them up to the rest of the web, newsfeeds or even your own inbox. It's really rather smart.
Before you select the LED Lamp, refer Ultimate LED Lamp Buying Guide. You can use the smartphone app to change colors, brightness, functions and everything else in between. The additional tool called Myhue portal is an online control panel that connects to hue, from anywhere in the world.
Buy from Amazon
Sonte
SONTE Film is based on digital shading technology that allows the color of the film to go from non-transparent to transparent when you apply a current through it. SONTE Film will give you the option for privacy on demand by adjusting the amount of light traveling through your window. Digital shade does not require you to replace your windows or glass partition, as it can be retrofit onto any glass surface in your living room, bathroom or office.

Once installed, SONTE Film will have a slight effect on the general appearance and clarity of your windows. Also, SONTE Film is Wi-Fi enabled which makes it really simple to use and operate. You can control your smart window using iOS or Android apps which you can download for free so that you control SONTE Film from anywhere in your home or office at the touch of a button.
Buy from Amazon
SureFeed Microchip Pet Feeder
This SureFeed pet ensures to access your pet their own food in a designated quantity. This is an excellent solution for Animals on diets or underweight management programs.

The seal on the top of the food bowl helps to keep the food fresh and preventing flies from getting into the food. This MicroChip feeder is compatible with all identification microchips worldwide & SureFlap RFID collar tags.
Buy from Amazon
Technology giants are competing for to pack smart features in Smart Gadgets every day. As a part of this evolution, we see a lot of smart devices are launching in the current market. The security of your home or office is the most vital worry for anyone. From the invention of locks and keys.
In this millennium era, everything is switching to Smart Gadgets. You can have all Smart gadgets available that can control using your smartphones like Android or iPhone. You don't need to be in your home; you can control most of the above gadgets right from your Smart Phone anywhere from the world.