Google Doodles are one of the most interesting features to check out. Of all the doodles, many are interactive and are often based in honor of any sport, music, person, and others. These doodles allow users to play these short interactive games on their phones and computers alike. Over the years, Google has accumulated an armamentarium of Google doodle video games, and here's a list of top popular doodles that you can try right now.
Of course, there are hundreds of others but we decided to opt for these top 15 due to their popularity and a few other factors so read along.
Coding for Carrots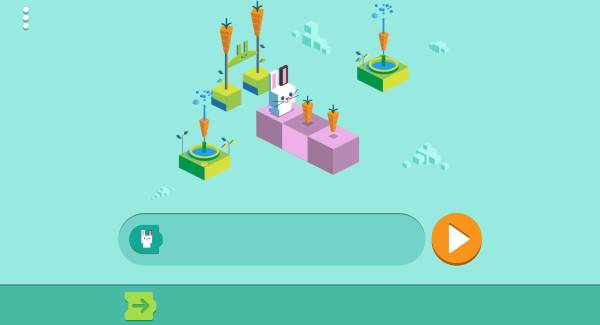 Introduced as a part of Google's two-week-long popular Google doodle video game spree, Coding for Carrots is a throwback to 2017's doodle when Google was celebrating Logo's 50th anniversary, the first-ever programming language for kids.
The game lets your kids direct the rabbit to the carrots using a simple combination of commands. Place the blocks so that the rabbit can collect the carrots, the game is based on the WYSIWYG method. Repeat it at every stage until the built-in video game is over on your phone, desktop, and laptop alike. You can search for Coding for Carrots on Google to find it or search 'Google Doodle games' and there you have it.
Play Coding for Carrots
ICC Championships Trophy 2017 Cricket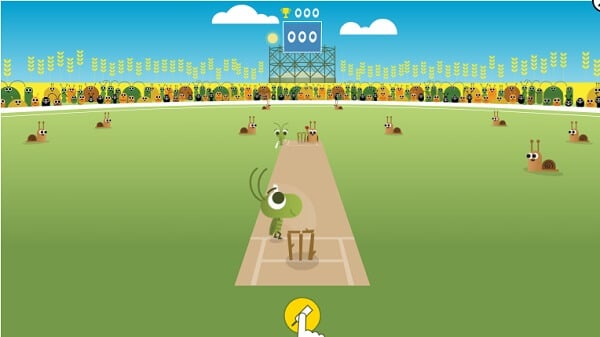 Cricket is a fun sport and what's better is to play it without breaking a sweat for a change. Cricket, the interactive Google Doodle celebrates the ICC Championships Trophy 2017. It lets you play cricket as a batsman where you need to score the highest in the game before you are clean bowled.
Press the key to flick the bat and try-scoring fours and sizes to stay ahead of the game. It is a fun-loving game that will cherish every cricket or even non-cricket fan so check it out right away. It was summoned as one of the most popular Google Doodles even though it wasn't aired in the US.
Play ICC Championships Trophy 2017 Cricket
Fischinger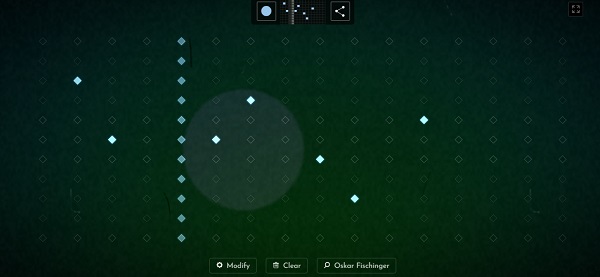 One of the popular Google doodles that have resurfaced is Fischinger, a music-making game that lets you create music using four different instruments. The doodle celebrates the 117th birthday of musical Oskar Fischinger. Select the instrument, place the notes at random and the game will play the music.
You can tweak it a bit by changing the instruments and a few other settings where you can spend hours mastering it. The visuals are incredible and soothing so you won't feel bored with it. Create music the easy way and use it as a background score wherever you need it.
Play Fischinger
Clara Rockwell's Theremin (Rockmore)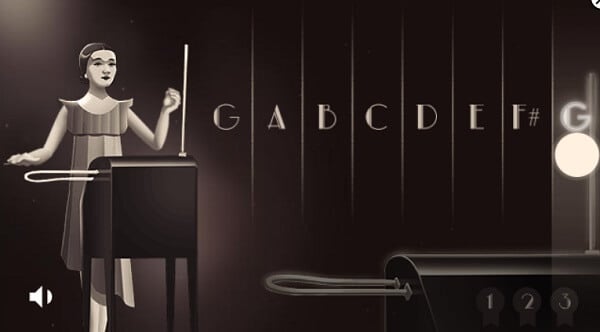 Dive into something that was the precursor to today's electronic music, the Theremin. Mastered by a violin prodigy, Google honors Clara Rockwell with this Rockmore doodle that lets you play theremin for a change.
Start with a few guided lessons that introduce you to how the theremin works and get ready to create your music using the theremin as your foreground instrument. You can use the mouse or touch controls to hit notes and tweak the settings to get favorable music on the go. It will surely take some time but once you get the hang of it, you would love it.
Play Rockmore
Related: Spotify Can Now Show You Full Song Lyrics; Here Is How
Garden Gnomes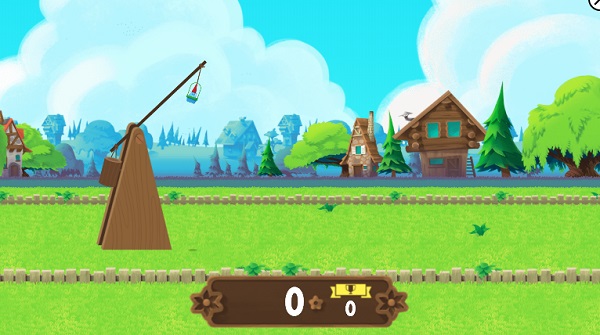 Escape the sight of usual doodles with Garden Gnomes, an interesting game that lets you throw gnome to plant trees over large areas. You are tasked with catapulting the gnome on a trebuchet as far as possible.
The gnome bounces on logs, mushrooms, and clouds or you can use the boost button as it loads to its full capacity to bounce and reach farther than the last time you threw it. Release the catapult too quickly and you'll score in minus, wait for too long and the trebuchet wouldn't fling so the timing is crucial. Plus, the game has an intriguing background score that you would love.
Play Garden Gnomes
The Scoville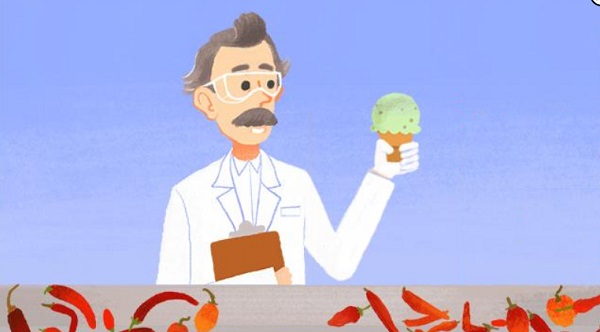 There are hundreds of types of Peppers each with varying hotness which is now calculated on the Scoville Scale. This is in honor of Wilbur Scoville who started testing the hotness of a chili.
The doodle Scoville was introduced back in 2016 and it is one of the popular Google doodle video games of all time. It lets you use the hotness scale towards any pepper where you are tasked with throwing three scoops of icecream to eliminate the hotness. Although it is not the best doodle, it is quite informative so you'll love it.
Play The Scoville
Loteria Doodle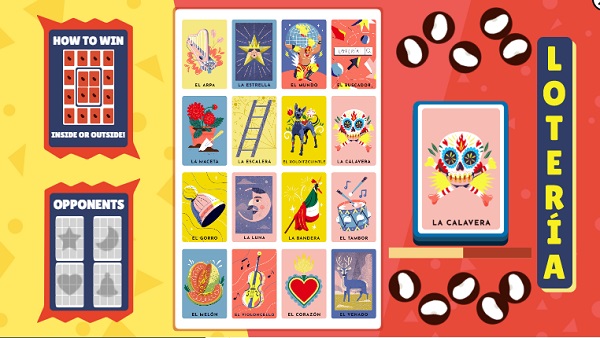 Have you ever played Bingo? Check out Loteria Doodle, the popular Google doodle video game that celebrates the Cinco de Mayo, an Mexican culture where you play Loteria online with others or friends
It is just like Bingo but replaces the numbers and beans with cards in a truly Mexican way. The game will automatically pair you up with those who are online. You can send a link and ask your friends to play along. It is also similar to Tambola so do give it a try.
Play Loteria Doodle
Magic Cat Academy: Halloween 2016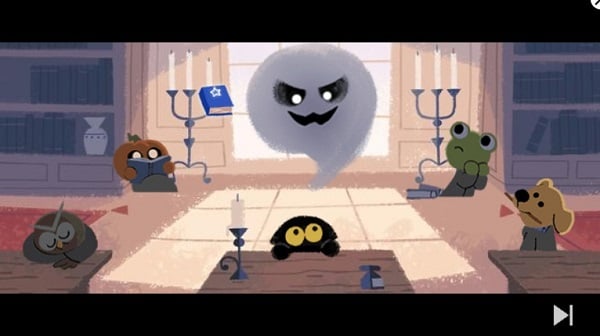 If you like Harry Potter, Magic Cat Academy from Halloween 2016 is something you'll like. You are a cat whose task is to protect your school from evil ghosts by casting spells. You are an apprentice in the school and you need to draw symbols on the screen to cast the spell and put down ghosts.
There may be too many at once so play smartly and use your spells. Kill them all and protect the school at all costs. It is one of the all-time-best doodles so I don't see any reason you wouldn't like it.
Play Magic Cat Academy
Hip Hop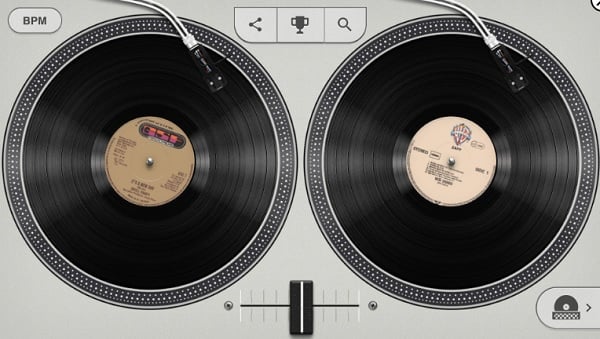 Use the art of scratching two discs to create hip hop music with this popular Google doodle 'Hip Hop'. Originally surfaced on Google in 2017 to celebrate the iconic event of the 44th anniversary of the birth of hip hop, the game lets you fondle with a dual-deck turntable.
You can use scratching and other techniques to create unique music on the dual-deck setup. Use the BPM and other settings to churn out favorable output for your music and enjoy it. It is one of the best doodles designed by a graffiti artist Cey Adams and brings a few samples of iconic tracks on-board for tryouts.
Play Hip Hop
The 'Doctor Who'

Welcome to the world of 'Doctor Who', a fictional character from the long-running science TV series 'Doctor Who'. Here, you need to assemble the alphabets in 'GOOGLE' one by one by going through an easy-looking trail escaping the sight of the robot that roams around killing those who come in contact. You need to use the levers placed strategically on the map to pave your way to the alphabets and the phone booth back and forth until you solve the whole string of 'GOOGLE'.
Play Doctor Who
PAC-MAN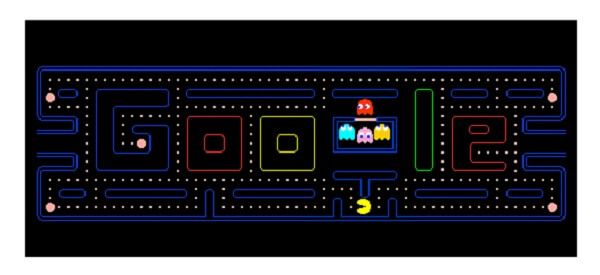 If only PAC-MAN needed an introduction. To celebrate its 30th anniversary and to commemorate all-time popular doodle video games, Google put up a custom-built version of the game on its logo.
You can tap on the PAC-MAN Google Doodle and tap on 'Insert Coin' to commence playing on your phone or laptop or desktop. Use the touch controls and direction keys on your keyboard to control your PAC-MAN. Eat as many as dots you can and steer away from the ghosts until you don't engulf a giant dot. Collect points and live a graceful nostalgic video game experience on the go.
Play PAC-MAN
Johann Sebastian Bach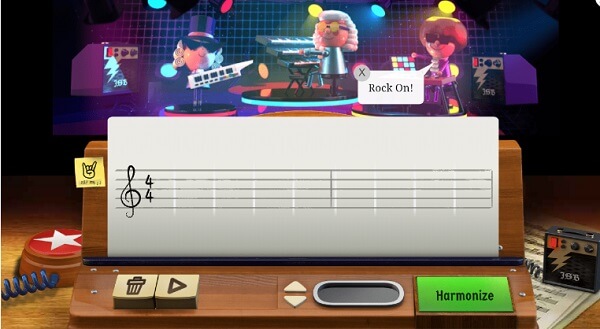 To honor Johann Sebastian Bach, Google developed its first-ever AI-powered Google doodle that lets you fondle with music by creating the melody. Set notes, use the lever to adjust higher or lower notes, arrange them on a slate and you have it.
Play it raw or use the 'Harmonize' button that uses AI and machine learning to create a harmonized melody based on the raw input and 306 of Bach's harmonization to create a perfect melody you can play and download for later use. I understand that it isn't that easy but once you get the hang of it, there's no looking back.
Play Johann Sebastian Bach Doodle
Basketball 2012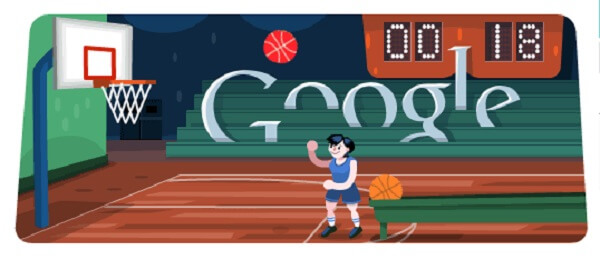 Now, this is an oldie as it was released in 2012. More than one billion people played Basketball and three other interactive doodles on a 4 days streak. The interactive doodle gives you 24 seconds to put a basketball in the basket.
The more you do it, the higher the score. You can share it with your friends without any hassle. The game is easy to use and takes a few tryouts before you can carry a perfect streak. You won't have to mash the buttons like any other doodle so relax and play along.
Play Basketball 2012
Rubik's Cube

Who doesn't know Rubik's Cube but not everyone has one in their houses. So, Google introduced its Rubik's Cube Google Doodle back on May 19, 2014. It is a completely interactive 3D Rubik's Cube that lets you toggle the pieces, move it around to complete it.
You can either use your mouse on a PC or laptop or use the keyboard or touch controls to move around the blocks to form faces of the same colors. It is not that often easy to solve since it is a Rubik's Cube but hey, that's the point, it is difficult and thus, it is enjoyable.
Play Rubik's Cube
The Pony Express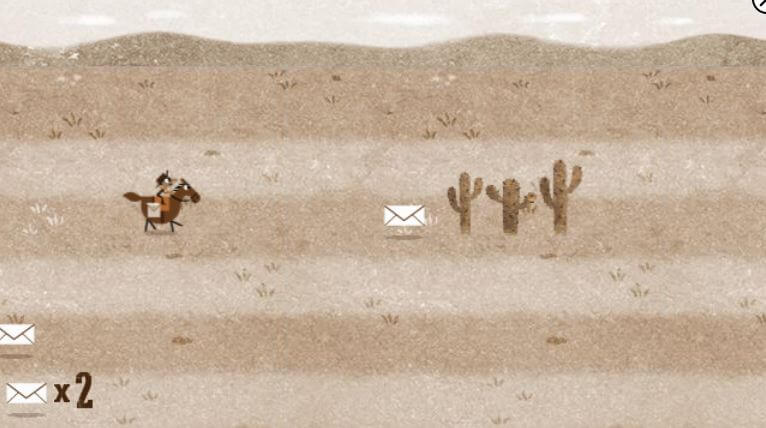 This cute interactive Google Doodle is based on Old West. It was introduced on April 14, 2015, in honor of Pony Express to celebrate its 155th anniversary. Just like the Pony Express, you are on a horseback collecting as many mails as you can to deliver it.
You need to avoid any cacti, rock, fences, or anything that comes your way to stay in the game. The more mails you collect, the more points you gain with this interactive game. Plus the animations are pretty decent so it won't tire your eyes while playing it.
Play The Pony Express
Google hasn't stopped creating just these 15 interactive Google doodle video games as there are practically hundreds of others to try. It is not that feasible to list all so you are left with these best 15 that we could find. I hope you enjoy playing these bits from the search engine giant Google that it releases almost every week or so.