The Apple Watch needs to charge at least every alternative day to keep it alive. It is better to have an Apple Watch portable charger in your bag at all times. Some of these portable chargers come with an inbuilt battery to charge your Apple watch on the go.
Here, we've compiled a list of some of the best and the most trusted portable Apple watch chargers for you to buy right now.
Travel Pouch Apple Charger
HALLEAST Travel Case for Apple Watch Charger
As the name says, the HALLEAST Charging Case is an MFI certified charging case for your smartwatch. By far, it's a great way to keep your Apple watches up and running 24/7. This Apple Watch Travel Charger comes with a 3000mAh internal battery.
Hence, you can charge your Apple smartwatch up to 6 times when you are on the go. Being a portable Apple watch charging case, you can place your Apple Watch inside the case within the magnetic holder. You can also zip the cover to keep it safe inside. This means that you can toss it into your bag and leave it to do the rest.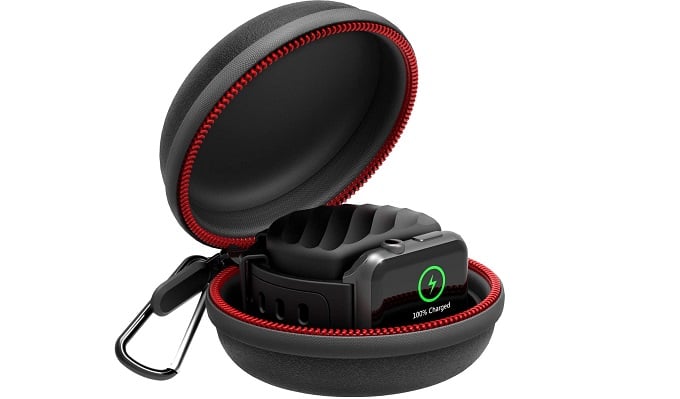 This Apple watch travel charger doubles itself as a storage as well as a charging compartment. It is compatible with the Apple Watch Series 1, 2, 3, and Series 4. You might see that the charging time changes with each model. This is because of the battery capacity of these models. And by the way, the charging case can be charged in 4 hours through the USB port.
Buy from Amazon: HALLEAST Charging Case
Related:12 Best Travel Apps for Apple Watch for Next Trip
Apple Watch Leather Charger Case
Sena Apple Watch Charging Case
The Sena charging case is a charging case that is made of leather. It is a hybrid charging and storage case for your Apple smartwatch. The leather casing is its best feature and comes with a glossy and smooth texture. This Apple watch travel charger can carry your charging cable and smartwatch with ease.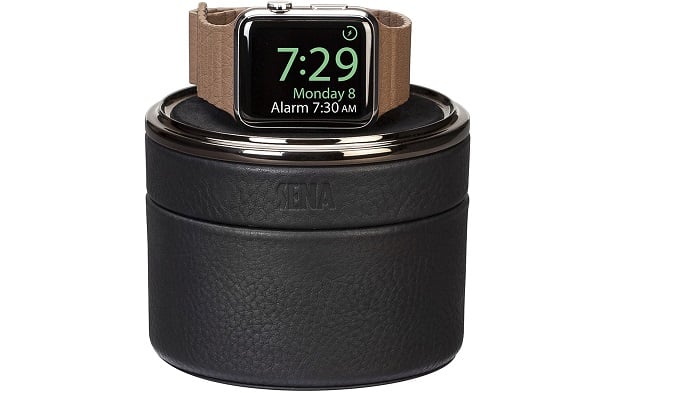 You can wind the cable within the inside portion itself. There is also an opening on the top where you can pull the charging cable out. As you see, it doesn't feature an internal battery. You need those cables all the time for charging.
Buy from Amazon: Sena Apple Watch Charging Case
Night Stand Watch Charger
LXORY Foldable Watch Charger
The Lxory portable charger is an MFi Certified travel charger for the Apple Watches. It includes a fully functional magnetic charge that lets you attach the Apple smartwatch for charging. You just need to plug the charger into the USB port and you're ready to go. You can use this charger as an additional Apple Watch Charger for your trips as it takes minimal space. This portable travel Apple Watch charger is compatible with all watch models and series.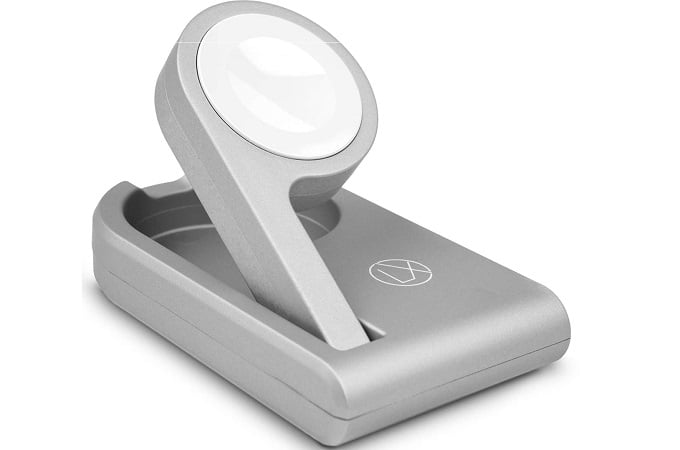 The foldable design lets you place the Apple Watch in a flat position. It even doubles as a vertical Apple watch mount that offers a better viewing angle for the watch in nightstand mode. The inbuilt USB cable is 3 feet long and that's enough to connect the charger to your wall USB power.
Buy from Amazon: LXORY Foldable Watch Charger
Related:Apple Watch Charging Slowly? Here's How to Fix and Get Back Apple Watch Fast Charging
Conido Magnetic Charger
The Conido Magnetic Charger you see here can be your best secondary Apple Watch Charger while you're on the go. It's a one-step charging solution that minimizes hectic wired inputs and stuff. This Magnetic Charger for the Apple watch doubles itself as a durable Watch stand. You could dock your device intact while it is being charged.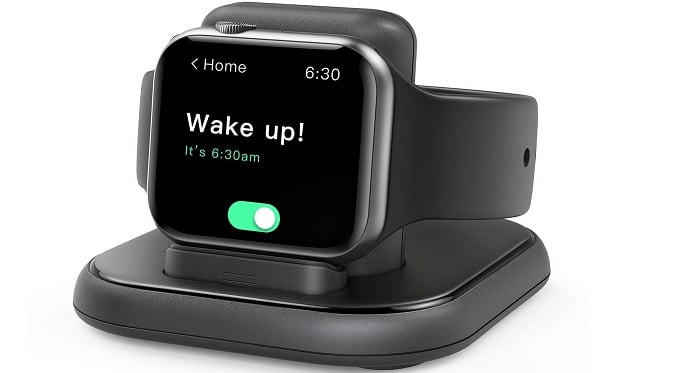 The design is rather durable and sturdy. It even has a non-slip silicone pad that keeps the stand intact. Coming to compatibility, this Apple Watch charger works well with even the Apple Watch Series 7. It's simply one of those travel-friendly gadgets you should definitely equip as it could be a real life-saver.
Budget Friendly Watch Charger
Spigen S350
The Spigen S350 is more like an Apple Watch Night Stand that doubles itself as a portable charger. It is one of the best Apple Watch stands that is not so expensive. Unlike other portable Apple watch chargers, the S350 doesn't include circuits of its own. So for charging, you require the magnetic charger for charging. It can accommodate all Apple smartwatch models. But yet, you might fill a bit of an issue with the series 4 model though.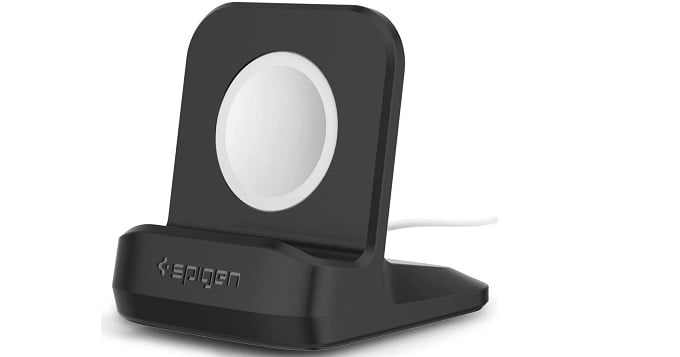 The design part is not complex. Its made of good quality plastic coated with a TPU layer. It comes with a rubberized base that holds the stand intact. The Spigen S350 favors horizontal arrangement also. This makes the watch fixed within the stand. A thing to keep in mind is that you don't receive a charging cable with the package. You need to get one for yourself.
Buy from Amazon: Spigen S350
Portable Apple Watch Charger
Togoo Apple Watch Charger
The Togoo Apple Watch Charger is simply the best portable travel charger that you can buy right now. It is compact and looks exactly like a buffed-up USB stick. This travel charger for Apple Watch comes with an inbuilt magnetic module. The magnetic module draws its charge from the normal USB port. You could use it with almost all the Apple Watch models with different watch sizes.

This travel charger for the Apple watch includes inbuilt over current and over voltage protection units. Thus it's quite safe to keep it as an auxiliary watch charger during emergencies.
Related:10 Best Apple Watch Chargers Straps & Accessories
2 in 1 Apple Watch Charger
Moretek Charger Stand
The Moretec charger stand is a basic charging stand that can help you charge your Apple smartwatches. It is a portable 2 in 1 charging dock for the Apple Watch and AirPods. This Apple Watch travel charger can accommodate all models of the smartwatch series ranging from series 1 to series 4. A thing to keep in mind is that this thing here is a portable charging stand, not a charger at all.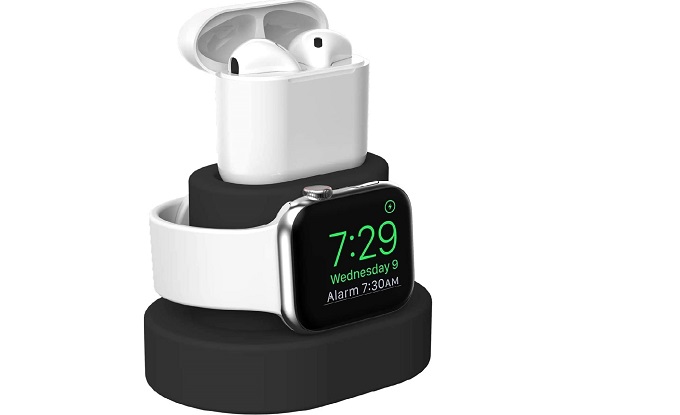 The Moretek charging case is made of durable silicone material. The metal stand and the panel keeps your smartwatch and AirPods safe and secure. In order to charge your smartwatch, nee need to equip yourself with a magnetic charging cable. You can also keep the excess charging cable inside the docking compartment. This arrangement makes it neat and less fussy due to no sign of wires.
Buy from Amazon: Moretek Charger Stand
Watch Charger with USB Port
HSL Charging Station
Apart from being an all out Apple Watch Charger this device lets you charge multiple devices all at once. This charging station lets you charge 6 devices including the Apple Watch. You get 6 USB ports that let you connect your smartphones, tablets, or iPads with ease. The USB charging station includes 3 lightning ports along with 2 micro USB and a type C cable for other Type C-enabled devices.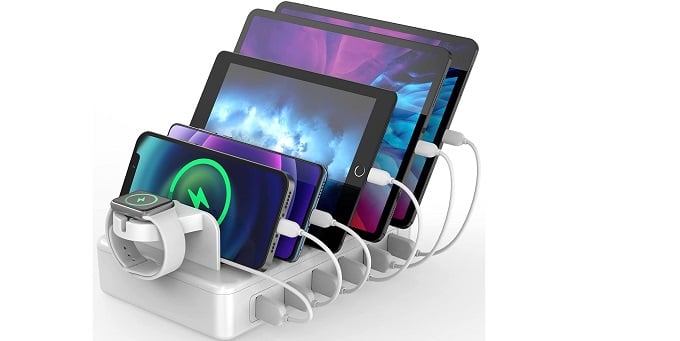 This Apple Charging station offers a max output of 50W. It lets you charge all your devices in a more arranged and clutter-free manner. The ports on the charging station identify your connected device and automatically optimizes the charging unit. The Apple Watch charging pad on the front lets you keep your Apple Watches docked while being charged. The holder includes an easy pass-on slot that lets you place your watch charger intact. A thing to keep in mind is that you'll not be getting any cables as such with the full delivery.
Related:10 Best Portable Power Banks for Apple Watch and iPhone
Apple Multi-Device Charger
Waitiee 3 in 1 Wireless Charger
The Waitiee Wireless Charger is a great solution for on the go charging. It is a 3 in 1 power station that includes wireless charging pads to charge your iPhones, Apple Watches, and Airpods. The wireless charging pad offers a max output of 7.5W and works well with all Qi-enabled smartphones and iPhones.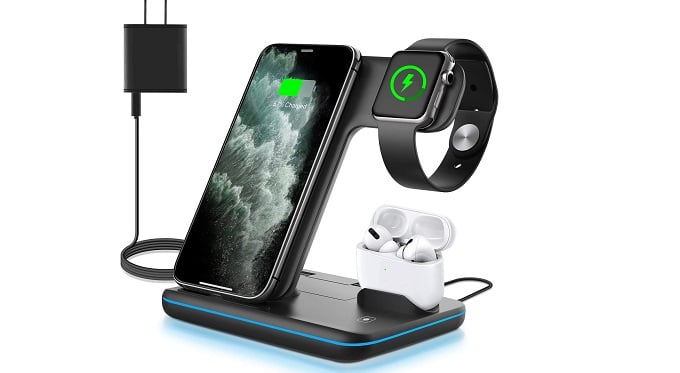 The Apple Watch Charger offers a max wireless output of 5W, letting you charge your smartwatches on the go. Apart from the good power output, this wireless charging station has a durable design. The charging base has an anti slip silicone design that keeps your phone intact while charging.
Today's Deal: $4.50 Off
Compact Apple Watch Charger
Anker Portable Magnetic Charger
The Anker Portable Magnetic Charger is one of the most compact and lightweight Apple Watch magnetic chargers that you can buy right now. It is quite compact and all you see is the magnetic base along with a small protruding USB Type C connector.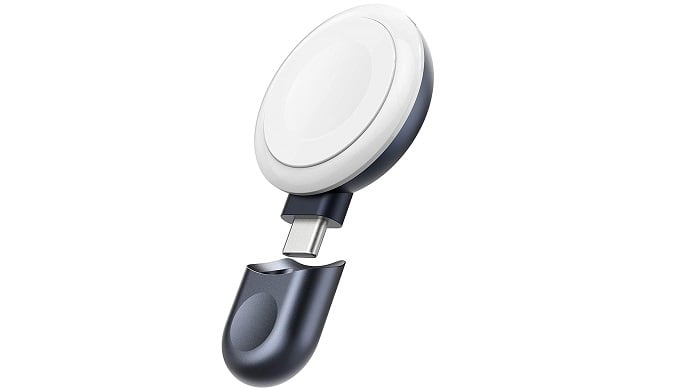 The Type C input lets you charge your smartwatches on the go. It's rather compatible with the type C car charger adapters. The device is certified Apple exclusive and is compatible with almost all Apple Watch models, hence there isn't a question of compatibility anymore.
Today's Deal: $12.40 Off
Apple Watch Charger Key Chain
Vacoor Portable Keychain Charger
The Vacoor Keychain Charger for the Apple Smartwatches is yet another compact and portable travel friendly charger. It is rather a dedicated smart charging unit that includes a magnetic pad along with an internal battery. The 1000mAh internal battery offers 2 to 3 times of full charge to your Apple Watch.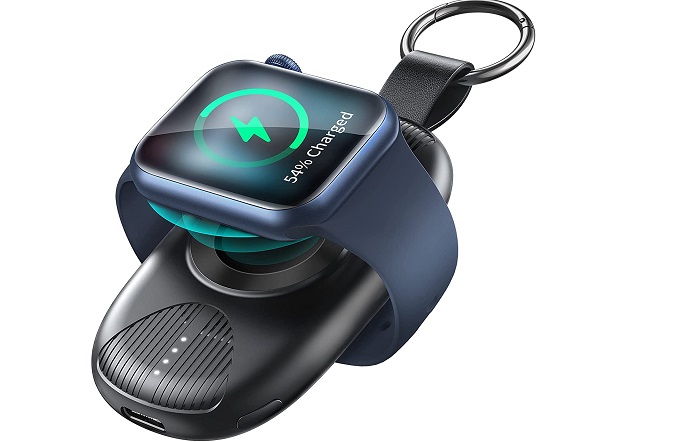 What's more, this Apple watch travel charger is compatible with all the Apple Watches out there. The 1000mAh battery on the charger takes around 2 hours to get fully recharged. Apart from the stylish and modern design, the portability factor of the magnetic charger makes it convenient for you to equip it as a backup charger for your Apple Smartwatches.
FlagPower Portable Powerbank
The Flagpower power bank is yet another product for the Apple Watch. It is one of those portable power banks that comes with a compact keychain design. What sets apart this one is that it comes with a USB cable to charge the power bank. And also, this one is Apple MFi certified. Like most similar products, this too has a 700mAh battery, capable of charging your Watch 2 times on the go.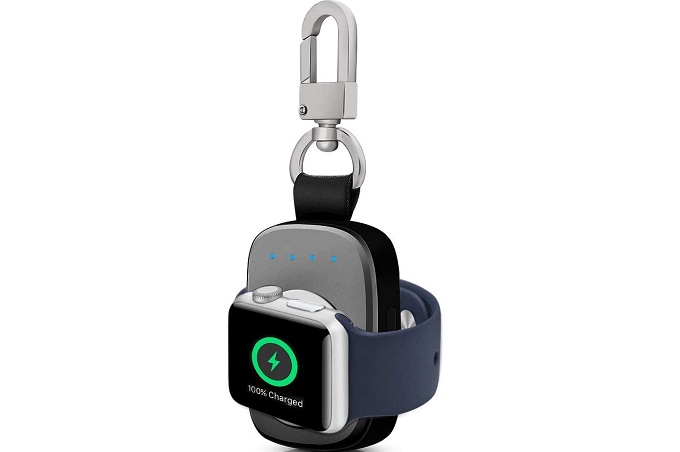 Coming to other aspects, you can see that it isn't made using cheap plastics. In fact, it is made using ABS and metal shell. This makes it durable and long-lasting. When it comes to protection, this Apple watch travel charger is CE, FCC & RoHS certified. Also, it has prior safety features such as voltage protection, etc.
Buy from Amazon: FlagPower Portable Powerbank
Related: How to Check Battery on Apple Watch
Portable Battery Pack for Apple Watch
Huoto Portable Wireless Charger
The Huoto Portable Wireless Charger is yet another travel friendly, compact Apple watch charging module that comes at a pretty decent price tag. It features an inbuilt 1400mAh internal battery and gives lightning fast charging speed to your Apple watch.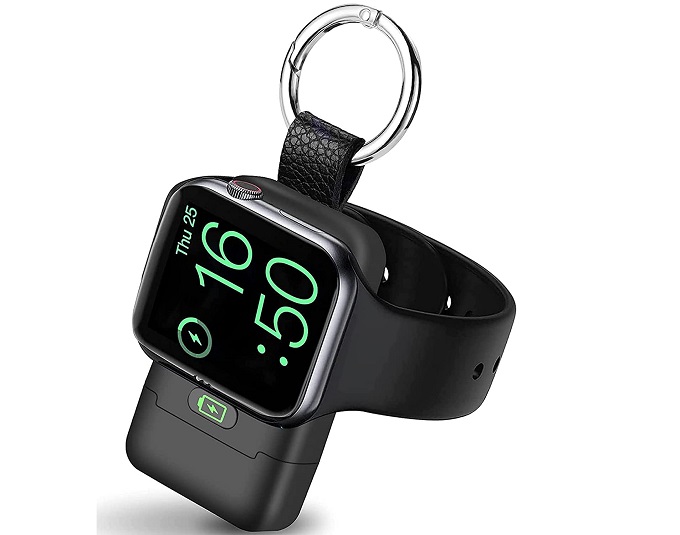 The device is compatible with almost all the Apple watch models out there. There is the two-way charging that lets you charge the wireless charger via the USB Type C cable. The pocket size and compact design along with a keychain ring let yob carry it with you wherever you go.
Today's Deal: $1.00 Off
Battery Pack for Apple Watch
iWalk Apple Watch Charger
The iWalk Apple watch charger is basically a power bank that includes a magnetic charging pad. It is an amazing option for on the go charging of your Apple Smartwatches as well as the iPhones. It comes with a 9000mAh internal battery and lets you charge your iPhones and the Apple Watch with ease.
There is a lightning cable attached to the unit that lets you easily connect your iPhones. What's more, this battery pack has inbuilt over temp, over current, and over voltage protection. Apart from the lightning port, there is a USB type C input port that favors two-way charging. You can charge the battery pack in under 5 hours via the USB Type C cable.
Today's Deal: $24.00 Off
Related: 10 Best Portable Power Banks for Apple Watch and iPhone
Apple Watch Wall Charger
BeaSaf Wall Charger
The BeaSaf Wall Charger or rather, the charger adapter is on our list because of two reasons. One, it offers a combined output of 24W via the USB Type C port, and the other, it features a dedicated wireless charging pad for the Apple Watches. This wall port charger includes two wired output ports. These include the USB Type C along with a USB A port.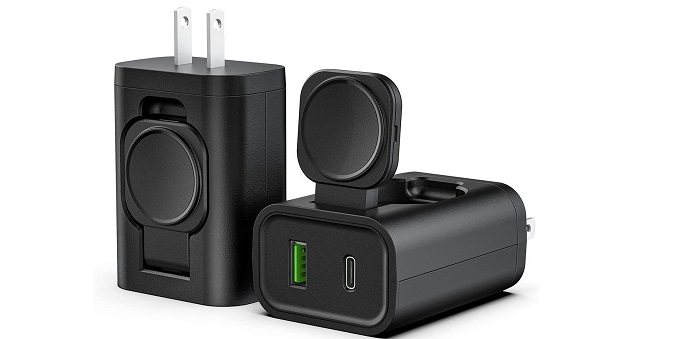 The USB Type C port lets you charge your iPhones in no time. On top of the adapter, you'll find a magnetic base that lets you charge your Apple watch. The Pad is foldable and hence you could use it as a DIY stand for your Apple Watch. The magnetic base fits effortlessly well with almost all the Apple Watch models and there's no issue of compatibility.
When it comes to chargers, and that too for Apple, you need something efficient and premium. Our list features some of the best and most portable Apple Watch Travel Chargers the smartwatches available online.
Portability is one of the main aspects that determine the utility level of these gadgets. Make sure you've analyzed your needs and considered the budget before jumping to conclusions.