Why would anyone want to play PUBG Mobile on PC? PUBG Mobile has really captured the attention of mobile gamers. As a free-to-play game, PUBG Mobile has garnered more attention than the original console and PC version of PUBG did. While the mobile version is more popular, playing an FPS game on a touchscreen isn't. Naturally, many people have wanted to play PUBG Mobile on PC.
Even though there are a bunch of emulators for PUBG, we have used one of the best PUBG emulators on this how-to guide to show how to play PUBG Mobile on PC.
Step 1: Download Tencent Gaming Buddy Emulator for PUBG
When all your friends are playing on mobile, it's not much fun playing on the PC. The demand to play PUBG Mobile on PC was so high that Tencent, the developer of PUBG Mobile, decided to do something about it officially. Instead of letting users use other Android emulators for PUBG, to take advantage of a mouse and keyboard over other mobile users, the developer has created its own emulator.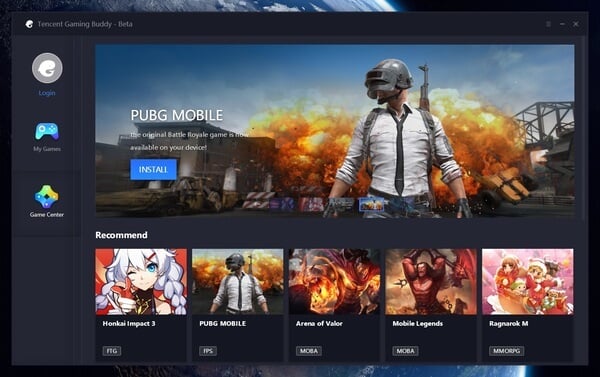 They call it the Tencent Gaming Buddy and it now really is. When it first launched, it only allowed users to download and install PUBG Mobile. Now though, the Tencent Gaming Buddy is home to quite a few mobile titles, including popular ones such as Clash Royale, Ludo King, Subway Surfers, etc. But because the title above says so, we're only going to focus on PUBG Mobile for now.
Website Link: Tencent Gaming Buddy (International) | Tencent Gaming Buddy (Chinese)
Step 2: Install PUBG Mobile on PC
When you have downloaded and installed Tencent Gaming Buddy, launch it and you'll be shown all the games that you can play using the emulator. Click on PUBG MOBILE and on the next page, click on the INSTALL button.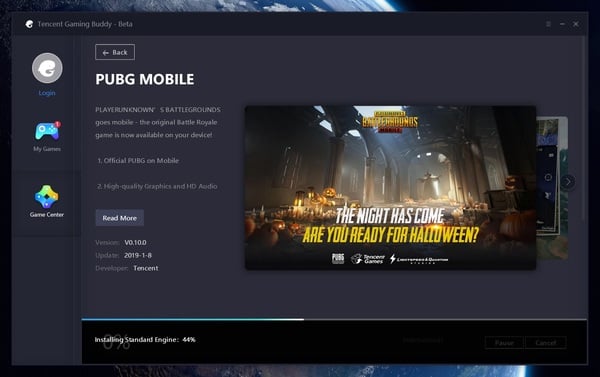 Since this is your first time, the download might take some time to start because the program will first download the game engine using which it will run games. Once that is done, your game download should begin as well. Installation is automatic and you can see the progress in My Games.
Step 4: Explore the PUBG Mobile Settings
While your game downloads, you might want to take a look at the settings. Here you can change whether Tencent Gaming Buddy is allowed to start on system startup. It's probably best if you don't let it. The Boss Key is the key that will let you enable the in-game cursor which you will often need for anything that hasn't been assigned a key.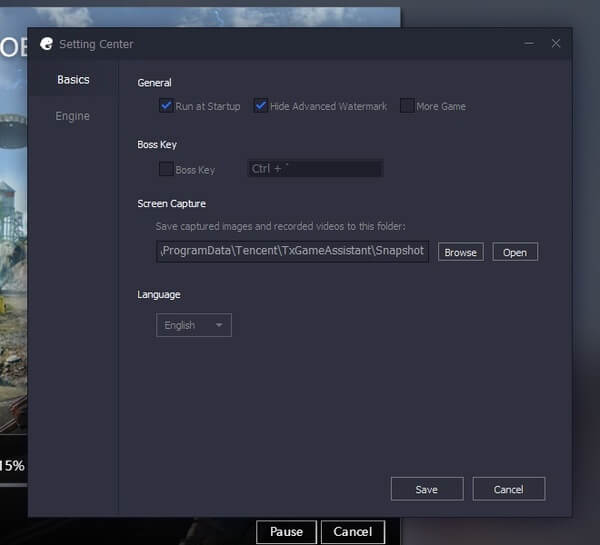 In the Engine settings, you can change things like the Rendering, resolution, DPI, and decide how much resources you want to allocate to the emulator. After the game is installed, you will also see a Game section in the left column. In this section, you can select the game's graphics quality.
Also read: How to Optimize PUBG Mobile for Notched Android Phones
Step 5: Play PUBG Mobile on PC
When the game has been downloaded and installed, you will see a PLAY button along with a drop-down button which hides the option to uninstall the game.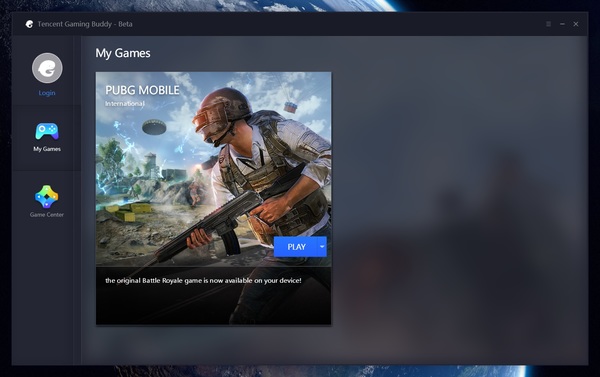 Upon the first install, the game is automatically launched so that it can download the necessary files. When it is done, it will ask you to restart the game, so click OK. After that, you can just click on the PLAY button in My Games to launch the game.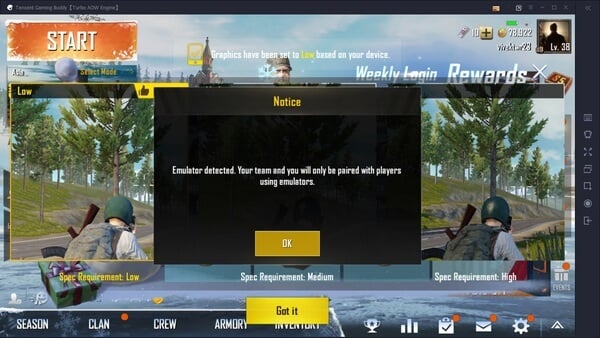 Upon entering the game, you will receive a Notice message that lets you know you will only be paired up with other emulator users. This is one of the reasons Tencent originally decided to develop their own emulator for PUBG Mobile. This way, they can block the use of other emulators and hacks and take control. This ensures that users on mobile devices, playing with touch screens, aren't put at a disadvantage.
Similarly, they can ensure that everyone using a mouse and keyboard gets the same experience. That may not have been possible with everyone using different emulators. On the right side of the game Window, you can also find some emulator controls that can come in handy. From the top to bottom these are:
Key Mapping
Shake
Full Screen
Screenshots
Video Recording
Exit
Controls
Left Click: Fire
Right Click: Aim
Space: Jump / Vault / LIP
C / Z: Crouch / Prone
Alt: Freelook
Shift: Sprint
4 / 5 / 6: Frag Grenade / Smoke / Molotov (Stun)
7 / 8 / 9 / 0: Med Kit / First Aid Kit / Bandage / Pain Killer
F1: Key reminder switch
Ctrl: Mouse lock switch
F: Open doors / Drive / Pickup / Parachute / Equipment / …
If you find the default controls confusing on difficult to use, you can always change the key mappings as per your preference using the Key Mapping button.
Performance of PUBG Mobile on PC
When it comes to performance, you have to remember that although official, Tencent Gaming Buddy is simply an emulator. Emulators are often slower, and can't provide a smooth lag-free experience. And to run a graphics-heavy game such as PUBG Mobile on one, let's just sat the Tencent Gaming Buddy pulls it off rather impressively.
You won't get a smooth performance but it is definitely playable. Therefore, if you're used to lag-free gameplay on your smartphone, the jittery experience on the emulator might not cut it for you.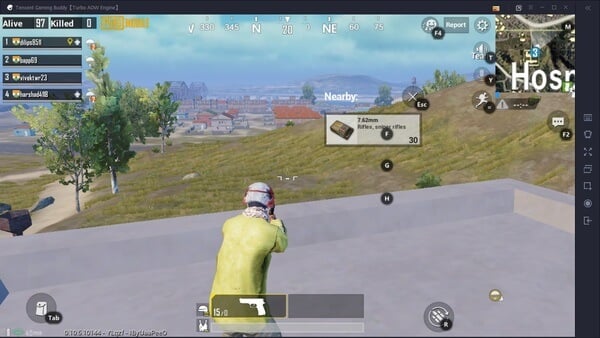 The performance aspect hasn't changed a lot since the emulator's beta versions were under testing. However, stability has surely improved. Being an official emulator, it also makes playing the game a lot easier than you would with other emulators. Most touch buttons have been assigned a keyboard button for easy access.
According to some recent rumors, the game devs might be working on a free-to-play PC version of PUBG too. That would mean you could play a native version of PUBG for free instead of having to emulate PUBG Mobile. Until then, this is how you play PUBG Mobile on PC.