PUBG Mobile emulator apps help to recreate the original PUBG experience on PC or Mac. You would still be playing PUBG Mobile on PC or Mac essentially. Just the device will have changed. So there is obviously has no comparison to the original version in terms of graphics and visuals. Note that the best PUBG Mac and PC emulators try to give you the best possible performance. However, they may still perform slower in some cases. You may need to have the best specs on your PC or Mac to get the best PUBG experience.
10 Best PUBG Mobile Emulators for PC and Mac
Here are some of the best emulators to play PUBG Mobile on PC. Check them out and choose one to take your gaming experience to new heights.
Tencent Gaming Buddy (Gameloop)
Tencent Gaming Buddy is the official PUBG Mobile emulator for PCs. It is now known as Gameloop. Tencent is the company that developed PUBG Mobile. Unlike other emulators that are designed to run the entire Android operating system, Gameloop only runs games.
At first, it only ran PUBG Mobile on PC. Yet it has a decent selection of games to choose from now. Since it does not run a full-blown Android OS, you cannot install anything from the Google Play or the internet. Your choices are limited to the games that Tencent ports to their emulator.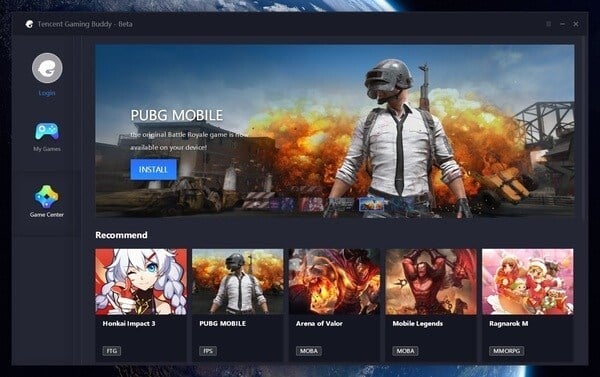 This does have an advantage. PUBG Mobile was not originally designed to be played with a mouse and keyboard. Thus, the controls, other than aiming, shooting, and movement can be jarring. Instead of pressing buttons, you will have to select items on the screen with your mouse. The mouse can also be used to rotate the camera and aim.
Being the official PUBG emulator, Gameloop solves this by assigning keyboard keys to a number of different in-game actions. This includes picking items, disabling or enabling voice chat, and more. If you want the best PUBG Mobile on PC experience, you may have to look farther than this.
Download Tencent Gaming Buddy
NoxPlayer
NoxPlayer is an Android emulator designed with gaming in mind. After all, the most popular use of Android emulators is to play games. As such, it offers many features that should aid users while gaming.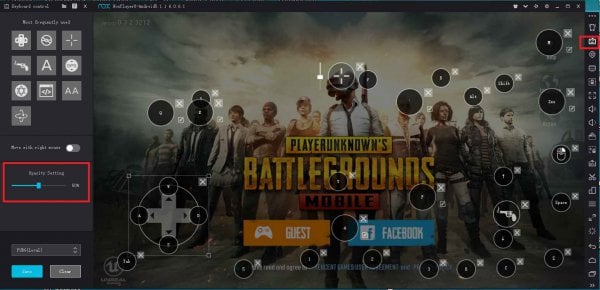 NoxPlayer PUBG emulator includes gamepad controls and key mapping functionality. This lets users assign different keys for different Android actions. It also supports multiple instances. Basically, it allows you to divide the screen between different games. That way, you can play them at the same time if you are feeling rather adventurous.
A toolbar on the right contains many other features such as screenshots and screen recording your gameplay. One of the best things about the NoxPlayer is that it is compatible with Intel and AMD. This makes it arguably the best PUBG Mobile emulator for PC.
NoxPlayer can handle high FPS games with relative ease too. For this reason, we place it higher on this list. It claims to be more stable and faster than other Android emulators too. The PUBG Mobile PC emulator also supports two-step authentication for your accounts.
Download NoxPlayer6
Also Read: How to Optimize PUBG Mobile for Notched Android Phones
BlueStacks
BlueStacks is the most popular Android emulator. It has been around the longest and it also delivers the best performance. If you have ever looked around for an Android emulator, you would have definitely come across the name.
BlueStacks has been designed to mimic an Android tablet and offers both free and paid versions. The free version is quite ridden with nasty ads that can be a real deal-breaker. If you like what the emulator can do though you can pay for it and get rid of the ads.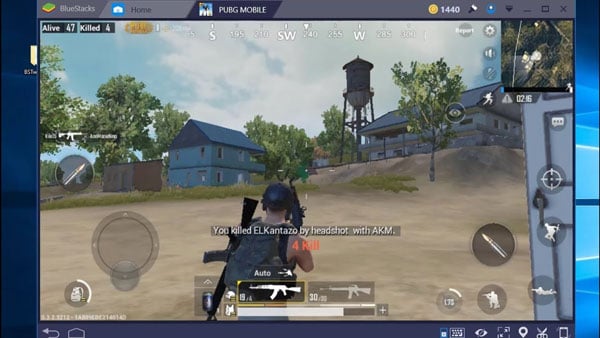 It is a pretty good PUBG Mobile PC emulator considering its legacy. It even supports gamepads. This allows you to enjoy a very Playstation or Xbox like experience when playing PUBG Mobile on PC or Mac. The emulator has been receiving constant updates over the years and keeps adding compatibility for more and more games.
BlueStacks runs the entire OS, so you can also install many more Android games other than PUBG Mobile. It even allows installing APK files from outside Google Play.
With the latest BlueStacks version, the developers claim that it performs 6 times faster than the Samsung Galaxy S9+. This is a rather tall claim to make. It runs Android 7.1.2 Nougat, which is not the latest version of Android. Yet it makes up for it in many other ways, such as support for multiple instances.
Download BlueStacks
Also Read: Best Android Emulators for PC and Mac
MEmu
MEmu is a relatively new Android emulator that allows you to play PUBG Mobile on PC and Mac. It brings the fun of Android games and apps to all your devices. Compared to other PUBG emulators, MEmu claims to provide the best performance and compatibility.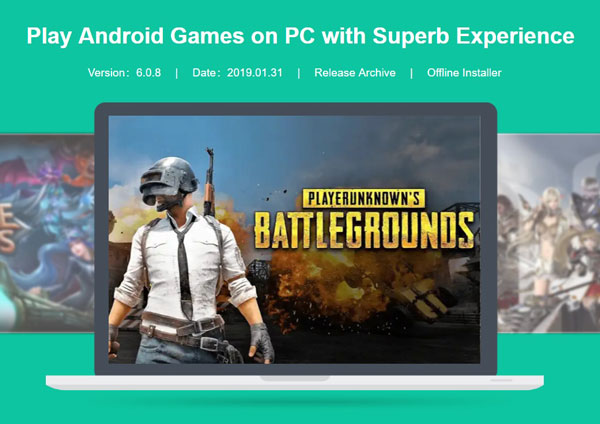 It is one of those emulators that have managed to carve out a name for itself. MEmu certainly makes the list when you talk about the best emulators to play PUBG Mobile on PC. It even advertises itself as an emulator for gaming, with PUBG Mobile as the star.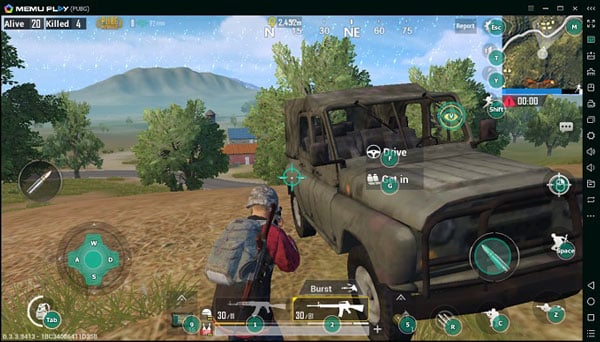 MEmu supports mapping various PUBG Mobile touch buttons to different keys on your keyboard. This makes playing PUBG Mobile on PC and Mac more fun and easy. Besides, it also gives you the advantage that real buttons provide compared to touch buttons.
MEmu PUBG Mac and PC emulator comes with Google Play pre-installed. So you have nothing much to do to get it. You can just start it up and install the game right away.
Download MEmu
Nvidia GeForce NOW
Nvidia GeForce NOW allows you to transform any device into a gaming rig instantly. This gives you the best PUBG Mac experience, even though it is not an emulator essentially. Instead, GeForce NOW is a cloud-based service that allows you to play online multiplayer games.
You actually play PUBG Mobile on the GeForce NOW server, and your Mac or PC acts as the screen. So, the processing and graphics will be handled by the cloud-based server. This gives the PUBG Mobile PC emulator an upper hand over others. You can play any games that are not released for the Mac using Nvidia GeForce NOW.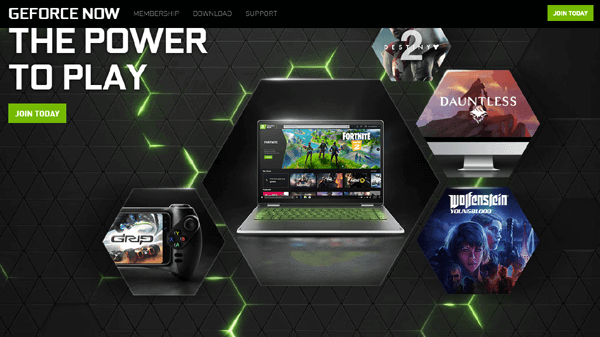 Note that a high-speed internet connection is required for the best PUBG Mac experience. You may also need to buy the games from their official sites. This will depend upon which other games you want to play other than PUBG Mobile.
Installing Nvidia GeForce NOW is very simple. You just need to launch the website and download the installer file on your device. Then follow the steps to complete the installation and enjoy PUBG Mobile on PC or Mac. Make sure to change the settings to Ultra Streaming Mode. This will minimize power consumption and give you better gaming experience.
Download Nvidia GeForce NOW
Remix OS Player
Remix OS Player is one of those PUBG emulator apps that are heavily optimized for gaming. You can use the PUBG Mobile emulator to map keyboard buttons easily. This allows you to control every aspect of the game to your liking.
The developers make every effort to improve the emulator software and make it more gaming-oriented. However, the downside of the PUBG Mobile PC emulator is that it does not support AMD chipset. You also need to enable Virtualization Technology in BIOS to use the PUBG Mobile emulator.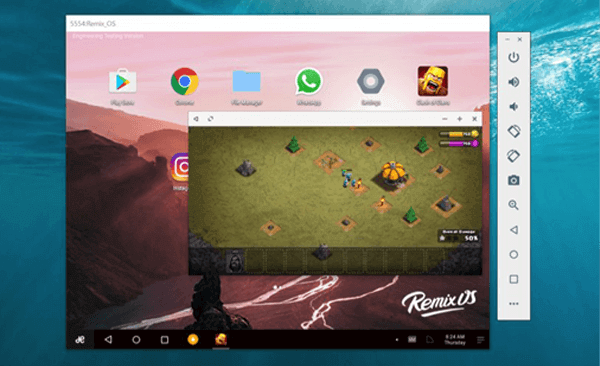 Regardless, Remix OS Player has a fresh and clean interface that makes it more easy to use. There are a lot of customization options in the PUBG emulator as well. This allows you to fine-tune gaming preferences as you need.
Remix OS Player PUBG Mobile emulator also comes with a smart Game Toolkit. This allows you to install and enjoy your favorite games on PC or Mac without any hassles. You can even play multiple games using the Android emulator at the same time.
Download Remix OS Player
Also Read: How to Play PUBG Mobile on PC
Andy
Andy is a unique PUBG Mac and PC emulator. It allows you to integrate your Android mobile to your computer in a virtual environment. This makes it ideal for playing PUBG Mobile on PC and Mac.
The Android emulator syncs across all your devices that you have connected. Therefore, you do not need to worry about the transfer of game progress. Besides, Andy PUBG emulator allows you to transfer the apps to the emulator easily. There is also an option to download the games you want from any desktop browser directly to the emulator.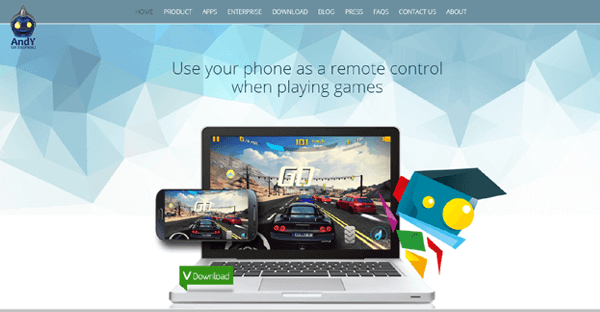 You can even use your phone as the joystick when you play PUBG Mobile on PC or Mac. Using your smartphone as the controller gives you a better PUBG Mac and PC experience. What's more, you can also get push notifications on the big screen using Andy Android emulator.
Apart from being a PUBG emulator, Andy also serves as a tool to use your other favorite apps like WhatsApp and Snapchat. It also supports camera and microphone integration, which make it an all-round app for communication. You can get access to the file system on your PC or Mac using the Andy emulator as well.
Download Andy
LDPlayer
LDPlayer is a simple Android emulator, which is designed for playing PUBG Mobile on PC. It works on the Android 5.1 version, which allows you to play many latest games with LDPlayer. The interface of the PUBG Mobile PC emulator is simple and easy to use. Moreover, it also offers great compatibility with a lot of mobile games.
There is an option to play multiple games using LDPlayer at the same time. This will not eat up your system resources heavily either. So you will not have to kill any other running processes just to play PUBG Mobile on PC.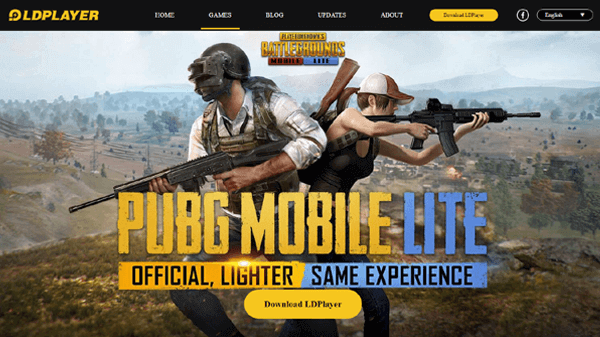 LDPlayer is compatible with mid-spec devices. Still, it can easily run heavy Android games without any glitches. Being a PUBG emulator, you can expect top speed and high performance with LDPlayer. It usually delivers what it promises.
The smooth play and simple controls offered by LDPlayer make it one of the best in the category. However, it does not come with Google Play Services pre-installed. Therefore, you will have to install that manually to enjoy all mobile games using the Android emulator.
Download LDPlayer
Apowersoft Android Recorder
Apowersoft Android Recorder is not essentially an emulator. Instead, it allows you to cast or stream your Android screen to your PC or Mac. This means that you can use the software to watch videos on your mobile device on a big screen as well.
Streaming your screen activities make Apowersoft offer great PUBG Mac and PC experience. The app allows you to take screenshots or record the gameplay as well. This is a cool feature, which will let you show off your gaming skills to your friends.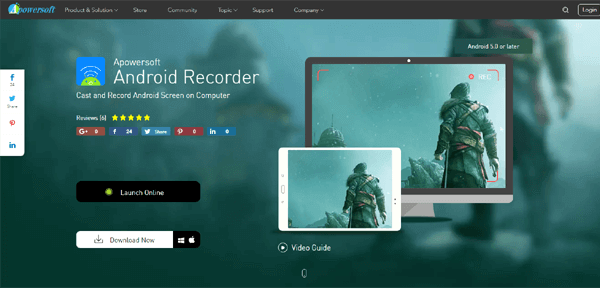 Apowersoft Android Recorder claims to offer a smooth gaming experience for PUGB. It does not run into any errors when you play PUGB Mobile on PC. The interface of the PUBG Mac and PC emulator is simple and easy to use as well.
The main drawback of the software is that you will need an app with Chromecast streaming capabilities to use it. You will also need to ensure that your mobile device and PC are on the same Wi-Fi network. Apowersoft Android Recorder is an efficient tool for screencasting. However, it may not be what you look for in a PUGB Mobile emulator.
Download Apowersoft Android Recorder
Related: 10 Best VR Horror Games Like Poppy Playtime to try on PC
ARChon
ARChon is a Google Chrome extension, which works like a PUBG Mobile PC emulator. You can easily install the extension on your Chrome browser on PC or Mac. This will then allow the browser to run Android apps and games effortlessly.
The support for mobile apps and games running on ARChon may be limited because it is an extension. However, it still gives you an immersive PUBG Mac and PC experience. The best part is that you do not have to install another application on your device for mobile gaming.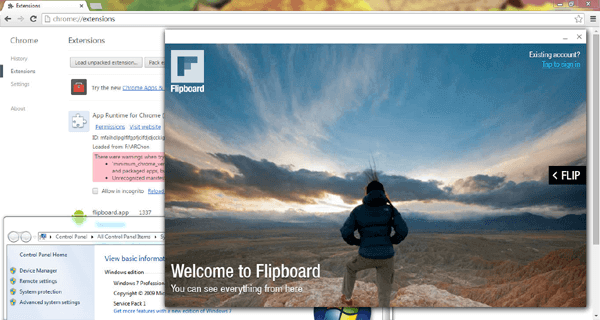 You will need to install the APK files of your favorite games on ARChon to enjoy them on the device. Sometimes, you may also need a special tool to change the APK files. This is because not all file types may be compatible with a Chrome extension. This makes it a bit difficult to use than other PUBG emulator apps.
The main benefit of ARChon is that it can be used on any operating system. It just needs to be compatible with any version of Google Chrome. Simply put, it is an easy way to play PUBG Mobile on PC or Mac.
Download ARChon
Also Read: 12 Best MMORPG Games for Android
Choosing the Best PUBG Mobile Emulator for PC and Mac
PUBG Mobile is in great demand and there is no denying it. Almost everyone that has played PUBG Mobile though has had an instant realization "This game would rock on a PC with a mouse and keyboard". This is why people have always been looking around for the best PUBG Mac and PC emulator apps.
That is not to say PUBG Mobile does poorly on touchscreen devices. PUBG Mobile has brought the original "Battle Royale" game on mobile. It even exceeded what PUBG did on the desktop in terms of popularizing the genre.
On a handheld device, PUBG Mobile defines the genre, and it is going strong despite tough competition. One of the most important factors for this success is the freemium model of PC games. This gave Fortnite an edge on the desktop versus PUBG, which had an upfront cost.
When it comes to Android emulators for PCs, there are many other names, which you do not see here. However, we are here for the best PUBG Mobile emulators and not all emulators are game-centric. Even if they are, they fail to provide a decent experience for most users.
Of all the Android emulators out there, the best PUBG Mobile experience is provided by the ones mentioned above. Neither of these is exactly ideal either. However, in comparison, these are the best PUBG Mobile emulator apps you can find for PC or Mac.