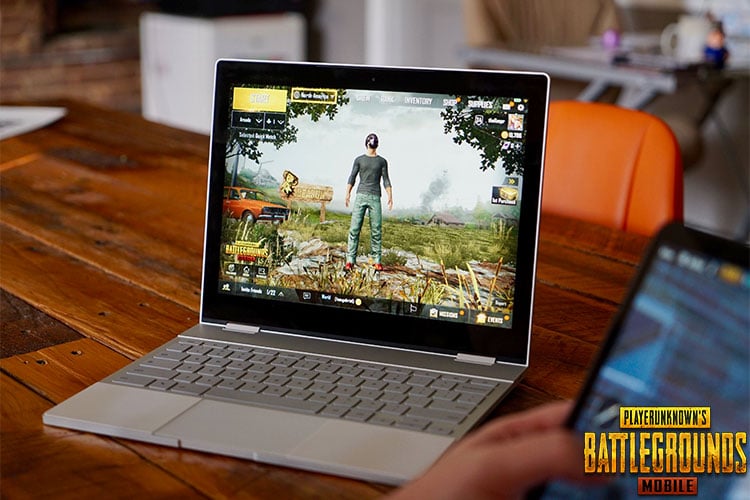 Disclosure: This post may contain affiliate links. We receive a small commission at no extra cost to you when you make a purchase using some of our links.
The best PUBG Mobile emulators can help recreate the original PUBG experience to a slight degree. Although you'd still be playing PUBG Mobile which obviously has no comparison to the original version in terms of graphics and visuals. Moreover, you could have the best PUBG Mobile emulators but you can never have the best possible performance.
Emulators will always perform slower despite your PC having the best specs. Keeping that in mind, here are some of the best emulators to play PUBG Mobile on PC.
Tencent Gaming Buddy
Naturally, the first name that should pop up when you look for the best PUBG Mobile emulators should be Tencent Gaming Buddy. It is the official PUBG Mobile emulator for PCs from Tencent, the company that developed PUBG Mobile. Unlike other emulators that are designed to run the entire Android operating system, Tencent Gaming Buddy only runs games.
At first, it only ran PUBG but now it has a decent selection of games to choose from. Since it does not run a full-blown Android OS, you can't install anything from the Google Play Store or the internet. Your choices are limited to the games Tencent ports to their emulator.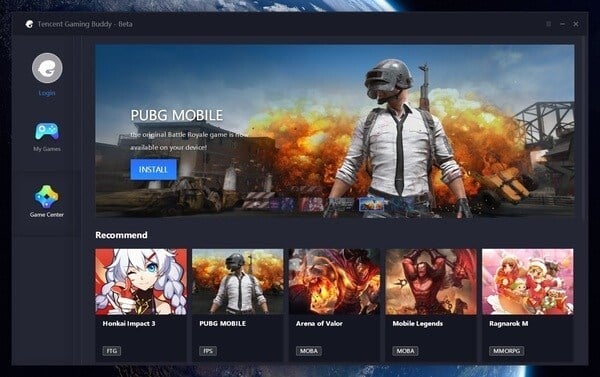 This does have an advantage. PUBG Mobile was not originally designed to be played with a mouse and keyboard. Thus, the controls, other than aiming, shooting, and movement can be jarring. Instead of pressing buttons, you'll have to select items on the screen with your mouse. The mouse that is also being used to rotate the camera and aim.
Being the official emulator, Tencent Gaming Buddy solves this by assigning keyboard keys to a number of different in-game actions such as picking items, disabling or enabling voice chat, etc. If you want the best PUBG Mobile experience on a PC, you shouldn't have to look farther than this.
Download Tencent Gaming Buddy
Also Read: How to Play PUBG Mobile on PC?
NoxPlayer6
NoxPlayer6 is an Android emulator designed with gaming in mind. After all, the most popular use of Android emulators is to play games. As such, it offers many features that should aid users while gaming.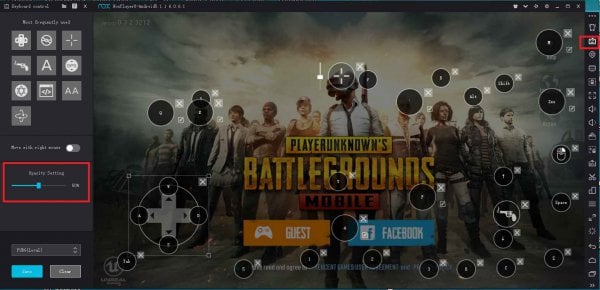 This includes gamepad controls and key mapping functionality which lets users assign different keys for different Android actions. It also supports multiple instances. Basically, it lets you divide the screen between different games and play them at the same time if you're feeling rather adventurous.
A toolbar on the right contains many other features such as screenshots, screen recording to record your gameplay, etc. One of the best things about NoxPlayer6 is that it not only runs on PCs with Intel CPUs but also those with AMD CPUs. NoxPlayer6 is the best emulator for playing Android games on the PC and it can handle high fps games with relative ease. For this reason, we place it higher on this list.
Download NoxPlayer6
BlueStacks
Bluestacks is the most popular Android emulator because it has been around the longest and it also delivers. If you've ever looked around for an Android emulator in the last five or more years, you've probably come across the name.
Bluestacks has been designed to mimic an Android tablet and offers both free and paid versions. The free version is quite ridden with nasty ads that can be a real deal breaker. If you like what the emulator can do though you can pay for it and get rid of the ads.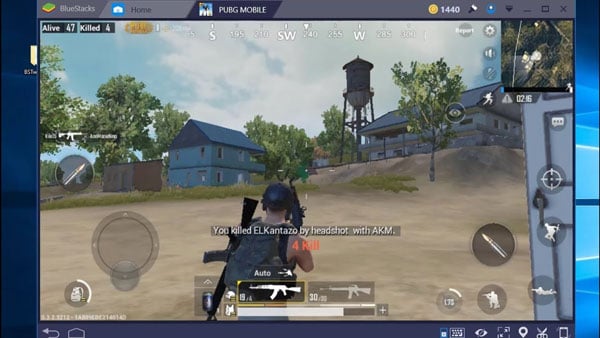 As for how good of a PUBG Mobile emulator it is, pretty good. It even supports gamepads so you can enjoy a very Playstation or Xbox like experience playing PUBG Mobile, albeit less visually appealing and a bit jittery.
This emulator has been receiving constant updates over the years and keeps adding compatibility for more and more games. Since it runs the entire OS, you can also install many more Android games other than PUBG Mobile. It even allows installing APK files from outside the Play Store.
With the latest Bluestacks 4, the developers claim that it performs 6 times faster than the Samsung Galaxy S9+ which is a rather tall claim to make.  It runs Android 7.1.2 Nougat which isn't the latest version of Android but it makes up for it in many other ways, such as support for multiple instances.
Download Bluestacks
Also Read: 10 Best Android Emulators for PC and Mac
Memu
Bluestacks is as popular as an Android emulator has ever managed to be and there's probably no surpassing that. As more and more people realize emulators don't give the kind of performance they expect, running mobile games on PC hardware, they stop looking for emulators.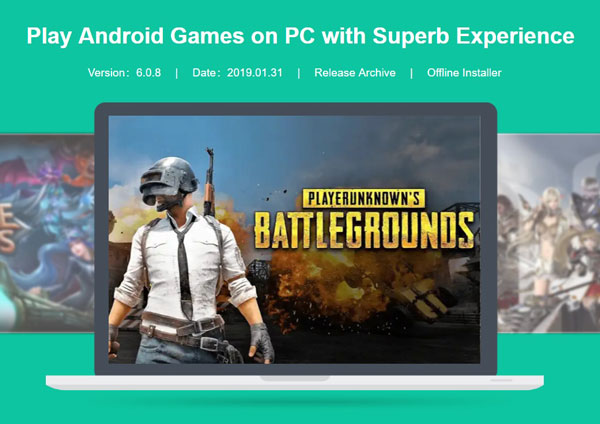 Despite that, Memu is one of those emulators that have managed to carve out a name for itself. When you're talking about the best emulators to play PUBG Mobile on PC, Memu should certainly make the list. It even advertises itself as an emulator for gaming, with PUBG Mobile as the star.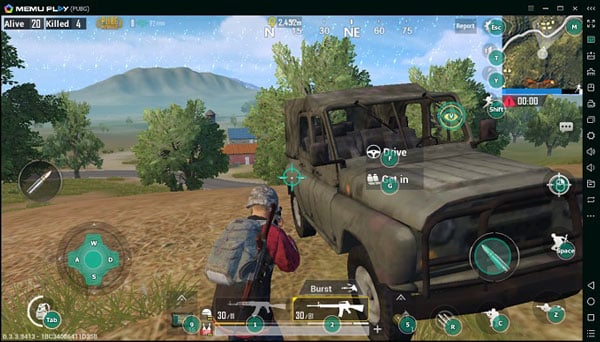 Like Tencent gaming buddy, Memu supports mapping the various PUBG Mobile touch buttons to different keys on your keyboard. This makes playing the game more fun, and easy giving you the advantage that real buttons provide compared to touch buttons. Moreover, this is one of the few emulators which have the Google Play Store pre-installed so you have nothing much to do to get it. You can just start it up and install PUBG right away.
Download Memu
Best Emulators to Play PUBG Mobile on PC?
PUBG Mobile is in great demand and there's no denying it. Almost everyone that has played PUBG Mobile though has had an instant realization "This game would rock on a PC with a mouse and keyboard". This is why people have been looking around for the best emulators to play PUBG Mobile on PC
That isn't to say PUBG Mobile sucks on touch screens. PUBG Mobile has not only brought the original battle royale game on mobile but even exceeded what PUBG did on the desktop in terms of popularizing the genre.
On Mobile, not only does PUBG Mobile define the genre, it is still going strong despite tough competition. One of the most important factors for this success is the freemium model that gave Fortnite its success on the desktop versus PUBG which had an upfront cost.
When it comes to Android emulators for PCs, there are many other names that you don't see here. For instance, Andy, or Genie motion, or Remix OS Player, which all great emulators in their own right. However, we're here for the best emulators to play PUBG Mobile on PC. And none of the other emulators are really game-centric. Even if they are, they fail to provide a decent experience on the back of which we can recommend those.
Of all the Android emulators you will find for PCs, the best PUBG Mobile experience is provided by the ones mentioned above. Neither of these is exactly ideal either. But in comparison, these are the best emulators to play PUBG Mobile on PC.