There are a bunch of indoor antennas are available in the market that can bring you the best quality (HD and 4K) signals directly from the TV stations to your TV for free. The Antennas are coming to support both VHF and UHF frequencies and vary in design. These will work for you based on the nearest TV stations, and the location of your house. However, finding the best one among the big pile is a bit cumbersome. Yes, you heard me right, it is a real mammoth task.
To make your task easy, we bring out the list of the best TV antennas that give out some of the most immersive HD channels for free and absolutely no subscription fees.
1byone Indoor Amplified HDTV Antenna
The 1byone indoor digital TV antenna is built to receive broadcasting signals from a range of 50 miles. The 1byone indoor TV antenna is capable of receiving any type of signal frequencies(VHF/UHF). Moreover, the long coaxial cable makes it easy to place the antenna in the best reception spot in your home.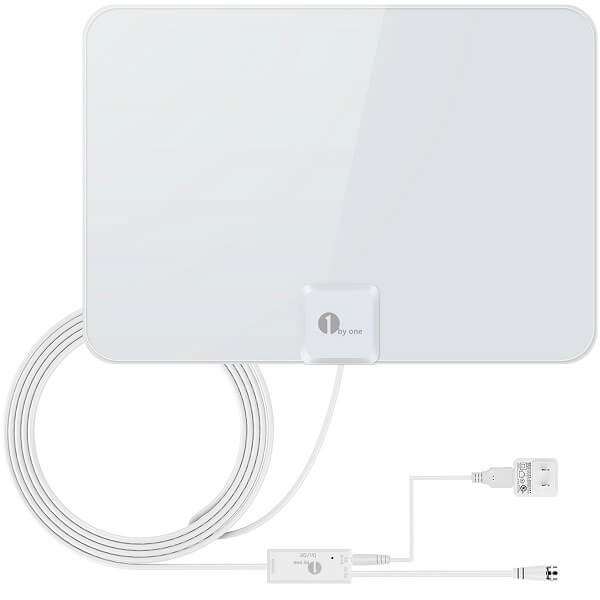 With the new and advanced inline amplifier, you can easily switch amplifier modes in order to amplify weak station signals. This feature also maximizes the number of channels that you can basically get. Additionally, the antenna can be powered from your TV's USB port, also gives provision to connect to an external power outlet too. This digital TV antenna is best for the cities which have repeater towers within a small range.
Note: The 1byone indoor TV antenna can be painted accordingly to match your home's decor. For flatscreen HDTVs, please check the TV's manual to make sure the TV has a built-in tuner for receiving the over-the-air broadcast. Also, the Antenna signal strength can vary depending on the distance from the tower, terrain, and weather.
RCA ANT111Z
This Durable FM Antenna is from RCA, a low-cost model, but brings most of the channels. This is a very simple rabbit ears type design with no additional amplifiers. This HDTV Antena is very sleek in design, you can place it on a tabletop or top of your TV.
This indoor antenna supports up to 1080i HDTV broadcasts for high-quality picture and sound and FM radio broadcasts. You can adjust the length and angle of the dipoles to get the best reception and quality signals for HD TV. We tested this and we were able to get around 54 channels with a simple channel auto scan. As per RCA. this HD Antenna is designed and engineered in the USA and meets or exceeds CEA performance specifications for indoor antennas.
Buy from: Amazon
Winegard FlatWave FL-5000
The Winegard Flatwave FL-5000 Digital Indoor HD Antenna in one of the best TV antennas if you are facing low signal reception.  In fact, Winegard HD Antenna offers some of the strongest signal reception, capable of receiving VHF and UHF from up to 35 miles away. The best part is that you never need to get busy installing, yes the installation process is easy peasy.

This compact digital HD antenna with coaxial cable (15′) helps to attach anywhere. Moreover, you can pair it with an external streaming device such as the Chromecast and enjoy seamless programming with just the fraction of the subscription cost. This HD tv antenna can work without the power amplifier hooked up. Hence, if you are planning to cut those cables and go for an antenna, then the Winegard FlatWave FL-5000 will undoubtedly be your best choice among its competitors.
Buy from: Amazon
Pictek Amplified Indoor HDTV Antenna
The rabbit ears antennas are more powerful, with simplicity in design. This indoor HD Antenna from Picteck, that offer 50miles range and support VHF (47-230MHZ) and UHF (470-862MHZ) with the additional Signal Booster coming with the Antenna. Pictek gives you access over some of the best TV channels including local news, weather, sitcoms, kids, and sports programs for free.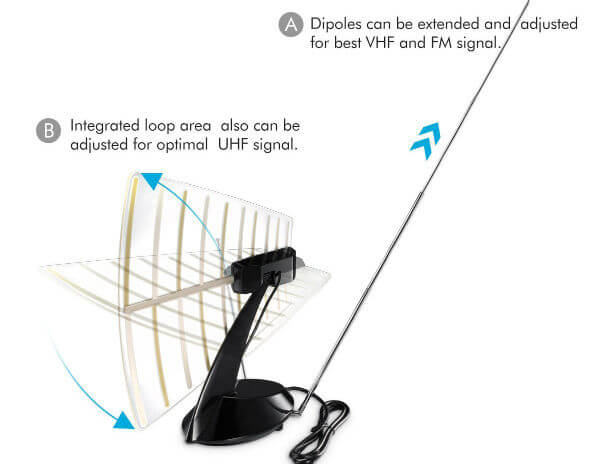 This antenna design offers a very strong reception ability that can pull both UHF and VHF signals. This HD Antenna equipped with additional telescopic rabbit ears to receive more low-frequency VHF signals. The leaf is adjustable to set the angle for maximum reception of UHF signals. If you are looking for a brand new HD antenna within your budget, the Picteck Indoor Antenna is invariably the best choice now with a low price tag.
Buy from: Amazon
Channel Master Flatenna Indoor TV Antenna
The Flatenna so sleek and dynamic and one of the best digital antennas available online. This indoor TV antenna features HD channels within a range of up to 35 miles. The Flatenna is ultra thin and flexible, mainly intended for the indoor broadcast reception. Moreover, you can mount this HD TV antenna accordingly on spots where you receive optimum signal reception.
The best thing about this cool digital antenna is that the amount of interference and video degradation is quite low. Hence, if you are a cable cutter, looking for budget HD indoor antenna, we certainly advise you to take a look at this HD TV antenna. The compact yet sleek design combined with great reception makes this a real game-changer in this field.
Buy from: Amazon
SKYTV HDTV Antenna
The SKYTV HD TV Antenna, with up to 50 miles range, this compact digital antenna gives excellent receptive quality. This HD TV Antenna offers terrific picture quality up to 4K. But yet, most of the channel quality ranges up to 1080p and only selected signals to produce 4K quality. This indoor TV Antenna offers a wide range of HD channels ranging from ABC, CBS, NBC, etc within a 50-mile radius.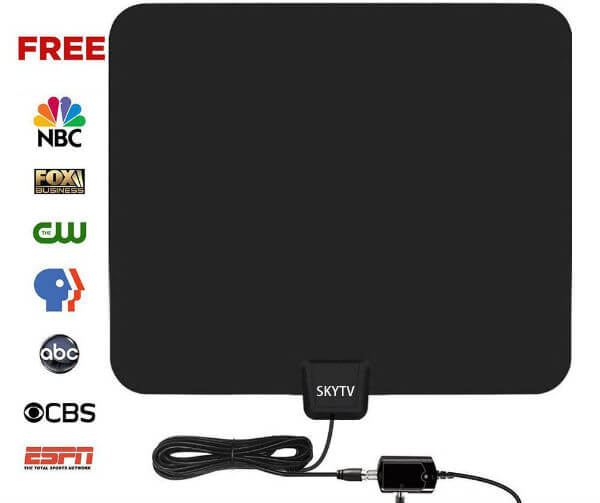 It can easily be hidden behind the TV or bookshelf, and yet, it will still pull in hundreds of crystal clear digital channels within its range. The SKY TV HDTV Antenna also features a Crystal Clear Filter Technology that aids in eliminating cellular and FM signals to generate the best quality noise-free signals. The filter technology also sees to it that no receptive loss or signal loss ever takes place. The Long 13.2ft coaxial Cable that comes with this digital antenna allows easy assembly. Also, it comes with a USB cable that draws power from the power outlet.
Buy from: Amazon
RCA Indoor Amplified HDTV Antenna
The innovative RCA indoor HD TV Antenna provides both network and local television in full 1080 HD quality. This digital antenna is able to receive and process both UHF and the VHF frequencies. RCA Indoor antenna provides clearer and sharper HD channels. This HD Indoor Antenna is sleek, paper-thin design with an in-line SmartBoost amplifier to boost signals.
This ultra-thin antenna employs a 360-degree reception pattern design which helps you get strong signal reception throughout. The RCA amplified HD antenna is able to receive signals from any direction up to 60 miles away from the broadcast towers. Hence, you never need to adjust or change the location of the antenna anymore.
Additionally, the RCA HD TV antenna includes the innovative SmartBoost technology that offers precise amplification and allows TV tuners to pick up and amplify the right TV signals. The RCA HDTV antenna also features a 12-foot coaxial cable that takes care of the installation process.
Note: Placing the antenna on a metal surface may interfere with reception. If you are using an old analog TV, equipping TV converter does the job. The converter converts the digital antenna signals into recognizable analog signals.
Buy from: Amazon
RCA Amplified Indoor HDTV Antenna
If you want a simple rabbit eye antenna with an additional amplifier, this is going to be a wise choice. With this simple designed HD Indoor Antenna with Amplifier, you can enjoy top-rated HDTV network programming and your favorite shows for free. This Antenna improves the signal with an additional amplifier and supports up to 1080i HDTV broadcasts.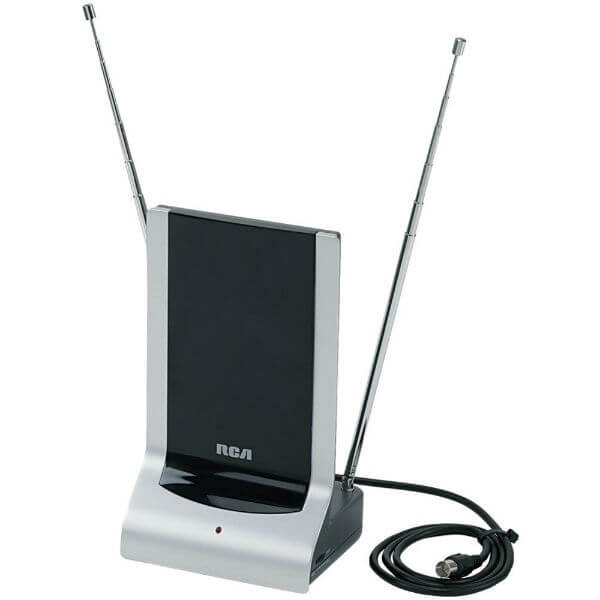 RCA Amplified antenna is good enough to capture signals from 40+ miles. The advanced SmartBoost technology amplifies weak signals, basically extending the range to get more HD stations. This RCA Amplifier antenna also designed and engineered in the USA and meets or exceeds CEA performance specifications for indoor antennas.
Buy from: Amazon
Mohu Curve 30 TV Antenna
The Curve 30 is budget-friendly yet efficient HD TV antenna available online.  This digital antenna is capable of receiving both the VHF and UHF within a range of 30 miles. Moreover, the curved design is a real innovation and the performance status is also very pleasing. You can get over the air channels such as the ABC, CBS, FOX, PBS etc in true HD quality without paying a penny from your pocket. In fact, this digital indoor antenna features a 10-foot coaxial cable that makes the installation process rather easy.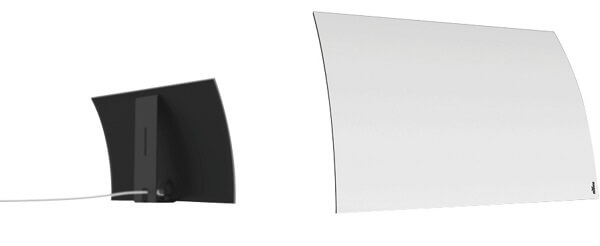 The channel scan gets you a wide variety of over the air channels. Additionally, if you are using an old TV, it would be better to equip a converter. The converter converts the digital broadcasting signals into analog ones and lets your TV display the channels without much quality loss. If you're in the market for an indoor antenna but you want to make sure the thing won't be an eyesore for you, consider the Mohu Curve.
Buy from: Amazon
Fed up with those subscription-based tv shows and are you in a mood to cut down the subscription cables? In fact, ditching the cables and moving on to digital indoor antennas can seriously save you a reasonable amount of money.
The world of digital antennas is now soon expanding. The high cable subscription rates are in fact a real problem and it is dashing away day by day. Hence, equipping a digital antenna is by far the best option to tackle them. If you are looking for cutting that loose cables and are in a mood to dumb them, we suggest you take a peek at our list of the best indoor antennas. These antennas mentioned here are robust and excellent in performance. Above all, they are affordable and comes with a reasonable price tag.