The Total Internet Security Software for Windows ao, Mac and Smartphone are offering the complete device protection from virus, malware and phishing attacks. As you know, recent Ransomware malware attacks and hacking celebrities' iCloud account lead us to re-think about Mac OS X Security. However, these built-in Mac Security Tools are not updated like other third-party Internet Security suits available in the market.
We recommend the best total Security Software Suits to provide excellent protection for those who want to protect Windows 10, Mac, Android and iOS devices from the latest malware and Internet attacks.
Bitdefender Total Security
Bitdefender is one of the best lightweight Total security pack for Windows 10, Mac and Mobile phones. This Internet Security software, uses most advanced security technology, regularly updated to protect the users from the latest threats.
The Security tool is coming with the advanced feature to protect users from the Ransom malware. Ransom malware is a new popular threat targeting to user computer data and gains access to them to take control of the data. Bitdefender comes as the second best malware detection and virus removal process only by the slightest of margins.
In fact, the ratings are so close that you can compare them to be equals in real life scenarios. This best malware removal tool is more lightweight than any of its competitors. Furthermore, it checks all the boxes of ransomware protection, multilayered protection and firewall protection for added security.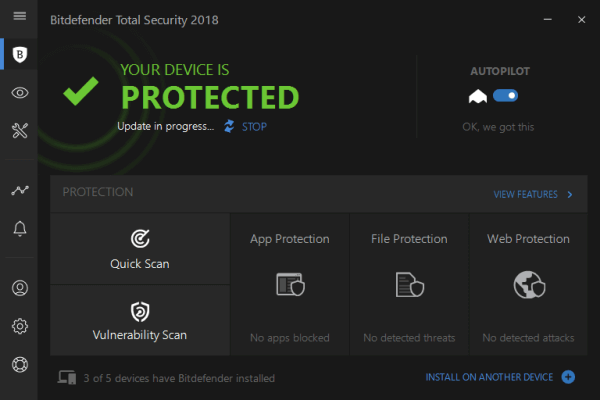 This lightweight Windows protection tool will not utilize much of your CPU power and RAM. The customer support of the antivirus is available 24×7 to solve all the troubles experienced. It comes with a 100% malware detection rate.
Bitdefender security is a cross-platform software that works on Windows, Mac, and Android operating system. You only need one Bitdefender account to protect up to 10 different PCs, Macs, Android smartphones, and tablets. You can read the complete review of Bitdefender Total Security Package.
Key Features: Lightweight & Powerful | Malware detection | Preserves speed and battery life | Anti-ransomware | Wi-Fi Security Advisor | Parental Advisor | Privacy, Anti-Theft & Data Protection | Anti-Phishing | Secure Browsing | Support: Windows, Mac OS, iOS & Android | Bitdefender Total Security 50% off (Price $ 44.99 after $40.00 Off)
Related: 5 Built-in Mac Security Software you Never Knew in OS X
Kaspersky Internet Security
Kaspersky surely has the edge over all of its competitors due to its high reputation for being the top sought out malware protection tool for years. The almost perfect detection rates along with the feature-rich defenses make this an excellent choice for your overall protection.
Kaspersky best malware scanner scans your system with a minimal effect on your performance. The anti-malware checks all the standard features like VPN, Secure browser and ransomware protection.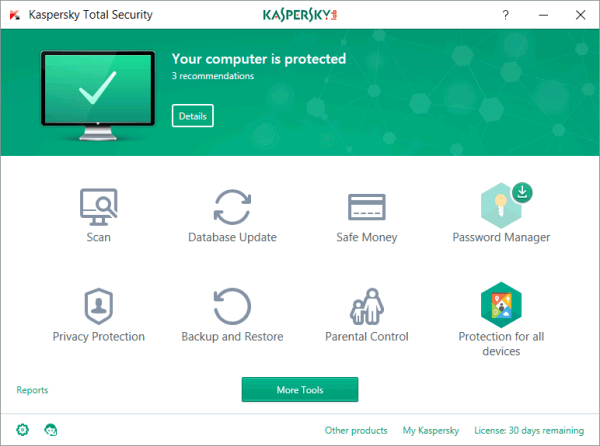 Kaspersky Internet Security offers premium protection to Windows and Mac users. Kaspersky helps in safeguarding your privacy, identity, and children. Popularly known as the best Windows and Mac Firewall among others.
This All in one Internet security software keeps your privacy safe with webcam protection. The tool protects your digital life and slowing down the memory of the system. The internet security tool comes with a network attack blocker to stop any compromising effort done online. Parents can limit the search results and avoid the content that is an adult as well as violence to prevent any sort of influence.
Key Features: Helps you to keep Private | adds security for online shopping & banking | Webcam Protection | Safeguards your kids against online dangers | Low Resource usage Mac | Free updates | Support: Windows, Mac OS & Android | Download: Kaspersky Total Security (Price $ 49.99)
Norton Security Standard
Symantec Norton is a well-known security product company, bringing Norton Security standard for the complete protection of PC and Smartphone. This All in one Protection software offers complete Antivirus to protect the Windows 10 and OS X from attacks defends against viruses, spyware, malware, phishing, trojan horses & other online threats.
This security tool is an extra layer of protection while you are dealing with online shopping and back websites. This security package can check your email and make sure the links are coming from trusted sources before you click on it.
Key Features: Online Security Suite | Complete Antivirus | Spyware & Malware Protection | Defend Phishing Attacks | Safeguards Identity | Ensures emails & links came from trusted sources | Support: Windows, Mac OS, iOS & Android | Download: Norton Security Standard (Price $ 54.99)
McAfee Total Protection
McAfee Internet Security from Intel Security protects PC users from phishing attacks while using the internet. With the help of MacAfee Security tool, you can protect your network from the unwanted intrusions.
MacAfee comes with network manager securing your web and email to avoid any junk and phishing practices. You can tailor the firewall according to your needs and safeguard the network against the threats.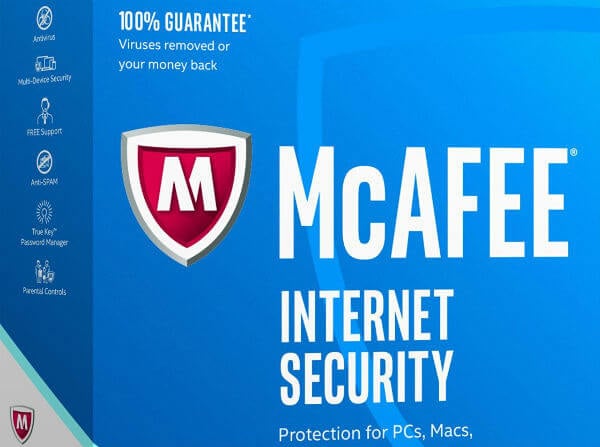 The McAfee firewall for Android and PC packed with this Suite, preventing rogue apps to steal and public your private data. MacAfee also blocks the malicious URLs, and all the present devices are secured with ease. While accessing the site, every site comes with security ratings to maintain distance from less rated ones.
Key Features: Anti-virus | Anti-phishing | Anti-Malware | Anti-Spyware | Anti-Spam | Password Manager | File lock and encryption | Unlimited devices | Support: Windows, Mac OS, iOS & Android | Download: McAfee Total Protection (Price $44.99 after $45.00 Off)
Trend Micro Maximum Security
Trend Micro Maximum Security can work with Mac, PN, iOS, and Android. This total security platform for all your gadgets from Apple, Android, and Windows. This Security system protects PC users from ransomware malware, defends against viruses, worms, Trojan horse programs, and other everyday security threats. This maximum security offers free automatic updates and 30days money back guarantee for your purchases.
Key Features: Protects against ransomware | Safeguards against email scams | Secures privacy on social media | Keeps children safe online | Securely manages Internet passwords | Support: Windows, Mac OS, iOS & Android | Download: Trend Internet Security (Price:$29.99)
Webroot Internet Security Plus
One of the lightweight effective protection apps for Windows 10 and  Mac OS X. This total security app can protect your usernames, account numbers, and other personal information while browsing online. This powerful protection tool can identify and blocks fake sites that trick you into entering personal information.
Related: A Complete Security Guide to Protect MAC from Online Attacks
This Total Security for Windows can encrypt your passwords, usernames, and credit card numbers for secure access. This can scan your system for vuln bari Lites quicker that other protection suits, protect you even your Mac battery drains, and also detects and blocks webcam spying threats.

Key Features: Identity theft protection | Secure browsing with real-time anti-phishing | Password and login protection | Mobile Security | Lightning fast scans | Webcam protection | Support: Windows, Mac OS, iOS & Android | Download: Webroot Internet Security (Price:$44.99)
ESET Cyber Security Pro
ESET Cyber Security comes with fast, powerful anti-malware protection features for the Mac system. Defend your online world with the firewall technology against malware. Anti-phishing directs you clear from the websites that frequently steal usernames and banking details. ESET is famous for being the best Mac firewall in avoiding malware threats with a 100% success rate.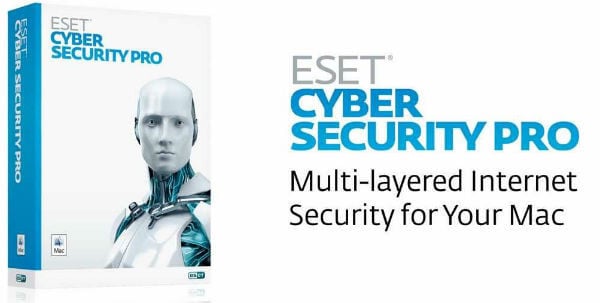 Enjoy the full power of your Mac with less memory drain. Coming with gamer mode, you can suspend various features when playing or watching the video. With this, you can ensure proper experience online without any interruption. ESET is a great performer and alerts you when any unsafe site tries to intrude your privacy.
Key Features: Protect from Viruses | Anti-Spyware | Password Generator | File Encryption | Small Footprint | Personal Firewall | Kids safe online |  Parental Control | Protect all devices | Support: Windows, Mac OS & Android | Download: ESET Internet Security (Price:$59.99)
Best Total Internet Security Tools
In fact, Bitdefender Mac Security Softwares is offering advanced Ransomware protection. With Ransomware, the hacker will inject malware into the system and gain access to your computer and encrypt important documents, rendering them totally unusable. You can read the interesting Ransomware attack stories from WiKi link.
In general, All In One Security Suits offer the best firewall, antivirus protection, anti-malware and extra features like parental control, password and file encryption, etc. There is a robust and best firewall for PC is available from the famed Antivirus and firewall builders. While considering the product price, these Total Internet Security Suits worth for money rather than investing in Antivirus and malware protection tools.
We are dealing with malware, virus attacks every day. Whether it is Mac, Windows or Smartphone, you need some kind of protection to save your system from attacks. With the increase in popularity, the Windows system is more often the target for hacking and phishing.
Unfortunately, Android is also starting to get a lot of attacks. With the help of best All In One Security Software for Windows 10, Mac, Android, and iOS, the user can safeguard the personal information and identity theft. Most of these Total Security software suites are protecting from Ransomware malware attacks, offer you peace of mind and security from latest online attacking tools.