Are you someone who is not getting enough time to read your favorite ebooks on Amazon Kindle, Nook or something else? I can suggest a cool option for you. Just convert your Ebook to Audiobook and hear that while walking, doing exercise, cooking or even during a long drive. Hearing Audiobooks will save your time. This will help to read your favorite books without the need to spare additional time. There are a bunch of apps to convert ebook to audio books. However, we are going to use the Speak Screen feature on iOS and don't need any third party app to convert ebook to an audiobook.
Let's us see how to turn an ebook to an audiobook and listen on iPhone without using any third party apps.
What is Speak Screen?
Speak Screen is a built-in iOS feature that can be used to read the contents of your screen aloud. The content can be an email, notes, ebook, documents like PDF, web page or even your iMessage or WhatsApp messages. Simply, this feature will read any kind of text displayed on your screen aloud. Not only English, Speak Screen supports 20+ languages including Spanish, French, German, Chinese, Dutch, Italian, Korean, Japanese and more.
How to Turn ON Speak Screen on iPhone?
By default, the Speak Screen is set to OFF on iOS. Hence, you need to turn that ON before starting to read any text or to convert your ebook to an audiobook.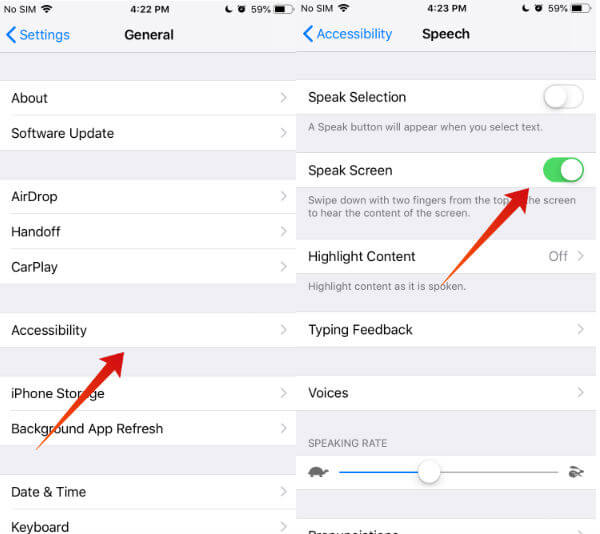 Tap Settings->General->Accessbility.
Next, tap Speech from the list of options displayed on your screen.
Then, toggle the position of the Speak Screen switch to the right.
Related: 5 Best iPad EReader Apps for EBooks & PDF Files
How to Convert Ebook to Audio Book
Let's assume that you have downloaded an ebook on your Amazon Kindle app. It is assumed that the Kindle app is available on your iPhone. If not, you can download the app from the AppStore. (Download | Amazon Kindle)
Now, let's see how to convert that ebook to an audiobook so that you can read its contents easily. Before jump into this step, make sure that you have enabled Speak Screen as mentioned in the above step.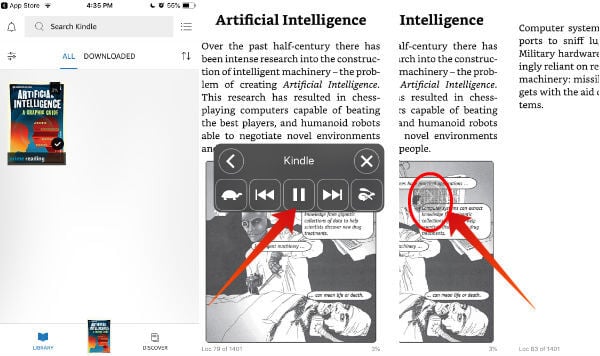 Tap Kindle app on your iPhone.
Tap on the book title you would like to read from Library.
Next, swipe down with your two fingers from the top of your iPhone. Here, you will see a small rectangular pop up with icons like play/pause, forward, backward, close. You will also see a Tortoise icon and a Rabbit icon. (Let's discuss these two icons in the next section).
Your iOS device will start reading the book aloud from its beginning to the end. If you would like to pause the reading for a few minutes, then you can tap the Play/Pause button. Again tap the same button to continue reading. To skip or rewind a page, you can make use of the Forward and Backward buttons. You can just tap the Close icon to stop reading.
Using this Speak Screen feature you can easily read ebooks easily by converting them to audiobooks. Not only Kindle but also you can read ebooks from any ebook readers. Besides ebooks, you can also read word documents, PDF files, emails, messages, web pages and more. Even you can read this post aloud using Speak Screen. Pretty cool?
Related: Best iPad Reader Apps for Ebooks & PDF Files
How to Adjust Reading Speed?
Do you find the reading too fast or slow? Not a problem. You can adjust the reading speed of the text using the two icons: Tortoise and Rabbit. Tapping the Tortoise icon will reduce the reading speed whereas tapping on the Rabbit icon will increase the reading speed of the text on your screen.
How to Set Voice Accent?
By default, the voice used to read the text aloud is Siri Female voice. Would you like to change the voice or accent of the speaker? You can do that by selecting your desired voice.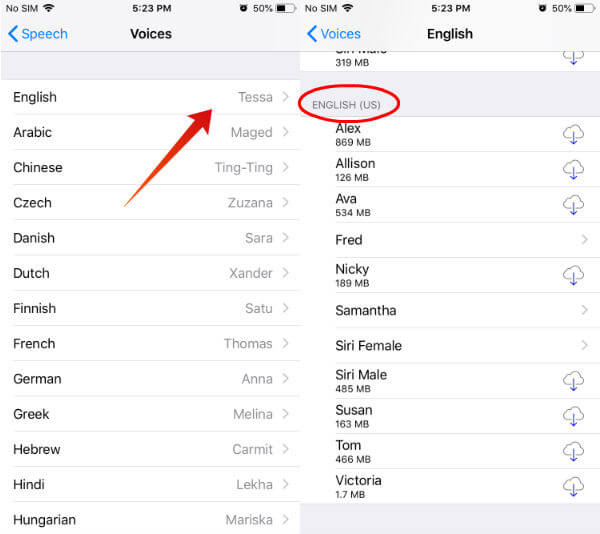 First, tap Settings->General->Accessbility.
Next, tap Speech.
Then, scroll down the screen to tap on Voices.
Next, tap English from the list of languages displayed.
Scroll down to find the voices listed for ENGLISH (US) and tap on the desired one. (Besides US version, you can also select English accents of other countries like Australia, Ireland, South Africa, and the UK).Only a few voices like Siri Female, Fred etc are stored on your iPhone. To use other voices, you need to download them first. Once the voice is downloaded, you can tap that to hear a preview of the same before selecting the voice.
How to Turn Off Speak Screen on iPhone?
To turn off the Speak Screen feature on your iPhone, just navigate to Settings->General->Accessbility. Next, tap Speech from the list of options. Then, toggle the position of the switch Speak Screen to the left. Now, your iOS will not read the text aloud anymore.
Convert Ebook to Audiobook Using VoiceOver
Do you know? iOS has one more in-built feature named Voice Over that can be used to read text aloud. Even though it works in the same way as Speech Screen, it is less user-friendly.  As soon as you turn on the VoiceOver option, iOS will start to read the text aloud. And it will be difficult for the users to navigate through the menus as the iOS will read out the menu options as well. However, there is a workaround for this. Instead of enabling the VoiceOver option, in the beginning, turn that ON after opening the document with the help of Siri. Let's see how to do that.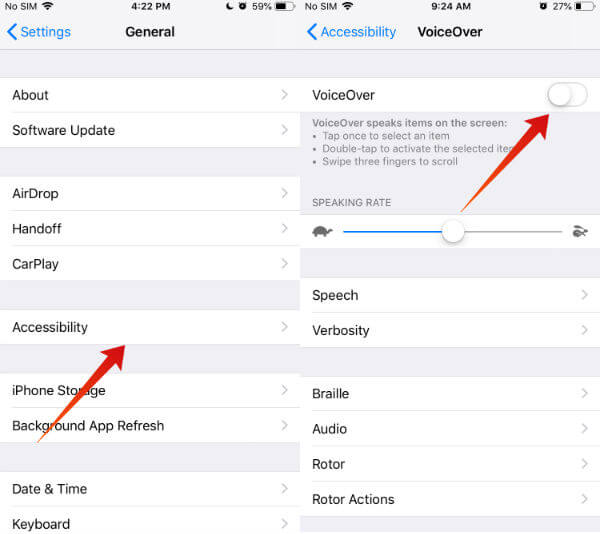 Tap Settings->General->Accessbility.
Next, open the Kindle ebook or whichever document that need to be read out loud.
Tap and Hold the Home button on your iPhone to launch Siri. Then, say "Turn on VoiceOver". Now, your ebook will be converted to an audiobook. Once you had finished reading the book, launch Siri again and say "Turn off VoiceOver" to turn off the VoiceOver feature. Like Speech Screen, you can adjust the reading speed and change the accent on VoiceOver as well.
What's Missing?
How will you feel if the book is read using your own voice instead of the default Siri Female voice? Sounds exciting? Unfortunately, Apple doesn't allow you to customize or add your own voices. Only you can use the pre-loaded or the listed voices that can be downloaded. Anyway, you can save a lot of time by converting the Ebook to an audiobook and then reading that.
Have you ever tried to read an audiobook? Please share your thoughts in comments.