You can convert your iPad into an Ebook Reader with a dedicated e-reader app for iPad. Most of the books are available in electronic or pdf format that makes the readers carry all their favorite books on your iPad in a convenient way. Note taking, section highlighter and cloud sharing are some other features worth to mention that attract the readers to convert their book collection into e-book format. In addition to these e-books, these apps are offering free magazines and newspapers in the same reading platform.
We prepared the list of best iOS ebook readers apps for iPad that helps you to carry your favorite books in the most convenient way on your iPad.
Kindle
The Kindle app is optimized for the iPad, iPhone, and iPod touch, giving the ability to read Kindle books, newspapers, magazines, textbooks and PDFs on a beautiful, easy-to-use interface. Amazon Whispersync automatically syncs your last page read, bookmarks, notes, and highlights across devices (including Kindle), so you can pick up your book where you left off on another device.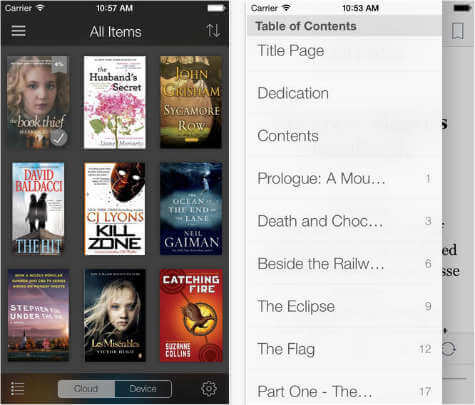 You can customize your reading experience by choosing margin size, line spacing, background color, font size, font style, and either portrait or landscape format.
  The EReader's Instant dictionary word lookup with 250,000 entries and definitions, tap and hold a word to view the definition, search inside the book to find a character, topic, or section you want to revisit. You can Email PDFs & other documents to a Send-to-Kindle e-mail address and can access them to your device. With this iPad EBook Reader app, you can also read PDFs from Mail, Safari, or by transferring them from iTunes.
Download from iTunes
Also Read: How to Convert Ebook to Audiobook and Listen on iPhone?
Google Play Books
Dive right into a great book available in the widespread collection of Google Play Books. It is a great EBook app for enjoying books as well as audiobooks from Google Play that is enormous in terms of content. Read almost millions of titles from Google Play Books over your iPhone, iPod Touch or iPad.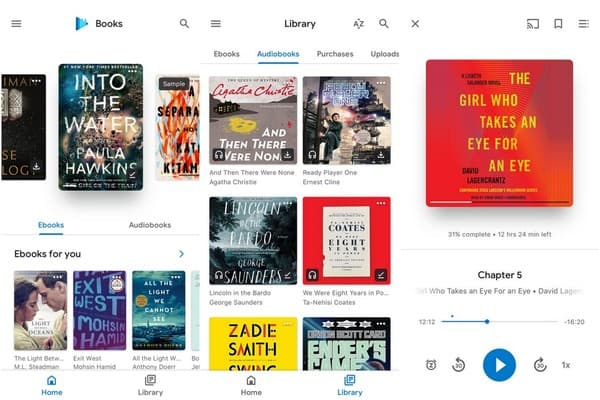 You can easily download your book to read or listen to them on the go, as you may wish. Compiling data based on your reading, it offers personalized recommendations for your next book reading session. Preview the free samples in order to determine whether you want to purchase the book or not.
Download from iTunes
Also Read: Best e-Pub Readers for Windows PCs and Tablets.
iBooks
iBooks is from Apple, easy way to download and read books. iBooks includes the iBooks Store, where you can download the latest bestselling books or your favorite classics – day or night. You can browse your library on a beautiful bookshelf, tap a book to open it, flip through pages with a swipe or a tap, and bookmark or add notes to your favorite passages.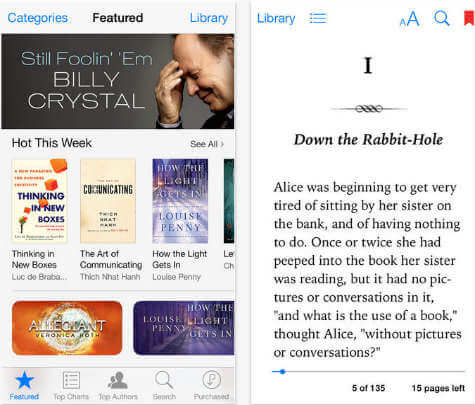 You can choose from seven beautiful fonts and three easy-to-read page colors
, highlight your favorite passages and add notes with the built-in bookmarking features
, Share quotes or thoughts about your favorite book with friends on Facebook, Twitter, Messages, or Mail
. iBook can print PDF documents and notes you've written in iBooks using AirPrint

iCloud features
, organize books and PDFs into personal Collections that appear on all your devices, keep bookmarks, highlights, notes, and your current page up-to-date everywhere using iCloud.
Download from iTunes
Related: How to Save a Clean PDF Version of a Webpage By Removing Ads
Bluefire Reader
Designed solely for the reader, Bluefire Reader is the best way to read any EPUB and PDF eBooks from the retailers, publishers, and libraries all around the world. Through a simple tap, you can easily highlight, bookmark, annotate, and look up the definition of any word in books as well as PDFs without any trouble.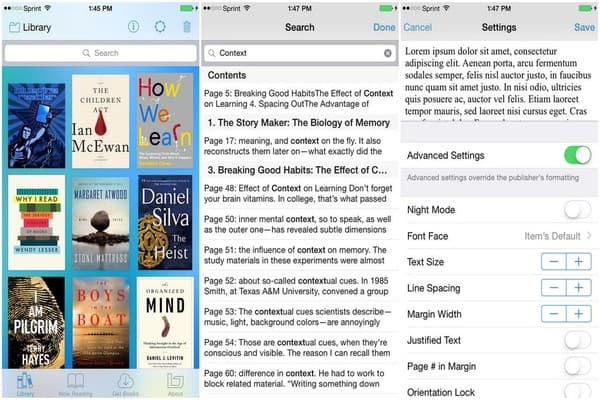 With this iOS eBook reader, you can organize your books into collections and share the excerpts from the books to diverse social media sites easily. Coming with location synchronization, you can easily start reading off on iPhone from where you left from over your iPad. Take benefit of the night mode to reduce the strain on your eye while reading for long hours.
Download from iTunes
Nook
Nook offers the reading experience for your iPad, iPhone and iPod touch®. You can access books, magazines, newspapers, comics, and more. Nook built with features includes adjustable font sizes and styles, line spacing, margins, and screen brightness for more comfortable reading. You can select night mode for easier bedtime reading.
Nook EReader for iPad syncs your last page, bookmarks, and notes so you can pick up where you left off, search inside the book and look up words with the downloadable in-app dictionary. With this iPad EReader, you can add notes, bookmarks, and highlights as you read., customize background and text colors, transfer EPUB and PDF files etc.
Download from iTunes
Also Read: Best Free Online OCR Tools for Extracting Text from Image
Scribd
Access to unlimited books, audiobooks, magazines, and documents as well as others through Scribd EBook reader app on your iOS device. Read articles as well as articles from Time Magazine, New York Magazine and more on your iOS device whenever you want to. The membership of the app is on a monthly basis that starts at $8.99 that renews automatically.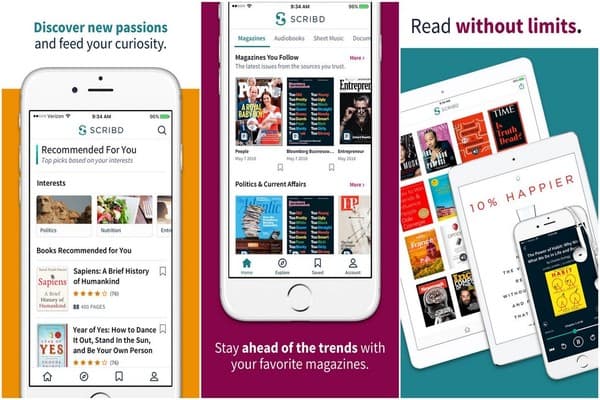 Scribd eReader app lets you download the titles for enjoying them at any given moment regardless of the internet connection. Discover new passions as well as feed your curiosity through the help of this app. Scribd is one of the best EBook reader apps and reading app that you need to look out.
Download from iTunes
Kobo
With Kobo's reading app, you're able to pick up right where you left off. Kobo sync your bookmarks, notes, and highlights, so you can keep reading across all your devices.

 You can add books to your Library from email, the web, or your Dropbox account and even read books from your local public library.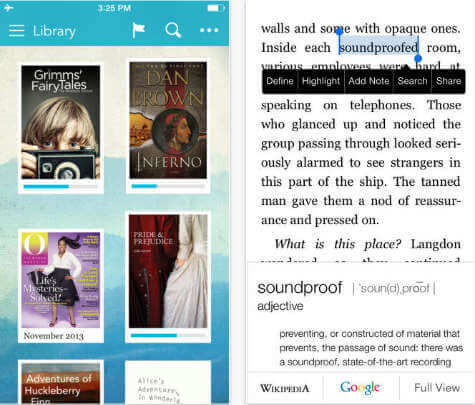 You can post your activities to Facebook and see what your friends are reading and share quotes, notes, book reviews with friends and like and comment on books your friends post to Facebook.
Download from iTunes
Hoopla Digital
Looking to perform more than just reading books, then Hoopla Digital is your best bet. Over the app, you can instantly borrow digital movies, music and more through your 24/7 library card. Functioning as a revolutionary digital service for the people who want much more than just books and audiobooks.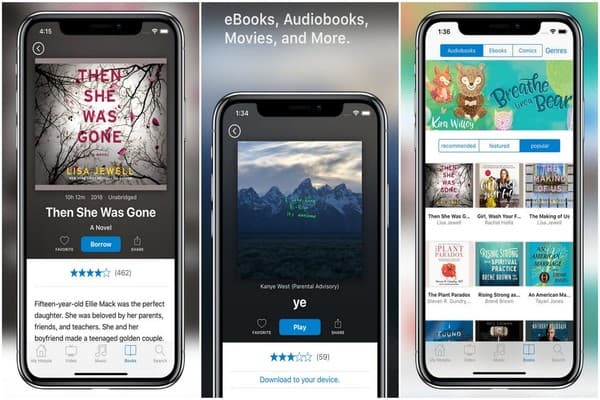 Simple to access, the app allows you to borrow as well as return the borrowings in such a manner that is hassle-free. Offering a page-selector, it allows you to make the app to read along and picture the available eBooks. The user can access the breadcrumbs genres to the title details for discovering the books and content easily.
Download from iTunes
Goodreads
Goodreads can share books you love on and find new and interesting books by browsing personalized recommendations based on books you've read and your favorite genres. You can see what your friends are reading, write book reviews, and keep track of what you want to read.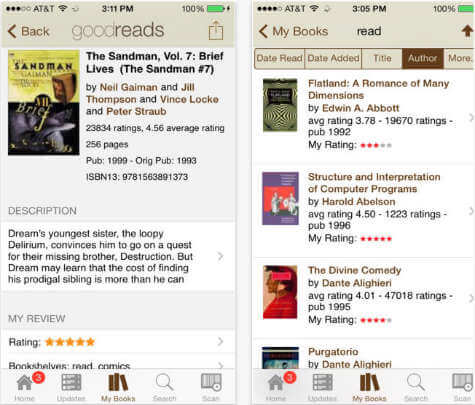 You can scan books with built-in barcode scanner while you are in the bookstore and you can browse reviews before buying. Features include personalized recommendations and discover new books based on your tastes, barcode scanner, want-to-read list, book reviews and updates from your friends, etc.
Download from iTunes
Marvin 3
Summing up more than 100 features to nurture your reading experience, Marvin 3 is a great EBook reader for your iOS device. Encounter the simplicity that was never there before while opening all the DRM-free EPUB books, CBX or CBR comics with this app. Customize Marvin 3 in the way you want with the optional automatic light/dark switching for a great experience.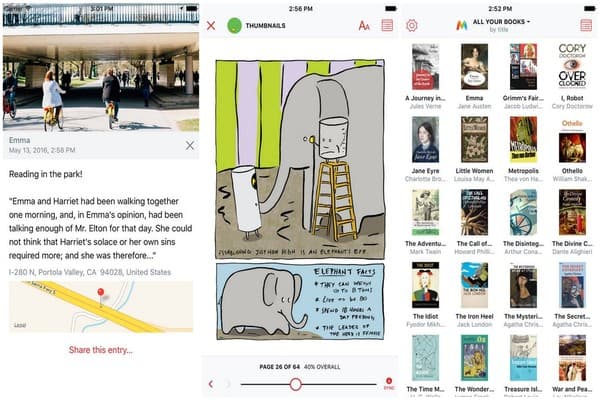 Listen to the text present in the books with Text-to-Speech and get reading statistics to get an inside view of your reading habits. Perform speed-reading with the Karaoke feature of the app as well as side-load your own fonts to read the book in a unique manner. Know more about the book with the Goodreads integration on the EBook reader.
Download from iTunes
EBook Reader
Read all your favorite books on the go with the help of EBook Reader from the massive collection of popular books. Supporting the high-resolution Retina Display graphics, you will never lose your place in the book. Easily synchronize your Ebooks online bookshelf with all the iOS devices for reading them in a much better manner.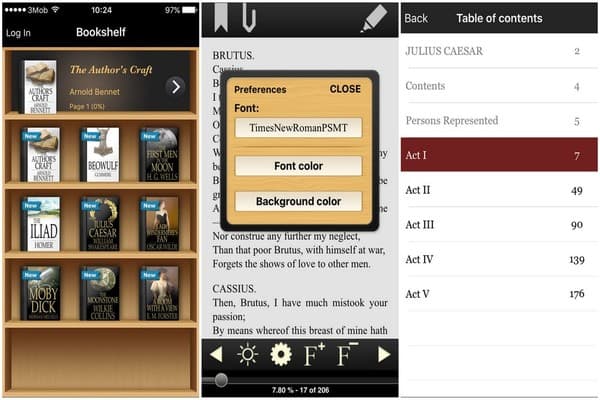 Import all your third-party books and group them in form of collections without any trouble. Access the available free classics at your fingertips immediately to enhance your reading experience. With Night-reading mode, reduce the strain on your eyes when using the app in dim light and pitch black conditions. Along with this, you can easily adjust the font size with a single touch.
Download from iTunes
OverDrive
Through OverDrive, you can easily borrow eBooks, audiobooks as well as streaming videos for entertainment. Having more than 30,000 libraries worldwide, you can easily access diverse content for accessing them on the app. There are no late fees and titles automatically return to the library after the time limit. You can easily place the holds, create wish lists and return the titles after reading them.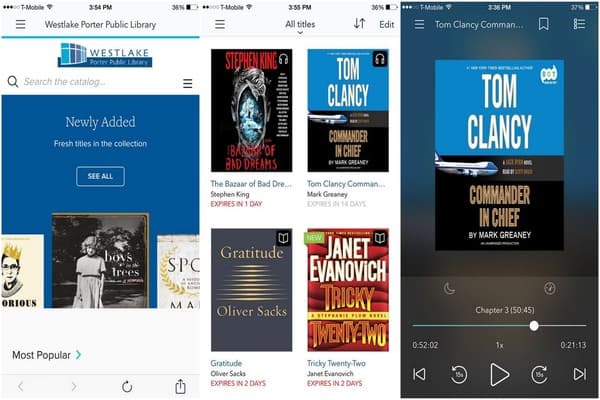 Use all your content across mobile devices, by synchronizing the library, bookmarks, and the recent positions easily. Every library has its own collection of titles and offerings, any person having the content from a particular library can communicate over the carrying content.
Download from iTunes
Best E-Reader Apps for iPad and iPhone
Compare to hardcopy books; the electronic versions are cheaper to buy good for students, easy to carry and share with your friends using your reading devices. Once you add a book into any of these apps, the ebook will keep the history of last read page into all another device under the same account that helps you to use any device to read your books.
Reading books in electronic devices are convenient and revolutionary. These apps have good features and drawbacks well. But if you are a guy reading books in your free time, nothing wrong with investing a little bit time to download and start to use an e-reader app for the device. The iPad's retina display makes your apps more beautiful and crisp and offers you joyful environment with your favorite books.