If you own a brand new iPad Pro 2021 with M1 chip inside, you must be facing this – front camera moves around while making a video call. The "issue" occurs with most video call apps including FaceTime, Zoom, and Google Meet. If you are here to see why and how to fix it, we got the answers here.
Let's take a look at the iPad Pro enter Stage feature and how it is affecting your video calling on iPad.
Why Does iPad Pro Camera Moves During Video Call?
Let's begin by identifying the problem here. We need to make sure if you are facing the issue in which the iPad front camera view moves when you move around. Or, your iPad front-facing camera zooms in/out when someone else comes to the frame, like in the video below?
What you are facing is not an actual issue. Apple calls it "Center Stage" on iPad Pro to keep you centered in a video call. When you move around, or someone comes to the frame, your iPad Pro can identify the faces and will adjust the frame to fill in everyone in the middle.
This assures you a better video calling experience. However, it may turn out to be chaos for some. If you are affected by this and no longer need such a feature on your iPad Pro, we will show you how to disable Center Stage on iPad Pro.
Fix Camera Moving Around in iPad Pro During Video Calls
Now you want to disable the Center Stage feature on iPad Pro. This includes FaceTime calls, Zoom meetings, or Google Meet meetings. Let us see how to fix the moving camera issue during the video calls by disabling the feature.
First, open the iPad Settings.
From there, go to any app that you want to disable the Center Stage option. The app can be FaceTime, Zoom, Webex, Google Meet, or pretty much any other app that shows the same.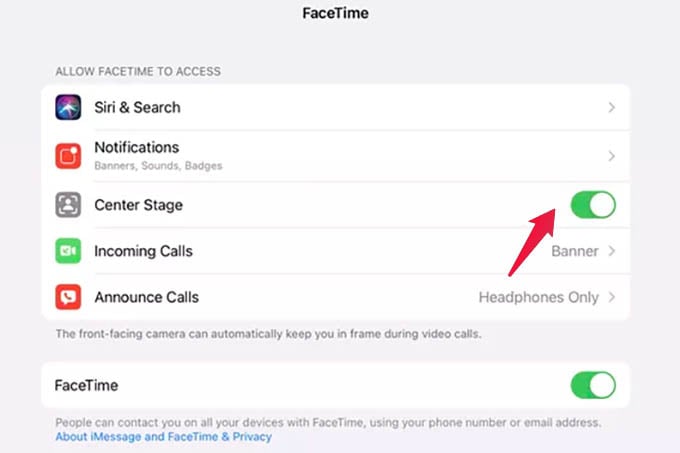 From the same screen, look for the Center Stage option and toggle it off.
That's it! You have now disabled the most useful (and most annoying, sometimes) feature on your iPad. You can always toggle it back on to have a you-centered video call ever after. The Center Stage on iPad Pro can be annoying sometimes since the camera follows you whenever you move around or move away from the iPad during a video call.