How do you choose the right memory card for the camera and gadgets? There are plenty of Memory Cards available in the market of different sizes and speeds built for different Gadgets. We selected a list of the best SD cards that are suitable for Cameras, Phones, Dash Cams, Photography, Video recording, GoPro, 3DS, PS Vista, etc. You must select the best SD card for camera with the recommended card speed and size to get the best performance out of your gadgets.
Here is our hand-curated buying guide for SD cards for cameras and dash cams. Read along.
How to Choose the Best SD Card for Camera or Anything
When I shop around for memory cards, I was just looking for the print 'Class 10'. Later I realized there are other important things that I have to consider when I select SD cards for my camera and gadgets.
| | | | |
| --- | --- | --- | --- |
| Memory Card | Non-UHS | UHS | UHS-II |
| Transfer Speed | 25Mb/s | 104Mb/s | 312Mb/s |
In this memory card selection guide, we tried our best to cover the specification & standards for the memory cards that have to use with your gadgets for the long life and best performance. The demand for SD Cards is shrinking, and most of the gadgets are switching to MicroSD cards. Micro SD cards are compatible with multiple devices and adopting as a universally accepted size.
| | | | |
| --- | --- | --- | --- |
| Memory Card | SD | SDHC | SDXC |
| Max. Storage Capacity | 2GB | 32GB | 2TB |
When you consider Android phone SD cards and Dash Cam Memory Cards, most of them are coming with a Micro SD card slot. However, the laptops and DSLR Cameras are built with SD card slot. The wise decision is to buy a Micro SD with an SD Card Converter. A Micro SD with SD Converter combination can use almost 99% of gadgets and cameras available in today's market.
| Min. Write Speed (Sequential) | Std. Speed Class | UHS Speed Class | Video Speed Class | Supported Video Format |
| --- | --- | --- | --- | --- |
| 90MB/s | – | – | V90 | 8K Video |
| 60MB/s | – | – | V60 | 8K, 4K Video |
| 30MB/s | – | U3 | V30 | 8K, 4K, Full HD, HD |
| 10MB/s | 10 | U1 | V10 | 4K, FHD, HD, Standard |
| 6MB/s | 6 | – | V6 | FHD, HD, Standard |
| 4MB/s | 4 | – | – | Standard |
| 2MB/s | 2 | – | – | Standard |
Memory Cards (SD/SDHC/MicroSD) are marked with different speed ratings based on the sequential read and write speed capacity. The first set of Memory Card speed class marked as Class 2, 4, 6 and 10 (DS, HS mode). The next high-speed class marked in UHS Speed Class with the symbols on the card U1 and U3 (UHS mode). The high-speed memory cards especially for video recording categorized into Video Speed Class, marked with V6, V10, V30, V60, V90 (HS, UHS mode).
What is a TF Card and SD Card?
Before we move further let me clarify What is TF Card and Where to Buy TF Card. We received a couple of emails from our readers asking these questions. The SD card is originally named as TF Card (Trans Flash).
When you search for Dash Camera, the manufacturers may list as supported TF cards. Actually, the TF card is introduced in 2004 by SanDisk Corporation, and both TF cards and SD cards are identically the same in operation except some difference in maximum size limit and circuitry difference. In short, you can use SD/Micro SD card to replace the device with the suggest TF card to buy.
Best MicroSD Card for Dash Cams
Dash Cams are built to loop record video files on the Memory card while you are driving and very fast to wear out compared to other device SD cards. Dash Cam Memory Cards are usually Micro SD cards and support from 32GB to 128GB in size. However, 128GB cards are still expensive while considering per GB price and your best bet will be a 64GB Micro SD.
Since Dash Cams memory cards will be overwritten numerous times with loop recording technology, larger size memory card can reduce the number of the write cycle.
For an average 12 hours drive per week, Car Dash Cam has to overwrite memory card at least four times a week to record 12hours of video footage (1080P@ 30frames/Sec AVI format). A 32GB card has to go through 16 writing cycles/month vs. a 64GB card need only eight writing cycles to cover your one-month driving footage.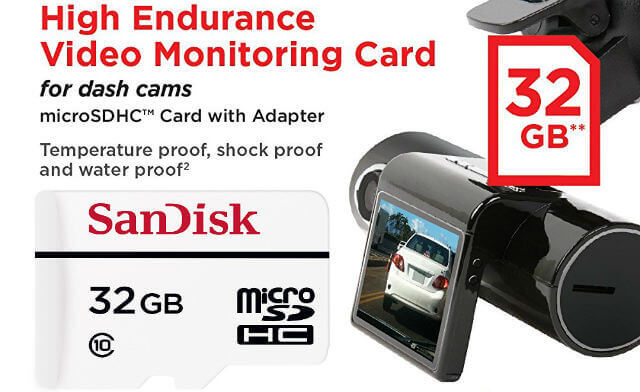 For Dash Cam memory cards, MLC (multi-level cell) cards over TLC (triple-level-cell) for more durability. Since Dash Cam Memory Cards are using for Video recording that demands more writing speed. Class 10 or UHS-I U1 will be the best for Dash Cam Memory Cards.
Lexar High-Performance MicroSDXC
The Lexar high-performance card leverages UHS-I technology for a transfer speed up to 95MB/s (633x) and stores more than 36 hours of HD video. This class 10 SD card also verified the compatibility with GoPro cameras. | (Buy from Amazon)
Transcend High Endurance MicroSD
This dashcam SD card is specially developed for high endurance applications, that offer long-hours of video recordings and playbacks. This micro SD card is ideal for automotive recorders and surveillance systems, including home security cameras, IP cameras, etc.  | (Buy from Amazon)
Samsung High Endurance Video Card
This Samsung Class 10 MicroSDHC is temperature-proof, shock-proof and waterproof, ideal for dashcam recorders, that specially developed for high endurance applications | (Buy from Amazon)
Ultra SanDisk 64GB MicroSDXC
As per Sandisk, this card is designed and custom formatted for speed, dedicated for Dashcam recording. This UHS-1 Class 10 Certified 30MB/sec make sure Lossless recording and high speed. | (Buy from Amazon)
Related: 5 Best High Endurance Micro SD Card for Dash Cams & Drones
Best SD Cards for DSLR Camera
Professional photographers are looking for memory cards with more performance, capacity, reliability and high-quality. Memory cards for DSLR Cameras are built for high durability, temperature range and writing speed. High-speed cards let photographers shoot in continuous burst mode that can capture multiple frames per second without lag time.

image credit: Amazon
Most of the Nikon DSLR Cameras are using SD Cards to store the photos. However, there are few models from Canon DSLR camera is using Compact Flash Cards to store images. Lexar is one of the famous brands when you search for a high-quality memory card for DSLR Camera or Vidoe Camera.
Lexar Memory cards are coming with downloadable software that transfers the images from the camera to the computer for post-processing. The life of a good SD card will be years if you handle them well just like your favorite DSLR gear.
Lexar Professional 1000x SDXC
This 64GB SDXC Lexar Card is coming with Image Rescue 5 Software. This SD Card is built with UHS-II technology (U3) offers transfer speed 1000x up to 150MB/s read, 80MB/s write. This SDXC card is compatible with most Nikon DSLR Cameras. | (Buy from Amazon)
SanDisk Extreme PRO Compact Flash
This high-performance memory card offers speeds of up to 160MB/s Read and 150MB/s Write. This Compact Flash card from SanDisk is designed to meet the rigorous requirements of professional photographers and videographers. | (Buy from Amazon)
Best Memory Cards for Video Camera
Video recording demands sustained write speeds to capture high-quality videos like 1080HD, 4K Ultra HD, and 3D Videos. Video recording cameras require smooth video capture with high write speed for best video footage.
Lexar Professional LCF32GCRBNA1066
This Lexar Professional CompactFlash leverages UDMA 7 technology to deliver a read transfer speed up to 160MB/s. This high-speed card can capture high-quality images good for 4K and 3D video recording. | (Buy from Amazon).
Lexar Professional 633x SDXC
This SDXC UHS-I Card is coming with Image Rescue 5 Software with reading and transfer speed up to 633x (95MB/s). This SD card can support video formats in 1080p full-HD, 3D, and 4K video with a DSLR camera, HD camcorder, or 3D camera. This SDXC card is compatible with most Video Cameras and Nikon DSLR Cameras. | (Buy from Amazon)
Best Memory Card for GoPro Hero
To get the best quality and consistency while working with GoPro, always buy recommended SD cards by GoPro manufacturers. Based on the compatibility list published by GoPro makers here is the Memory Cards for GoPro Hero.
Image credit: Amazon
All the Memory cards listed here support HERO4 (Black & Silver)/HERO5 Black, Session Cameras, HERO3+/HERO3: Black,  HERO+ LCD, HERO+, and HERO.
SanDisk SDSQXNE-016G-AN6MA
This Extreme UHS-I 16GB SD card supports up to 95MB/s transfer speeds and built for and tested in harsh conditions. This great Micro SD card made as temperature-proof, waterproof, shockproof and x-ray proof just to fit GoPro fans' needs. | (Buy from Amazon)
Samsung MB-MG32DA/AM with Adapter
This 32GB PRO Class 10 Micro SDHC supports up to 90MB/s read speed, and 80MB/s write speed. This SD card built as Waterproof, Temperature Proof, X-Ray Proof, and Magnetic-proof to handle any hard conditions while you travel. | (Buy from Amazon)
Memory Cards for Phone (Android Devices)
Android users are buying SD Cards to extend internal memory. These memory cards can save songs, movies, data files, and even Android apps. From Android 6 onwards, Android devices' memory can be extended as Android built-in space with external memory cards.
Android Marshmallow let you install and run Android apps direct from memory cards with adaptable storage feature on the latest Android OS. Since these Android SD cards are using to install Apps and loading apps from micro SD cards, Android Memory Cards' speed and performance are critical.
SanDisk Extreme MicroSDXC SDSQXNE-016G-GN6MA
Extreme UHS-I 16GB SD card supports up to 95MB/s transfer speeds and built for and tested in harsh conditions. This great Micro SD card made as temperature-proof, waterproof, shockproof and x-ray proof. | ( Buy from Amazon)
Samsung Micro SDHC MB-ME32DA/AM
This Samsung Micro SD card offers up to 80MB/s transfer speed good for high-resolution pictures, mobile gaming, full HD video recording. This Micro SD Card works with Cell phones, Smartphones, Android Tablets, Tablet PCs, and more. Samsung offers a 10-year limited warranty with built as water, temperature, x-ray and magnetic proof. | (Buy from Amazon)
Best MicroSD Cards for Samsung Galaxy.
Samsung Galaxy S8 phone supports up to 256GB memory card. A 64GB or 128GB Micro Sd Card will be work for you for normal use, but if you want to go to the limit, there are few high-end memory cards.
SanDisk Ultra 128GB microSDXC UHS-I Card with Adapter, Black, Standard Packaging SDSQUNC-128G-GN6MA
This Class 10 SanDisk is good for Full HD video recording and playback and lets you auto-manage media and memory for peak phone performance. This SanDisk Ultra offers speeds of up to 80MB/s. | (Buy from Amazon)
Samsung EVO+ 256GB UHS-I microSDXC U3 Memory Card with Adapter MB-MC256DA/AM
This Samsung Micro SD is compatible with most devices and ideal Samsung Galaxy S8 that offering the maximum memory that can handle fro Samsung Galaxy S8. The 256 Micros SD card can read up to 95MB/sec and offer to write speeds up to 90MB/sec. | (Buy from Amazon)
Memory Card for PS Vita Game Console
When you plan to save Games on your PlayStation Vita, we recommend at least 4GB size cards. However, if you are planning to take pictures and put music then shop for a memory card more than 4GB in size.

image credit: Amazon
However these cards are proprietary memory cards, and it is from Sony Inc. Unfortunately, these cards are very high prices compared to standards SD card prices. This Official PlayStation Vita Memory Card can store Game Saves, PSN downloads, and personal media.
Sony 16GB PlayStation Vita Memory Card 22040
This is a 16GB official PlayStation Vita Memory card from Sony, that can save up to* 4-8 full PlayStation Vita games, 12 movies, 4,568 songs, or 3,200 photos| (Buy from Amazon)
Sony 32GB PlayStation Vita Memory Card
As per Sony, this 32GB PlayStation Vita Memory card supports up to 8-16 full PlayStation Vita games, 24 movies, 9,136 songs, or 6,400 photos | (Buy from Amazon)
Best Memory Card for Nintendo DS
When you have a lot of good games and your Nintendo DS memory is almost full, then time to shop for a good SDHC card to store all your precious games. Please be aware that the old 3Ds won't accept memory cards. The newer Nintendo DS, XL, and 3DS have a built-in slot for the SD card.
image credit: Amazon
There is no special requirement for 3DS Memory Cards. 3DS will support SD card up to 2GB size and SDHC card between 4GB to 32GB. SDXC card can be up to 128GB if you can format it into FAT32. However, we noticed that sometimes Nintendo 3ds is not detecting even brand new cards, where these same cards work fine with PCs.
SanDisk 8GB SDHC for Nintendo DSi
This SDHC 8GB card is specially made for Nintendo DSi. The memory card for your 3DS will work like a charm, and you can store all the great photos you can make and store all the great DSi Shop titles like Dr. Mario Express and Aquia. | (Buy from Amazon)
Sandisk 8GB SDHC SDSDG-008G-A11
This is a made for DSi from Samsung comes with a size of 8GB with a Speed Class 4. 8GB is plenty of room for images, games and we recommend this as an excellent choice for storing and playing all your favorite Nintendo DSi memories and games. | (Buy from Amazon)
Best SD Cards for Drone Camera
Drones are equipped with action cameras, and Professional Drone Cameras are capable of recording in 4K resolution. The sequential and random writing speed should high for drone Camera Memory cards.
When you shop for memory cards for Drone cameras, please chose class 10 and up. Class 10 memory card speed category falls in V10 Video Speed Class. For best performance, we would recommend U3, which has 30Mb/Sec sequential writing speed and categorized in V30 Video Speed Class. Professional Drone Cams are supporting Memory Card size from 32GB and up. Please check the user manual for the maximum support size before you buy a drone camera memory card.
Sandisk Micro SDXC
This Sandisk Ultra 32GB Micro SD Card is categorized in with UHS-1 Class 10 that is compatible with DJI Phantom 3 Quadcopter Drone 4K UHD Video Camera. This Class 10 works only with SDXC Compliant gadgets and enough to record footprints in 4K resolution. | (Buy from Amazon)
Samsung MB-MF32DA/AM
Samsung 32GB Micro SDHC Memory Card is offering up to 95MB/s Read, and 90MB/s Write Speed. This high-speed memory card is ideal for 4K and 3D video recording and built to last with Water, Temperature, X-ray and Magnetic Proof protection. | (Buy from Amazon)
Memory Card Readers for iPhone, Android & PC
Before the era of Smartphones, there had only one memory card reader, that was for PC. Now there are different types of memory card readers for Android devices, iOS devices, and Computers.
For memory card readers, the type of card supported, maximum read speed and the maximum support size are the key factors.
PC Memory Card Reader-Energizer ENR-CRPUNI
This Multi-Use Card Reader/Writer coming in black color supports both Windows and Mac. This Energiser memory card reader built with four media slots and can read SD, XD, CF, MS cards, etc. | (Buy from Amazon)
iPhone Memory Card Reader-RAVPower Lightning to SD Card Reader
RAVPower RP-IM004 iPhone Lightning Flash Drive has built-in memory for iPhone with an additional memory card slot. This iPhone memory card reader support 256GB SD card with built-in 64GB Flash storage. Those who are searching to extend iPhone memory, please see 5 Best Solutions to increase iPhone / iPad Storage Memory. | (Buy from Amazon)
Android Memory Card Reader-Micro USB OTG to USB 2.0 Adapter
This memory card reader for Android and PC is a Micro USB OTG to USB 2.0 Adapter built with standard USB Male & Micro USB Male Connector for Smartphones/Tablets with OTG Function. The USB port on this card reader lets you use Windows and Mac OS X.
There is no separate drive required for this Android memory card reader for Android 4.0 and above. This memory card reader does NOT support memory cards over 64GB because of a lack of support for Android OS. For those who are looking for Android phone backup, Buy from Amazon.
We listed the list of best memory cards suitable for your camera and gadgets. Please shop for the best SD card for the camera or video based on the speed, class, and size for long life and best performance.
Disclaimer:
MashTips is supported by its audience. When you purchase through links on our site, we may earn an affiliate commission at no extra cost to you.