Android app launchers come in various shapes and sizes. Some app launchers act as a complementary feature alongside your default home screen. Most tend to replace your default home screen. However, most launcher apps still try to provide a traditional android experience. The launchers we're featuring today aim to shake things up a bit. These unique Android launchers aim to redefine your Android home screen and change the way you use your phone.
Here are some of the best unique, minimal, simple Android launchers you should try to redesign your Android home screen.
Smart Launcher 5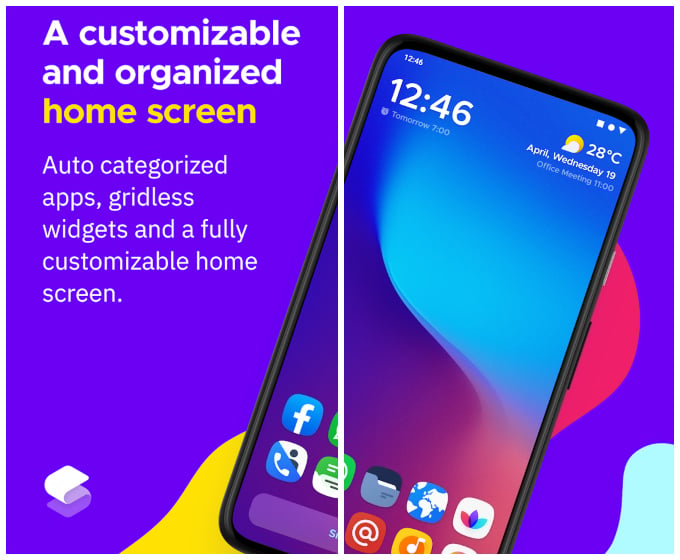 The Smart Launcher brand has been around for a long time. Smart Launcher 5 is the latest iteration of this popular launcher. The selling point for Smart Launcher has always been automatic app categorization and that remains true even now. The launcher aims to speed up your daily tasks via the home screen.
Apart from automatic app sorting, the app supports Android's adaptive icons, features a smart search, built-in clock widget, on-screen notifications, hidden apps, and a lot more. Every iteration of Smart Launcher gets a place in any list of the best Android launchers. That is to say, this isn't just a unique Android launcher but also pretty great all around.
Download: Smart Launcher 5
ap15 Launcher
Ap15 Launcher gets rid of not only the app grid but also the app icons. Your home screen is instead filled with app names. The names are arranged typographically. The launcher only gives you a single screen but it can be customized.
The more you use an app the bigger the app name gets, thus making it easier to find and launch. Since there's only text, you can customize the color, style and size of the font. Not only does this unique android launcher look minimal, it's also minimal on resources.
Download: ap15 Launcher
Related: 10 Best Android Automation Apps to Automate Tasks on Your Phone
Unique Launcher 2020
Since this one is already named Unique Launcher the only question is if it stays true to its name. And the answer is yes and it's possibly one of the better looking launcher apps on this list. However, that's about all that is good here unfortunately. You can change the accent color and the background image displayed in the top-right.
Unique Launcher 2020 also lets you change the icon sizes but the layout is fixed. Your app grid or list can be accessed with a right swipe. This is where the lack of quality shows, as well as ads.
Download: Unique Launcher 2020
Linux CLI Launcher
"Are you sick of all those colorful and chaotic launchers?" is the question Linux CLI Launcher asks of you. Obviously, this is not a launcher for the masses which is what makes it a unique android launcher. If you're a developer who loves using the command line over graphical interfaces, this is the android launcher for you.
That said, it is still easy enough to be used by most people. It replaces your home screen with a Linux command-line interface that can be used to launch apps. You can also uninstall apps using the uninstall command. The commands are pretty straightforward like that, so they'll come naturally to you in most cases. You can find more information here.
Download: Linux CLI Launcher
Related: 10 Best PDF Reader Apps for Android to Read and Edit PDF Files
AIO Launcher
If you couldn't already tell, AIO stands for All In One and that's what AIO Launcher does. While it's not completely text-based you will see a lot of text on your home screen. AIO Launcher puts everything from your most used apps, weather, and news to system information on the home screen.
This list also includes contact information, timers, your email, your tasks list, your tweets, stock prices, and even an audio recorder. Since everything you need is on one screen you don't need to navigate to another screen or the app drawer or the Google feed, etc. You just have to scroll which makes AIO one of the fastest and most unique android launchers.
Download: AIO Launcher
Indistractable Launcher
If you love minimalism and don't want to spend time setting up your own minimal setup, Indisctractable launcher can do the job. It's as minimal a launcher can probably get while still providing some unique features. Your home screen consists of just a task list and access to your dialer app.
There are a fairly customizable clock and weather info at the top as well and that's about it. You can get to the rest of your apps with a simple swipe. The apps are arranged in a list, much like it was on a Windows phone. There are no icons at all but you can get custom icon pack support with a one-time payment of $10.
Download: Indistractable Launcher
Niagara Launcher
Niagara Launcher is another option that has been around for a while. It balances minimalism with elegance, making it a unique launcher everyone can enjoy. Your home screen only has a clock date & weather widget and a list of your favorite apps. If you have media playing, you'll see a media widget. If any of the apps has a pending notification, you will see that next to the app icon as well.
The launcher is ergonomic as well which means you can use it with one hand, even if your phone is huge. All your apps are arranged in a scrollable list. The aim is to launch any app with just a single tap. This makes it one of the fastest android launchers and in my opinion one of the best as well as unique launchers around.
Download: Niagara Launcher
Ratio
Ratio is a relatively new but unique Android launcher from Blloc. The company tried selling smartphones where the launcher was one of the main attractions. It has now made the launcher available for other Android devices as well. The idea here is to make you use your phone less, and efficiently. To that end, the launcher drops colors in favor of a monochrome look.
Information such as notes, your calendar, etc. is provided right on the home screen. This keeps you from having to open apps and digging for the info. Sure, we've seen the same approach with a few launchers before on this list. What makes Ratio unique is a streamlined feed from all your messaging apps called Tree. While you no longer get an app grid full of colorful icons, the launcher is still fairly customizable.
Download: Ratio
Related: How to Watch Netflix in Picture In Picture on iPhone and Android
Lens Launcher
What if all your apps were on one screen? Lens launcher does not get rid of app icons or the app grid. What makes Lens Launcher unique is it seems to double down on it instead. The launcher fills your screen with tiny app icons so you can see more apps on one screen. No, so you can see all your apps all at once, on a single screen.
This works regardless of screen size or app count. You can then move your finger around on the screen to browse through the apps using a fisheye lens view. It's as simple as a grid of app icons can get, pretty much.
Download: Lens Launcher
KISS Launcher
If you're more of a traditionalist but still want a unique, and one of the fastest Android launchers, KISS might interest you. The app provides a Google Pixel-like home screen with a search bar at the bottom, and a row of app icons above it. To launch an app, you'll have to tap on the search bar and type a few letters or at least one letter of the app name to bring it up.
It's easier when you know the name of the app, obviously. If you can't remember the name of that app you installed last night, well, try to. One of the plus points is KISS Launcher is way less than 1MB in size and never uses the internet.
Download: KISS Launcher
That wraps up our list of some of the most unique and fastest Android launchers you can find on the Play Store in 2020. If you want something different from the traditional Android experience, one of these might definitely suit your needs. Do you know about another unique launcher you think should be on this list? Let us know in the comments.
Disclaimer:
MashTips is supported by its audience. When you purchase through links on our site, we may earn an affiliate commission at no extra cost to you.