A projector screen is an essential accessory for any projector user, whether at home for free time or in the business for presentations. Compared to projecting onto a wall, these screens allow for considerably more vibrant colors and clear images. We have shortlisted some of the best projector screens from Amazon that you can buy and use for your outdoor projection needs.
Let's now discuss the best value-for-money projector screens you can buy and use to watch movies outdoors with your family.
Towond Projector Screen Backyard Cinema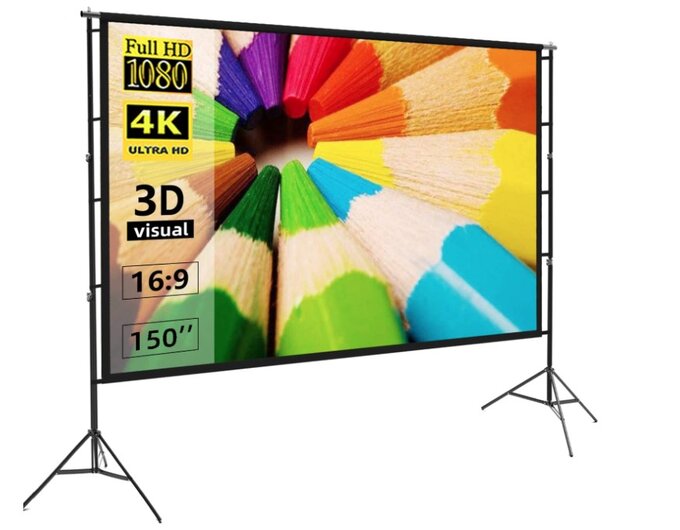 This premium-grade portable HD projector screen measures in at a whopping 150″ on the diagonal and boasts a 1:1 aspect ratio, and a 16:9 aspect ratio. The included stand for the outdoor movie projector screen is foldable and requires no tools for assembly or disassembly. The Towond projector screen forms vivid and crystal-clear visuals.
Key Features: Foldable Design | 150-inch projection area | Crease Resistant Design | Compact and Easy to Carry | Front and Back Projection
In addition to allowing for front and back projection, the thick and crease-resistant design will greatly increase your satisfaction. With the stand, the total weight of the Towond projection screen is 11.2 pounds. You may carry it with one hand or sling it over your shoulder like a suitcase; it's compact and convenient to store aside.
Vamvo Outdoor Projection Screen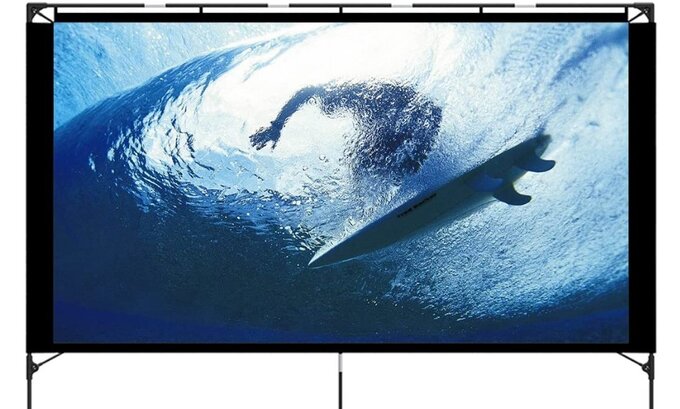 Key Features: 80-inches projection area | 160-degree viewing angle | Rotatable Adjustable Joint | Polyester Fabric for easy cleaning | Elastic Rope for Disassembly
The Vamvo 4K projector screen measures 80 inches with a 160-degree viewing angle, 16:9 aspect ratio, high-quality, naturally-dyed polyester fabric, and wide-screen diagonal for crystal-clear viewing. A rotatable joint is given on the rear frame for adjustment, making the screen flatter and more stable, and the outdoor movie screen bracket is connected by an elastic rope so that it can be put together and taken down quickly and easily without the need for any additional tools.
The folded projector screen has a small footprint, measuring just 17.8×6.7×3.5 inches, and at 6 pounds, it's nearly half as heavy as comparable portable projector screens. The natural polyester fabric makes it easy to clean the dust if it becomes dirty.
Sedpell 120-inch Projector Screen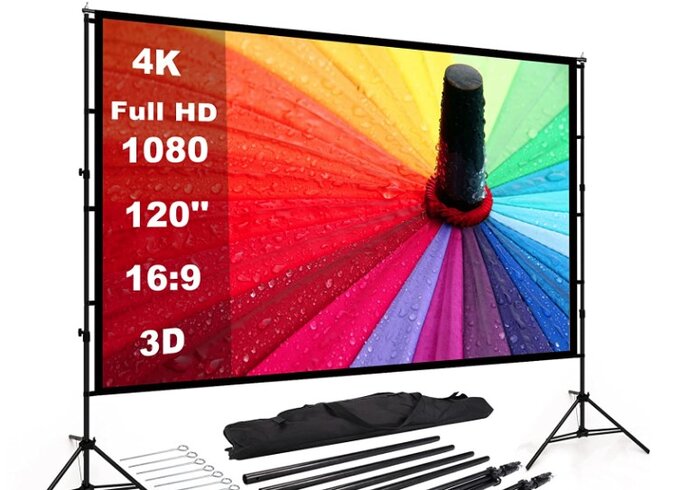 The Sedpell Projector Screen is ultra-smooth, ultra-flat, and elastic thanks to its polyester material. Thanks to the 120-inch-wide screen's 1.2 projection gain, 168-degree viewing angle, and straightening straps along its edges, there is no need to worry over light see-through or wrinkles.
Key Features: 120-inch wide screen | 168-degree viewing angle | Y-bolt connected legs | Height Adjustable | Includes carry bag
This outdoor projector is pretty stable due to the Y-bolt-connected 30mm pole and ground nails and water bags that, when full, weigh 5 pounds. The projection screen and stand are both collapsible and height-adjustable, making them convenient for transport; they come with a carrying bag that can be stowed in a car's trunk or carried by hand. Useful for picnics, camping, sightseeing, business travel, and product demonstrations.
N/A Projector Screen with Stand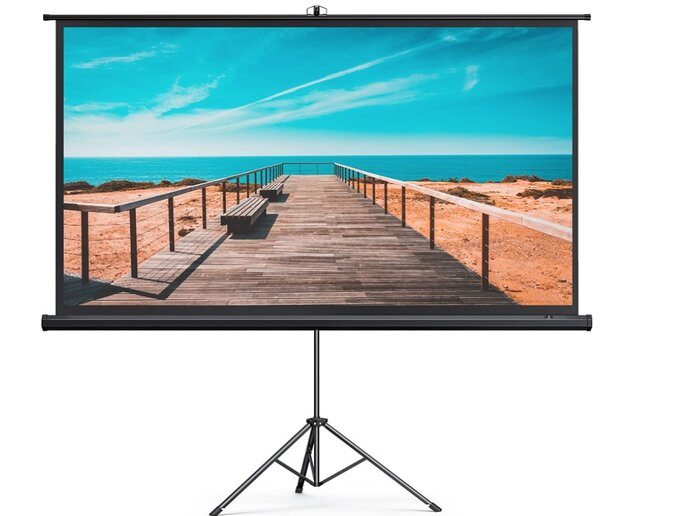 N/A Projector Screen is wrinkle-free; matte PVC construction and anti-yellow coating make this projector screen ideal for watching movies. With its 4K HD resolution, wide aspect ratio (16:9) Wrinkle-Free Widescreen, and 160-degree wide viewing angle, you can enjoy movie nights without having to choose a spot exactly in front of the screen.
Key Features: PVC Construction | Anti-Yellow Coating | 160-degree viewing angle | Rigid Frame | Wrinkle-Free Material
The frame can withstand light wind for outside use, the solid stand provides better stability, and the included carry bag makes it simple to bring along on excursions, camping trips, or for a family movie night in the backyard.
P-Jing Projector Screen Backyard Screen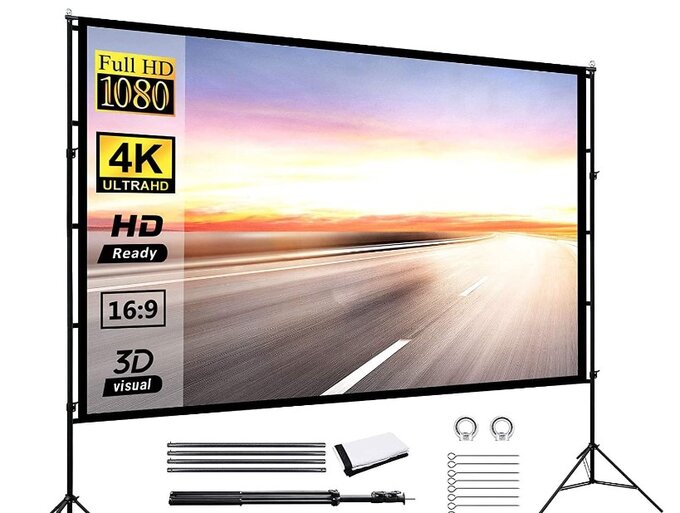 Made of high-quality natural polyester fiber and thicker than other regular screens, this 100-inch outdoor projector screen with a stand has a 160° wide viewing angle, aspect ratios of 1.1 and 16:9, and is weather-resistant. The image quality is improved noticeably by the folding projector screen.
Key Features: Natural Polyester Fiber | 100-inch screen size | 160-degree viewing angle | Rust-proof | Telescopic Design for better strength
The telescopic design of the projection bracket eliminates the need to worry about rust or bending due to the use of high-quality steel pipes and rust-proof paint on the surface. The projector screen and stand only weigh 11.3 pounds and take up a small amount of space, making them ideal for use both at home and on the go.
Perlesmith Pull-Down Projector Screen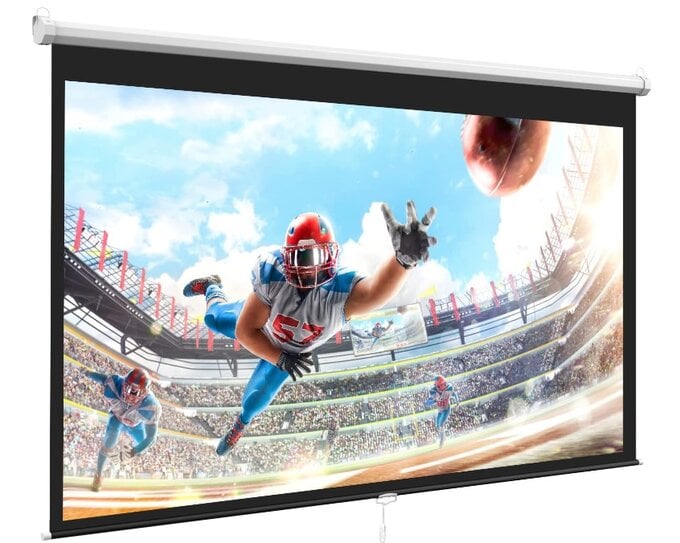 The Perlesmith 100-inch projector screen has a broad viewing angle (150 degrees) and maintains a high resolution (no resolution loss at any angle of view) thanks to its high-quality matte white build and 16: 9 aspect ratio and 1.2 gain. You can quickly adjust it to the desired height, and then roll it up to store it away.
Key Features: 100-inch screen size | 150-degree viewing angle | PVC coating for light blocking | Works with Ceiling and Wall Mounts | Water resistant
This pulldown projector screen is designed with a robust black PVC protective coating that can block off the light to guarantee a clear image. The projection screen can be quickly and easily cleaned with water, ensuring that your images always seem crisp and clear. The Perlesmith screen can be installed in several ways and requires minimal preparation and installation time. Compatible with both ceiling and wall installation.
Today's Deal: $29.00 Off
Elite Screens Yard Master 2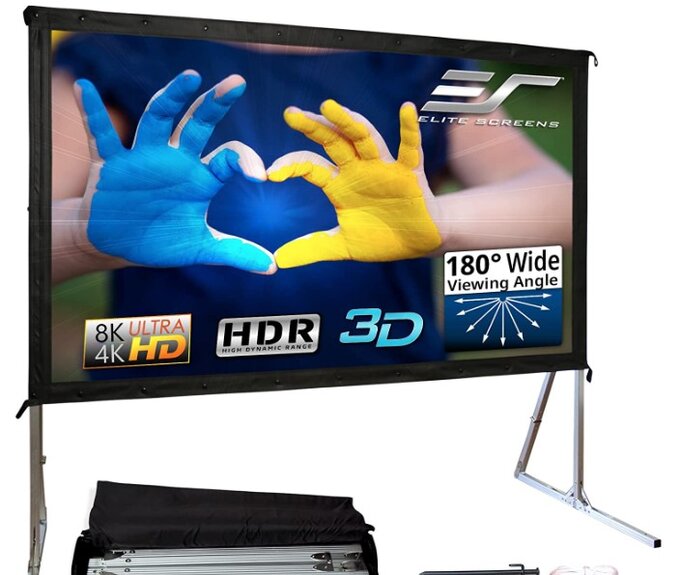 The snap-button tensioned frame of this projector screen keeps the screen perfectly flat during projection. The Detachable T-Legs and one-piece aluminum frame provide additional support. The display is CineWhite UHD-B certified for quality projection.
Key Features: CineWhite UHD-B Certified | Detachable T-Legs for support | 120-inch screen size | Supports 3D projection | 180-degree viewing angle | Lightweight Aluminium Build
This 120-inch diagonal projector screen has a 16:9 aspect ratio. The assembled dimensions are 88.9 inches in height and 109.8 inches in width. The projector screen can display 4K ultra high definition and is ready for Active 3D projection. It has an entirely black-backed front projection and a viewing angle of 180 degrees. Made from lightweight aluminum square tubes, assembly takes a few minutes and requires no special equipment.
Today's Deal: $48.01 Off
Khomo Gear Portable Projection Screen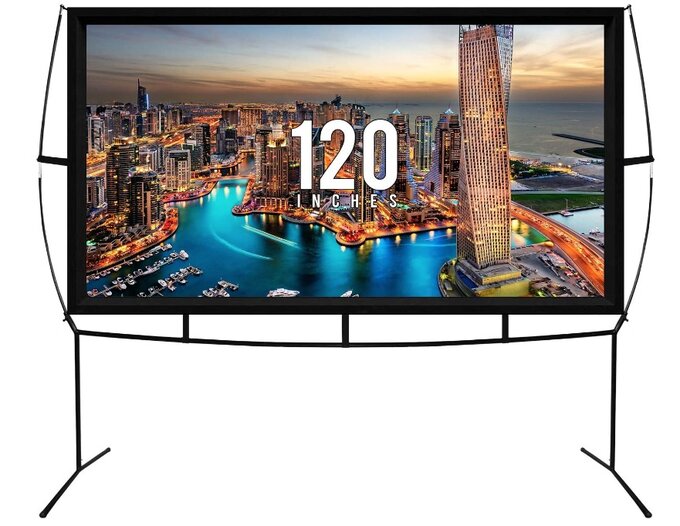 The Khomo Gear 120″ outdoor movie screen is made from reflective oxford nylon and features a 16:9 aspect ratio design that offers a 160-degree viewing angle for a really immersive experience. Everything you need to set up the screen is included, and it takes less than 10 minutes for a single person to do so. Once it's put up, the stiff support system guarantees maximum stability.
Key Features: 120-inch screen size | Oxford Nylon Material | 160-degree viewing angle | Supports Front and Rear Projections | Rigid supports for better strength
The Khomo Gear projector screen also supports front and rear projection. It has a wide variety of possible uses, including use in the outdoors for things like outdoor movie evenings or in the office for things like business or school presentations.
Phopik Projector Screen with Stand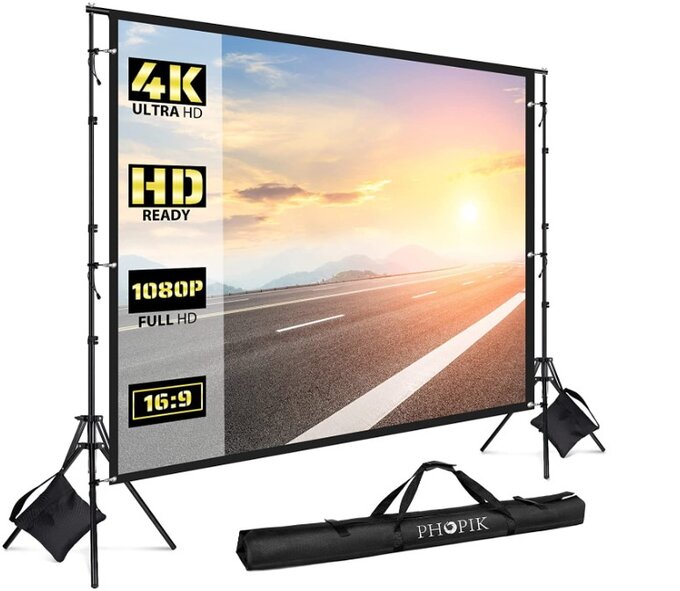 The Phopik Screen is made from 100% organic polyester fabric, making it both wrinkle-resistant and highly absorbent. As these panels are thicker and smoother than most others, the projection is clearer and brighter. The projector screen frame is composed of lightweight yet strong aluminum and comes with a soft padded carrying bag for easy portability and security.
Key Features: Made with Organic Polyester Fiber | Wrinkle Resistant | 120-inch screen size | 160-degree viewing angle | Soft padded bag for easy carrying
The 120-inch diagonal screen and wide viewing angle of 160 degrees make for an excellent all-around experience. It's possible to use sandbags to keep the projector screen's legs in place.
Today's Deal: $20.00 Off
Mooka Family Projector Screen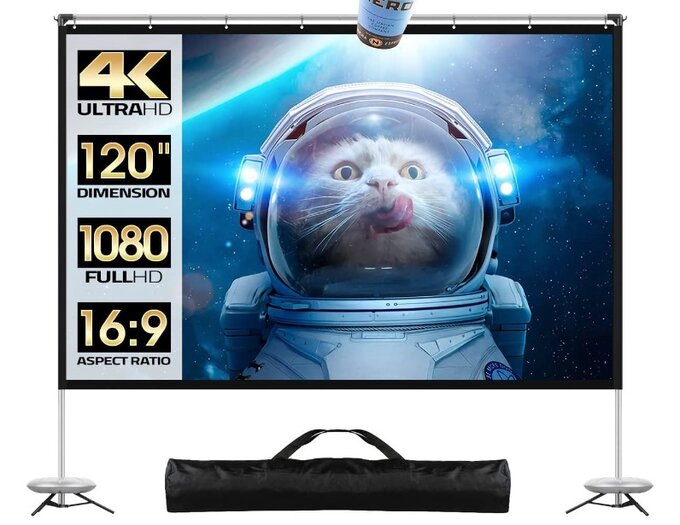 This portable projector screen with a standing tripod features a 120-inch diagonal screen size and a standard 16:9 aspect ratio, making it an ideal choice for both business and personal projection needs on the go. This outdoor movie projector screen is supported by a unique 2-foldable tripod, the legs of which can be adjusted to various height settings. The free-standing tripod screen is the way to go for locations where wall mounting is not an option.
Key Features: Standing Tripod Support | 120-inch screen size | Made from Polyester and Spandex | 160-degree viewing angle | Wrinkle-Free | Front and Rear Projection
Made from high-quality polyester and spandex, the outdoor projector screen has a viewing angle of 160 degrees, can be used for both front and rear projection, and doesn't wrinkle. It also has a light-shielding gain of 1.1.
Hoin Projector Screen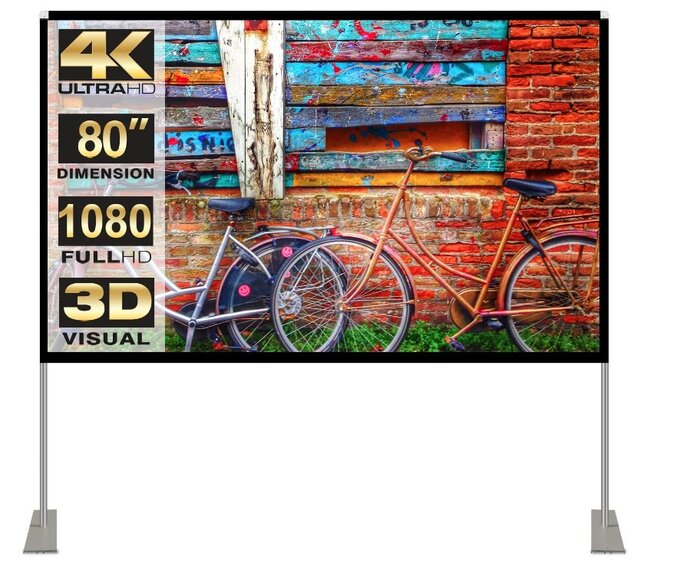 The Hoin projector screen is an 80-inch 16:9 HD 4K display with a 160-degree viewing angle, and it's made to deliver crystal-clear visuals, vibrant colors, and a top-notch viewing experience from any seat.
Key Features: 80-inch screen size | 160-degree viewing angle | Lightweight Aluminium Construction | Natural Polyester screen | Moisture Prevention Treated | Double-Sided Projection Support
The aluminum used in the construction of this portable movie screen frame makes it lightweight yet strong enough to be safely taken anywhere in the soft padded carrying bag provided. The Projection Screen is constructed of natural polyester fabric, allows for projection on both sides, and is treated to prevent moisture buildup.
Amada Home Furnishing Projector Stand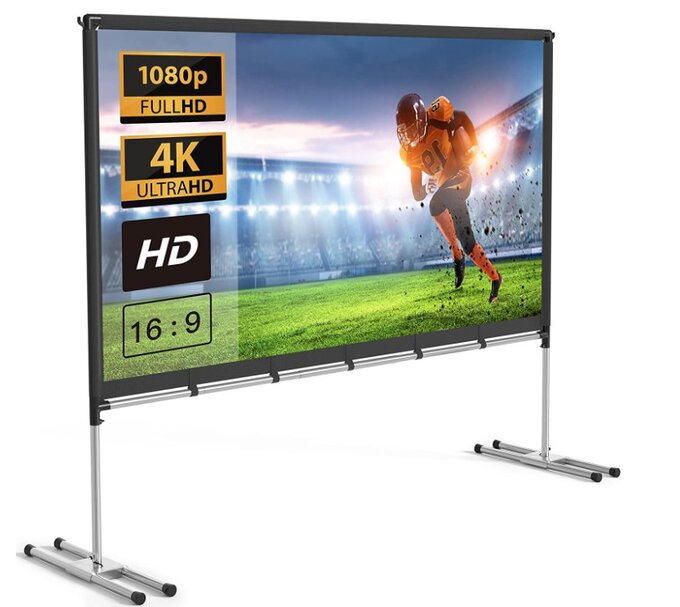 This 100-inch Amada projector screen has a 16:9 aspect ratio, so it can be used with virtually any modern LED, LCD, or DLP projector. The wide 160-degree field of view and high gain of 1.1 makes it a great choice for any room in the house. Since it blocks less light and doesn't wrinkle, the thick polyester material is great for both front and rear projection.
Key Features: 100-inch screen size | 160-degree viewing angle | Wrinkle Free | Polyester material used in the screen | Non-slip pads for stability | Carry Case included
The portable projector screen comes with a handy carrying case that can be used to transport the screen and its components. The huge projection screen is held firmly in place by each of the four legs, which include a dual-foot base and non-slip pads.
The ideal projector screen for your needs will mainly be determined by how much money you have left after buying the projector itself. While it's true that a high-quality projector screen can be expensive, it is possible to get one that won't be as expensive. Easy-to-assemble projector screens should also be considered.
Outdoor Projector Screen FAQ
What color screen is best for the outdoor projector?
The white color is the best choice for outdoor projectors, especially in the nighttime. Since it is nighttime, the white color can reflect the projected light on it for the best viewing experience.
Is a projector screen better than a wall?
The projector screens are dedicated to displaying the image better than your wall. The wall may reflect or distract the lights hitting on it. The projector screen is designed to choose what to reject and reflect based on the material. The experience with the dedicated screen will always be better than the wall.
How far should you sit with a 100″ screen?
The watching distance from the screen depends on the screen size. Take the diagonal size of the screen and divide that by 0.84.
Watching distance from 100 Screen: 119″ Away from Screen
Watching distance from 120 Screen: 142″ Away from Screen
Watching distance from 150 Screen: 179″ Away from Screen