The internet lets you create so many accounts for multiple services. It's a great way to explore the internet. However, the one problem a lot of people have with passwords is with managing them. It doesn't matter if you use a simple or a complex password, remembering them can be a herculean task. Thankfully, there are password managers out there that can help you with storing and saving your passwords.
Today, we will be taking a look at the best password managers that you can use on your Windows 10 and Windows 11 PCs. Before that, you need to know that there are two kinds of password managers. Cloud-based password managers store your passwords securely on the cloud. Meanwhile, locally-based password managers store all your passwords on your device. Both types of password managers have their pros as well as cons.
Bitwarden Password Manager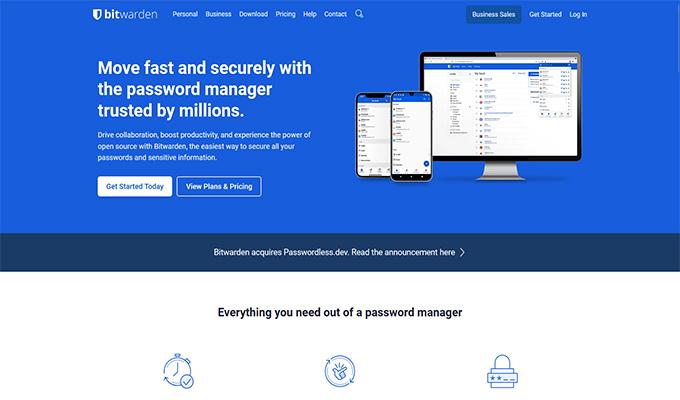 One of the most popular password managers out there is the Bitwarden Password manager. There are many reasons why it's a popular one. First off, it's open-source, everyone prefers to make use of open-source software. The next reason is that Bitwaredn is simple and very easy to use. It's so easy that even a person that's not familiar with computers can use Bitwarden to store their passwords safely and securely.
Of course, you do have multi-platform support along with proper end-to-end encryption that securely stores your passwords. Bitwarden is also smart. It helps you generate strong passwords for your accounts as well as auto-fills passwords for websites that are stored within Bitwarden itself.
Pros:
Free For Personal use
Reasonable Business, Premium, and Family Plan Prices
Supports Unlimited Devices
Cons:
No Passkey Support Yet
No breach Checker
Unable To Automatically Change Passwords
Key Features: Supports Multiple Platforms | Extensions Available For Most Web Browsers | Username and Password Generator | Unlimited Vault Items | 2 Step Login | Encrypted Exports | Open Source | Unlimited Devices Can Be Added To SIngle Account | Easy Cloud Sync Between Devices | Free Sharing With Other Users
Get: Bitwarden Password Manager (Freemium)
Dashlane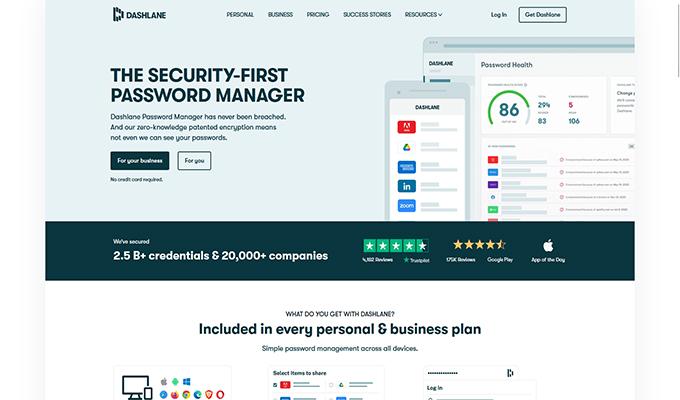 Dashlane is another password manager that you can use on your Windows PC. The password manager comes with Two Factor Authentication, AES 256 encryption, and also a master password to access all other passwords. One reason to use Dashlane is that they have strong security and have never been breached at all. There's also the ability to generate new passwords for you and even easily change old and weak passwords.
Dashlane allows you to store passwords and other sensitive information securely. With Dashlane, you can browse the internet safely thanks to the built-in VPN service. Dashlane also monitors Dark Web browsing. This monitoring tool notifies you in case it detects or finds any of your passwords have been leaked online.
Pros:
Very Secure
Secure Access To Passwords
Cons:
Plans Are On The Pricier Side
Free Version Is Super Limited
Key Features: Update Old passwords In One Single Click | Dark Web Monitoring | 2FA Authentication | Built-In VPN Service | AES 256 Encryption |Free Trails Available | Organize Passwords | Autofill Forms and Credentials | Protect Notes and IDs | Multiple Plans Available | Supports Multiple Platforms | Easily Migrate Your Passwords From other Password managers and Browsers | Single Sign On
Get: Dashlane (Freemium)
NordPass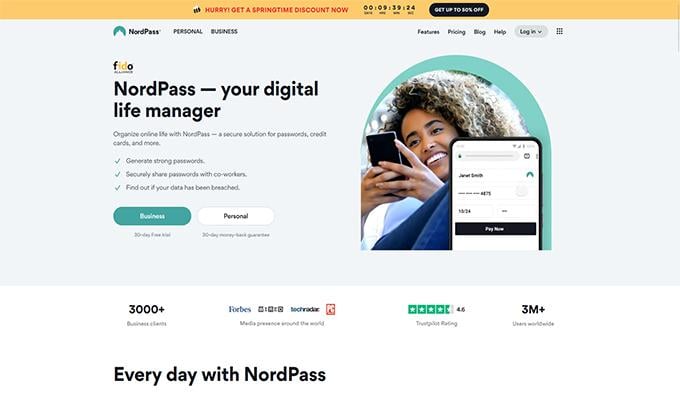 Here's a password manager from a very popular VPN service provider- NordPass lets you sign in to your NotdPass account on Windows with two Factor Authentication. Along with 2FA, Nord also has XChaCha2.0 encryption meaning that the passwords that you save with NordPass are going to be extremely secure. The password generator in NordPAss is simple to use. You get to drag a slider and get to see the password as well as the length of the password.
NordPass lets you store documents by scanning your document with the in-built OCR scanner. NordPass also has a data breach scanner that will surf through the dark web to see if any of your passwords have been leaked. Best of all, it's able to check and see if your credit card details have been leaked or not.
Pros:
Free For Personal Use
Autosave and Autofill Passwords
Cons:
Requires Re-Login When Switching Devices
Share Feature Only For Paid Users
Key Features: Dark Mode | Sort and Categorize | Quick Search |Checks For Login Breaches | Add trusted Emergency Contacts | Securely Stores Credit Card Details and Other Information | Password Generator | Export Passwords | Supports Popular Web Browsers | Pay Online Anonymously | Dark Web Password Breach Scanner
Get: NordPass (Freemium)
LastPass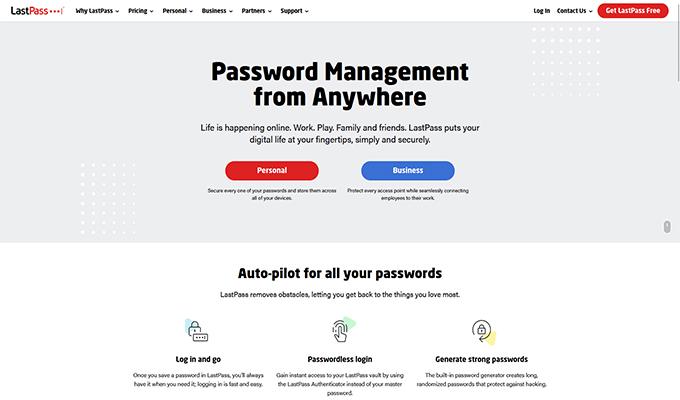 LastPass is a well-known password manager that has been around for quite a while. This is a good option for those who just want to make use of a password manager that is free and helps them remember passwords without having to worry about sacrificing anything. LastPass helps you to easily sync your passwords across any device and any platform that it supports. With the free version, you can add an unlimited number of passwords
With the free version of LastPass, you also get to make use of the 30-day free trial to the premium plan. There is also the option to share your passwords easily with a single member on the free plan. LastPass can securely store all sorts of information by encrypting them so that no one else has access to the information except you.
Pros:
Open Source
Easily Share Passwords With Single Member
Cons:
No Checker for any Breaches
File Storage Unavailable On Free Plan
Family manager Dashboard Not Part Of Free Plan
Key Features: One To One Sharing | Dark Mode Supported | Secure Notes | Multifactor Authentication | Dedicated LastPass Authenticator. Auto Sync between Devices | Autofill PAsswords | Password Generator | Passwordless Login | Add Unlimited Number Of Passwords
Get LastPass (Freemium)
Keeper Password Manager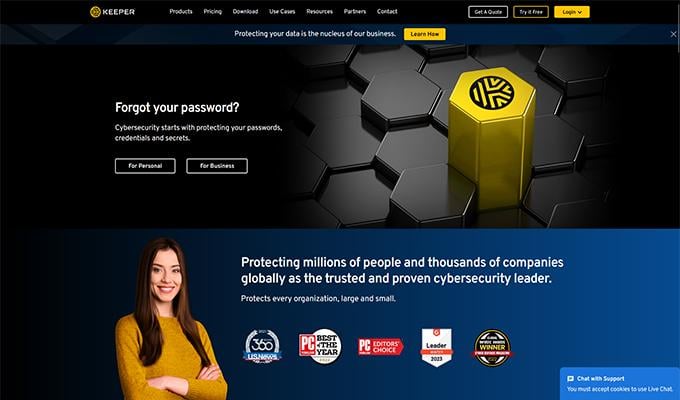 When it comes to features, Keeper has the most. Like, it's got all the basic things that you need from a password manager including the dark web password scanner. However, to make this even more secure, Keeper has a Snapchat-like chat service called Keeper Chat. What this does is you can easily and securely store messages here. But, if you want you can always set up a timer for the messages to self-destruct whenever you want.
Why would Keeper use a self-destruct system? In case someone tries to log in to your Keeper account 5 times but fails each time, all the passwords stored within Keeper will be self-destructed. On the encryption side of things, Keeper has a mix of AES and 256 and PBKDF2 encryption- this puts Keeper as one of the more recommended password Managers out there.
Pros:
Prices Are Relatively Lower Than Competitors
Free 30-Day Free Trial
Cons:
Fewer Export Options
No Free Version Is Available
Money Back Guarantee Not Available If You Don't Like The Service Within Certain time
Key Features: Highly Encrypted PAssword Storage | Self Destruction Feature | View Security Score | Dark Web Breach Scanner | Share Passwords And Other Items Securely | PAssword Vault On Unlimited Devices | Service Available On Android and iOS
Get: Keeper (Paid)
Empass Password Manager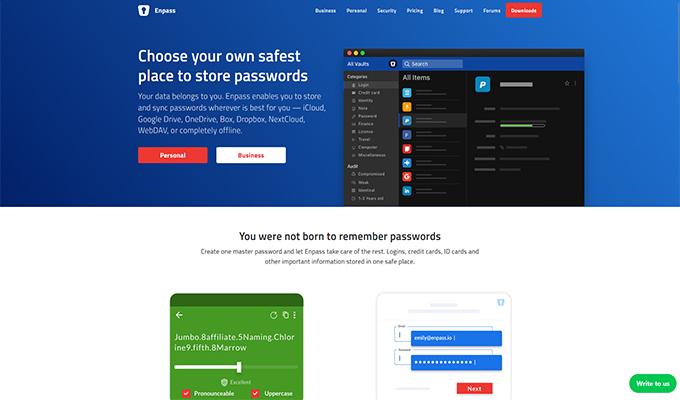 Empass is another great password manager which is sadly deeply underrated. This is a password manager that has AES 256 and SQLCipher as its encryption system. One reason why Empass can be classified as safer than other options is that you get to choose where Empass stores your passwords. And yes, you can choose to store these passwords locally on your system itself. If you are someone that has many credit cards, you can make use of various layout templates to store such information in your private vault.
Impasse's free plan is the most sensible free version as compared to any other password manager. However, the downside is that you can only store 25 passwords in the free version. A family plan with Empass is quite reasonable.
Pros:
Upload and Store Passwords To Any Third Party Storage Of Your Choice
Store Passwords On Personal Server
Cons:
No In-House Cloud Storage Option
Two Factor Authentication Is Weak
Key Features: Unlimited Device Usage | Store PAsswords Anywhere You Want | Supports Google Drive, iCloud, One Drive, and DropBox For Password Storage |Import Passwords From browsers and Excel Worksheets | CSV Imports
Get Empass Password Manager (Freemium)
KeePassXC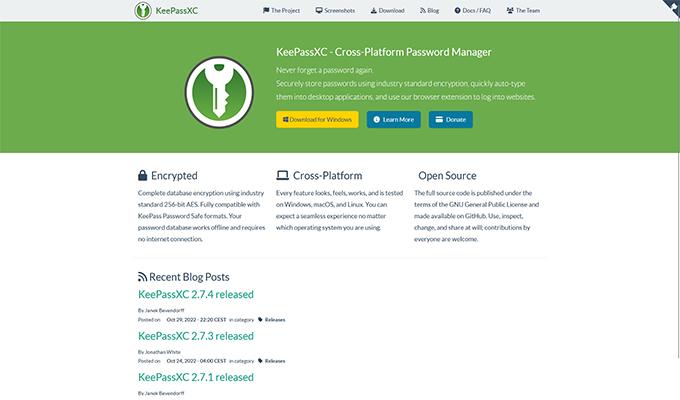 KeePassXC is another great password manager that you can use on your macOS device. You can easily store usernames, passwords, URLs, attachments, and even notes securely. All of this encrypted data can be stored on a local storage drive or cloud storage platform.-Because there are a large number of usernames and passwords that will be stored, and you can easily create your titles, and custom icons can be added so that you can easily identify and distinguish between numerous entries that have been saved.
KeePassXC also can search for entries that have been stored with KeePassXC.You can even generate several password styles that you can later use for any of your accounts. KeepAssXC also has a dark mode theme that can be enabled whenever you want. KeePassXC works on several supported platforms and operating systems.
Pros:
Open Source
Free To Use
Zero Knowledge Encryption
Cons:
No Automatic Password Changer
Unable To Add Trusted Emergency Contacts
Key Features: Save Databases in KDBX File Format | Password Generator | Auto Fill Passwords | Import CSV Databases | Shared Vault | Completely Offline System
Get KeePassXC (Free)
These are the best password managers that you can make use of on your Windows PC. Whether you use Windows 10 or Windows 11, these password managers work on both operating systems. If you're confused and simply want to pick the best pens from this list, it would be advisable to go with Bitwarden, Keeper, and Empass Password managers. No matter what password manager you use, always make sure to use strong and complicated passwords as they can help secure your account better.