Having the right accessories for your devices can make all the difference. The iPhone 15 has pushed the boundaries of technology, and to keep pace with its demands, you need a versatile charging solution. Enter the best USB-C wall adapter with a power bank, a game-changing accessory that combines convenience and functionality.
In this article, we will explore how this innovative device can keep your iPhone 15 charged and ready to tackle your day, no matter where you are. Say goodbye to the anxiety of a drained battery and hello to uninterrupted productivity and entertainment.
Anker Power Bank (GaNPrime PowerCore 65W)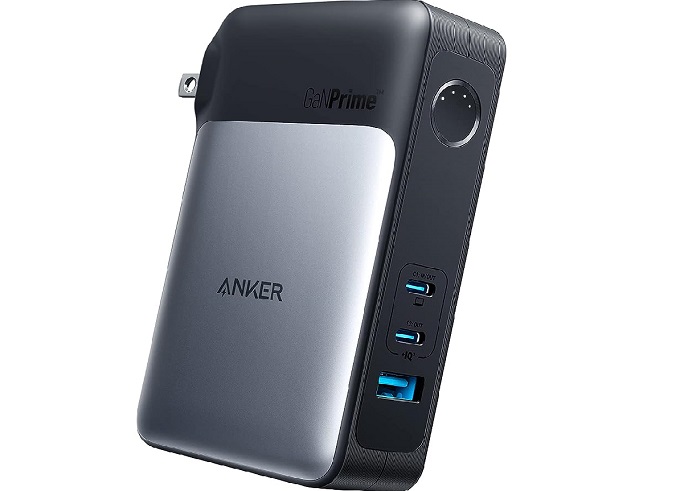 The Anker 733 Power Bank has an enormous battery capacity of 10,000 mAh. It comes with the new GaN Technology and offers enhanced safety and power delivery. This 2 in 1 charger gives you the comfort of a 65W wall charger and a 10,000mAh internal battery. With 2 USB Type C ports, you get the best charging speeds for your Android smartphones and iPhones. This portable charger is equipped with Anker's most advanced GaN-powered charging system. There is also the PowerIQ 3.0 for higher efficiency and ActiveShield 2.0 for intelligent temperature monitoring. Apart from the Type C ports, there are a couple of USB Type-A ports. 
Apart from your iPhone, this device is suitable for all USB-C-powered iPhone 15, iPads, and other smart gadgets. Also, it is rather slim and portable. Hence, it doubles itself as a travel essential. Overall, it's simply the best USB C Wall adapter with a power bank that you can get online right now. 
Baseus USB C Portable Charger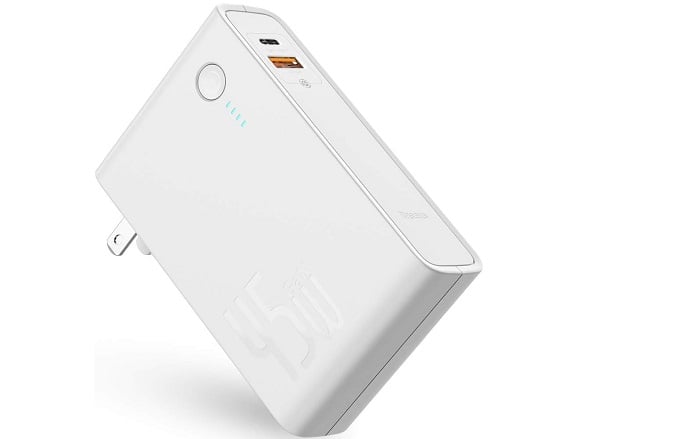 The Baseus USB C Charger is one of the best USB C power banks you'll ever need. This powerful 2-in-1 charger is a game-changer for those who are always on the go. There is a powerful internal battery that doubles itself as a portable power bank of 10,000mAh. It comes with an inbuilt AC wall plug that lets you charge the battery by simply plugging it into your wall outlet.
What's more, the Baseus USB C charger comes with the new GaN technology, making it efficient when it comes to power delivery. With this USB C power bank, fast charging your devices has never been this easy, thanks to 45W fast charging ability. Whether it's your MacBook Pro, iPhone 11 Pro Max, or any USB-C device supporting USB Power Delivery, it can juice them up in no time.
The thing we liked the most is that the charger is extremely compact and travel friendly. It flaunts a foldable design and is rather portable, making it suitable for offices, homes or, your vacation. Hence, we could say that the Baseus USB Type C Power bank with Wall Charger is simply one of your best choices right now.
Luxtude Portable Phone Charger Built-in Wall Plug
The Luxtude Portable Phone Charger with Wall Plug is the next one on our list. This portable USB-C wall charger is a great travel gadget that's compact and lightweight. It features a dedicated internal battery alongside a retractable wall charger for easy recharging. What we liked the most is that it comes packed with all those essential cables. With an inbuilt MFi Lightning cable for iPhones, a USB C cable, and a Micro cable for Android devices, it's universally compatible with almost every gadget out there. 
The Luxtude Portable Phone Charger comes with a 15W AC Wall Plug adapter, allowing it to recharge directly from the wall outlet. The mamoth internal battery has a capacity of 10,000mAh and you can recharge it to 100% in less than 3 hours with ease. With this portable charge in hand, you can charge your iPhone 14 or S series devices more than twice on a single full charge.
What's more, there is also the Pass-through technology that enables you to charge up to 4 devices all at once. But keep in mind that the output power delivery reduces when you charge multiple devices. On the plus side, the Luxtude Portable Phone Charger is a versatile USB C Charger that combines convenience, speed, and safety in one compact package. Hence, it's a great choice to consider right now.
BONAI 10000mAh USB C Power Bank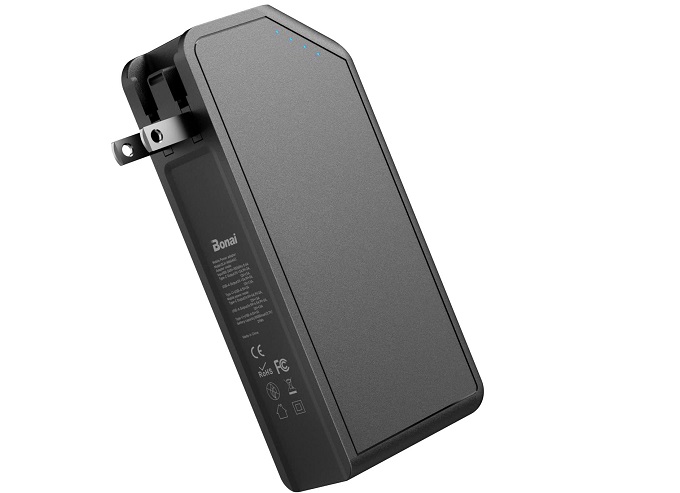 The BONAI USB C Power Bank offers you on-the-go charging with its enormous battery capacity of 10,000 mAh. Its portable design is the star factor and can be taken out during your adventures with ease. This portable power bank comes with a USB-C wall charger inbuilt. It also features a USB output and a USB Type C output, which helps you charge two devices simultaneously. The power bank also comes with four LED indicator lights, with each light representing 25% of the battery. The LED indicators give it a premium look and make it stand out from its peers.
Unlike other ones on the list, this USB Type C power bank offers a maximum power delivery of 18W. This is quite decent when compared to the limited 15 and 10W output drivers. Also, you could recharge the device in under 3 hours once you plug it into your Wall Socket. The wall socket plug is foldable, and hence, it gives you better portability. It also protects the plug from damage and prevents it from scratching other items in your bag or pocket. 
Limitless PowerPro Go Power Bank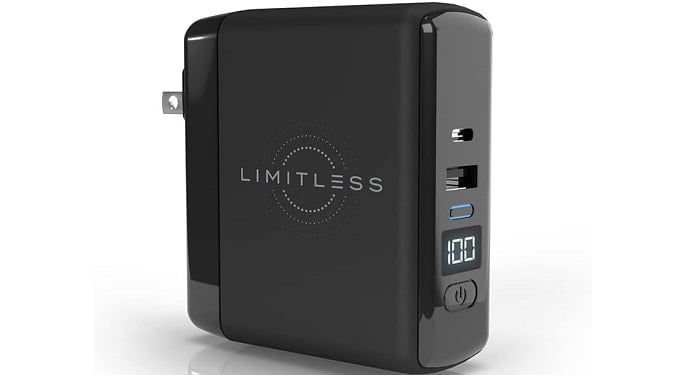 The Limitless PowerPro Go is yet another powerful USB C power bank with a wall adapter. Its efficient internal battery of 10,000mAh makes it your most trusted power source for on-the-go charging. This portable power bank comes with quite a number of output ports and offers decent power delivery.  It offers a USB-A Port, a Type-C Port, and a 10W Wireless Charging Pad. The Type C port offers an output power of 18W, while the normal USB ports offer lower yet efficient power outputs.  The 18W Power Delivery and 3.0A Quick Charge technology ensure rapid and efficient charging for every compatible device. There is also wireless charging that lets you charge all your Qi-enabled smartphones with ease.
Depending on the compatible device,  the wireless output varies from 5W all the way up to 10W. But it's a snag that there isn't the peak 15W wireless output available, as almost all USB power banks with wireless ability come with a peak power output of 15W. What's more, this USB C power bank with a wall adapter is rather compact and pocket-sized. It's made for the outdoors and can withstand harsh conditions, too. There are other smart features like the LED battery status indicator which adds up to the overall aesthetics. 
MagLoop Wireless Battery Pack, 10000mAh Wireless Power Bank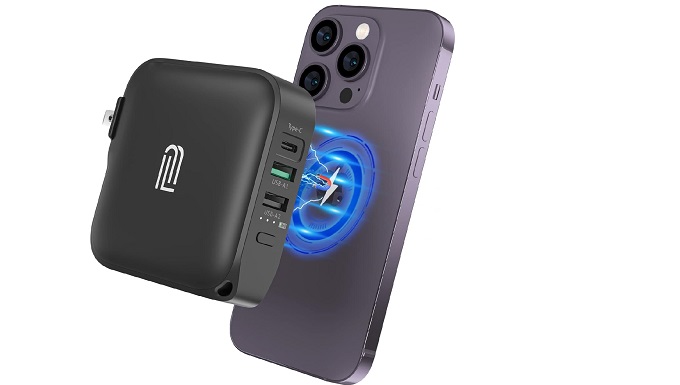 The MagLoop Wireless Battery Pack is a  great USB C power bank that comes with an included AC Wall Plug. It's undoubtedly one of the best portable battery packs that you can buy right now online. This USB C power bank offers a max power output of 20W. There are 4 output modes that you can use. These include the USB C, USB A, and the wireless charging pad, i.e., you can make use of Type C, QC 4.0, or the PD ports as per your devices' needs.  What's more, with a peak output of 20W, you can charge up to 4 devices all at once.
The MagLoop battery pack comes with an internal Li-ion battery of 10,000mAh. This lets you charge almost all your compatible devices on the go. What's more, with the battery pack in hand, you can charge your iPhone 14 around 1.5 times on a single full charge. Talking about the safety standards, this wireless power bank comes with inbuilt overload and voltage surge protection circuits. The wireless charging indicator is also spot on and turns green, ensuring correct and effective wireless charging. 
The best USB-C wall adapter with a power bank for the iPhone 15 is a must-have accessory for modern tech enthusiasts. It seamlessly combines the convenience of a wall adapter with the portability of a power bank, ensuring that your device remains charged and ready for action throughout the day. Whether you're traveling, working on the go, or don't have access to a power outlet, this versatile accessory covers you. Say goodbye to the hassle of low battery anxiety and welcome uninterrupted productivity, entertainment, and communication.
As we continue to embrace the ever-evolving world of technology, having the right charging solution is crucial, and this device undoubtedly sets the standard for excellence. Stay powered up, stay connected, and stay ahead of the game with the best USB-C wall adapter with a power bank for your iPhone 15.