Apple and Google joined their hands to bring technology for social good, between the COVID-19 pandemic. As we know, governments are taking various ways to track exposure and contact tracing. Such methods use smartphone GPS and Bluetooth. As an extra contribution to such essential steps, Apple and Google develop a COVID-19 exposure feature to iPhone users. It can help you stay safe from exposure to the Coronavirus.
This article will guide you on how to enable the COVID-19 exposure notification and tracking feature on your iPhone.
Content
COVID-19 Exposure Logging by Apple and Google
Apple announced a COVID tracking feature for iOS through an update. The update will help governments ease COVID-19 contact tracing and logging. Currently, there are several apps by regional governments in many countries. Such apps use the location data to trace the contact with the patients and to prevent transmission. Yet, security and privacy concern has become a big question mark. In light of such instance, the exposure logging feature from Apple is a big step towards ensuring user data privacy.
The COVID-19 Exposure logging on the iPhone is an API that supports apps. It can generate random anonymous tokens to communicate between devices nearby over Bluetooth. Thus, the exposure logging feature does not put your privacy at risk. Plus, Apple and Google ensure not to use or share your location data. All it needs is your Bluetooth access. Since the API is from Apple and Google together, the feature works between any Android and iOS devices. Thus, it becomes easier for governments to track users through their smartphones.
If you are an iPhone user, you can update to the latest iOS 13.5 rollouts to get the exposure logging feature.
How to Update Your iPhone to iOS 13.5?
In order to get the COVID-19 exposure logging on your iPhone, you need to have the iOS 13.5 update. Do you know which iOS version does your iPhone runs? Follow the steps below to find out your iOS version.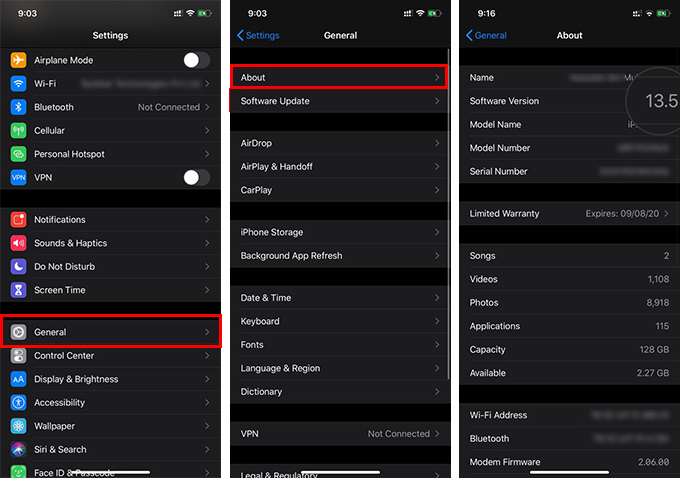 Open Settings on your iPhone.
Go to General > About.
Find the number against "Software Version."
If it does not say "13.5", then you should update your iPhone. The update must have already rolled out to your iPhone. Here is how you can download and update your iPhone to the iOS 13.5 release.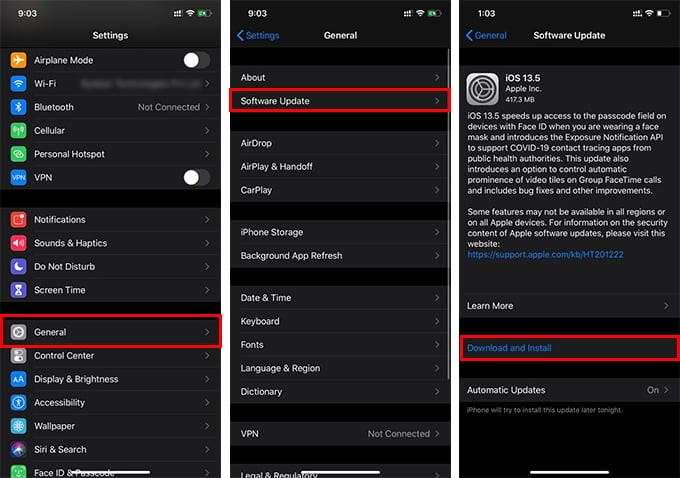 Launch Settings on your iPhone.
Navigate to General.
Tap Software Update.
Tap on Download and Install.
Apart from the COVID-19 exposure notification API, you can get some feature changes too. Most people are wearing masks these days, which makes the Face ID struggle to find your face. Therefore, you will get fast access to the lock screen passcode field now.
Activate COVID-19 Exposure Notification on iPhone
If you already have the iOS 13.5 on your iPhone, you can activate the exposure notification feature. You need an app that works in your region in order to start using the feature. The COVID-19 Exposure Notification is an API that enables the allowed apps to track your exposure to the virus. Governments across the countries are working on their apps to start working with Apple's COVID-19 tracker API. Some have started rolling out.
For example, if you are in Switzerland, you install and use the app "SwissCovid" app. Having the app on your iPhone enables the COVID-19 exposure tracking. Here is how to activate COVID-19 exposure notification on iPhone if you already have a supported app.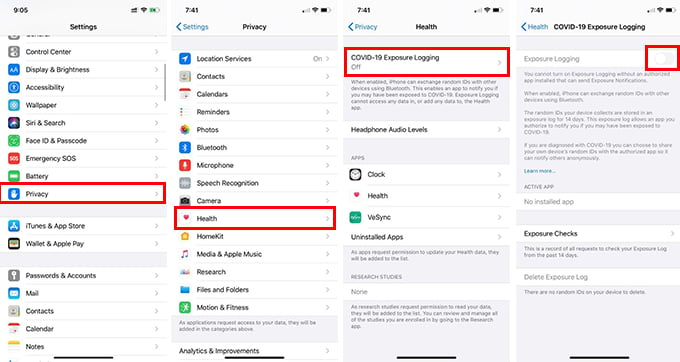 Open Settings app on your iPhone.
Tap Privacy.
Go to Health.
You will find the option COVID-19 Exposure Logging on top.
Tap to enable Exposure Logging on your iPhone.
The Exposure Logging feature will be enabled only when you have a supported app on your iPhone. Otherwise, you will have to wait until your government releases a COVID-19 tracking app that integrated Apple's COVID-19 Exposure Logging API.
Also Read: 8 Best Google Meet Features That You Should Know About
Why COVID-19 Tracking on iPhone is Not Available in My Region?
Apple announced the feature to be available worldwide in order to fight such a global pandemic. Although, many users from certain regions are not able to use it. Especially Asian countries including India. Users are not getting the exposure logging feature on their iPhone's even after updating to the iOS 13.5. This must be due to regional limitations.
So, you have to wait until Apple makes it available for your country.
How to Track COVID-19 Exposure if the Feature is Not Available For You?
Well, the COVID-19 exposure tracking on the iPhone is not a standalone feature. It just allows apps to track your exposure to the virus. Apps can access Bluetooth all the time in the background. So, if the feature is not available in your region, it does not mean you cannot track your coronavirus exposure. Many countries already have standalone COVID tracking apps.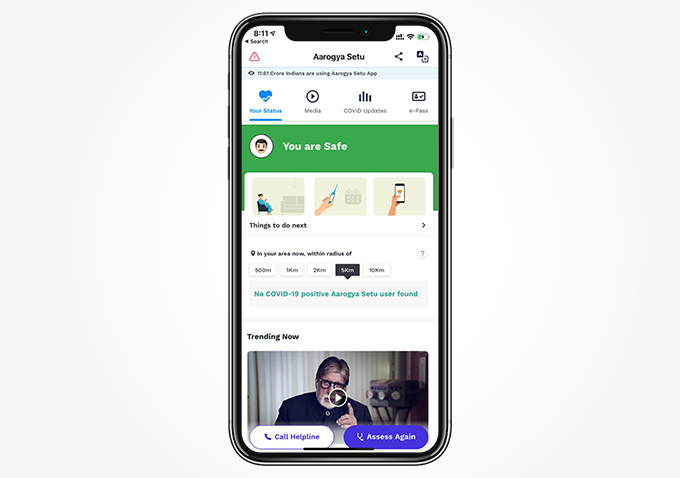 For example, if you are in India, you can install and use the "Aarogya Setu" app commissioned by the government. Similarly, most countries already use their own COVID tracking method through apps.