Etekcity is renowned for providing the best tools for cultivating a better living. With high-quality products, they have always satisfied the varying demands of users. Etekcity also fosters a healthy lifestyle. They have some smart solutions for that too. The massaging solutions from Etekcity give you the best shiatsu experience. You can use the massagers at the ease of your home for complete relaxation and relief. Shiatsu massaging focuses on applying pressure to different points on the body. This promotes the flow of vital energy and facilitates healing.
Here is a quick review of the foot and neck massagers from Etekcity. These work perfectly to simulate shiatsu and give your body the respite it needs.
Etekcity Foot Massager
Etekcity foot massager gives a deep kneading massage to the bottom of your feet. It has specialized massage rollers with air compression. This gently creates air pressure around the top of your feet and ankles. This way, you get effective relief from foot and heel pain. It can be ideal for people suffering from plantar fasciitis.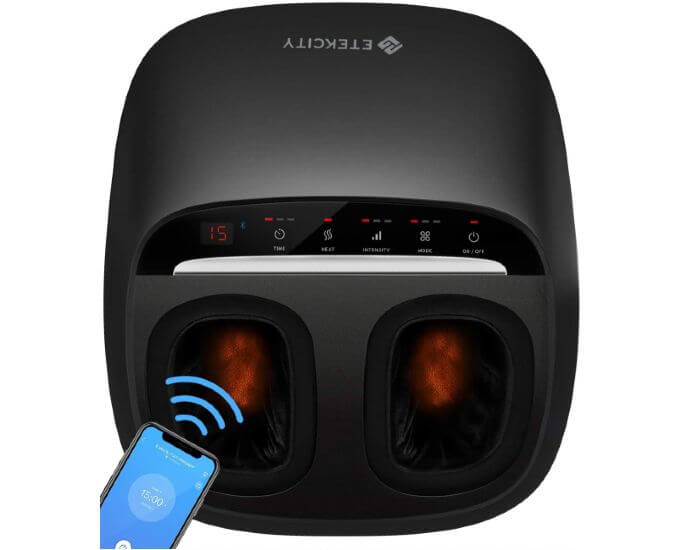 The massager is very simple to use too. It has a smart LCD display with a touch panel. You can easily set the timer settings for your foot massage. This makes it ideal to use when you are watching TV or reading. You can even customize the air pressure levels and speeds for the massage rollers. This gives you full control of the Etekcity foot massager. You can tweak the settings as per your comfort and save the modes for later use.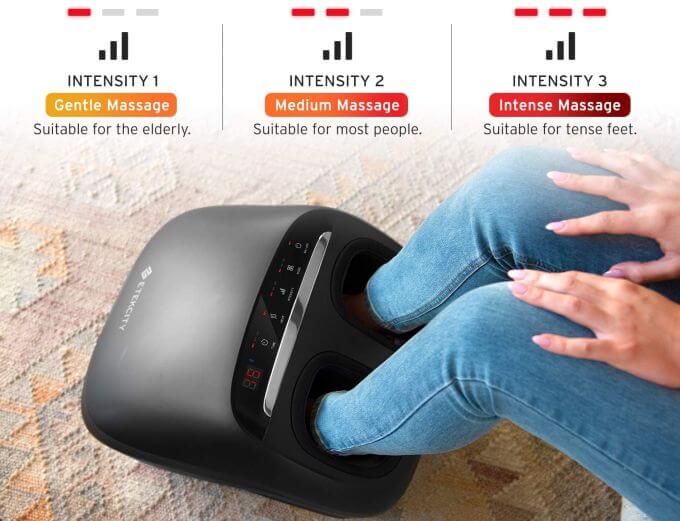 There is a heating feature in the foot massager as well. You can enable it for a slow and smooth warming effect. This helps to improve blood circulation as well as warm-up cold feet. It takes just around 8 – 10 minutes to heat up. You can control the foot massager using your smartphone as well. Simply connect to the VeSync app and use your favorite massage settings. It is Bluetooth 5.0 compatible as well.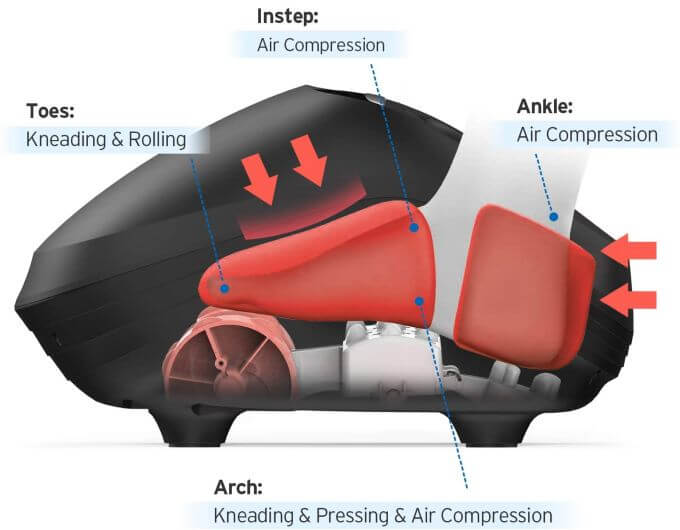 Etekcity foot massager is very easy to clean and maintain. It comes with removable foot sleeves. This ensures that you have a clean and healthy foot massager. Note that the foot massager suits feet sizes up to US size 12 only. Besides, it is also advised not to use the massager for more than 30 minutes at a time. You can get the best full-coverage experience while seated.
Key Features:
Deep kneading massage
Heel pressing and air compression
Ankle air pressure
Suits people with plantar fasciitis
Optional heating feature
Multiple air pressure levels and speeds
Easy to use timer settings
Removable foot sleeves
VeSync app for remote control
Bluetooth 5.0 connectivity
Caution:
The foot massager is not intended for medical use or as an alternative for medical attention
It should be used only when seated; never stand on the massager
Do not use for over 30 minutes continuously
---
Etekcity Cordless Neck Massager
Etekcity wireless neck massager allows you to enjoy a deep massage anywhere. It comes with a rechargeable lithium-ion battery. This gives you up to 3 hours of backup for a thorough massage. You can easily soothe and relieve your aching neck muscles using the massager. The massager can also be beneficial for the lower back, upper back, thighs, shoulders, and arms.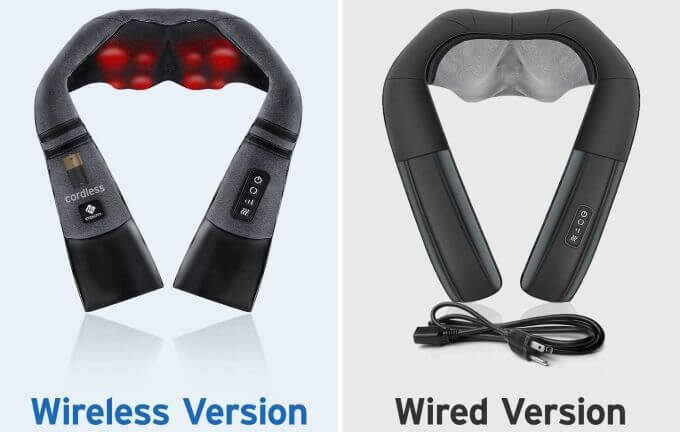 The neck massager comes with eight bi-directional deep kneading rollers. This assures you better coverage of the pressure points in your body. There are two infrared heating levels in the Etekcity cordless neck massager as well. The adjustable heating gives you the right warmth needed. That works to ease muscle tension and stress effectively.
The gentle heat from the massager also promotes better blood circulation. Make sure that you are wearing comfortable and light clothes when using the massager. This will ensure that the heating feels good and works for your best interests.

Etekcity neck massager can work amazingly to relieve muscle stiffness and soothe aching. It can also help to eliminate constant fatigue. This can be done by targeting different pressure points in the neck, back, and other areas.
You also get three intensity levels in the massager. You can easily customize the speed to get the perfect massage you need. Note that you should not use the massager for over 30 minutes continuously. Etekcity neck massager comes with a 15-minute auto shut-off function to facilitate that.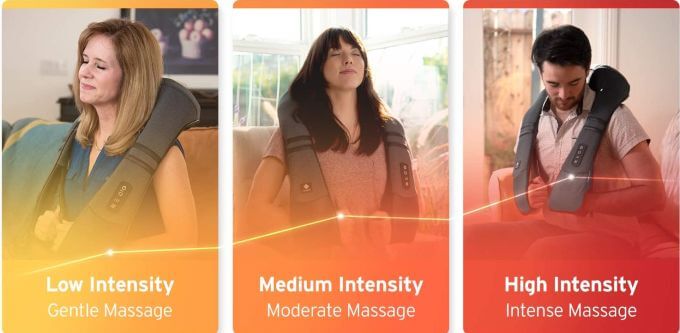 The wireless neck massager also features a comfortable and breathable skin care mesh. This assures that you feel more relaxed while having a massage. It also promotes better heat penetration and allows flexible mobility of massage nodes. There is a removable cloth wrap as well. That makes cleaning the massages quick and easy. Besides, the PU leather material is quite durable and will easily last for a very long time.
Key Features:
Cordless massager for simpler use
Can be used for the neck, back, thighs, arms, and shoulders
Easy to target hard-to-reach areas
8 bi-directional deep kneading rollers
Adjustable heating levels
Multiple speeds
Rechargeable battery with up to 3 hours life
Breathable skin-care mesh
Removable cloth wrap
Auto shut-off function
Caution:
Do not use the massager for more than 30 minutes at a time
Battery life may vary depending upon the heat level and massage speed selected
Use with thinner clothes or when the indoor temperature is high
Today's Deal: $4.36 Off
The massaging solutions by Etekcity can work the tension and spasms out of the muscles. This eliminates muscle aches by stimulating the pressure points in the body. You can easily adjust the pressure and intensity of the massagers. This makes the massage more comfortable for you. Moreover, this makes certain that you get the best shiatsu experience.
Shiatsu can also help to increase energy and promote recovery from injuries. It can even stimulate the digestive system and relieve constipation problems. Other benefits include relief from anxiety, headache, insomnia, menstrual problems, and sinus problems. So, with the right tools for shiatsu, you can maintain a healthy lifestyle. The Etekcity foot massager and neck massager are meant for just that.