Memory or the RAM on your Android phone has a key role in the performance and stability of your smartphone. Android phones usually come with a handful enough of RAM capacity, however, some apps might eat it up so fast. Also, bloatware on your phone also causes RAM consumption thus making your phone slow. If you are so conscious about your Android phone's performance, checking the RAM usage often is a good idea.
Here we will show you how to find the RAM usage and how much RAM left on your Android phone.
How to See How Much RAM You Have & How Much is Being Used
Before we answer how some of you might wonder why. RAM is important because it's where the action happens. RAM loads the Operating System when you boot your phone or PC. Any applications you open are similarly, loaded onto the RAM. When you close an app, it is simply moved out of the RAM.
To see your Android RAM usage and how much RAM you have, follow the steps below.
Open the Settings app from the app drawer or the quick settings panel.
Scroll all the way down and select About phone.
Find and tap the Build number several times (usually about 5-7 times) in quick succession.
When you've tapped on it enough times, you'll see a toast message, "You are now a developer"
Go back to the main Settings and select System.
Select Advanced and then go to Developer options.
At the top of this page, you'll see Memory with the subtext telling you the RAM usage and how much RAM you have.
Select Memory to see more detailed information about your Android phone's RAM usage.
Related: Have Full Control on Android Data Usage & Dramatically Reduce Mobile Bill
How To See Android RAM Usage With Widgets
Widgets have been a part of Android phones for a while. While they're not at the peak of their popularity today, there are still plenty of useful widgets on the Play Store. For the specific purpose of checking your RAM usage, you can try one of the following apps.
RAM Monitor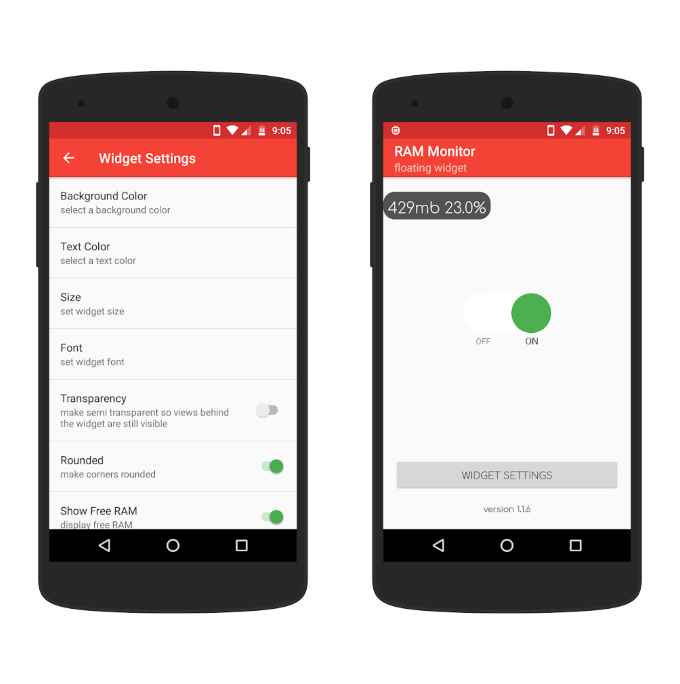 RAM Monitor is a simple app that is designed only to provide a floating RAM monitor widget. The floating widget displays just how much of your device's RAM is free at any given moment. The information is shown in both exact units and a percentage. The widget gets updated every 500 milliseconds, so you always have the most accurate measurement.
Download: RAM Monitor
Widgets – CPU | RAM | Battery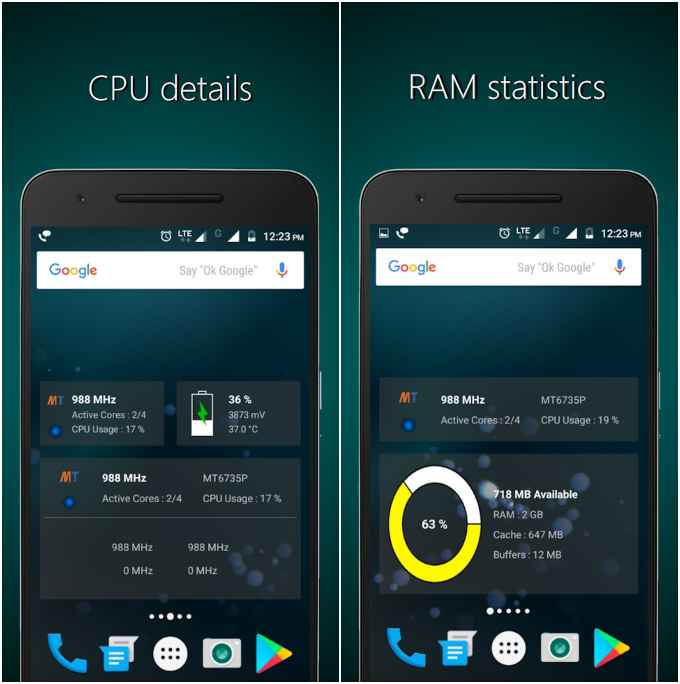 This app is a collection of CPU, RAM and Battery widgets in various sizes. There are a total of 10 widgets in 4×2, 4×1, 2×2, 2×1 and 1×1 sizes. You can also see all this information within the app. The app also lets you set the widget backgrounds transparent.
Download: Widgets – CPU | RAM | Battery
System Monitor – Cpu, Ram Booster, Battery Saver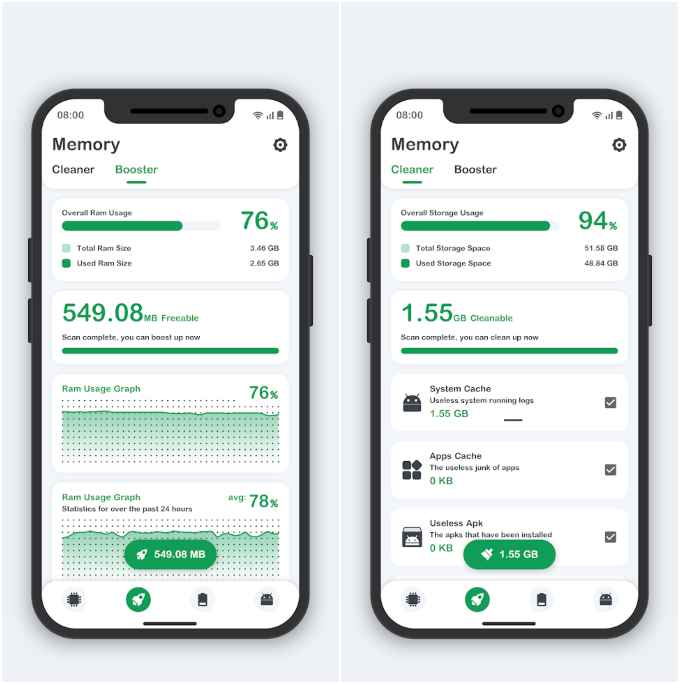 System Monitor is a paid app but unlike the previous two apps, it is much more than simply a widget app. It is a full-fledged app designed to show information about the different hardware components of your device. It can also help you manage them and has built-in tools such as a RAM booster, storage cleaner, and a battery saver. Naturally, it is a much more invasive app and requires more permissions. It's not necessarily the best app if you only want widgets. However, if you want more than simple RAM monitoring widgets, give this one a go.
Download: System Monitor – CPU, RAM Booster, Battery Saver
The current RAM usage on your Android device may change depending on how many apps are running. You can see your average RAM usage for various time intervals using the drop-down menu at the top.