Apple has launched most anticipated Smart Phone of the world along with other new technologies in the September 9th, 2014 event. Just few days back on September 3rd, 2014 Samsung unveiled their flagship phone Samsung Galaxy Note 4 with Metal body to compete with Apple.
It will be interesting to know that the which of the phones have good specifications while comparing each other. Here we are presenting a specification Comparison chart of Apple iPhone 6 and Samsung Galaxy Note 4 and HTC One M8.
All these phones are made in the metal cases which gives it a premium look when compared to other phones that already in market.
Apple is now increasing the display size to 4.7 inches and 5.5 inches for this newly introduced iPhone which makes it similar to bigger display phones like Galaxy Note 4 and HTC One M8.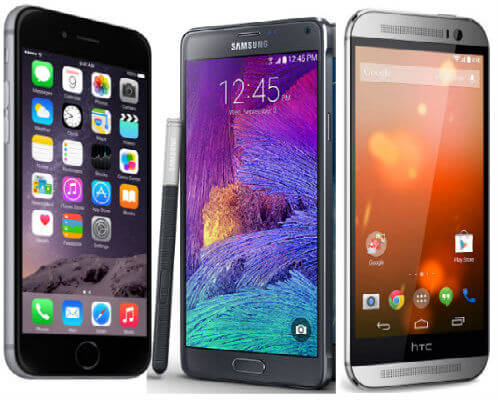 [table width="100%" colwidth="14%|28%|29%|28%"  colalign="left|left|left|left"]
|iPhone6 & iPhone Plus |Samsung Galaxy Note4|HTC One (M8)
Display|4.7″ & 5.5″,  ion strengthened glass| 5.7″| 5″
Resolution|  1334 x 750 & 1920 x 1080| 1440 x 2560, 515 ppi| 1080 x 1920, 414ppi
Processor|  Apple A8 64bit| Qualcomm Snapdragon 805 Krait 450, 2.7 GHz Quad core | Qualcomm Snapdragon 801 Krait 400, 2.3 GHz Quad core
Memory RAM | 1 GB & 2 GB | 3 GB | 2 GB
ROM | 16 GB,  64 GB, 128 GB| 32 GB | 32 GB
Camera Rear |  8 MP, 1.5 Micron Pixel| 16 MP | 4 MP Ultra Dual Sensor
Front | 1.2 MP  | 3.7 MP | 5 MP
Wireless |  4G LTE, WiFi, NFC| 4G LTE Cat 6, WiFi, Bluetooth 4, NFC, Infra red | 4G LTE Cat 4, WiFi, Bluetooth 4, NFC, Infra red
Connectors | Lightning| USB 3 | Micro USB 2
Location|  A-GPS, GLONASS| A-GPS, GLONASS|A-GPAS, GLONASS
Sensors |Accelerometer, Proximity, Gyro, Compass, Barometer, Touch ID| UV, Heart Rate, SPO2 and Gesture, Accelerometer, Proximity, Gyro, Compass, Barometer | Accelerometer, Gyro, Proximity, Compass, Barometer
Battery |  14 hrs and 24 hrs 3G| 3220 mAh | 2600 mAh
OS|iOS 8|Android 4.4.4| Android 4.4.2
Dimensions|  6.8mm & 7.1mm thick|  153.5mm x 78.6mm x 0.3″ | 146.36mm x 70.6mm x 9.35mm
Weight| 129g & 172g | 176g | 160g[/table]
In addition, Apple has introduced the following features with iPhone 6 and iPhone 6 plus. Reachability gesture and new horizontal view with new menus, Better app scaling for the bigger screen, Improved M8 motion co processor, Optical image stabilizer for iPhone 6 plus, Slow-Mo video in 120fps or 240fps etc.
Apple Pay is another new feature which helps to save all credit card informations in iPhone and can be used for payments using NFC and Touch ID. It will replace all the cards from iPhone users wallet eventually, as per Apple officials.
The new iPhone 6 will be available in 16GB, 64GB, 128 GB models for $199, $299, $399 and iPhone 6 plus will be available in 16GB, 64GB, 128GB models for $299, $399, $499 with 2 year contract in US from September 19th onwards. The pre booking will start from September 12th onwards. For those who are looking for getting iOS 8, it will be available  from 17th September onwards.