Did you forget to log off from gmail that you recently opened from a public computer or office pc? Do you suspect that somebody logged in your Gmail account and reading your emails? Don't worry, you can log off your Gmail account from any internet connected PC.

GMail allows to close the sessions remotely that you opened in any other PC. This remote log off feature can access from your GMail inbox page. Please log into GMail account and scroll down all the way  down until you see the link for Last Account Activity.

Once you click on Details, you will see another window with your logged in activity.  Under Activity on this account, see the button Sign out all other sessions. You can opt this and click on this button to sign out from all other devices and PCs that you previously logged in.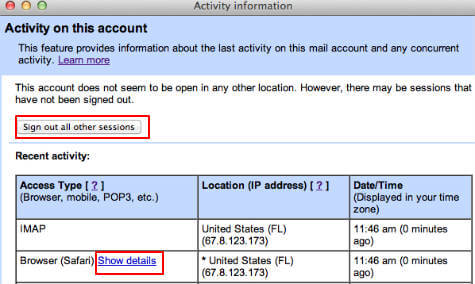 If you already configured your email in other mobile devices, then sign out all other sessions option will close your email from all the devices. In this case, the best choice will be to dig out each section individually and close each session separately if you are not using those.
If you suspect somebody is reading your emails, you can see if anybody else opened your email from this same page. If you want to refer more details about this feature, please see How to Find If Anybody Opened Your GMail? for details.