Apple launched new iPhone 6 two models with 4.7 and 5.5 inch screen size with amazing new features. iPhone 6 coming with iOS 8 with 6 different models in market, with three colors to select.
This anticipating iPhone model launched with three different memory capacity 16GB, 64GB and 128GB both for 4.7″ and 5.5″.
iPhone 6 and iPhone 6 Plus come with iOS 8 with all-new design, retina HD display, A8 processor, new barometer, advanced wireless, improved iSight camera, amazing HD video. etc.
iPhone 6 is dramatically thinner and the cover glass is an ion-strengthened and the the rounded, seamless surface is created using a precision polishing process.
The M8 coprocessor continuously measures motion data from the accelerometer, gyroscope, and compass. iPhone 6 has a barometer that senses air pressure to measure relative elevation. The barometer is great for fitness apps. iPhone can now tell if you're going up molehills, mountains, and everything in between.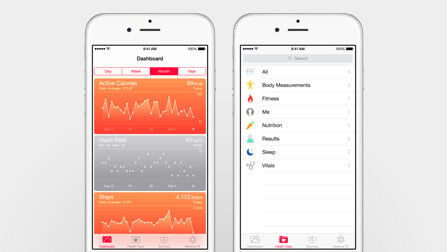 The new Health app gives you a detailed look at your health and fitness data. The Health app in iOS 8 measures physical activities, like the flights of stairs you climb. Third-party apps will be able to tap into these features.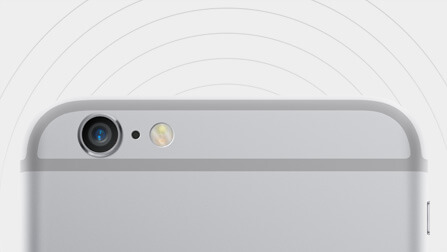 iPhone 6 now supports Voice over LTE and It's wide-band audio for voice that sounds amazingly crisp and clear. Wi-Fi calling is a new feature for making high-quality calls when cell conditions are poor.
iPhone 6 has an 8MP iSight camera, 1.5µ pixels, ƒ/2.2 aperture. And an all-new sensor. The A8 chip includes a powerful Apple designed image signal processor. iOS camera software improved with Faster autofocus, next-generation local tone mapping, and advanced noise reduction.iPhone 6 can take up to 10 photos per second and improved face detection for selfies and group selfies.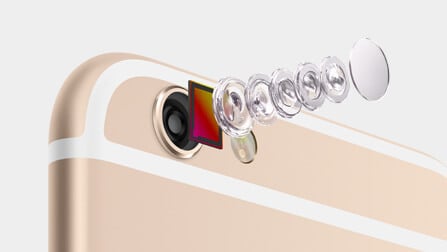 iPhone 6 has incredible advances in video. Starting with a new Apple-designed video encoder.  iPhone6 can capture Slow-Mo video at 120 fps or 240 fps.
Apple introduces Apple Pay with Touch ID. Touch ID lets you securely and easily access content in other apps.Apple Pay is built into iPhone 6 such as a groundbreaking NFC antenna, the security of Touch ID, the privacy of the Secure Element and the convenience of Passbook.To get started with Apple Pay, you can simply add a card from your iTunes account. You can pay with the simple touch of your finger using Touch ID.

iPhone 6 models will be available in US in 3 colors  gold, silver, and space gray and with 3 different capacity (16GB, 64GB, 128GB) for iPhone 6 and iPhone 6 Plus.