Disclosure: This post may contain affiliate links. We receive a small commission at no extra cost to you when you make a purchase using some of our links.
You can use set a 4 digit pass code to secure your iPhone, iPad, or iPod. Each time you turn on or wake up the device from sleep mode, it will prompt for the passcode before you can access applications or information on the device. It is an additional protection from unauthorized users playing on your iPhone and changing your settings or deleting application. Usually it is a 4 digit number lock.
in lock mode, you can receive calls and text messages, you can adjust the volume, you can use the mic button on the iPhone Stereo headset when listening to music or on a call and even you can take picture with iPhone camera.
You can set the passcode: Tap on Settings > Choose General > Password Lock > Turn Password On > Passcode Lock. Now enter 4-digit passcode that you want to set. Confirm the passcode second time. You are done.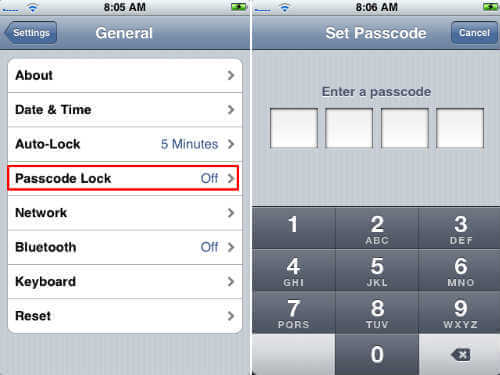 Once you set passcode, iPhone requires you to enter the passcode to unlock it. You will be prompted for the passcode whenever you turn on or restart the device, wake the device or unlock the screen. You can specify the amount of time the screen must be locked before requiring a passcode.
These few simple steps will give you peace of mind in the event your iPhone is stolen. For added protection, you can elect the 'erase data' setting, which will wipe your data after 10 unsuccessful password attempts. This is the most secure thing you can do to protect your personal information.