Gmail, Yahoo, and other free email providers are offering a way to set up the auto-response while you away from your office. It is nice to inform your business clients or your friends from the contact list with an auto-response Email when you are out of the office or unable to respond back to your emails for a while.
We listed the steps to set up Auto Vacation Response for the most used email clients like Gmail, Yahoo Mail, and Hotmail.
Setup Vacation Response in Gmail
Login to Gmail account with user credentials. Click on the setting icon on right top of the email window. Click on Settings and go to General Tab. Scroll down until you see Vacation response.

Turn on vacation responder and set the First day and Ends with Subject and your Message. There is an option to set to send the auto-reply only to your contact list.
How to Set Out-of-Office Auto Reply Text Message on iPhone for Calls and Messages
Setup Vacation Response in Yahoo Email
In Yahoo mail, go to settings on the right top corner of yahoo email window. In the settings window, select Vacation Response. Set date for a particular time period by selecting a date on From and Until fields.

Type your message that you want for the vacation response. You can make sure the auto-response by clicking on Send Sample Code To Me button.
How to Setup Auto Vacation Response on MAC Mail and Microsoft Outlook
Setup Vacation Response in Hotmail
Click on the settings icon on the Hotmail settings button. Please select More mail settings and click on Sending automated vacation replies under the Managing your account section.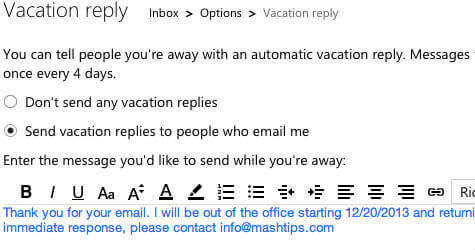 Select Send vacation replies to people who email me and type your message. You can select Only reply to your contacts if you only prefer to send auto-reply emails to your contact list.