Your Android Phone can be used as flashlight whenever you require it. Most of the Android phones incorporates a LED flash near the camera. Using certain Apps, we can control this LED flash to lit up as long as we require which doubles it as a Flashlight in emergencies. Here we will see some good Apps which facilitates to use the LED flash as Flashlight.
These Apps also allows to switch ON the back light of your LCD display of your smart phone to serve as emergency light, if you dont have a LED flash in your device.
To start with, we may search Google Play Store with the key word " flashlight". It will show hundreds of flash light Apps in different names and different UI's.
These Apps will have common controls like a flashlight ON and OFF switch and settings menu to choose in between Back LED flash and Front LCD backlight and several enhancements like blinking, Timer and so on.
The users should be little careful for these Apps authorisation settings while installation, as most of these Simple Apps require access to your profile, wifi, accounts, contacts, and so on which may not be necessary for this type of Simple Apps.
The least authorisation required App is presented first in this list. Also listed few other Apps which have better options compared to the first App for those who need much options and no issue in sharing most of the information with these App developers.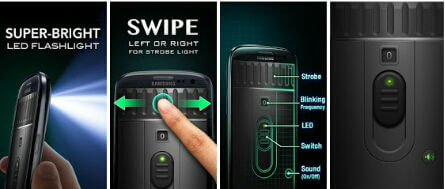 This App interface design good with lot of graphics which resembles an actual flashlight controls. It offers blinking facilities and have a widget too.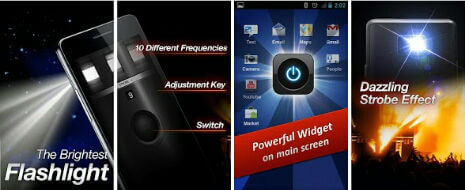 This App offers blinking or strobing of flash light apart from normal functions.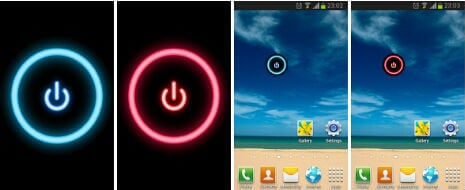 This App will also have least requirement of authorization and it offers a widget too. However it may be little buggy when compared to other Apps for some smartphone users.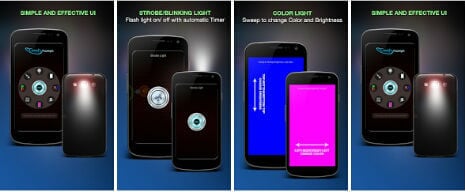 This App gives additional features like blinking, color LCD lights and shake control in addition to the normal operations.
Installing and using this type of flash light Apps will fetch maximum attraction towards you during such occasions where you are using it wisely. It will be a needy application during sudden power failures and parties too.