Apple has sold 80 million macs and 40m mavericks last year. Now they have introduced OS X 10.10 in the name of OS X Yosemite. Though Apple announced the new OS for it's Mac and iPhone devices which will be available to customers in the fall this year, there is no updates with long rumored watch or any other hardware in this WWDC conference.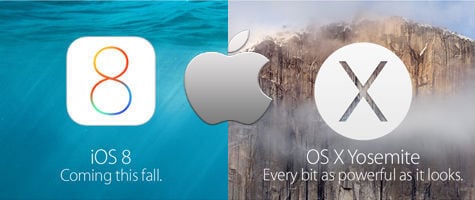 We may hope that in the coming months they will be come again with new breaking technology to the customer perception. The main features and changes are listed below.
OS X Yosemite
The Best feature described in OS X Yosemite was "Handoff" for work continuity. It enables the users to continue their work with different devices. One need to point the work towards this Handoff icon which further enables the user to continue their work in other devices. This icon placed similar to lock screen icon to have better accessibility.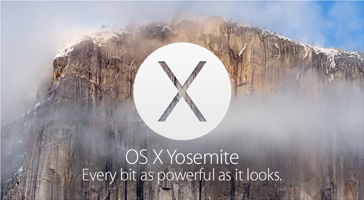 Another important feature is the detection of your iPhone nearby to the mac which will enable the users to call, SMS from mac using iPhone without touching the iPhone. The other features listed as,
New translucent icons and buttons
Notification center with customizable today view
iCloud Drive for the storage purposes like Dropbox and Google Drive
MailDrop for large emails & Markup for highlighting
Safari  with New private window and image editing feature called Markup.
The new OS update is free from fall this year to all the users. Along with this a summer Beta program also launched to those who are interested.
iOS 8
Last year Apple made 130M new customers by the increased iPhone sales. And the main reason to the new user to iOS is the regular updates including almost all the devices unlike the Android devices. This year, Apple introduces the iOS 8, the next version of the popular iPhone OS for the customers.
One of the attractive feature is the Family sharing function. The customer can set up max 6 devices as family which enables them to share the media and apps and device detection too. The credit cards of parents can be shared to children's for purchases but only with a instant permission from parent.
Photos app will be syncing all the photos to all the connected devices including edits. Smart editing feature gives the functionality of HDR in another way. Also supports sneak peak view and better scrolling. The other important features are,
New notification center  with interactive functionality
New gesture for quick access to contacts
New redesigned contacts display with more functions.
Events can be added to calendar right from mail.
New redefined search.
QuickType with suggestions.
Group messaging & Do not Disturb function thread wise and the  audio messages functionality.
VIP email threads and more features for Enterprise customers.
HealthKit app – a centralized place for health data. Third party apps can connect on it using the new API.
5GB free iCloud Drive & 20GB for $0.99 & 200GB for $3.99 upto 1TB.
Improved Siri with Shazam support.
Upgraded Appstore with explore tab, top trending searches and continuous scrolling lists. App bundles are introduced with multiple apps. App previews shows the short videos about the App. Test Flight for beta test functionality.
Along with this Apple has updated its iOS SDK with much more API's and functions for developers. Let's have a brief look on that too.
Around 4000 developer APIs already available for developers, Extensibility to apps which gives access to other apps through the iOS system. Widgets function can be utilized for third party apps for notification center & safari. Different Third party Keyboards can be installed and customize for iOS. Now Apple opened its lauded Touch ID access to Third party developers using the API. Camera API, HealthKit API for health related data sharing, HomeKit (with Siri Integration) API for controlling the devices in your home like locks, switches etc, CloudKit API for iCloud access, Metal for Graphics API's. New Xcode using Swift code is also introduced as a new version of language that will improve the functionality over the traditional Objective-C.